Whether it's branches from the yard, apples from a tree, or some eucalyptus in a vase, neutral and natural fall decor is one of the easiest and most beautiful ways to decorate for the season.
Fall is definitely my favorite time of year. I look forward to decorating for fall almost as much as I do Christmas! And nothing makes me happier than incorporating things from nature to usher in the season. I naturally gravitate to a more neutral fall palette.
As you know, I'm not the biggest fan of the bright oranges and rusts, haha! I like to do a more muted and pared down version of fall. And one of the easiest ways to do that is to incorporate items from nature as part of your seasonal decorating.
With fall decorating, a little goes a long way. You don't need 85 pumpkins on the porch with bales of hay! I sometimes think Pinterest has made us all think we need to go all-out with our seasonal decorating, but I disagree. Just a touch of the season brought in through nature says fall in a subtle way, and reminds us to slow down and enjoy the season we're in!
1. Use White or Pale Pumpkins
In last year's fall dining room tour, I added white pumpkins to this vintage French urn.
I love white pumpkins as I'm sure you know by now, and they are about as neutral and natural as it gets! But if you can't find them, the faded orange heirloom varieties aren't as bright as the traditional ones. In fact, the selection is so large now that even supermarkets carry faded orange, pink, and even the soft green/blue ones.
And they say fall in a much softer way than the bright orange ones do!
I created a subtle fall vignette in last year's fall family room.
You can also get lots more ideas on decorating with white pumpkins in this post! And I'm sharing an amazing source for faux white pumpkins too as I know not everyone can find them and/or they aren't available early enough for decorating.

2. Use Eucalyptus Generously!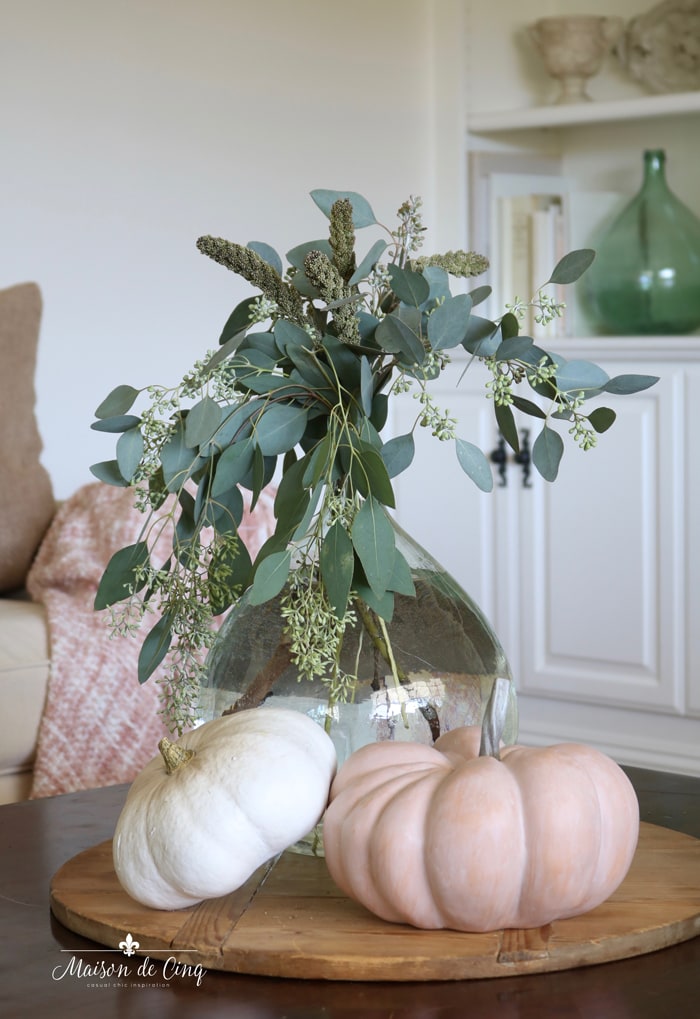 For this Soft & Subtle Fall Home Tour I used eucalyptus in a French demijohn along with a some pumpkins on a bread board for a natural vignette in the family room.
One of the things that has really changed in my seasonal decorating over the last few years is the addition of eucalyptus! I swear when I first found it I was wondering where it had been all my life! It's such a versatile green, and inexpensive, too.
It looks wonderful in arrangements, on the mantel, in a bowl with some pumpkins, or simply in a vase like in the demijohn above. And there's something about the seeded variety that really says fall to me.

This simple fall mantel uses green and white pumpkins with lots of eucalyptus to create a neutral and natural mantelscape. And if you can't find live eucalyptus where you live, this faux version looks amazingly real (I often mix it in with the real to make it look fuller!)
3. Incorporate Other Items From Nature
I love adding apples to my kitchen in the fall, as I did in this kitchen tour. Apples added to a vintage basket create a beautiful and unique way to celebrate the season.
Whether it's adding pomegranates or artichokes to a table setting, or using apples as decor in the kitchen as I did below, it's wonderful to add some bounty of the season. It looks beautiful, it's natural, and you can eat it after you're done using it! 😉

For this Rustic Gold Thanksgiving Table I used an abundance of pears for a simple centerpiece.

4. Add Cozy Pillows and Throws
From my Soft & Subtle Fall Family Room Tour, this plaid pillow and wool throw add lots of warmth and texture on the sofa.
Bring on the hygge! This is the season of cozy, with chunky pillows and throws adding texture, warmth and comfort to the inside of your home. According to my kids, there can never be too many throws on the sofas!

Soft peachy pinks and beiges gave this simple fall living room a feminine touch.

5. Bring in the Colors of the Season – but in a Subtle Way
These flowers are a faded orange rather than bright, as is the soft throw on the sofa in last year's Soft Fall Family Room Tour.
Believe it or not, I actually love the colors of fall and the warmth they bring to a space. But when I bring in fall colors, I always bring in a more muted version.
So instead of bright orange pumpkins, think a faded version, or even pink. Bright rusts become subtle browns. Rather than bright or dark, it's a soft green. These are more the colors of nature, and they feel inherently more natural when you use them in decor.

One of my personal favorites! These fading hydrangeas capture the essence of neutral and natural fall decor perfectly! You can see more of this in the Warm Kitchen Fall Tour.

To see more from any of the posts in the photos above, simply click on any of the photos! And you can see all of my complete fall tours here.
And if you're looking for more neutral and natural fall decor, I'm sharing tons of cute options below!
Shop the Post


*please note some affiliate links have been added for your convenience*
Happy Fall!
Sheila
xo
And if you loved this post all about neutral fall decor, you might want to see the post below: