Today I'm (finally) sharing my new-to-me antique farmhouse table! It is now in it's new home in our breakfast room/kitchen dining area and I couldn't be happier! I received the table a few months back, but I was waiting until I had found chairs to do the final reveal.
I think I've shared with you all before that I'd been really wanting a new table and chairs in our breakfast area – the kitchen table where we eat most of our meals. The set that I've had for about 14 years was just that – a set. Though I loved it at the time, I would never buy a matching set now. In addition, it was falling apart. The set was pretty dinged up and because it wasn't solid wood, but a mix of veneers and MDF, it made it impossible to simply refinish it and make it right. While I love patina and chippy-ness, it has to be the right kind, you know?! And to top if off, it had ambered over time and was looking less brown and a whole lot more yellow/orange!
So starting about last fall, I set about looking for an antique farmhouse table, preferably made from old barnwood. Something that is not easy to come by! Though I'm an antique lover, antique tables tend to be odd sizes for today's lifestyle. But I also knew I didn't want a reproduction. I wanted it to be made from actual "old wood." And then I found my dream table!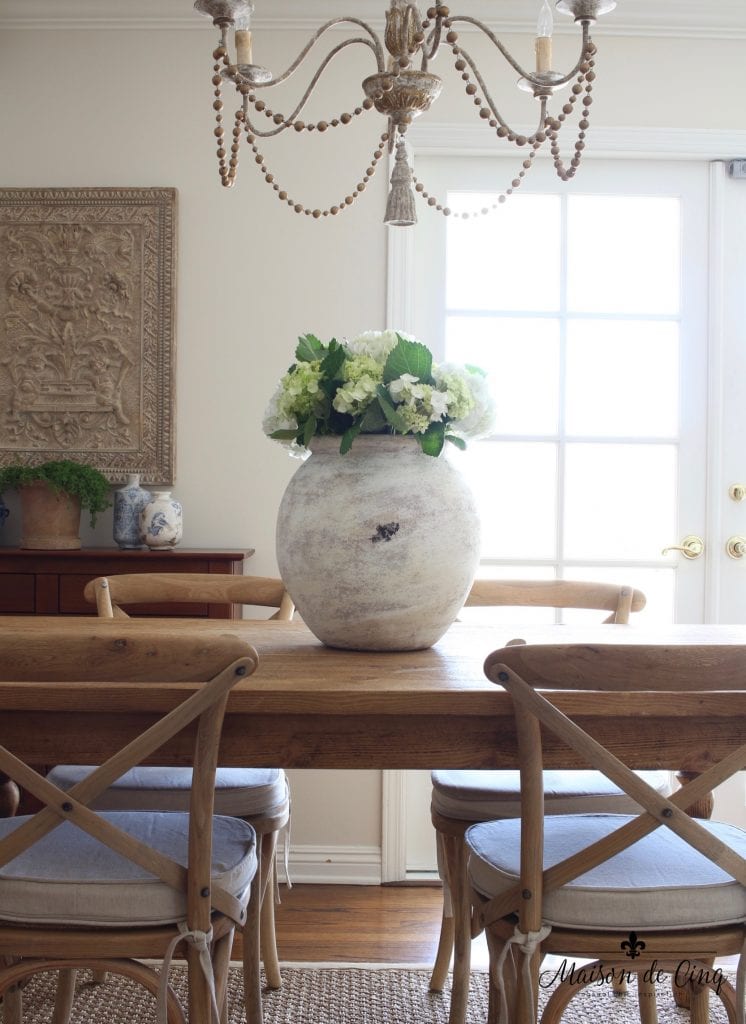 It's from a store I've visited in Northern California several times called Elsie Green. You guys, this store is a dream!! It is a vintage French home goods store, and it just presses all my bells and whistles! Every time I've gone I've felt like I could literally buy everything in the store! They sell all my favorites: ironstone, vintage bread boards, French kitchen items, dough bowls, linens, and textiles. And now, furniture. One of their furniture items is a farmhouse table made from antique fir salvaged from old buildings. I knew the minute I saw it that it would be the perfect choice for our breakfast area!
And after searching for antique chairs, I eventually chose a simple French bistro-style chair. I love the classic style, and because this is the kitchen and we eat three meals a day here, we thought the wear and tear might be too much on an antique chair. I'm thinking I may eventually add some wicker chairs to each end, but for now I'm happy!
*UPDATE: I have a whole post on how I chose the chairs I did! You can see that post here.


I'm in love with this table! Not only is it made from old wood, but it's made here, and it's made to order, so I got to choose the exact size that worked for me. Our former set was actually a little too large, so I used this chance to make something a little more appropriate for the space. You can also order it extending or stationary, so that's a plus as well. Basically you get an antique table, but one that's made to your specifications. It's the best of both worlds!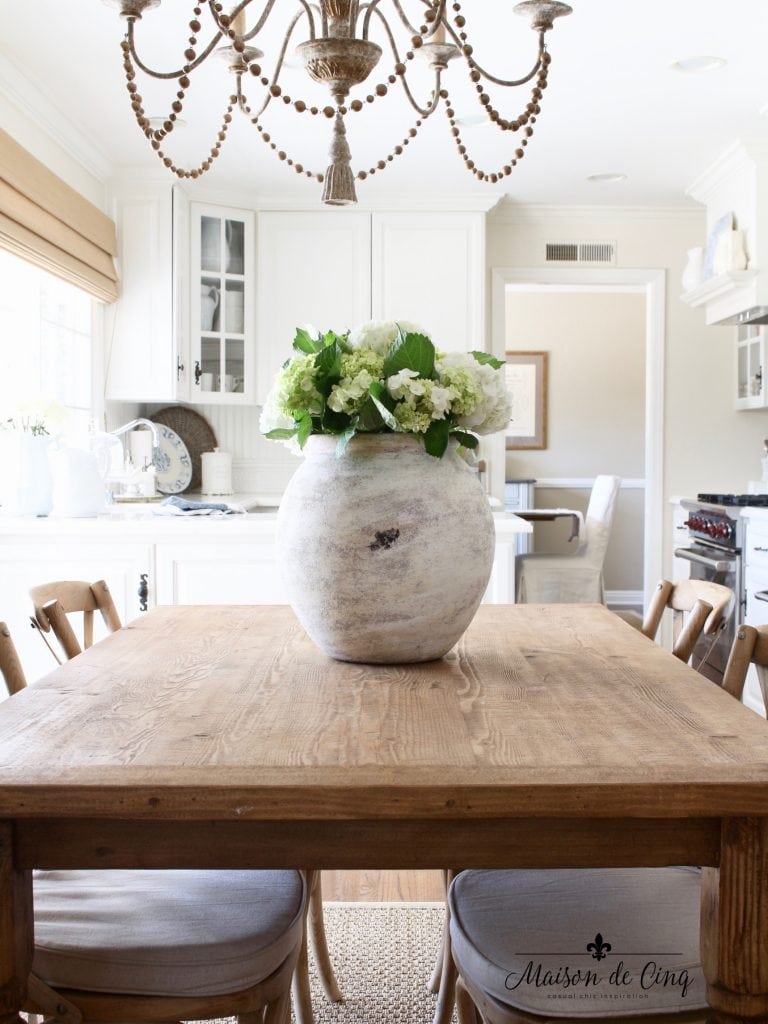 I love the knots, dents, and scratches. The farmhouse table comes in two finishes, smooth or rustic, and I chose the rustic. I didn't want them to sand down all the imperfections – I love that part of it!

Shop the Post!

*affiliate links included for your convenience*
I really can't say enough about the store, and all the staff who work there. It's owned by a sweet and talented couple who travel to France several times a year and come home with a shipping container's worth of merchandise. And everyone who works for them is so helpful. If you live anywhere near there and can make a visit, I highly encourage you to do so! They have two locations now (the last time I went they only had one) so you know what I'll be doing next time I'm up north! They also have a very large stock on-line and will ship anywhere in the United States. You can find their website here, and they also sell on Etsy here.
Sheila
xo
*This post was sponsored by Elsie Green but as always, all opinions are my own*
Sharing this week at Stonegable,