As I'm sure some of you know, my backyard has been in the midst of a remodel for almost the entire past year. We spent last summer remodeling the pool, and then most of the fall finishing the landscaping. And though I haven't revealed the entire project yet, today I'm sharing one of the newest additions – my new outdoor chandeliers!
As you can see in my Backyard Design Plan post, one of the things I really wanted to add were some romantic outdoor chandeliers. Previously, I had two lanterns out here. And though they were fine, they weren't really appropriate for the look of the new yard. I had been looking for quite awhile and I wasn't sure I was going to find the right ones, when I lucked upon these gorgeous European inspired chandeliers from Wisteria! I'm so excited to have found them, and they add so much to our outdoor space!
I've talked about Wisteria quite a few times on the blog now, and I have several pieces in my home from them. It is one of my favorite online sources for European style furnishings and decor!
We decided to get two so that we could have them over both the dining and lounge areas. This is especially nice since we previously had no light in this area and now it's so nice to sit out here at night!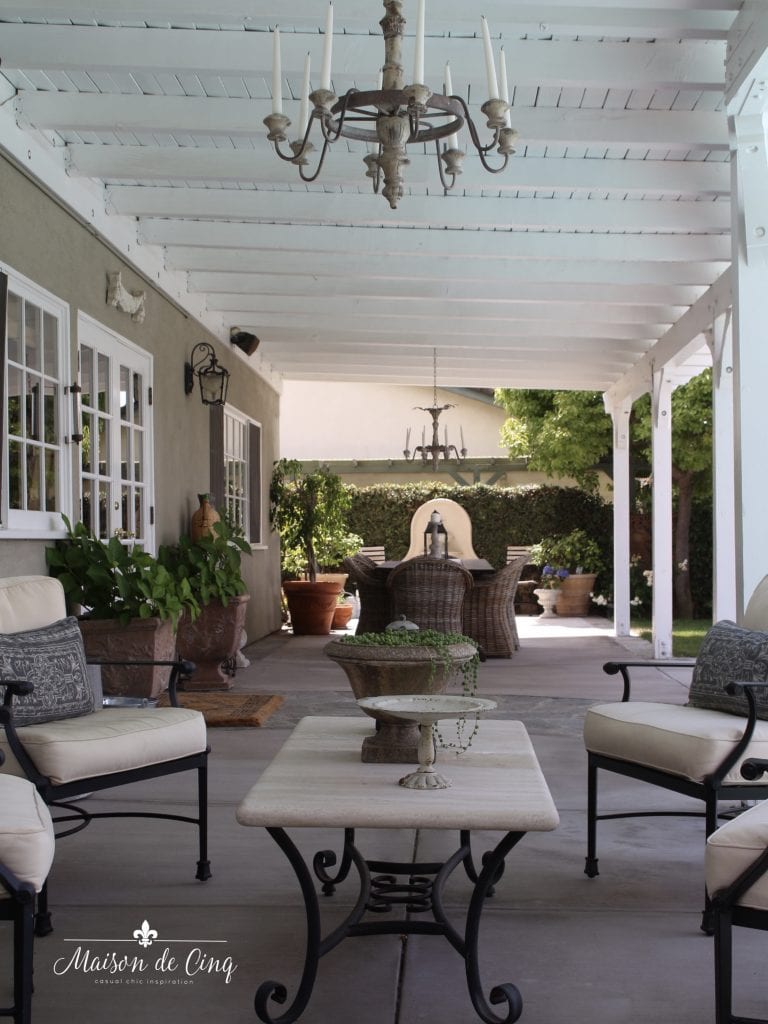 Having one on each end of the patio really ties the whole space together.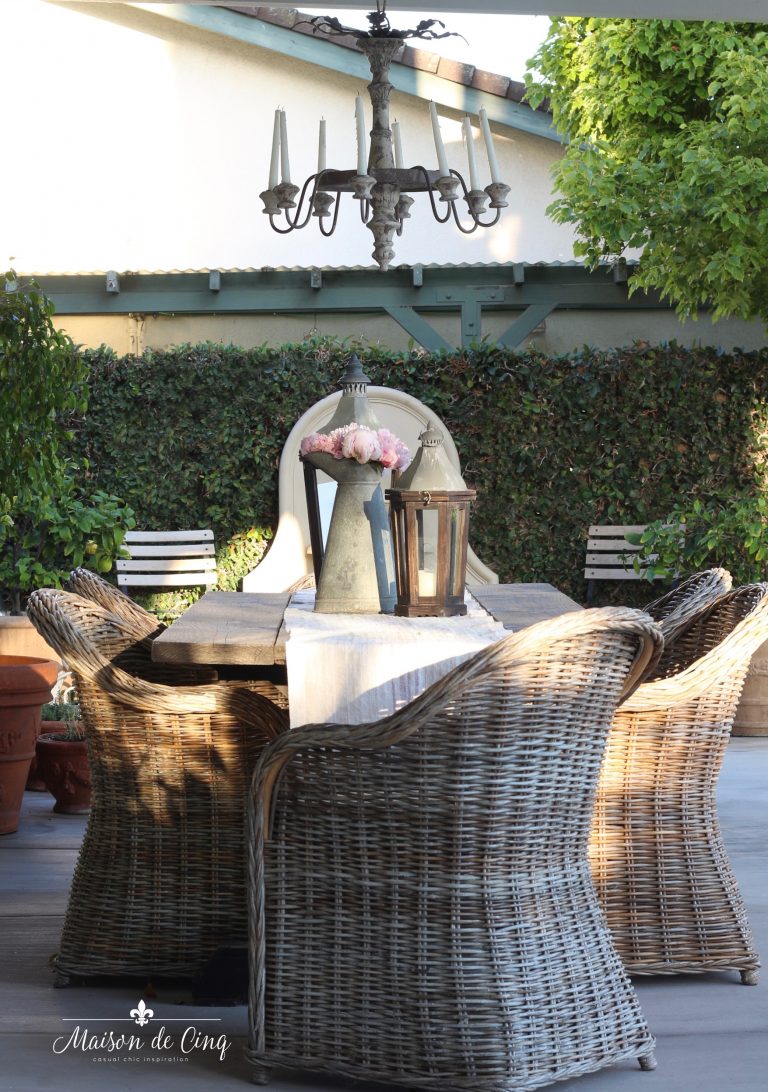 I love the white washed wood, and the metal leaves. They add just the right amount of charm! (Unfortunately, the Wisteria chandelier has since sold out, but I've linked some similar options below!)

And at night, with all the candles lit, they add such a romantic feel! Just what I was going for!

Right now I've been using real candles, but I'm going to get some flameless candles. I think it will be much safer overall, and it will prevent any wax from dripping on the tables. And I found flameless tapers at Pottery Barn – I'd never seen them before!

I'm loving the vintage feel they've added to our outdoor space, and I'm finally starting to feel like the yard is almost done!
I know I've been sharing some pieces of the backyard so far, with the landscape reveal last week and now today's outdoor chandeliers. And we finally revealed the whole pool area reveal and all the details of the renovation in one big post!
My outdoor chandelier is the gorgeous European inspired chandeliers from Wisteria but unfortunately, they are no longer available. To find similar options as well as many of the other items in my yard, check out the links below!
Shop the Post!


*please note some affiliate links have been added for your convenience*
Happy Summer!
Sheila
xo