One Room Challenge Week 4: Lighting Woes & Paint Choices
Hi everyone! I'm back with a One Room Challenge update! This is Week 4 of the challenge and though I've made a lot of progress, I'm actually getting a little nervous about getting it all done in time. My main concern is that I haven't chosen a paint color, and even worse, I haven't even hired a painter! Eek!
To catch you up on where we are this week, I'm sharing some photos of my paint choices below. Beware: these photos are not pretty! It's against my nature to show the room in such an ugly state, but it is what it is, right?! I find the samples to be the most helpful method in deciding on paint colors. So though it's tedious, and a pain, it's a necessary part of the process for me!
Originally I thought I might choose Benjamin Moore's Revere Pewter mixed at 50%, which is the color I have in the office. But then I got to thinking about white. I love white rooms. And not only that, I decided to take a look through my pinned rooms on Pinterest and you know what? A majority of them are white or off-white! Either way, it will be a cooler color with considerably less yellow tones than what is on the walls now.
Paint Choices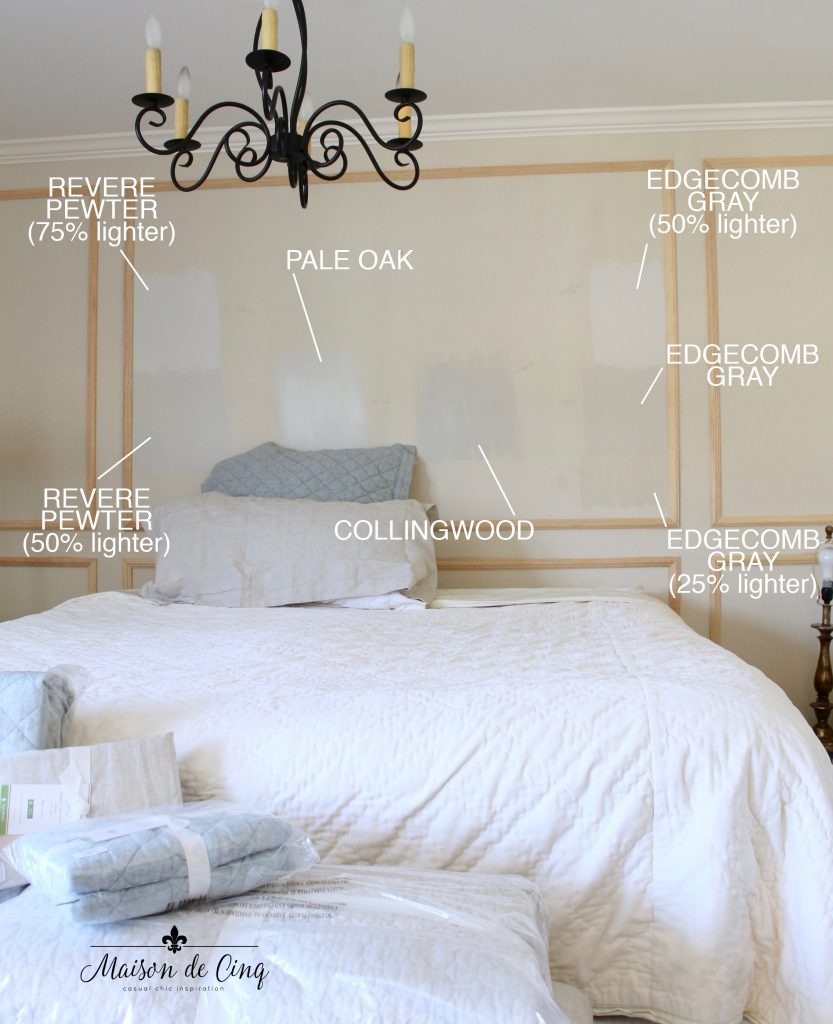 I don't have a true white painted on the walls, but I have a couple versions of Edgecomb Gray and Revere Pewter that are reduced enough that they give me an idea of what a white would look like. The one I know for sure is out is Collingwood – I just don't want anything with that much blue in it.
I really like the Edgecomb Gray – it seems like a true "greige" color. In fact, it was in the running in the office as well!
Of the paint choices on the wall right now, the two I like the most are Edgecomb Gray (full strength – it gets yellower when it gets lighter) and Revere Pewter 50%.
Lighting Woes
As I shared last week, I had ordered the chandelier below hoping against hope that it would work and unfortunately, I just don't think it's going to. It is just a little too large for the space.
I've also decided against the Morris Lantern. Not because I don't like it, I actually really do. But it is expensive and not carried anywhere that I can return it. I just don't feel comfortable spending $600 on something that is not returnable, especially since it's not on the floor of any store nearby where I could even go and see it!
So… I have two new options. First, I found another light that may work!! This chandelier is the same brand as my dining room light so I have a pretty good idea of what it looks like. I didn't really want something this light, but I do think it's pretty and it might be much better size-wise. It's on it's way….
My other option is to take my kitchen chandelier below, and remove the tassel on the bottom making it much shorter, and put that in the master bedroom! I would then put the Verrana in the kitchen. This might work, too!
Stay tuned as this involves the hubby moving lights around (definitely not his favorite thing to do, haha!)
And the other lighting woe? The lamps. In this case, I originally thought I might just keep the lamps we have and either paint them or gold-leaf them. But then I found the lamp below (the one in the mood board) and I fell in love!
But it arrived this week, and I'm not sure I love it!! For one, it is nothing like the color that it shows! It's so much darker!! It's almost as if it's a completely different lamp! So back to the drawing board on that one. I'm going to decide on the chandelier first, and then I will let that dictate my lamp choice.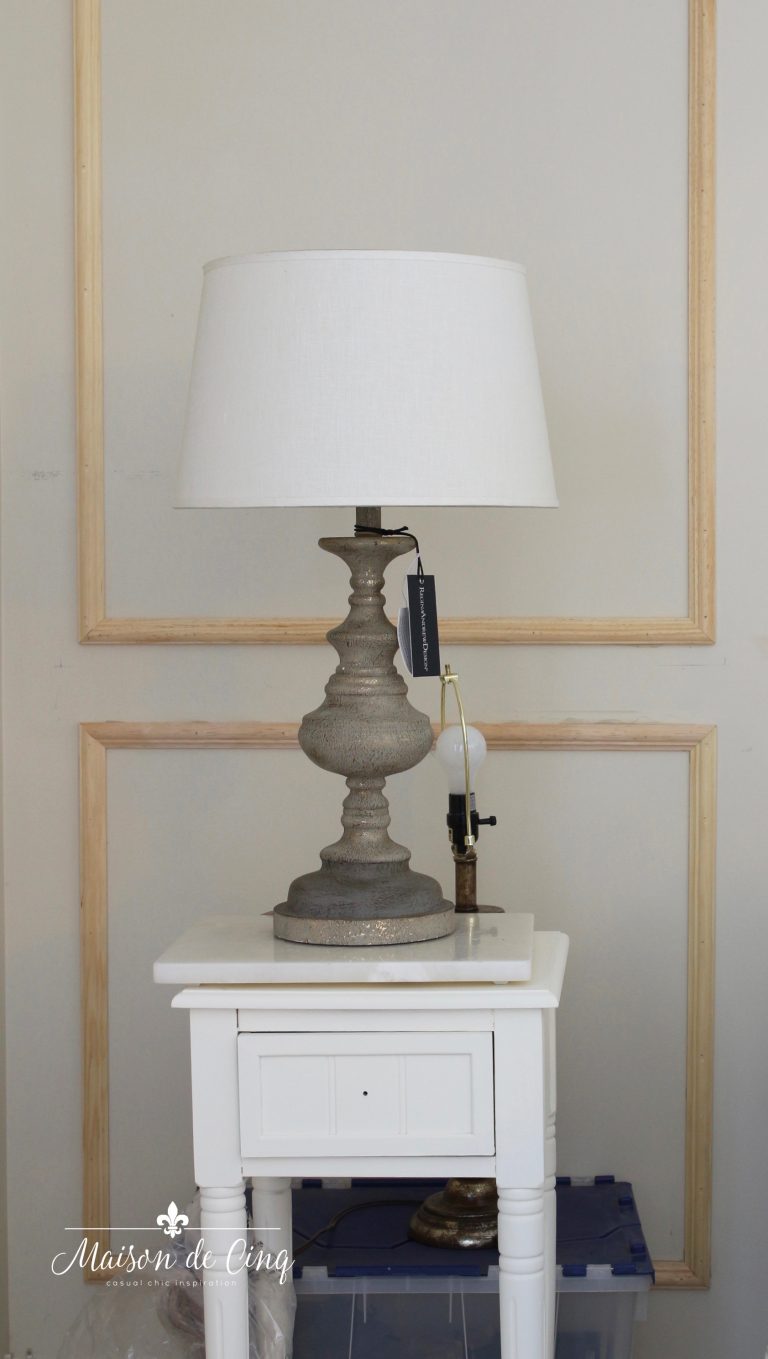 So, I'm a little nervous about choosing the paint and getting a painter to do it in time, but I'm pretty happy that everything else is coming together!! I found some artwork for the side wall that I'm really excited about! And, my bedding came in!! And can I say, I love the blue color so, so much. It's exactly the soft Robin's egg blue I was looking for!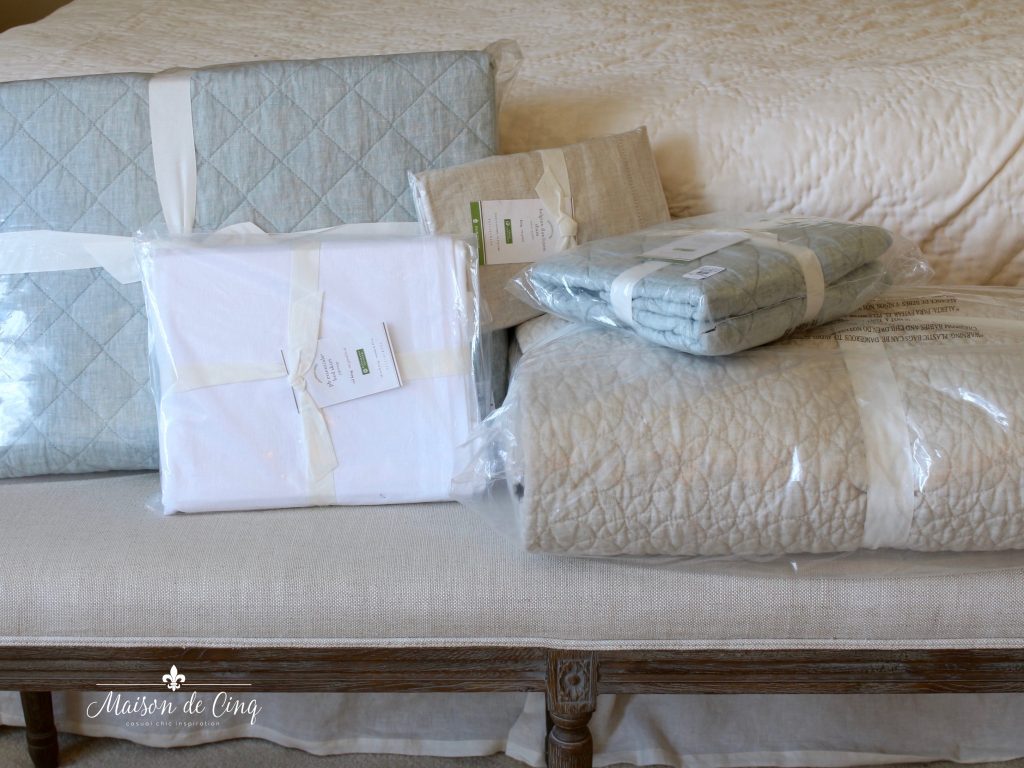 My big project for this weekend will be chalk painting the nightstands – can't wait to share that with you!
I'll be back next week with another installment but the meantime, if you missed any of the previous weeks you can get to them below!
And be sure to visit some of the other fabulous bloggers linking up at the ORC website for their Week 4 installments!
And for those of you who asked, here are links to the things I've ordered so far!
Shop the Room!

*please note post may contain affiliate links for your convenience*
Sheila
xo