One Room Challenge Week 2 – Wainscoting, Lighting & a Snafu!
It's Week 2 of the One Room Challenge (you can read all about what I'm doing here), and I've definitely made some progress on the home office project! But before I show you what we've done, I wanted to touch a little more on all that we'll be doing.
Home Office To Do
1. remove old beadboard and replace with new wainscoting
2. prime and paint new wainscoting
3. paint walls new color
4. choose and install new woven wood blind (to replace existing floral roman shade)
5. choose photos from our recent trip to France and have them framed
Home Office to Buy
1. two matching desks and chairs
2. light fixture
3. artwork for walls
4. possibly a rug?
5. accessorize! (my favorite!)
One Room Challenge – Week 2 Progress
Okay, so I've already run into a major snafu, but some things have also already gotten done! For one, I've chosen all the trim for the wainscoting and that's been started (thanks honey!) I also went ahead and ordered the lantern that you saw in the mood boards, and that has been installed which is good since there was no source of light in the room as we had moved my daughter's chandelier into her new room!
And just to prepare you all, the photos you'll see in this post (and probably a few more) are not going to be pretty! Though the blog is usually a place in which I like to share beauty of all kinds, these will not be that! You will definitely be seeing the nitty, gritty and ugly (just a warning!)
So here is where we were just a few days ago. The old beadboard was removed (my daughter's desk and bookcase are still in here for now).
My husband started measuring out the wainscoting "picture frames" or boxes by taping them up with painter's tape so we could visualize how they will look. Also, some molding samples were purchased to play around with.
Notice the former pink color that was behind the beadboard of some former girl who lived here! (Also, lots of writing on the walls and junior high-esque writings… it's quite funny!) Who knows what's behind the wainscoting in your home, right?!
With the wainscoting started and him making progress on that, I hope to be able to show you that next week!
And, my lantern from Ballard Designs is installed! I've also ordered the woven wood shade and it should be here by next week.
Just to refresh your memory (or if you didn't see my Week 1 post), here is my mood board for reference:
Home Office Inspiration Board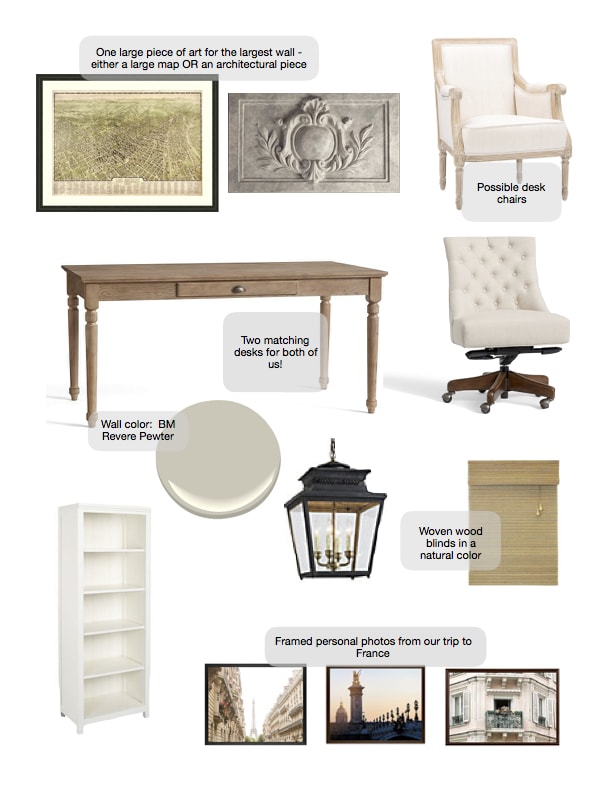 Unfortunately, I did order the desk which is the Printer's Desk from Pottery Barn, however, huge bummer because it is back ordered until JUNE! Ugh. I seriously thought I might cry when I found this out. Especially after shopping and hunting online for hours, finally deciding it was the right one, and even finding it on sale! I gave some serious thought to changing, however, it really is the perfect desk. I love the size and the color, and so does my husband, so I will just have to have my reveal sans desks! Or, hope that somehow, by some miracle, they come in earlier! (fingers crossed) Meanwhile, I'm still working on finding a desk chair that we both like, and that is affordable – no easy task!
Okay, that's it for Week 2! This week I'm off to get the photos framed, choose the art for the walls, pick a desk chair (I hope!) and try out some paint colors! And here is the Week 2 link up over at the One Room Challenge if you want to see what all the participants are doing! And if you missed my first post all about my plan, you can read Week 1 here.
Sheila
xo