One Room Challenge Week 3 – Wainscoting is in!
Hi everyone, I'm back with a One Room Challenge update! This week is Week 3 already – can I just say how fast the weeks go by when you're producing something under a deadline?!
I am pretty excited about what got accomplished over this last week, and I can't wait to show you! The wainscoting is in! My sweet husband worked over time getting it in, and I think it turned out really well. I'm seriously so thrilled with it that I go in there several times each day and gaze at it!
I mean, it isn't even painted and it already looks better than the horrible falling-apart and warped bead board that was on the walls before! I know it will look even prettier once it's all painted.
The other main thing I've been doing this week is deciding on the upper wall color. The wainscoting will be painted Benjamin Moore Cloud White (my favorite white ever!) and the upper walls a soft greige.
I've narrowed it down to basically two shades, with some variances in the formulas of those. The two I'm looking at are Edgecomb Gray and Revere Pewter, both Benjamin Moore.
I love both colors so I don't think I could really go wrong. However, I will admit that I change my mind daily! One day I think it's the Revere Pewter for sure, and then another day, I'm leaning towards Edgecomb Gray!
The funny part is I was rushing to decide on the color, and then for awhile I thought I wouldn't find a painter at all! I spoke to about five different painters who were all booking six weeks out and it had me in a slight state of panic. However, I think I may have finally found someone yesterday, and he can start next week so that's such a relief!
Oh, and I have an update on the back-ordered desk situation – I have them! As you may remember from last week's post, the Printer's Desk I picked from Pottery Barn was back ordered until June. I ended up calling all around to the stores and finally found two in Orange County. For those of you aren't from California, that is not close to me! But, I hopped in my car and drove the three-hour round trip and they are now sitting in their boxes waiting to be assembled! Phew! I'm pretty sure an "office reveal" loses some of it's oomph when there are no desks actually in the office!
Desk Choice!
I absolutely love the desk! I was able to see it in the store, and the finish is perfect. And it's huge! It will be nice for each of us to have a decent work space and I love the look.
The other thing I worked on this week was finding the office chairs. If you remember from my mood board, I was between this chair from Pottery Barn…
Possible Chair 1
and this one…
Possible Chair 2
and though I love both, I think I'm still on the hunt.
My husband thought it should have arms as it's more comfortable (and I must say, he has a point), so that removed the PB one from the running. And the French one above, though gorgeous and the-most-amazing-price-ever, doesn't seem quite "office-y" enough to me. There's no height adjustment or swivel capability so I think I'm going to try to find something a little more appropriate. Hopefully still cute, but with some office bells and whistles. And also, not $600. Not a lot to ask, right?!
So, next week I'll have paint to show you, hopefully a desk chair choice, and I will also need to be finalizing accessories and artwork as I will only have two more weeks at that point!
Here's a reminder of the direction I'm going….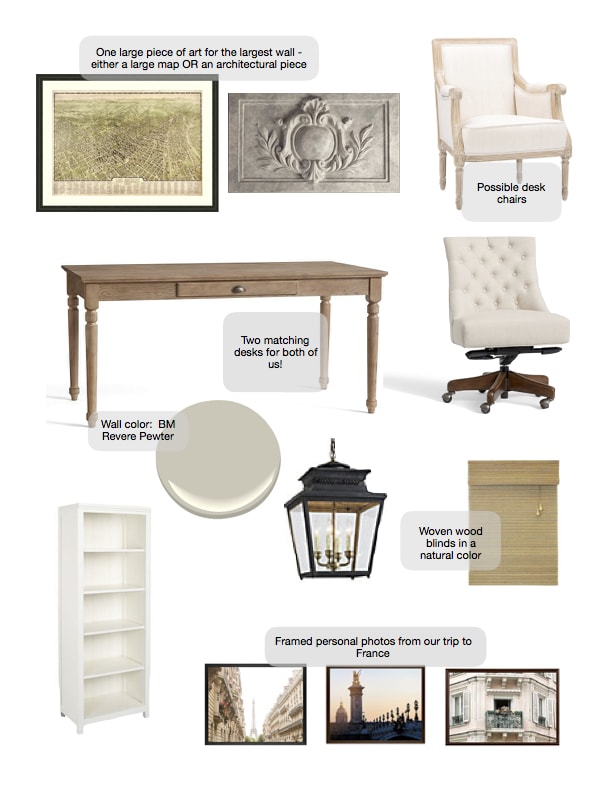 Thanks so much for following along! If you missed any of the previous posts and want to catch up, you can see them here:
And, please go check out all the other bloggers participating! You can see the featured designers, as well as everyone else linking up, here.
Sheila
xo