One Room Challenge Week 4 – Painting Woes & a Desk Chair Decision!
Hello friends! I'm here with another update on the One Room Challenge, and sadly, I don't have as much to report as I had hoped. For those of you who follow me on Instagram, you know that I've been having painter problems. Namely, no painters showing up! Besides the fact that I'm incredibly frustrated, I'm also sad because they have put me behind. Hopefully (fingers crossed!) they are done by this Friday! After that, there is really only one week to get everything put together and photographed for the big reveal!
So now that you know what I didn't get done, let's talk about what I did manage to get done! Thank goodness there were a few!
Chic Home Office Mood Board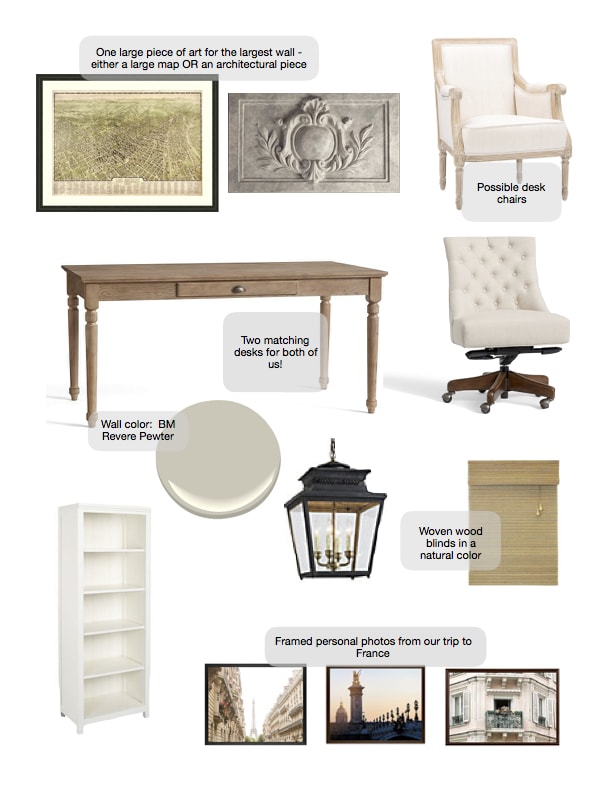 As I shared last week, my desks are here and waiting to be assembled. We also got the window shade installed. So this week I was mainly concentrating on getting my accessories together and finding a desk chair. And I found one! It's kind of a combination of the two I shared last week, which we had eliminated as possibilities. Here are the two I did not end up choosing…
And here is the desk chair that came out the winner!
Desk Chair Choice
It is the Brennon chair from Pier One, and I think it will be perfect. I went to the store to actually sit in it, as well as read the many reviews and it's very comfortable. It has arms which is nice, can be raised/lowered, and it swivels. And, it doesn't look like your typical desk chair! It think it has enough style to look pretty, but still be practical. Done!!
As for accessories, I've selected my France photos and have them ordered so that is also done. As for the frames, I did have a lucky thing happen with those! I had selected the Wood Gallery frames from Pottery Barn in the gray. I liked the simplicity of them, and the gray was pretty close to the driftwood color of the Printer's Desk.
Even better, they were having their Friends and Family sale last week and I was super excited to get them on sale. I ordered my four 8 x 10 size for a sale total of around $118. However, later that day I went to Target to get a few household items and as I walked by the frame section, this frame appeared before my eyes…. for $16.99!
I was giddy! And can I say, it is actually an even better color (slightly less gray, more driftwood-y) than the PB frame, and it's about an inch bigger in each direction which I like better as well. So, $50 bucks saved. Yay for that! A small win, but I'll take it!
I'm also still deliberating what will go on the other large wall. My husband is pushing for the map, but I really like the architectural piece (they're both in the mood board above). Trying to remember that this is our office and not just mine, haha!
The map is gorgeous (I've actually seen it in person) and I do love that it's Los Angeles but I'm not loving the idea of a black frame and I'm not sure what else I would do.
Below is the architectural panel from Restoration Hardware. I love both… just not sure which I prefer. What do you all think? Do you have a preference?
The list of things left to do is getting shorter, so I'm pretty happy about that. Once I've picked the wall decor, I just need to get some small accessories, paint my bookcase, and (possibly) select a rug. Now if only the painting gets finished we'll be in business!
Here are some of the items I've selected so far:
Scroll & Click to Shop

*affiliate links included*
And if you missed the previous posts, you can get all the details of the progress, along with the "before" pics below:
And click here to follow along with all the other guest participants!
Have a great week everyone!
Sheila
xo