One Room Challenge Week 5: Painting is Done & the Home Stretch!
It's here my friends! This is the final week before the Big Reveal of the One Room Challenge next week – eek! It's hard for me to believe that four whole weeks have already gone by! And though I still have quite a bit to pull together before the big day, I'm finally seeing the light at the end of the tunnel.
First of all, I'm happy to report that the painting is done! And not without a bit of drama, haha!
Last week I shared some of the samples of my two colors, Revere Pewter and Edgecomb Gray. I had some that were mixed 50% and 25% lighter of each of them. But after painting them on the walls, and looking at them for a few days, I realized something was seriously amiss!
See how the paint on the top left is supposed to be the Edgecomb Gray 25% lighter, but it's actually darker than the full-strength Edgecomb Gray two below it? Not to mention way more tan!! What the heck??! How I didn't notice earlier, I don't know. I'm chalking it up to stress and a bit of busyness overload. So after yet another trip to the paint store, and a new can of the 25% lighter, I ended up choosing the full-strength Edgecomb Gray.
And I'm so happy with it! For me, the Edgecomb Gray is just the absolute perfect greige. It has a bit of tan in it, but not too much. And in my north-facing bedroom, it edges toward gray a little more than tan but with both colors in there in the best possible way. I'm absolutely thrilled since I've had quite a few painting fails in my time! It is the perfect chalky greige that I was hoping for.
And…. the chandelier is in!! And it works! Because we chose to move it over the bed, and this chandelier is a little shorter than many, it's perfect in here size-wise. I got to have a rustic French country chandelier in the bedroom, something I wasn't sure I'd be able to make happen, and I'm thrilled!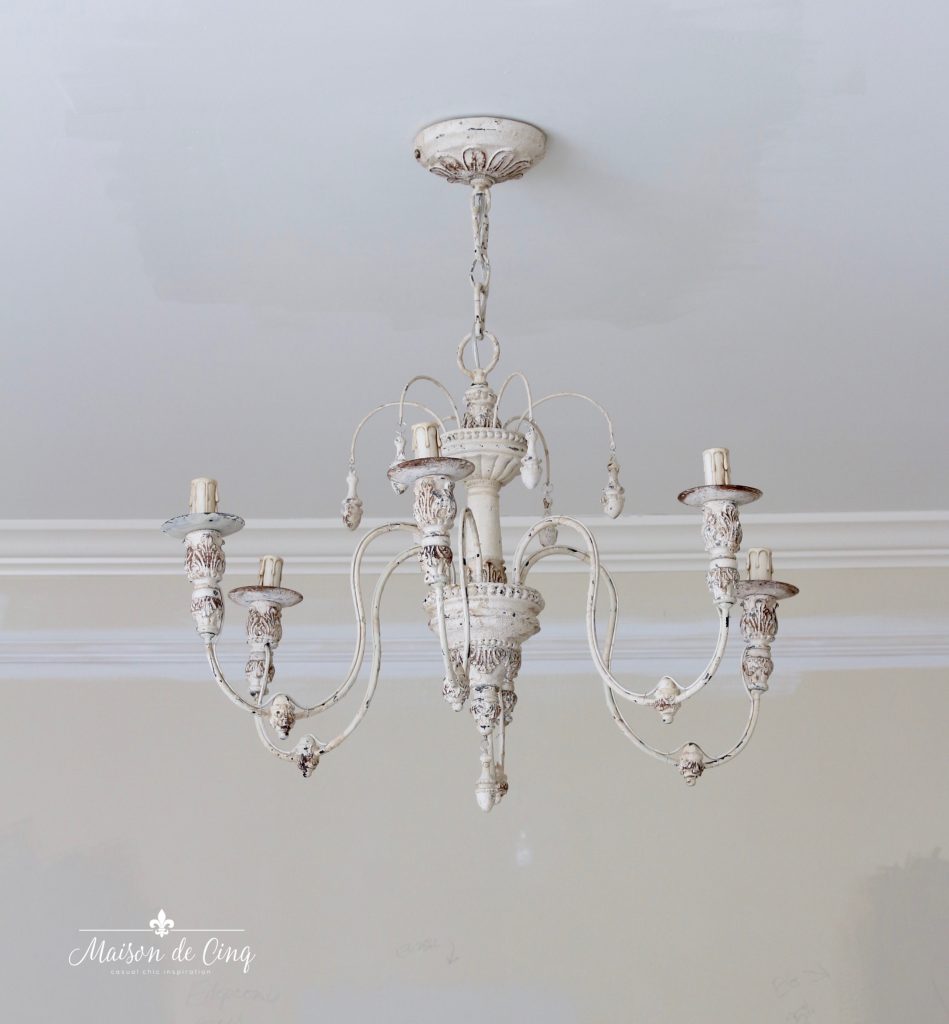 The other thing that happened over the last week was the long-awaited (dreaded?) chalk painting of the nightstands! I've been back and forth about color, as well as style. I wanted them distressed, but if you sand down the paint on the edges of a formerly dark brown nightstand, dark brown comes through. Something I definitely did not want. And I didn't want to strip them first and then paint. So… I tried a new technique I've never used before called frottage. This is a French term meaning "to rub." It's a process of rubbing some of the top layer of paint off while it's still wet, leaving a little bit of the under color showing through.
Sadly, it did not turn out as I'd hoped so I am re-painting the nightstands as we speak! Not my favorite job (I'm sure you can tell since I left all of my painting jobs until the end, haha!) Just hoping they turn out halfway decent!
Another fun item that came in this past week? The intaglio artwork! I custom ordered it from a woman on Etsy and they are gorgeous!! I will be sharing all the information next week because you guys are going to want her info!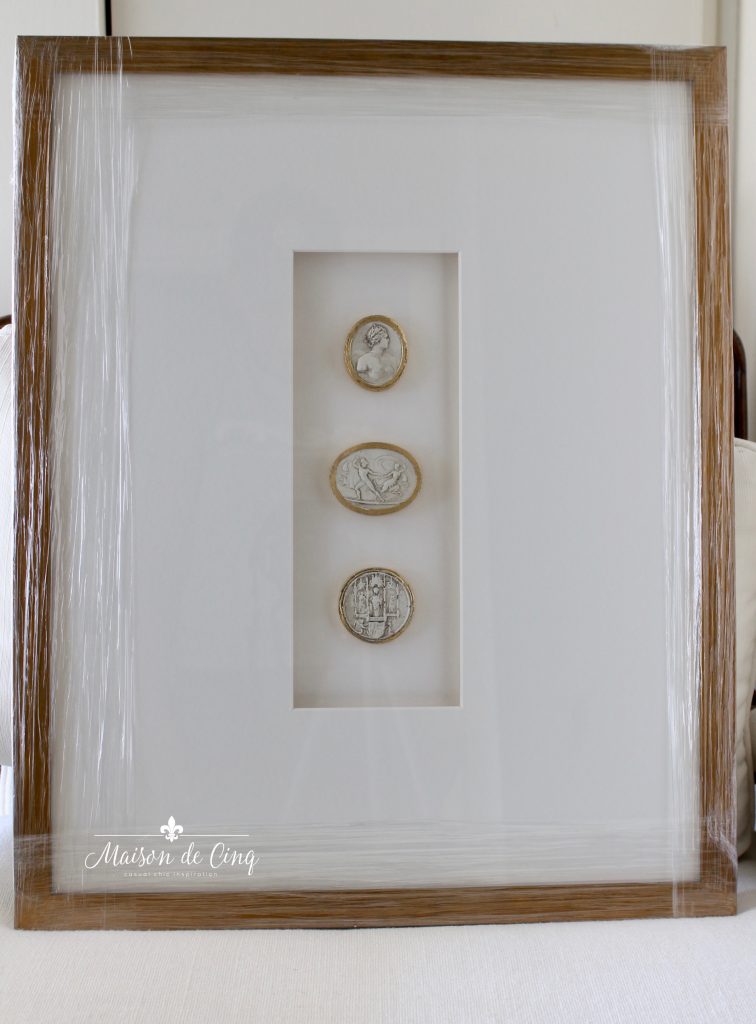 I'm in love!! They are just what I wanted!
So now I have a week to pull together the last loose ends. Let's take a look at what has to get done over the next week….
MASTER BEDROOM TO DO
1. Have new marble tops cut for nightstands (they are in the works and will be done Friday)
2. Pick up finished headboard and install
3. Pick up drapery and pillows (not until Monday – a little scary but hoping that comes through!)
4. Paint chair frame (yes, this is new! I just like adding things to the list, lol!)
5. Hang artwork on side wall
6. Decide what to do about the bedside lamps!! (Eek! Possibly more painting!)
7. Clean, vacuum and dust after all the patching and painting
9. Accessorize (and to be honest, I haven't bought a single thing for this!)
Wish me luck!
Some of the items that I've selected so far!

*please note some affiliate links are included for your convenience*
I hope you'll pop back next Thursday, May 9th to see the full reveal! I've so appreciated all of your comments and messages, both here and on Instagram. It's been so fun to have you all following along and I've loved getting your feedback. If you've missed any of the previous weeks, you can get caught up below:
Week 1 | Week 2 | Week 3 | Week 4
Make sure and stop by the One Room Challenge website and check out all the other bloggers participating!
See you next week!
Sheila
xo