One Room Challenge Week 5 – Painting is Done, Artwork Problems, & Making Progress!
Well, it's here! The final week before my big One Room Challenge reveal and I must admit, I'm feeling the pressure! When you're under a deadline, it really does make time speed by!
However, I am happy to report some successes (as well as another snafu) this week. Let's start with the successes shall we?!
The painting of the room is finished, and I could not be happier! It is rare that I paint a room and love it right from the start. I seem to either re-paint, or more frequently, live with colors I don't really love because I don't want the bother or the expense of re-painting. But this time, I loved it the minute it was up on the walls.
As I shared last week, I was between two "greige" colors from Benjamin Moore – Edgecomb Gray and Revere Pewter. As of my last writing, I was leaning more toward the Edgecomb Gray. It's definitely more of a taupe (not a true gray) and I didn't really want "gray." But after looking at the samples on the wall for over a week and painting a few more swatches, I ended up going with the Revere Pewter and I'm so glad I did! Because though I didn't want gray, I also didn't want beige, either.
This room is south facing which brings more gold tones to a room, so I thought that erring on the "gray" side would be the way to go, and thank goodness, that was the case. The sun this room gets takes what is more of a gray "greige" and takes it to a true "greige" which is exactly what I wanted! Phew!!
And…the desks are unwrapped and in the room! I love them. The color is perfect, and they're huge, with lots of space to spread out and work!
Printer's Desk from Pottery Barn
Brennon Chair from Pier One
And I'm happy to report that the chair has met all my expectations. It's stylish, comfortable, has some bells and whistles (namely, swiveling for my husband!) and it was well below $600! I am so happy I found it!
The shade is also in and I really like it. It's simple which is what I wanted. Here's a little peek at it:
So that's the good news! Now for the bad. My main snafu this week is the artwork that will be going on the largest wall. In last week's post I told you that I was deciding between the map and the architectural piece. I finally decided on the architectural piece and went to order it, and, story of my life! it's on back order! Ugh. And since it's not available in stores, there is no picking it up and saving the day like what happened with the desks!
Sadly, I will be having my reveal next week without it. I'm really bummed as I so wanted everything done, but I don't want to change my choice just because of the challenge. I mean, after all, I'll be living/working in this room for years to come and I want it to be something I love. So, I wait.
I've made a lot of progress, but there is actually quite a bit left to do! I will need to be photographing, writing, and editing on Tuesday and Wednesday to go live on Thursday, so I actually need everything done by Monday which is only five days from now! Eek!
Here's my to do list as of today:
1. Hope and pray my few last things (like the desk lamps!) arrive in time!
2. Paint/touch up shelving unit
3. Clean out closet and re-locate decor stored in there to the garage
4. Bring printer and other office supplies that are in the garage into the room
5. Dust/clean office accessories which were stored in closet because they are covered in dust from the painter's sanding!
6. Hang France photos
7. Finish buying accessories and style room/shelf unit
8. Purchase some office supplies/accessories like tape dispensers, staplers, etc. Somehow I forgot all about this, haha!
10. Possibly purchase rug. I do think I need one, but I'm not sure I'll have time to get it before the reveal
Wish me luck, haha!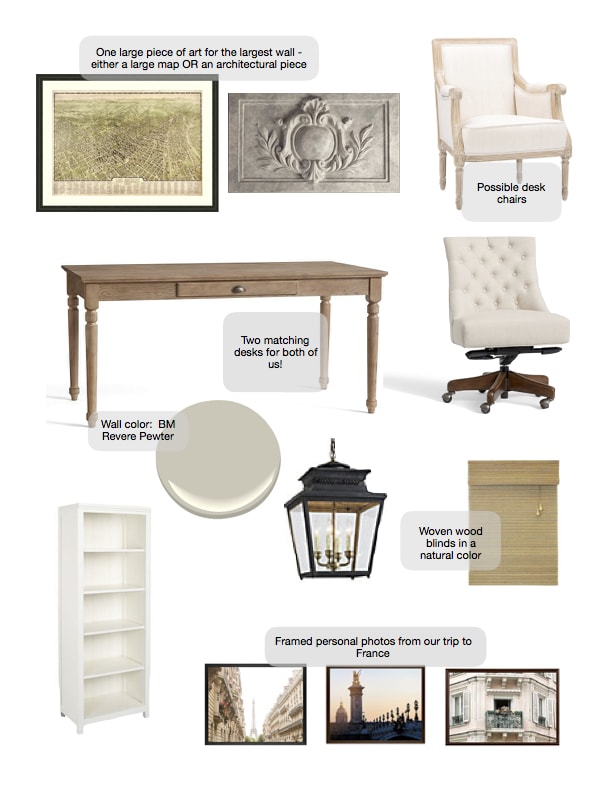 Some of the items I've selected so far:

*affiliate links included*
I hope you'll pop by May 10th to see the room all come together! I'm so excited to see it finished and it has been really fun having all of you along. I've loved your comments and emails, and on Instagram I've shared a lot in my stories and it's been great getting feedback there, too!
If you've missed any of the progress the previous weeks, you can get caught up here:
Week 1 | Week 2 | Week 3| Week 4
Make sure and stop by the One Room Challenge website and check out all the other bloggers participating!
See you next week!
Sheila
xo