One Room Challenge: My Master Bedroom Makeover Plan!
Well, I'm doing again!! And I'm both nervous and excited – a strangely similar feeling to what I had when I started the One Room Challenge last spring!
This will be my second time participating in the One Room Challenge, and this time, I'm set to do a master bedroom makeover! And even though the last time was stressful, and a little crazy, I'm doing it again. And here's the reason why. I love the feeling I get when it's finished! I am the world's biggest procrastinator when it comes to decorating (#truth) and it forces me to actually set a timeline and get it done!
For those of you not familiar with the One Room Challenge, it is a biannual event featuring 20 designers and design influencers who are challenged to tackle re-doing one room in a six week period, hosted by Linda of the blog Calling it Home. Along with the 20 influencers, bloggers are invited to join as guest participants, which is what I will be doing. What that means here at Maison de Cinq is that every Thursday for six weeks, I will be linking up on the ORC website along with everyone else who is participating, and blogging here all about my progress (or lack thereof, haha!)
And now onto the plan for my master bedroom! Our bedroom has been a source of stress for many years now. It's pretty embarrassing how unfinished it is, as is the fact that we've lived with it like this for so long! The irony is I started to re-do it once before about four years ago, but the only thing I did at the time was get new nightstands and some bedding. I didn't even really finish the bedding. I got busy, and some other project took precedence. And so this is the state it has been in for the last few years….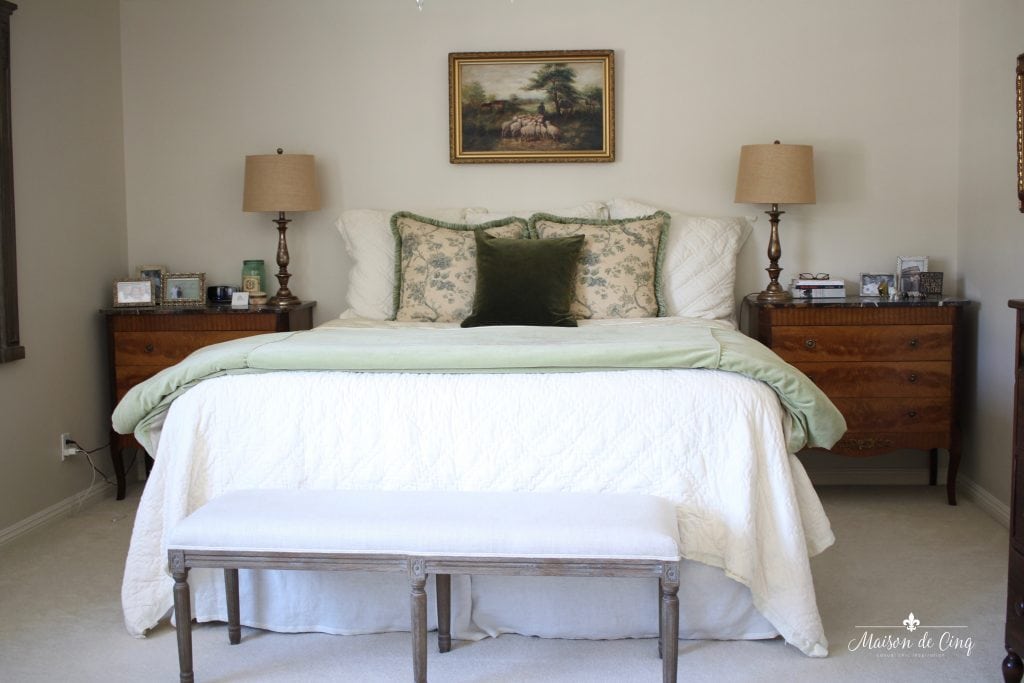 To say I'm embarrassed is an understatement! But life with three kids has kept me pretty busy. Not to mention the fact that our home needed every single space re-done when we bought it. So, to be honest, the master bedroom became the least important. My assumption was "people never see it." I figured it wasn't important. I was more concerned with the downstairs, like the kitchen and main living areas. And then of course, as the kids grew, they got their rooms re-done here and there as they outgrew the previous ones. Frankly, our bedroom just wasn't a priority.
But finishing it now will definitely be a treat for us. We'll actually be able to watch TV or read in bed which has been hard to do without a headboard! And I can't wait to get rid of the dark velvet drapes, as well as lighten the nightstands and the dresser!
These inspiration rooms will give you an idea of where I'm going with the design…
Master Bedroom Inspiration
I'm in love with this room, especially the pretty Robin's Egg Blue nightstand! Design by Marie Flanigan.
Design by Brooke Giannetti via Giannetti Home.
So lovely. And that Robin's Egg Blue again! Design by Brit Jones via Home Bunch.
So yes, I'm feeling like there is a blue theme, too! Which is surprising, because honestly, it's not always been a color I've loved in decor. But what I do love about all of these rooms is the serene feeling they impart.
So that's the plan. A bedroom that is French farmhouse in style, with neutral colors, pale woods, and a touch of that soft green/blue. Here is the mood board I put together as a guide…
Master Bedroom Mood Board
I hope you'll follow along with me as I transform this boring and dated room over the next six weeks! And be sure to check out some of the others linking up at the ORC website this week!
And if you missed last year's challenge where I tackled my home office, you can catch the full reveal here, as well as links to each of the six week's posts.
Sheila
xo