5 Easy Tips for Organizing Cabinets (for Good!)
Do you have cabinets that are packed full of china and tableware but are completely disorganized? I did too! Today I'm sharing five easy tips for organizing cabinets for good!
I'm sure we all have cabinets and closets in our homes that are disorganized, and I am definitely no exception. My large built-ins in my family room have been in pretty bad shape for awhile now, and one of my resolutions for the New Year was to start organizing the cabinets again. Last summer I shared the re-styling of the shelves with you, but now it was time to tackle the inside!
The cabinets I'm sharing today are really my work-horses. They hold almost all of my tableware, serveware, chargers, cake stands, and more. Everything that I use for the tablescapes that I share on the blog and for entertaining – it's all in there! They are so packed, in fact, that two of the doors weren't even closing, haha!
One of the reasons they were so packed is that they are actually the only storage I have in the house. One thing I really struggle with in my home is not having enough storage. It's an older home, built in the 1970s, and aside from one coat closet and a small linen closet, there is no extra storage anywhere. We don't really have a pantry, and since my kitchen is small, it's already full with the everyday dishes and cookware.
In fact, we built these when we moved in so that I'd have space for all my dishes and tableware. But I have a lot, and, it's been quite awhile since I've really tackled the space.
So my goal was to get them organized, pared down, and to be able to shut the doors and find what I need, when I need it. I'm going to share with you today what I did, as well as some tips and tricks that worked for me!
And, not only am I sharing the details of how I organized my cabinets, but I'm also including a video of my process! (make sure to scroll down to see the full video)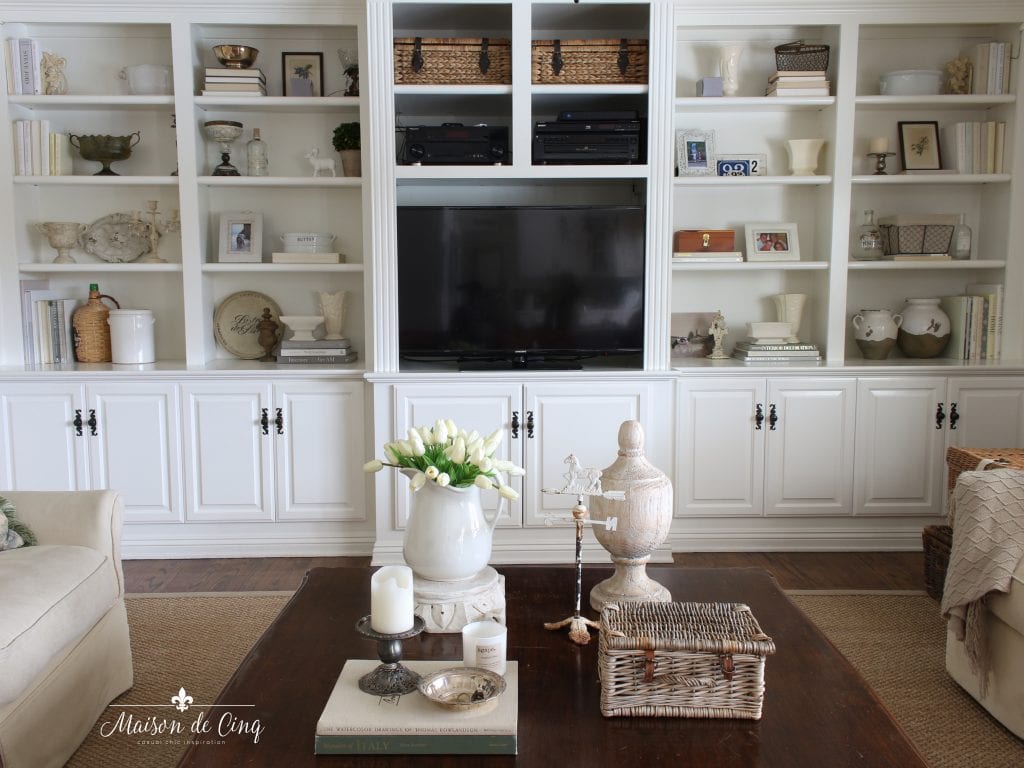 Let's take a look inside these shall we?
Overstuffed and disorganized!
Things were thrown in willy-nilly, and decor was mixed in with dishes.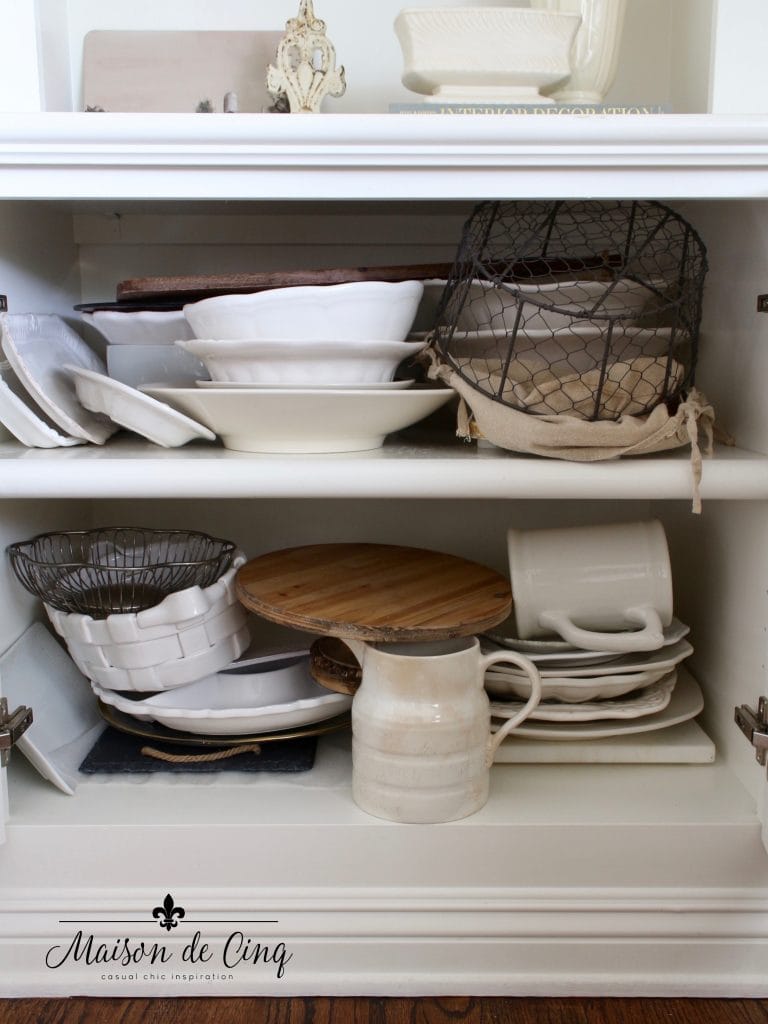 Clearly they needed some work!
Tips for Organizing Cabinets
Tip 1: Take everything out and take stock. Purge what you don't want or need by donating or selling it.
The first thing I do when organizing cabinets is to take everything out. I know this is a pain, and many people simply don't want to do it. But I believe it's key to getting your spaces to be as neat as they can be. If you don't take everything out, it's hard to know how much you actually have, and you can miss things stored in the back. By taking everything out and actually looking at it, it forces you to make some hard decisions.
Before
After
Tip 2: Apply my 3 rules to every item: only keep it if it's Useful, Beautiful, or Sentimental.
Which brings me to my next tip. Purge, purge, purge! We tend to hold onto things that we no longer use, or because we feel guilty.
My best tip for deciding what to keep or get rid of is to apply my three criteria. Each item you put back in your shelves must be either beautiful (meaning you absolutely love it), useful (meaning you do actually use it), or sentimental (it's something that is a very special something to you). And be honest with yourself! Don't keep the three tea cups you've had put away for years simply because they were from your grandma.
If you love them, absolutely keep them. But then use them! But if the fact that there are only three keeps you from using them, either donate them or try to get more so that you can use them! (Etsy and Ebay are great sources for any discontinued china).
Before
After
Tip 3: When putting everything back, store "like with like."
Originally these cabinets were relatively organized but over the years, I had really let them go. I had decor items in the cabinets even though most of my decor is stored in another cabinet in the garage!
By removing the items that didn't belong, I made room for the things that I want to stay. Now all of my serving platters are in one cabinet, rather than two. Same with my cake stands. And all my plates are grouped together as well. This makes it so much easier to find what I need!
Before
After
Tip 4: Use techniques for saving space such as stacking or nesting items, when possible.
Another tip is to stack and nest items when you can. Previously, my cake stands were scattered simply because I didn't have room for them all in one cabinet – at least that's what I thought. However, by paring down and then stacking them differently, I find they all fit in one cabinet just fine now!
My new method is to turn the cake stand upside down and store the cloche or glass dome on top. It's much more efficient this way. Likewise, I've stacked my platters neatly (and grouped them by season). I even added a thin piece of bubble wrap between each platter to protect them. Before I had them crammed in various cupboards, or they were wrapped in newspaper and I never really knew what I had. The bubble wrap protects them but I can still easily see what I need.
Before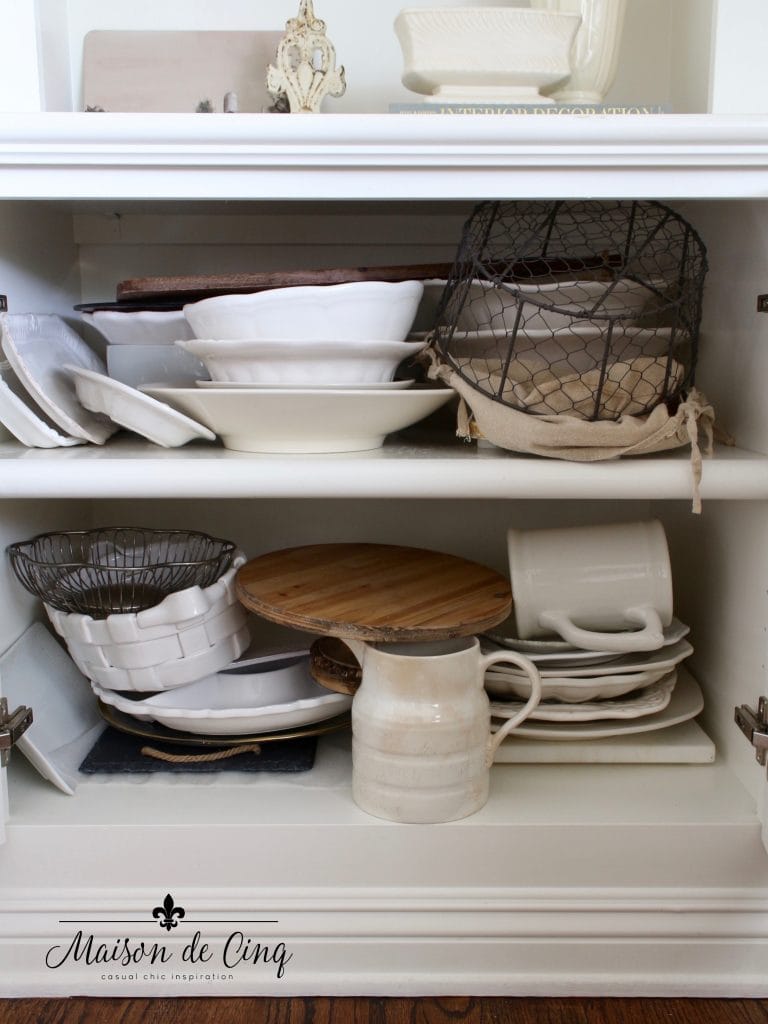 After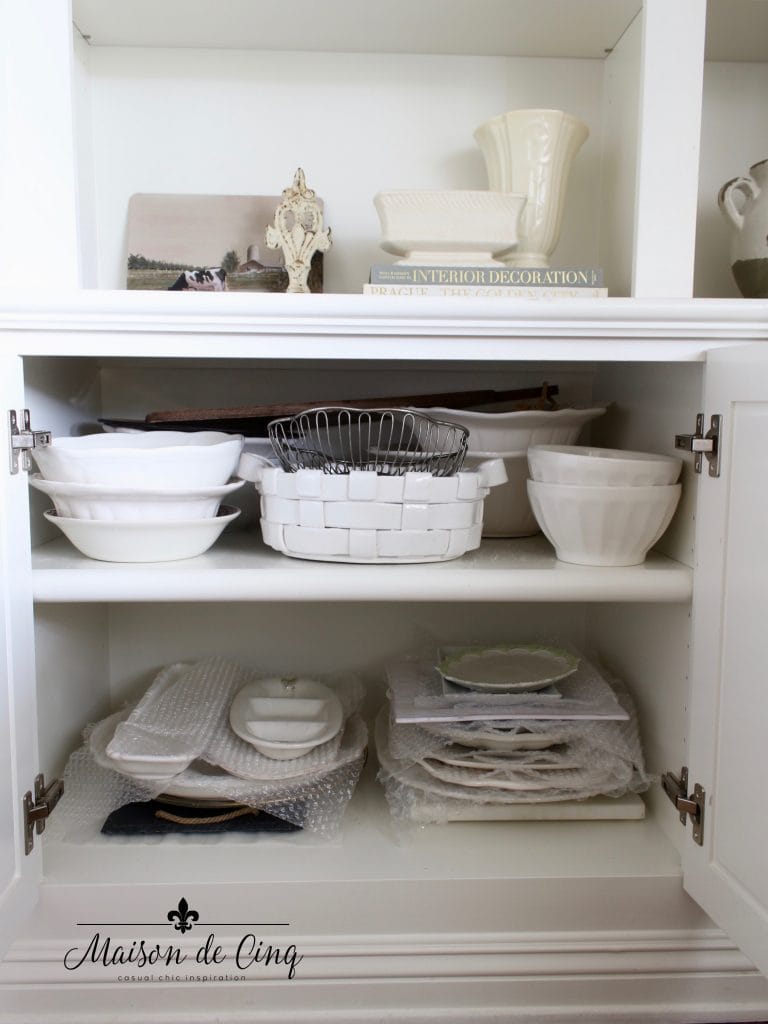 Tip 5: To keep it neat in the long run, make sure you put things back right away.
And of course, everyone's question: how do I keep it neat going forward? Well, there's no easy way to say this – you must put it back in it's proper place right away! I'm definitely guilty of this. However, now that my cabinets are so neat and I can see everything, my desire to keep them neat is stronger and I find that I'm putting things in their proper place right after using them.
Another tip? Make sure to go through your cabinets again periodically just to make sure you haven't accumulated more than you need, or to purge some things you may not be using at a later point in time. Once a year at least, but more often if you feel like it's getting out of control again.
Before

After
Watch the full video below!
I hope these tips for organizing cabinets have been helpful for you. And I'd love to know any tips that you have – especially for smaller and/or older homes like mine that don't have a lot of storage!
Here's to the start of a more organized year!
Sheila
xo
Now be sure to visit my friends below who are also sharing their organizing tips and tricks!
Designthusiasm | The Complete Guide to Kitchen Organization
StoneGable | Organizing Spices In Your Kitchen
Shabbyfufu | How To Organize The Kitchen Junk Drawer – For Good!
In My Own Style | Home Organizing Tips and Ideas
Maison de Cinq | 5 Tips for Organizing China Cabinets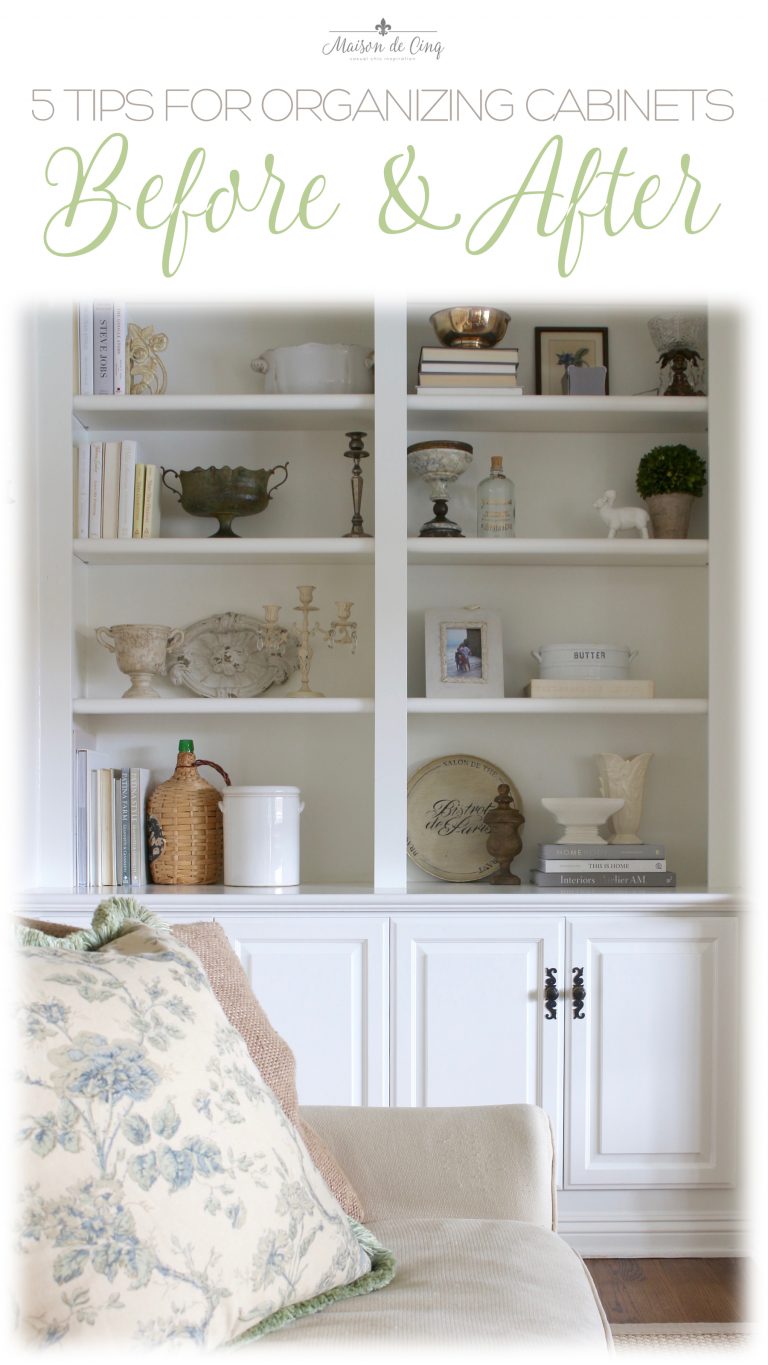 If you enjoyed this post, you might want to check out these organizing and cleaning posts below: