Outdoor Entertaining Essentials: Seven Must Have Items!
One of my absolute favorite parts of summer is dining outdoors, so today I'm sharing seven of my favorite outdoor entertaining essentials. These are my "must-haves" that make for easy (and stylish) summer entertaining!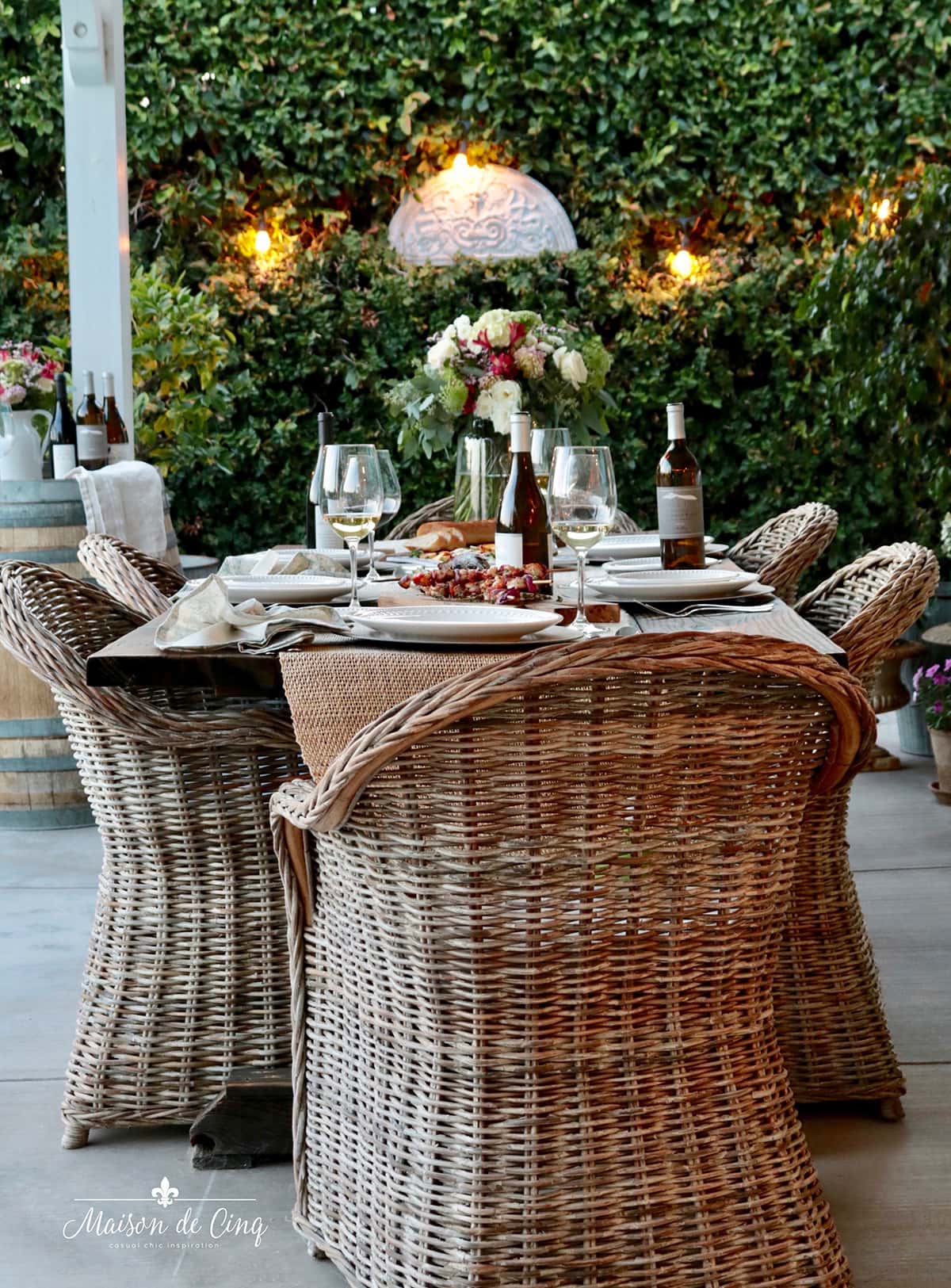 If you've been a reader for awhile now then you know how much I love entertaining, and probably my favorite form of entertaining is outdoors! There's just something about summer nights spent lingering on the patio that feel special. And because we do it so often, I've got it down to a science.
And today I'm sharing my absolute, favorite, must-haves that I use when I'm entertaining outdoors! I've listed my top seven, but to be honest, there were even a few more so I've included those at the bottom of the post.
Here's to summer…. 🙂
THIS POST MAY INCLUDE AFFILIATE LINKS. CLICK HERE FOR MY FULL DISCLOSURE POLICY.

Would you believe that I never had outdoor wine glasses until last year?! Haha, I can't even say why which makes it even more strange!
With all the entertaining we do outside, we had quite a few mishaps so last year I finally bought some. I can't believe it took me this long!
If you buy high quality acrylic, you can't go wrong. They're much more attractive and realistic looking than plastic. In fact, from a few feet away, you literally can't tell the difference between the two!
I have these glasses for both red and white as my husband is pretty particular about glasses, but you could definitely get by with just one basic shape.


Lanterns!! I literally can't imagine summer without my favorite Pottery Barn lanterns! I move them all over the place. We use them by the fire pit, and on the front porch, as well as on the dining table.
I have some other ones from places like Home Goods, too, because I love to mix and match them. But actually, any outdoor lantern will add lots of rustic charm to your space.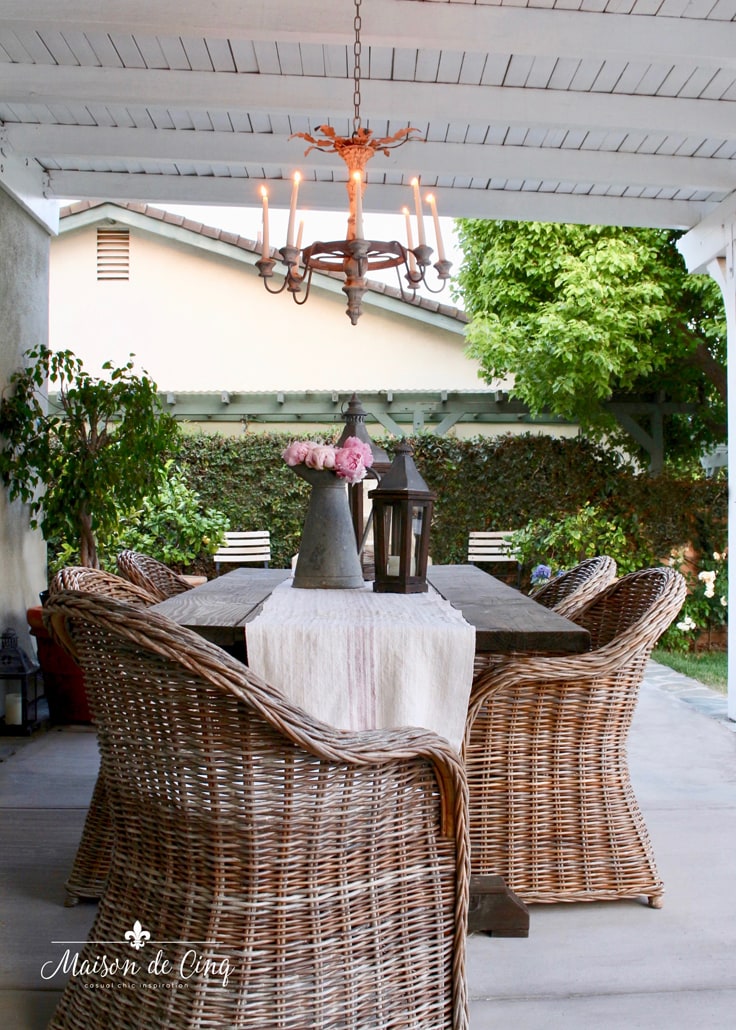 I can't imagine entertaining without them!


And speaking of lanterns, you have to get some flameless candles! This is another thing that I find to be absolutely essential to outdoor entertaining.
I used to use regular candles in my lanterns, and then they would melt all over my PB lanterns. Which are wood. Not good. 🙁
Now there are also beautiful, realistic looking flameless candles that have real wax on the outside. But let me give you a piece of advice so you don't screw up like I did – don't use those outside! Because they're made of real wax, they still melt! I purchased some of those last year and they melted all over my pretty wood lanterns.
Not only was it a mess to clean up, but it ended up being a huge waste of money. So now, I've invested in these outdoor flameless candles (make sure they specify outdoor) and they've been great! I also have some from Pottery Barn and I like those, too.


I've spoken about this bluetooth speaker before – it's even been in my Christmas Gift Guide – and I'm telling you it's fabulous! It makes listening to music outdoors so easy.
We actually have speakers set up outdoors but they run from the stereo. And if you're anything like us, you aren't really popping in CDs anymore! Since buying this UE Boom, we never use the speakers outside anymore. We simply move this around. 😉
And this little speaker is a powerhouse! It has amazing sound, especially for its size. And the battery runs for a really long time.
You run it through your cell phone (or any other bluetooth device) and it can play any music that you have on your phone, or it can connect to Pandora or Spotify. We've had the UE for a few years now, but I've also heard great things about the Bose! Either way, it's a real game changer for outdoor music – not to mention you can take it camping or to the beach with you!


I love to have some extra chairs around. We used to have some cheap plastic ones, but I finally decided to spring for something a little more attractive. I love the look of bistro chairs, so we bought this 3-piece set of two chairs and a little table.
And this summer I'm going to buy two more chairs just so we have some extras – they really come in handy when we're having more people over.
On other nights, I use the table for serving and storing food that may not fit on the dining table. And the chairs and the table all fold up so they are easily stored! Win/win!


String lights are so adorable, and they add so much charm to any outdoor space!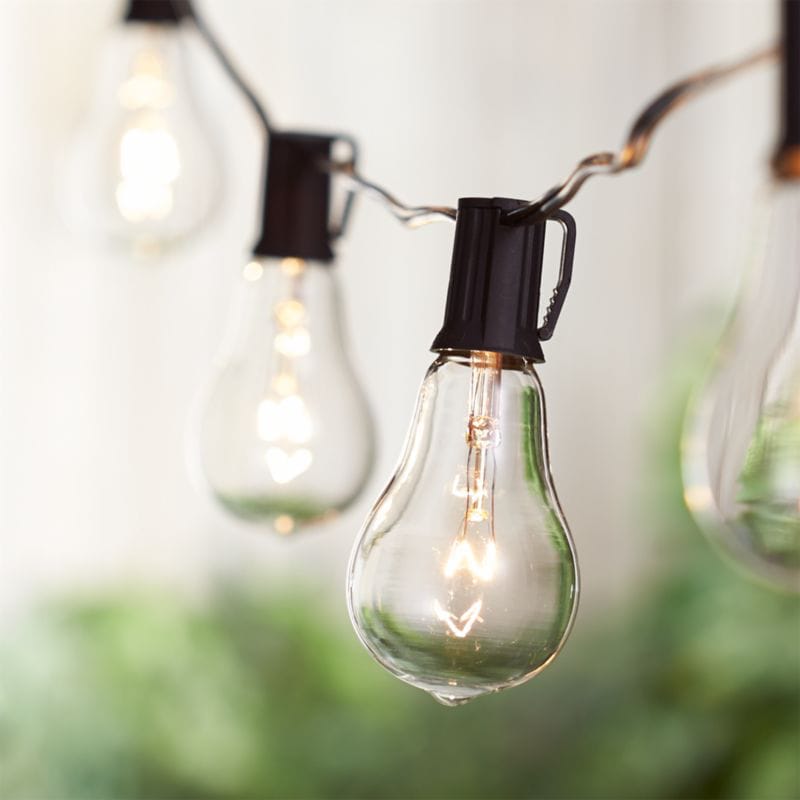 I especially love the 'Edison' style bulb versions, but to be honest, any twinkling, white light is welcome on a summer evening!
I just recently purchased these and I can't believe how much ambiance they add to the patio! To me they really add ambiance and make any night feel more special. We have one of the 24′ and one of the 48′ strung together across the patio and I just love them!


This one is super simple and inexpensive, but I think it's a definite outdoor entertaining essential.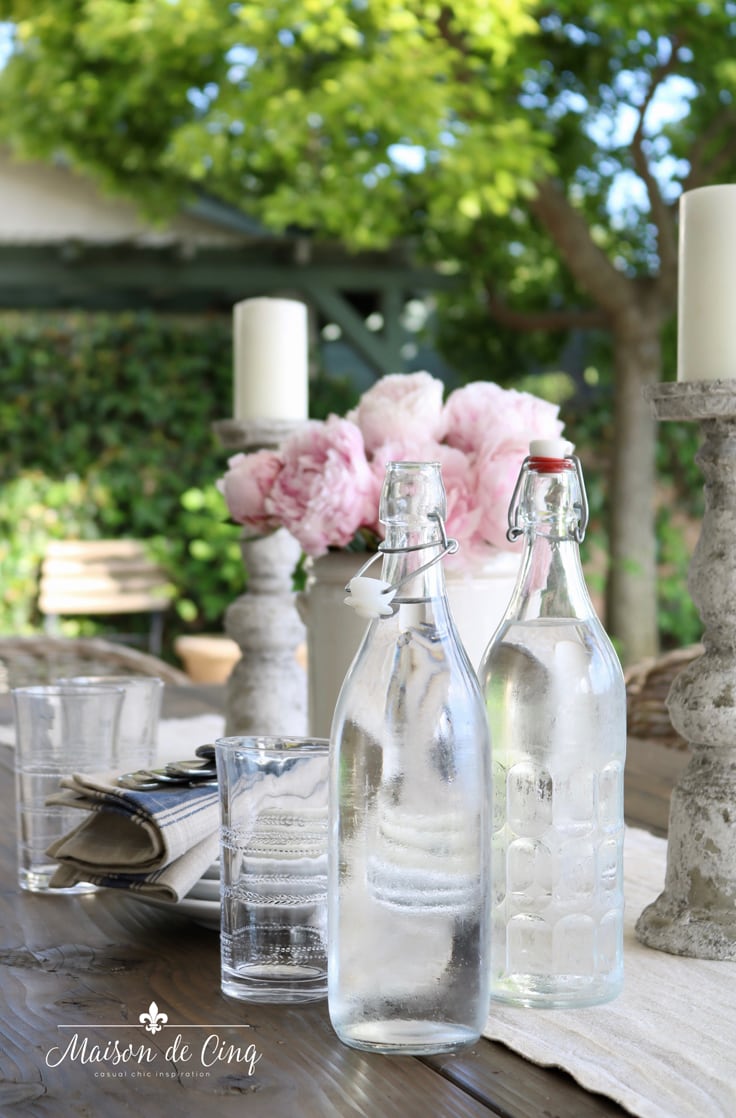 These water bottles are something I always have on the table when we're entertaining, and even more so in the summer! I fill them and keep them in the refrigerator and then when we have friends over we have cold, filtered water ready to keep everyone hydrated.
I like to put two on the table, one on each end. That way everyone can help themselves when they're thirsty.

There are a few other items that I love for summer entertaining as well. Maybe not essentials, but definitely favorites!
I love to have some warm throw blankets to keep outside for when the evenings cool down. We also have high-quality marshmallow roasting sticks (they make such a difference!). A large tray for serving and bringing things back and forth from inside is always nice, and some pretty wicker glasses make everything taste better! 😉
And if you can afford it, definitely think about adding a portable heater! We bought this one last year and it's a game changer!
Shop Outdoor Entertaining Essentials


Happy Summer!
Sheila
xo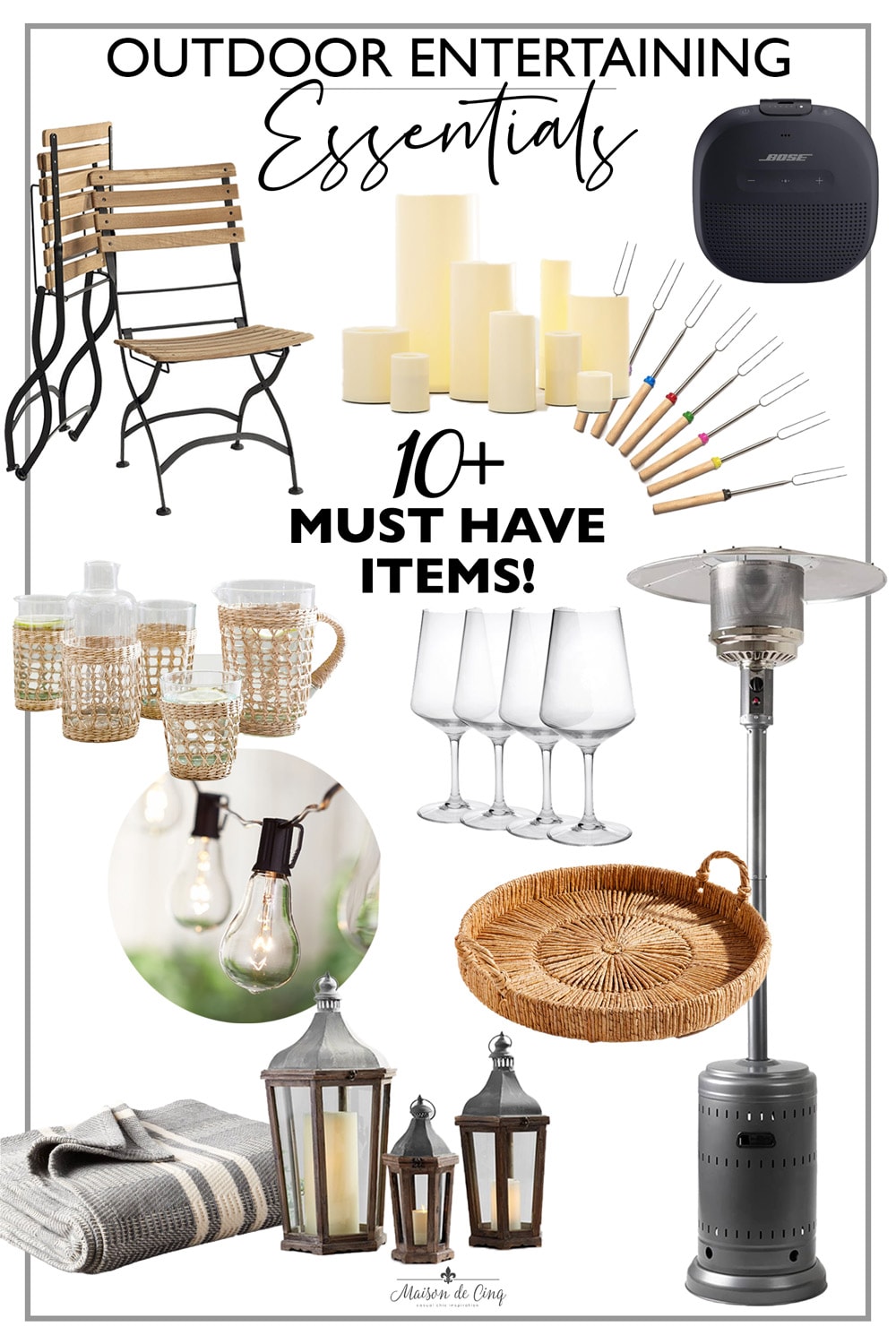 Now check out what outdoor entertaining essentials my friends are sharing below!
Seeking Lavender Lane: 4th of July Sweets Charcuterie Board
Shades of Blue: Outdoor Entertaining Essentials
So Much Better with Age: Eco-Friendly Outdoor Entertaining Essentials
Thistlewood Farms: Favorites for Dining Alfresco
Tidbits: 10 Fun Products for the Perfect Picnic
If you enjoyed this post, be sure to check out more summer inspiration below!