Patio Decor Ideas: How to Create an Outdoor Oasis
Do you love a relaxing outdoor space? These patio decor ideas will help you create an outdoor oasis of your own!
Summer has a feel all its own. Warm nights sitting outdoors, time spent reading on the patio, and of course, dining alfresco. All of these activities call for an outdoor space where you can relax and recharge. But if you're anything like me, your outdoor space may not be quite what you want it to be.
To be honest, until recently our patio was a bit of a mess. My outdoor cushions were stained and needed replacing. My pots were full of mostly dead plants. And I had never found outdoor lounge furniture that I liked and that I could afford so that part of the dream had never been realized.
It was time for a refresh. And this time, I was determined to finally finish our outdoor space in the way I had always dreamed of.
This post may include affiliate links. Click here for my full disclosure policy.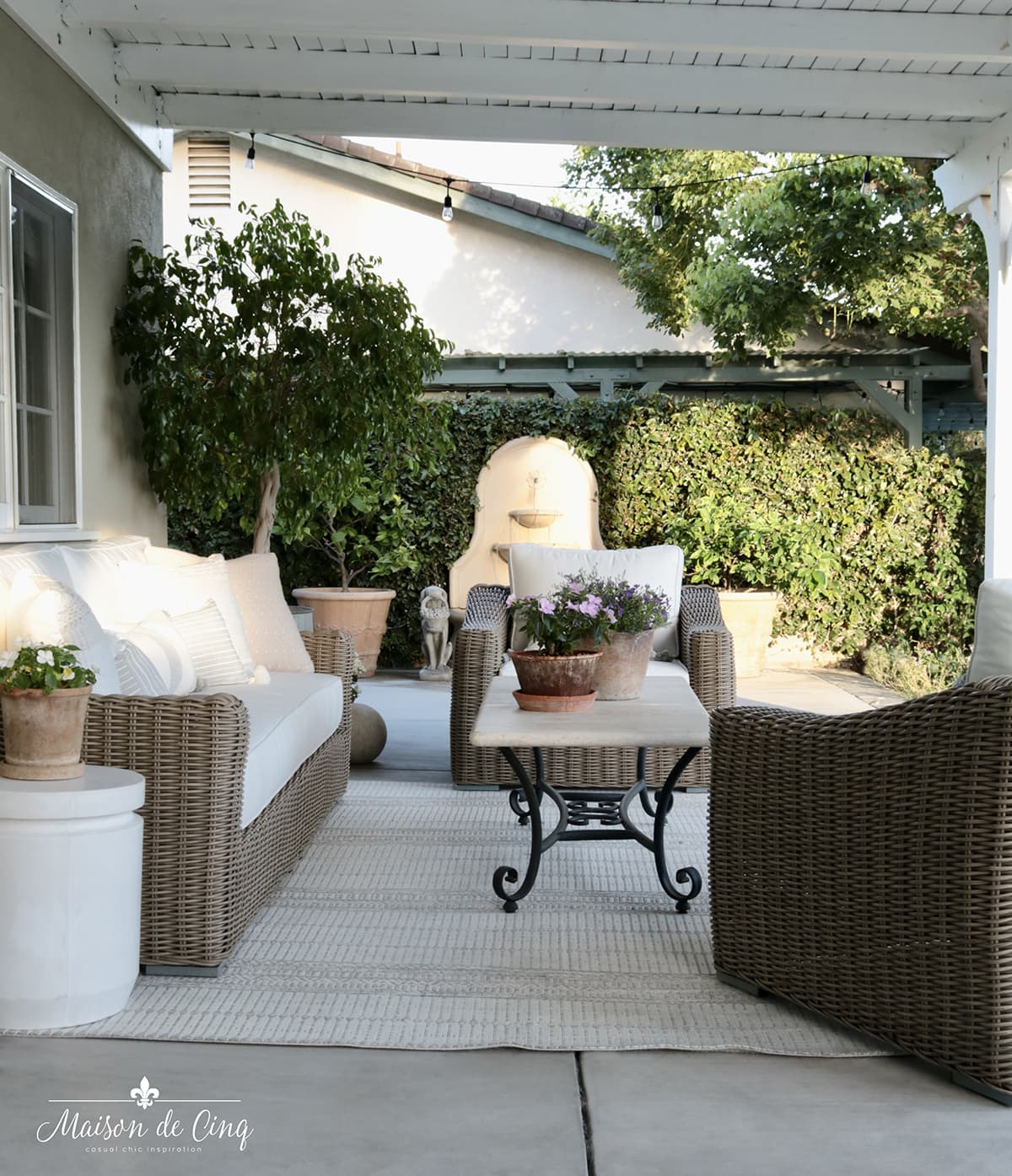 Today I'm sharing some patio decor ideas that can help you refresh your patio or outdoor space. And in case you think your area is too small, I don't think so! It doesn't need to be a large space to create something special.
In fact, I think the key to creating a true outdoor oasis is much more about ambience than it is size!
Take Inventory of What You Already Have
The first thing I did when summer rolled around was take an inventory. Our dining area has a great table my husband made (you can read about that here), as well as chairs I still love. So those got a good cleaning and that's about it.
For those asking, I'm also sharing a similar outdoor wicker chair (these aren't actually made for the outdoors!)

However, the cushions on our iron chairs were in pretty bad shape so I decided to order a new set of those. One thing that's nice about investing in quality outdoor furniture is it lasts a long time. These chairs are almost a decade old and still in great shape, and now the new cushions really gave them a new lease on life!

Add Plants and Flowers
Of course, I also added some blooming plants to all the planters and pots. Plants bring so much life and color and really help an outdoor space feel complete. Even the most beautiful outdoor space feels a bit bare without any plants or flowers.
In fact, if it feels like something is missing in your own outdoor space, it's almost sure to be a lack of blooms. And on a small patio, flowering plants can really make a huge difference in how the space feels.

Clean, Tidy, and Clean Some More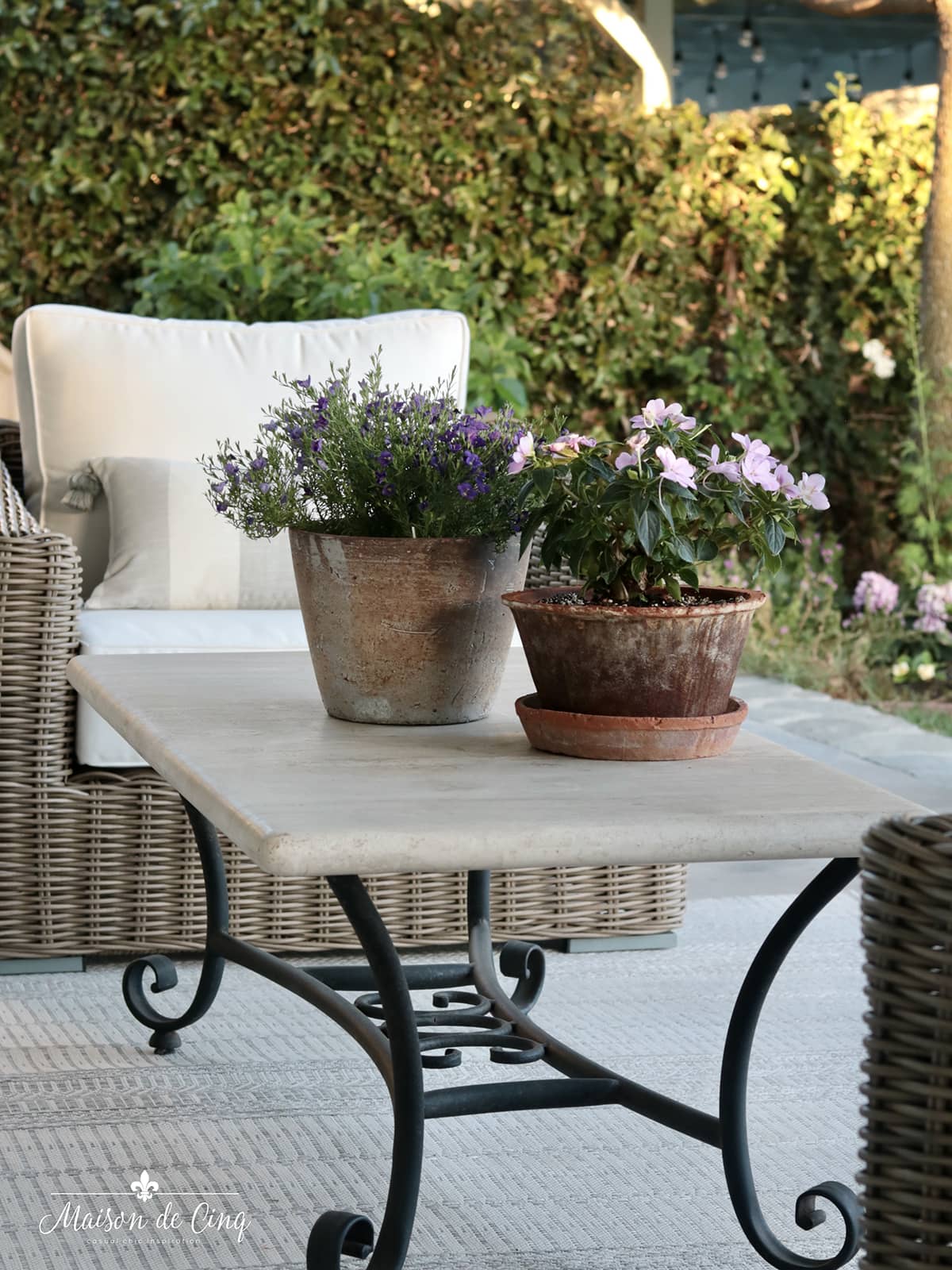 It's hard to overstate what a difference a clean space can make. When I first tackled the patio area, there were dead leaves and debris accumulated behind the pots, around the fountain and under the dining table. I spent the good part of a day sweeping everything, scrubbing the furniture, and cleaning the cushions that were staying.
Just that day of cleaning made such a difference. Even before I added flowers or new furniture, it already felt so much better!

Add Unique Elements
Because I'm a lover of vintage elements, I tend to add those to the patio as well. Here I displayed a vintage bird statue in a vignette on the dining table.
But really you can add anything – from a garden statue, to a bowl of shells, to a vintage watering can, to a wine barrel. And it doesn't have to be antique – anything that you love does the trick!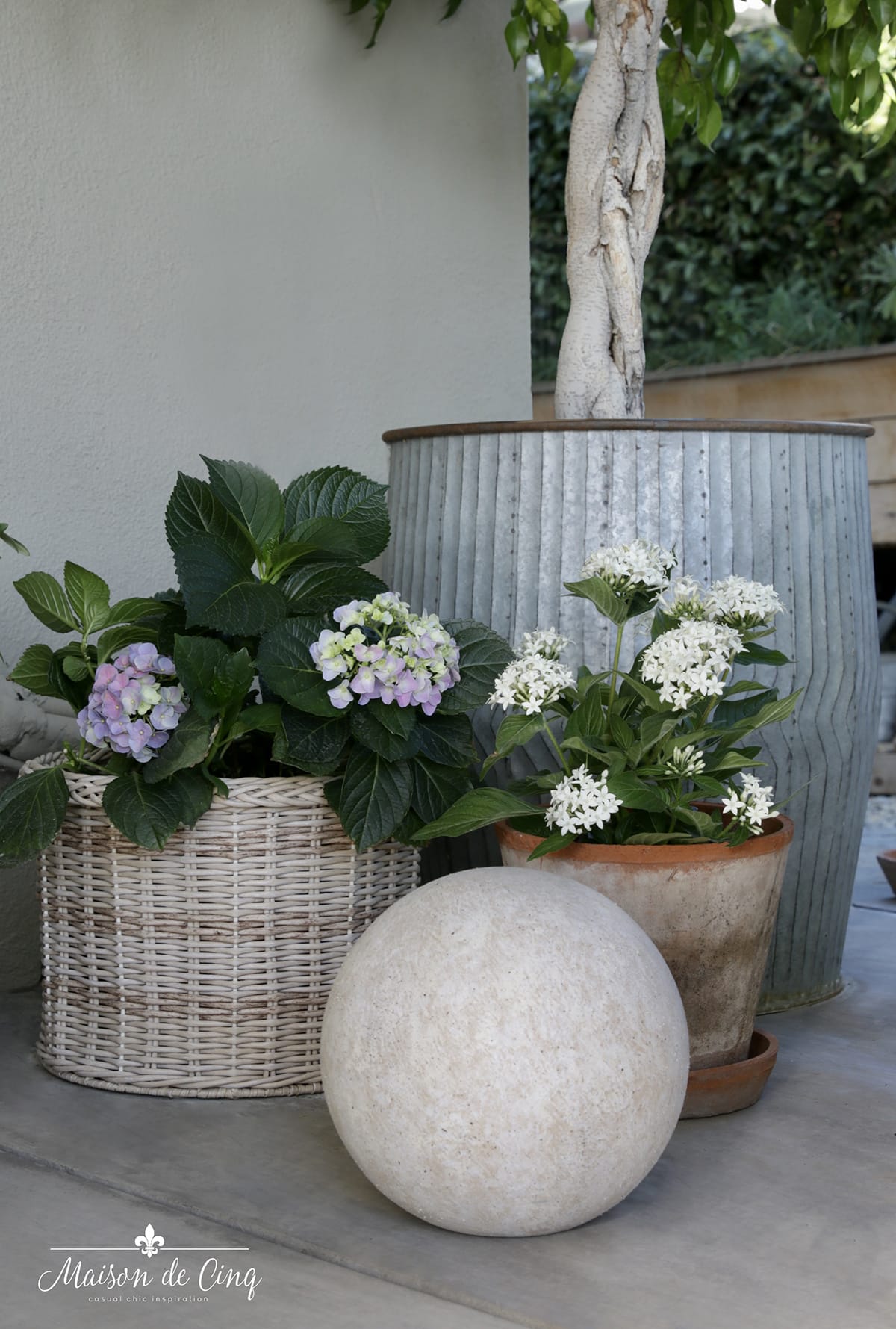 I recently purchased this stone sphere and I love it! I'm waiting on another size (it's backordered) but I love the European character it adds. I'm even tempted to buy a few more!
Adding some unexpected decor elements helps make any outdoor space feel like an extension of your indoor space. And when you bring your style outside, your home continues to tell your story.

Add Indoor Comforts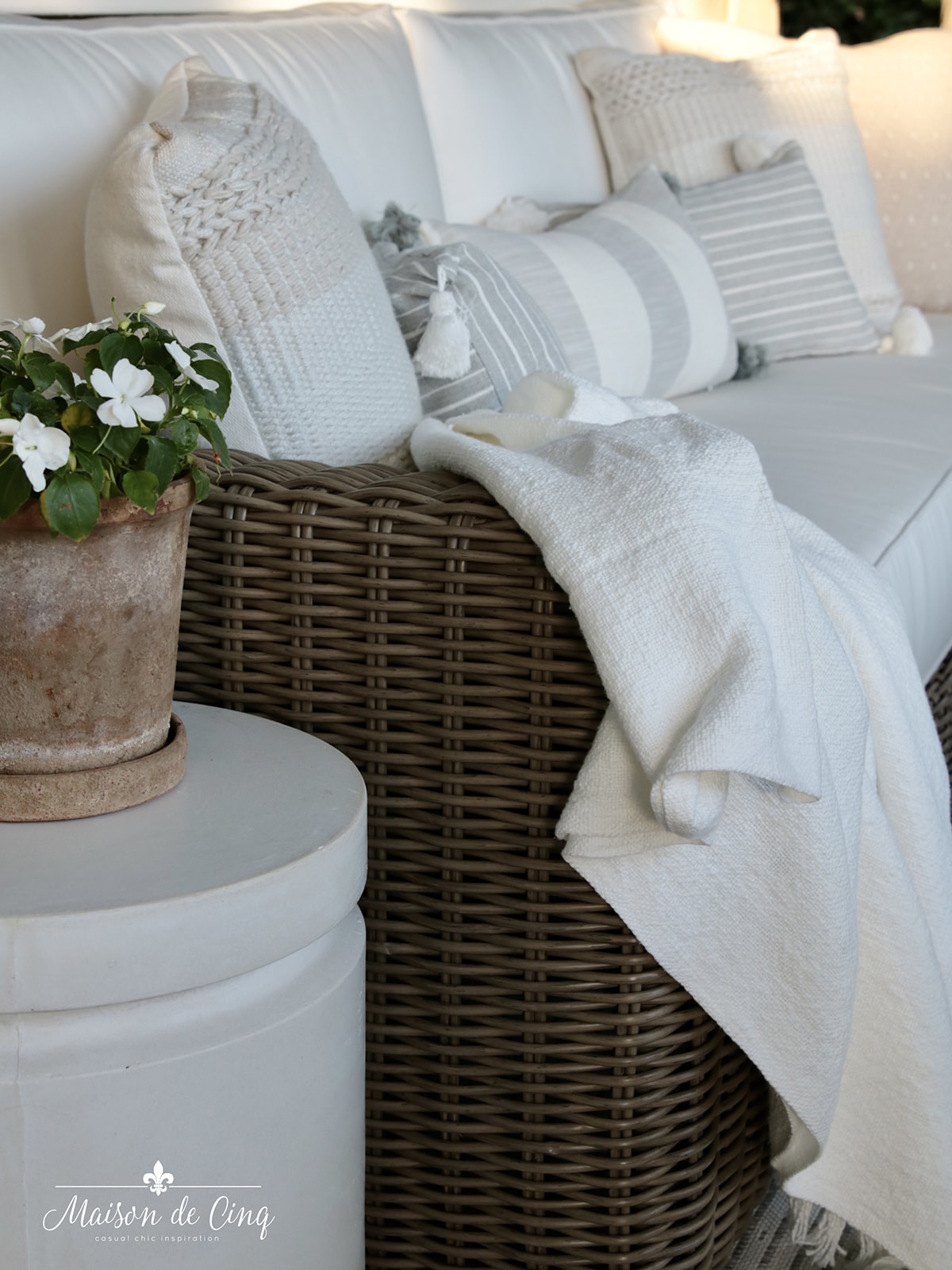 If you really want to create an outdoor oasis, add some comforts from indoors. Throw pillows on the sofa and outdoor heaters or throws for cooler evenings help to make it cozier and extends the amount of time you can spend outside.

Add Extra Lighting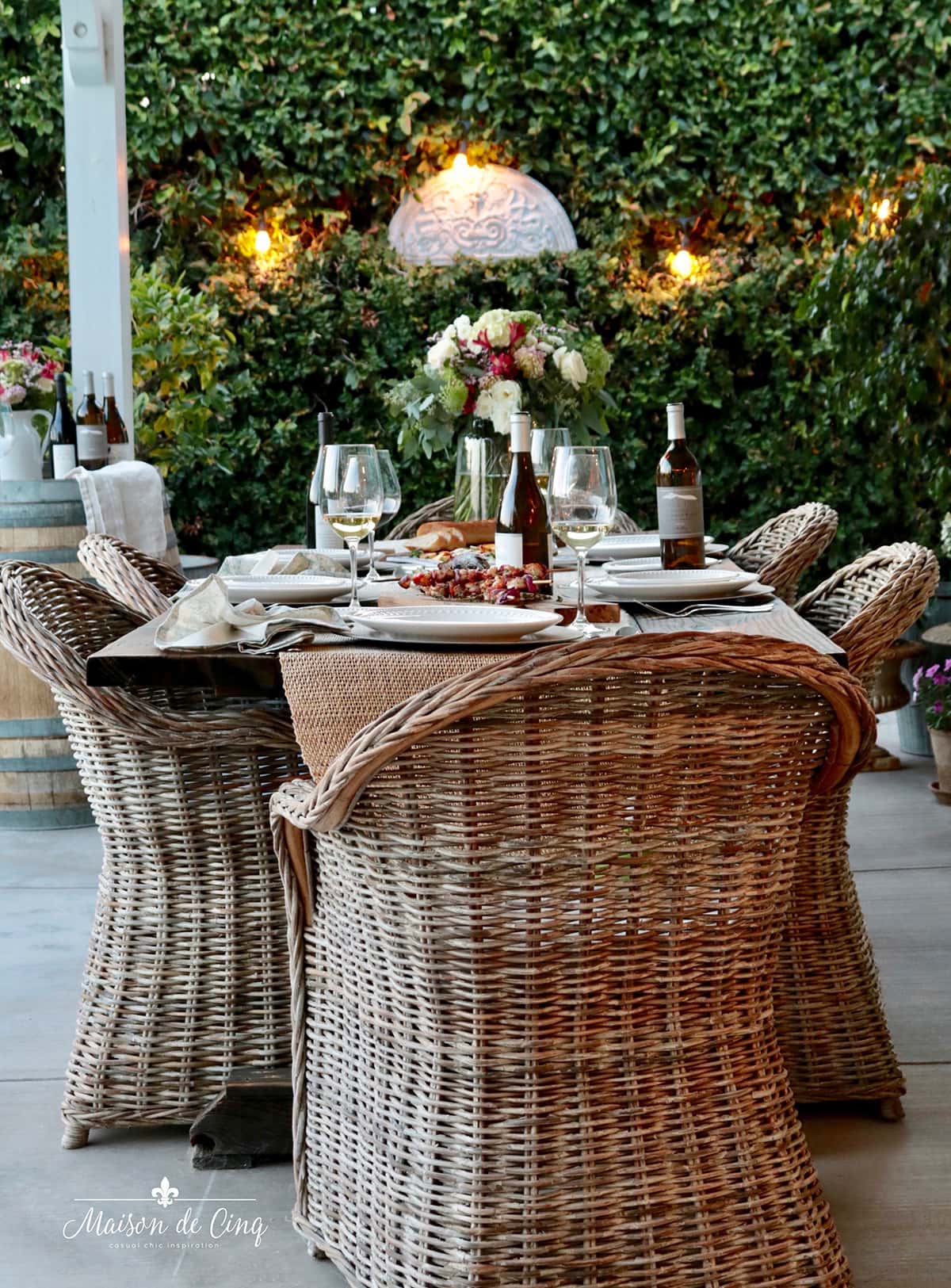 One thing our outdoor space didn't have originally is a lot of light. There are only two wall sconces and they don't really light up the patio. So until I added our string lights last year, it really did get difficult to stay out much past dinnertime. Even if it wasn't cold, it just felt way too dark!
But now the string lights have added so much light and made for much better evenings outside. To be honest, I can't think of anything that has changed the look of our outdoor space for such a small investment!
And don't forgot to add lanterns or candles on the table for added ambience. 🙂

Invest in an Outdoor Rug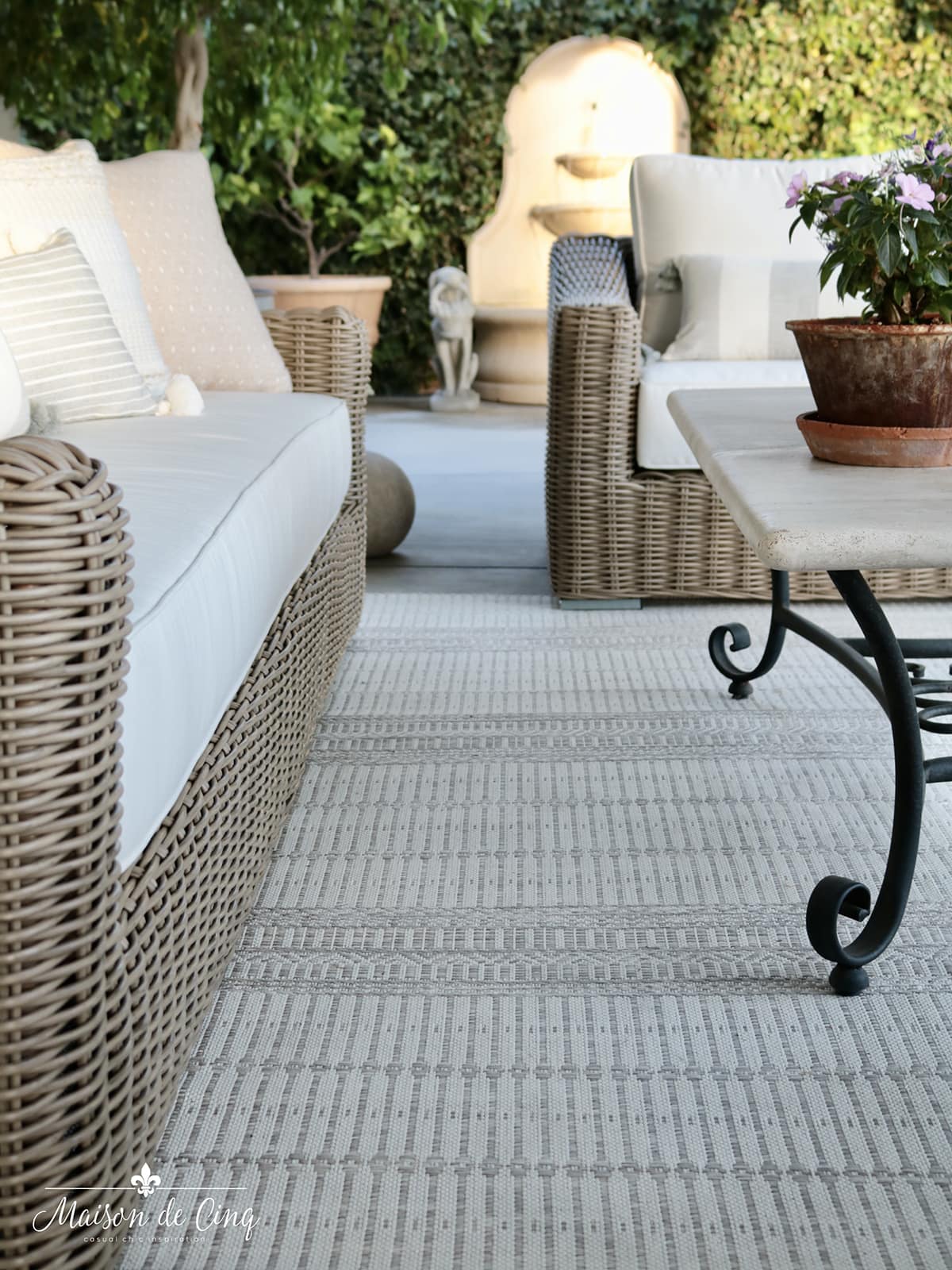 Really I shouldn't even use the word 'invest' when outdoor rugs are so reasonably priced these days! I added a new one in more neutral tones this year and it's from Target. Not only that, there were probably 4 more that could have worked and were equally well-priced!
And as someone who didn't have an outdoor rug until a few years ago, I would argue that they add much needed coziness to an outdoor space. In fact, outdoor rugs are one of my very favorite patio decor ideas! Not only do they make any outdoor space feel cozier, but they keep lounge areas cleaner, and they help to delineate different areas – especially helpful in larger outdoor spaces.

Add Lounge Seating of Some Kind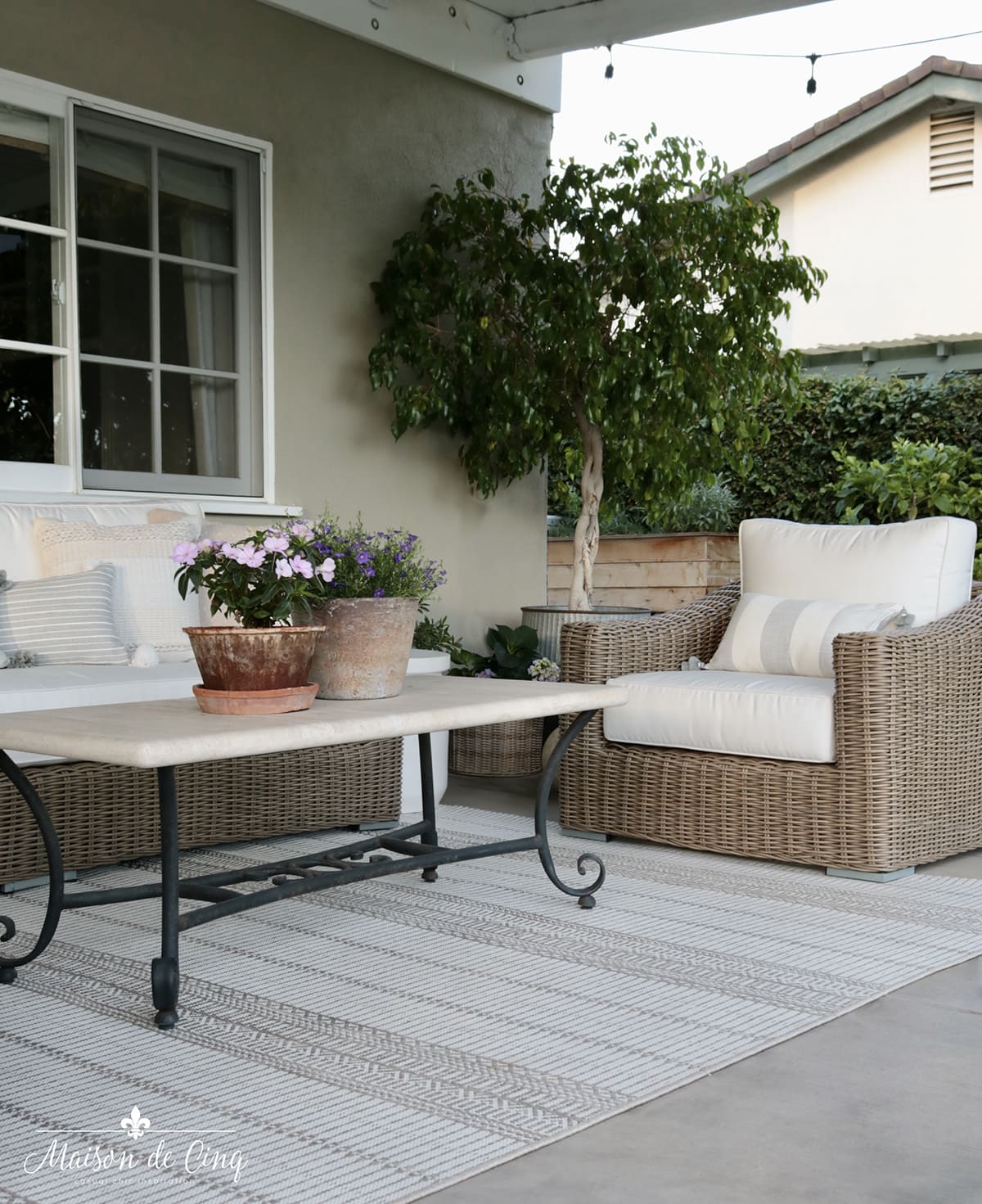 I had always wanted some sort of sofa or sectional out here to create a true outdoor living space. But as I'm sure you know, outdoor lounge furniture can be tricky! Either I found sets that weren't my style, or I found gorgeous ones that were way out of my budget. And though there are tons of less expensive sets, I didn't want to go too cheap lest it wear out too fast and end up in a landfill – something I always try to avoid.
I have always loved the Restoration Hardware Provence line. I love outdoor wicker. And it's a classic French-inspired design (right up my alley!) However, the price was prohibitive.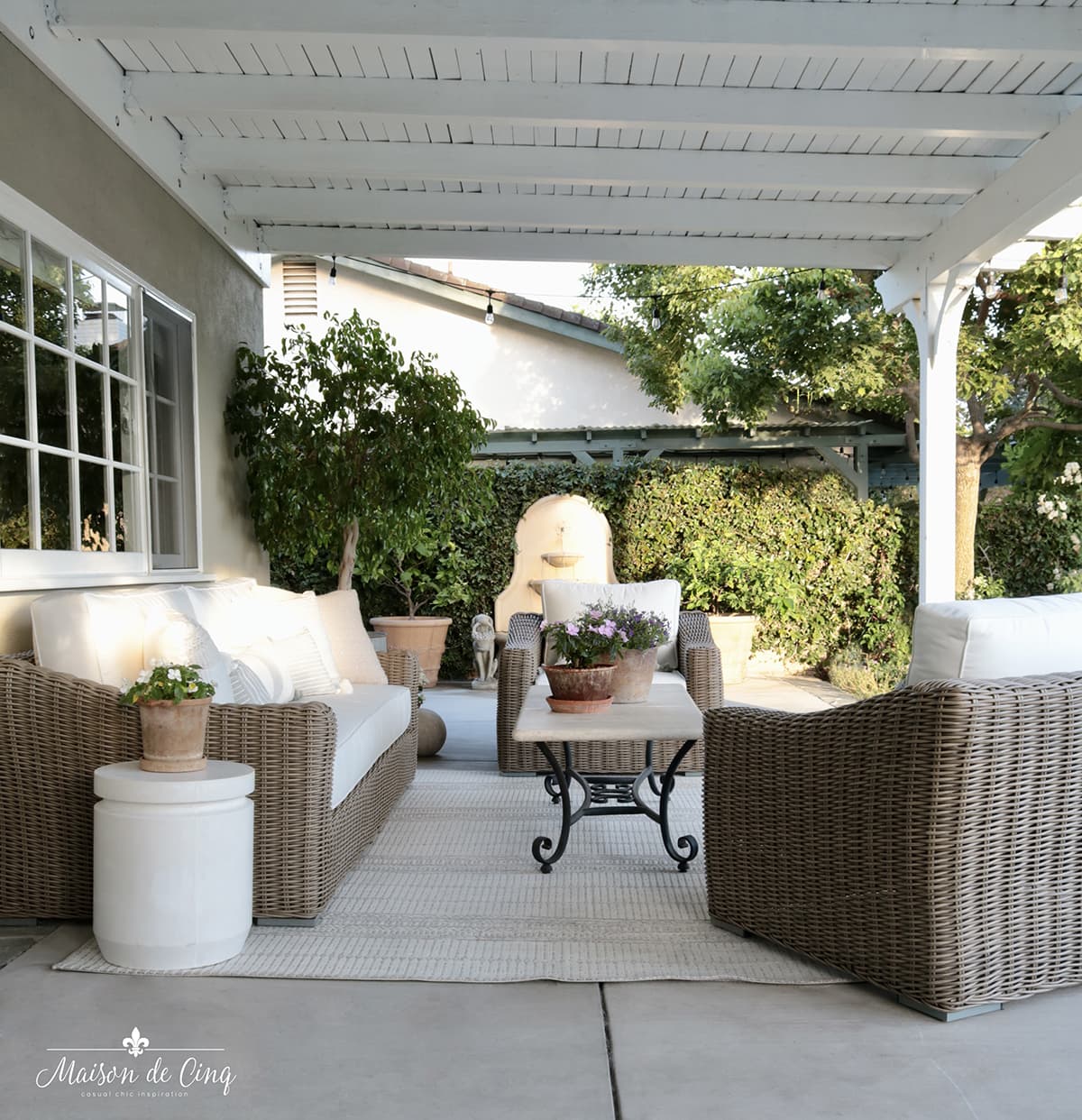 Because of that, I've spent the last two summers trying to find something that would give me that look, still be fairly high quality, and not cost a fortune. This set is what my RH dreams are made of!!
The measurements are exactly the same, as is the color. I even brought home a wicker sample from RH to compare and they were indistinguishable!
I did change out the cushions – I used a local seamstress to make me some in an off-white as the grey wasn't my first choice. However, I will say the grey are still very pretty and super thick and substantial!

I'm still waiting on a new coffee table (also backordered!) But other than that, I finally feel like I have the lounge area I've dreamed of – just took a few years, haha!
Now it's time to relax and enjoy the rest of the summer!
Sheila
xo
Shop Patio Decor Ideas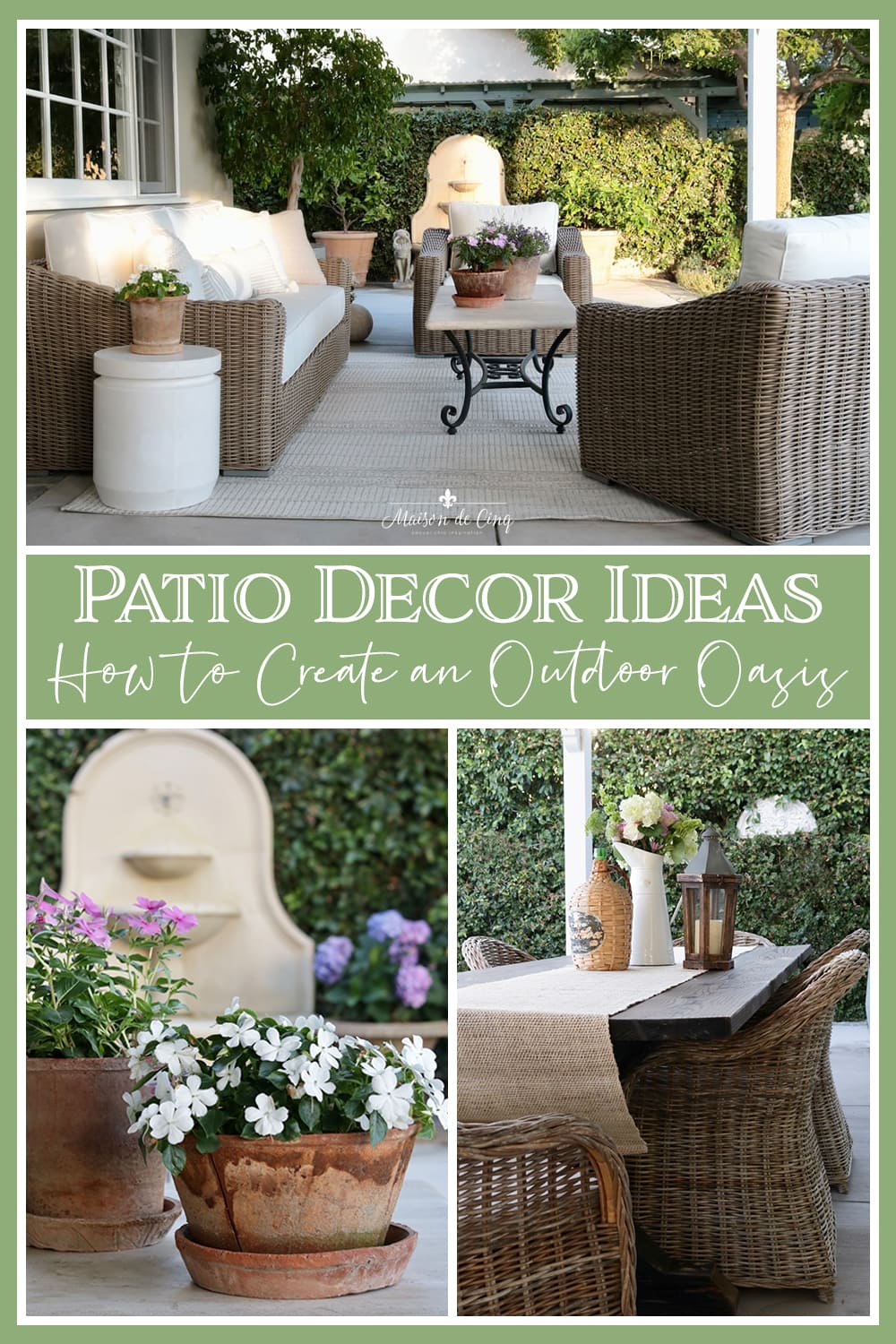 If you enjoyed this post, be sure to check out more outdoor patio decor ideas and summer decorating below!
Be sure to visit my friends who are also sharing their patio decor ideas below!
1. Easy Ways to Enjoy Your Outdoor Living Space | Pasha is Home
2. Outdoor Decorating Ideas | My Sweet Savannah
3. Our Backyard Patio Makeover Tour | Modern Glam
4. How to Make Your Outdoor Space Cozy | Most Lovely Things
5. Outdoor Decor Ideas | Craftberry Bush
6. How to Create an Outdoor Oasis | Maison de Cinq
7. Fun Outdoor Living Ideas | My 100 Year Old Home
8. DIY Porch Swing Using a Crib Mattress | Twelve on Main
9. Outdoor Living Space Ideas on a Budget | Happy Happy Nester
10. How to Make an Easy DIY Outdoor Lantern | Robyn's French Nest