Pomegranate Cosmopolitan – Delicious Twist on a Classic
The holidays call for a festive cocktail, and this Pomegranate Cosmopolitan is a delicious twist on a classic that's perfect for the season!
If there's any time to make a special cocktail, it's definitely at the holidays! This Pomegranate Cosmopolitan is not only delicious but it's also beautiful and happens to be one of my favorites!
If you're familiar with a traditional Cosmopolitan cocktail, it consists of vodka, orange liqueur, and both lime and cranberry juices. Here we're swapping out the cranberry juice for the richer taste and color of pomegranate juice.
I think it might be even better than the original version!
And I love that the pomegranate juice makes it a little more tart and refreshing. It also doesn't have added sugar like many cranberry juices so you can adjust the sweetness to your personal preference.
The pomegranate juice also gives the cocktail an amazing color making it perfect for the enjoying during the holiday season!
When it comes to the orange liqueur, I like to use Cointreau rather than the typical Triple Sec. In my opinion, Cointreau tastes smoother and more complex which makes for a much better cocktail.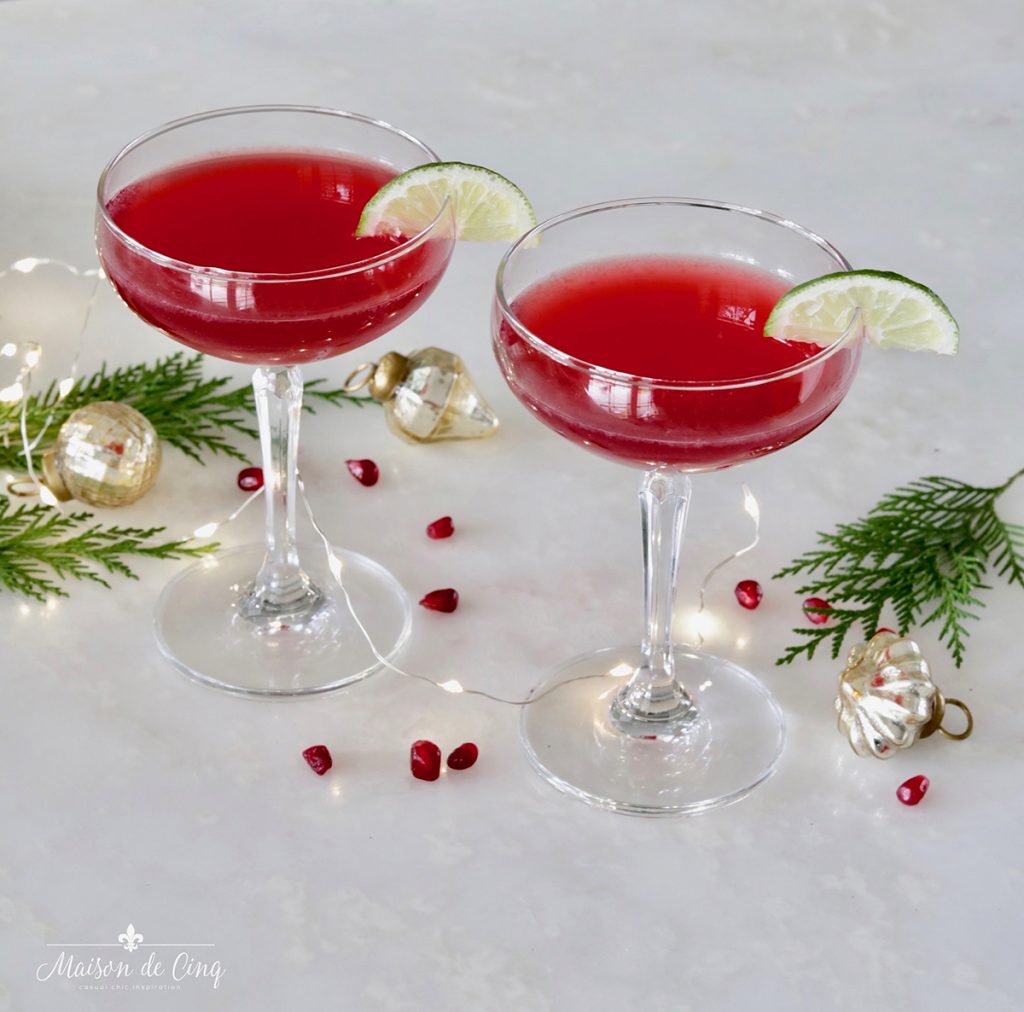 Pour them into a gorgeous coupe glass and garnish with a slice or twist of lime, or even a few pomegranate aerils.

I love to make them as a starter cocktail for the evening. It's a great way to greet your guests and everyone loves them!
And Cosmopolitans can be made in a pitcher which makes them very easy for entertaining, just double or triple the recipe as needed.
Yield: 2 drinks
Pomegranate Cosmopolitan Cocktail
Ingredients
3 ounces 100% pomegranate juice (suggested: POM Wonderful)
3 ounces vodka
1 ounce orange liqueur (suggested: Cointreau)
1 ounce fresh-squeezed lime juice
2 tsp. simple syrup (or to taste)
For the garnish: lime twist or wedge
Instructions
Place the pomegranate juice, vodka, Cointreau, lime juice, and syrup in a cocktail shaker with ice. Shake 15 seconds until cold.
Strain the liquid into a martini or coupe glass. Garnish with a lime twist or wedge, if desired.

*To make simple syrup combine 1 cup sugar and 1 cup water in a saucepan and heat until sugar is dissolved. Cool before using. *syrup keeps in the refrigerator for up to 2 weeks.
Notes
Recommends:
Pomegranate juice: POM Wonderful brand 100% pomegranate juice
Orange liqueur: Cointreau
Vodka: Absolute or Grey Goose
And of course, since it's the holidays, feel free to enjoy these even when you're not having company! 😉
Shop the Post

*please note affiliate links are included for your convenience*
Wishing you all a wonderful holiday season full of delicious cocktails!
Sheila
xo
*adapted from Epicurious
I'm joining some friends who are also sharing delicious holiday drink recipe ideas, so be sure to check out them out by clicking on the links below each image!
Homemade Mulled Wine | Naughty but Nice Christmas Cocktail | Merry Mistletoe Margaritas | Cranberry Whiskey Mule
Dark and Stormy Cocktails | Pomegranate Cosmopolitan Cocktail | Spiced Apple Gin Cocktail | Ginger Pear Prosecco Sparkler
Creamy Peppermint Punch | Hot Chocolate Charcuterie Board | A Festive Holiday Spiced Coffee Recipe | Easy Chai Tea Latte
If you enjoyed this post, be sure to check out more holiday recipes and ideas below!