Projects & Home Improvements for the New Year!
Do you like to set goals or make a list of the home improvements you're planning for the year ahead? Me too! Today I'm sharing my plans for our projects and makeovers for the coming year, as well as reviewing what we did accomplish in 2020.
Hello friends and Happy Almost New Year! Last year about this time I wrote a post all about the changes and makeovers we did during the past year (you can see that post here if you want to take a peek). I also talked about my goals for the next year, which I'm sad to say, I didn't accomplish as many of as I would have liked!
So today, I'm going to show you the things we did get done, but more importantly, I'm going to share all the projects we'd like to get done in 2021 – and there are a lot!
Also, some of my friends are also sharing their home projects and plans for the coming year so be sure to check out their posts at the bottom of the page!
Home improvements that I did manage to accomplish
A new custom headboard for the master bedroom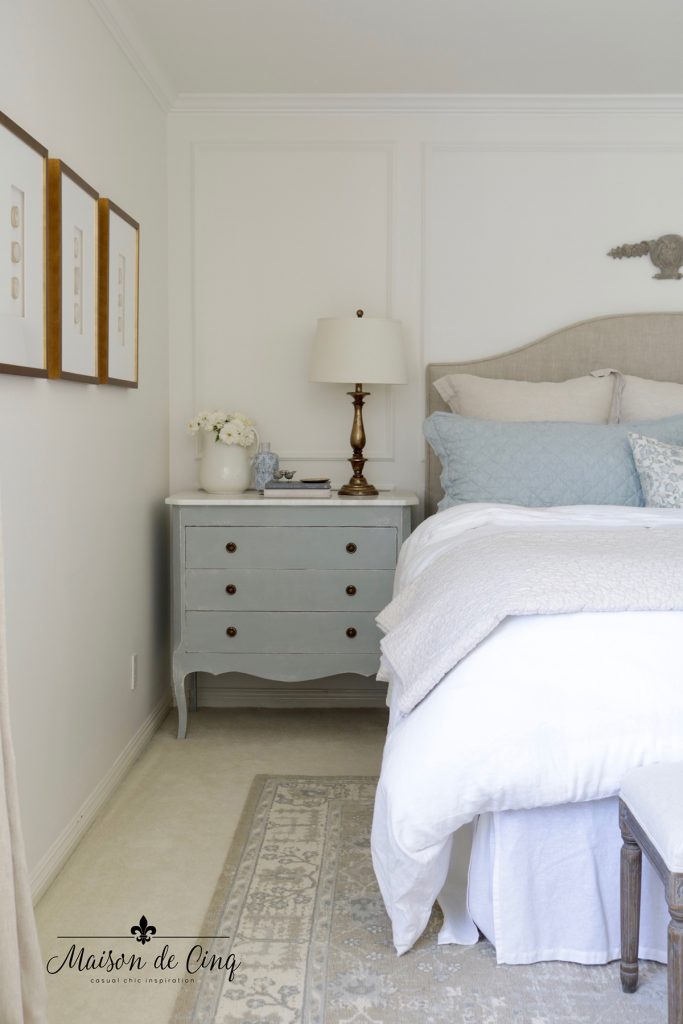 If you ever read my post all about our master bedroom makeover, then you know that I ordered one and that it was a huge fail. It took six months and lots of looking for the right fabric, but we finally got it made and I couldn't be happier!
Believe it or not, we have never had a headboard! I've always wanted one but because we have a California King mattress, it's harder to find ready-made ones and custom is much more expensive so it always landed on the back burner. But wow, what a difference! I read in bed much more than before, and it makes watching TV so much more pleasant! 😉

Repainted Kitchen and Family Room
This was on the list for at least a couple of years and we finally got it done! Our family room/kitchen paint was always way too yellow. Every time I took a photo it would really stand out to me and I knew it needed to be changed. However, typical grays are a little too cool for my home. I do have lots of warm woods and our sofas are creamy, so going too gray just doesn't work.
But I think I found the perfect color! Edgecomb Gray by Benjamin Moore isn't really a gray. It's more of the perfect 'greige' color, and it's more on the taupe side than the gray side so it bridges the difference pretty well. Overall I'm happy that it's not as yellow, even though no one seems to notice we painted – not even the kids, haha! 😉

New Outdoor Living Space
I added an outdoor rug and some new pillows to our outdoor living space. And with all our time spent at home and the kids back home doing online school, it was the perfect year for an outdoor spruce up!

Installed a Belgian Fence in the Front Yard
Okay, so this didn't actually get planted this year but I did finally do the reveal post this year!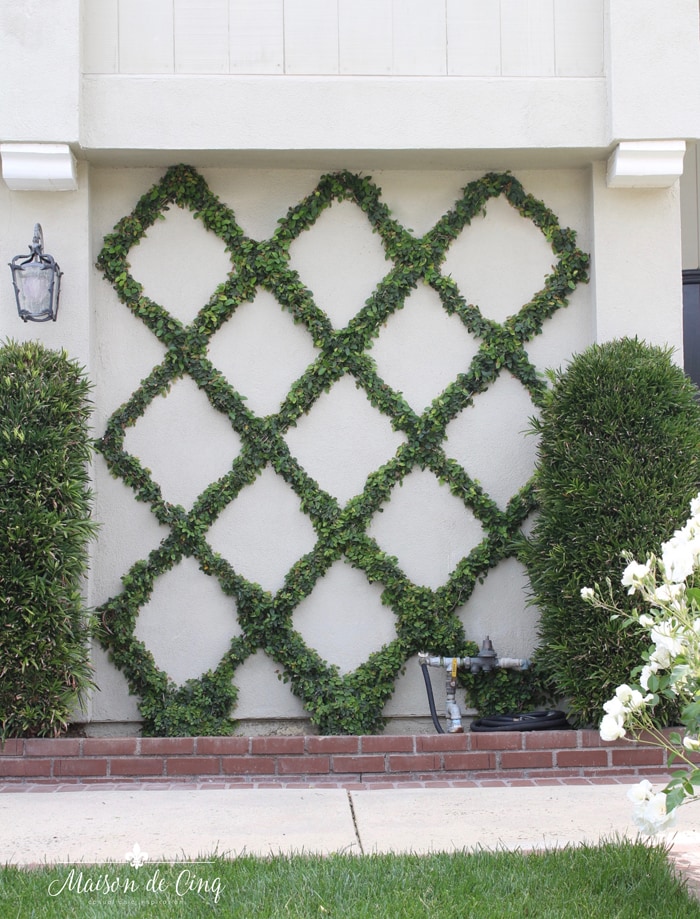 This is definitely one of the best home improvements we've ever done – and it was so easy! We have an awkward, non-symmetrical wall in the front yard that was screaming for something and the diamond-patterned vines made such a difference. If you've ever thought of doing these vines somewhere I highly encourage you to try it!
They were easy to install, grew quickly, and they give you so much bang for your buck. For details on how we did it, check out the full post here.
Started (But Didn't Finish) the Powder Room Makeover
It's a little sad that I started this and haven't quite finished it, but I'm getting there! You might remember that at the end of the summer my husband installed the picture frame molding and repainted it white, but then it stalled for a couple of reasons. First of all, fall is so busy with seasonal posts that it became hard to finish it before the craziness of the holidays. But also, I had my heart set on wallpaper, and because of all that was going on, I couldn't find someone to install it.
However, it was probably a blessing since now I think I'm going to skip the wallpaper and just do some kind of stenciling. The wallpaper is pricey and since we're probably only staying a couple more years it didn't seem like a wise place to spend the money. I've also got to decide if I'm keeping the mirror or not. I love it. The style and color are perfect, but it's not really the right size so I may have to change it out. Or not. We'll see…. 😉
Here's where it was at the beginning of the year…
And here is where it stands now…
Take a peek at Powder Room Makeover Plan to read the post and see the mood board and where I'm going with it.
So that's what got done last year, now let's talk about our home projects we hope to get done this year!
Home Improvements Planned for Next Year
Let's start with the first two biggies and that's the complete remodel of both upstairs bathrooms. Both our kids bathroom and the master are way overdue. They were gutted when we moved in, but that was almost 20 years ago now and they are really showing their age.
This is one that probably would have been done this past year as I have been saving for them, but I didn't want that many workmen inside our home for that many days so it was definitely delayed until things are more normal!
Painting the Dining Room, Living Room, Stairwell, and Hallways
Another overdue project is the painting of the downstairs.
I've repainted the walls several times, but never the trim! Eek! As you can imagine, up close it is full of dings and dents and is starting to really yellow. So the dining room, living room, stairwell and upstairs hallway are due for a refresh on all the trim and windows.
And, I'll probably end up changing colors just slightly, but nothing too dramatic. The Muslin from Benjamin Moore that covers the living room has always been slightly too yellow for my liking, and on top of that, the dining room is a different color altogether! I'd like them all to be the same so it's more cohesive. I'll probably go with a white (much safer!) or maybe the Edgecomb Gray that we just painted the family room.

Adding a Pull Out Sofa to the Office
I'd love to order a pull-out sofa for our office. My oldest visits quite often and this is where we have to put him and currently he has to sleep on an extra mattress on the floor. I told myself I would get this last year and never did and I'm determined to have it done by the time of his next visit!
Strip or Paint the Inside of the Front Doors
The front doors have been something I've wanted to tackle for a long time now. They are pretty, but the wood tone is really off next to our floors. Plus, I love the thought of doing something different!
I'm currently toying with ideas but I'm thinking of stripping them down to a natural wood, or painting them black. To be honest, I love the idea of the raw wood color much more, but it's also much more work. This is one I hope to get my husband on board with so I have someone to share the labor with!
Chalk Painting Some Tables
Chalk painting a few pieces of furniture is also in order. The first one will be the narrow console that sits in the kitchen dining area (it's way too red), but there are also a few tables upstairs and elsewhere that might get the paint treatment, too!
Lime or White Wash the Fireplace Brick
And while we're talking paint, I'd love to lime or whitewash the brick around the fireplace. I've been hesitant to do it even though I'm dying to get rid of the reddish tones simply because once you paint brick it's permanent. But I also think it would be a huge improvement!
New Sofas in Both Living Areas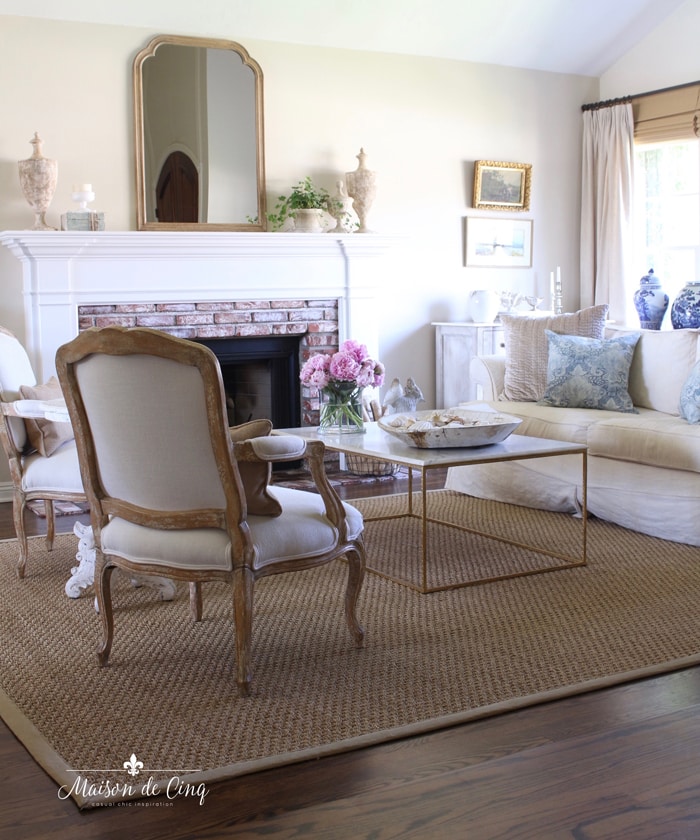 New sofas in family room and living rooms. Our sofas are all falling apart!
The family room ones are exploding feathers as the inside covers have rotted from time and wear and tear, and the living room one is over 20 years old!
I'm happy to report that the sofas for the family room have been ordered (yay!) so I know that will be completed. Now I just need to decide what I'm doing in the living room. I'd like to go a little cleaner and more modern in style. Nothing too drastic, and definitely still slip covered, but with an updated style.

*please note affiliate links have been added for your convenience*
New Carpet Upstairs
And lastly the project we need to do the most is new carpet upstairs! I don't really have a photo to show you, but believe me, they're a wreck. They are 20 years old, stained, and wrinkling in places. That's one of the first projects we hope to accomplish this year.
So here's a recap of my entire home improvements and projects list for the year. I hope that when I do this same post at the end of next year I'll have crossed most, if not all, of them off!
1. COMPLETE REMODEL OF BOTH UPSTAIRS BATHROOMS
2. PAINT! THIS INCLUDES THE LIVING ROOM, STAIRWELL, UPSTAIRS HALLWAY AND ALL THE TRIM IN THE HOUSE
3. ORDER PULL OUT SOFA FOR THE OFFICE/GUEST ROOM
4. STRIP INSIDE OF FRONT DOORS TO A RAW WOOD COLOR (OR PAINT BLACK?)
5. CHALK PAINT CONSOLE TABLE IN BREAKFAST AREA
6. NEW SOFAS IN FAMILY ROOM & LIVING ROOM
7. NEW CARPET UPSTAIRS
8. LIME OR WHITEWASH THE BRICK FIREPLACE
That's a lot of projects, but I'm hopeful that we'll be able to finish most of them. Since we didn't travel at all this year and our expenses are way lower, I've managed to save quite a bit for the things I need to purchase like the sofas and the carpet. And the bathrooms I had already saved for.
So really, it's the 'labor intensive' ones that I need to get a move on. The ones where it's just my blood, sweat and tears – wish me luck!
Happy New Year!
Sheila
xo
Be sure to visit my friends below who are also sharing their home improvement plans and projects for the year!
Designthusiasm | StoneGable | Maison de Cinq