Rustic French Farmhouse Style Home – Inspiring Home Tour
This rustic French farmhouse style home is stunning! From the use of beautiful stonework to the addition of antique doors, the whole home exudes European charm.
Today's Inspiring Home Tour features one of the prettiest homes I've ever seen, designed by my friend Brittany Jones. One of my favorite things about her design style is her use of rustic elements. In today's home tour, stonework, distressed brick, wood ceiling treatments and antique doors bring an authenticity not usually found in more recent builds.
You may remember Brittany as I featured her own home in our series last year, but this time I'm sharing a project she designed for her friend Bekah. Bekah lives here with her husband and two young boys.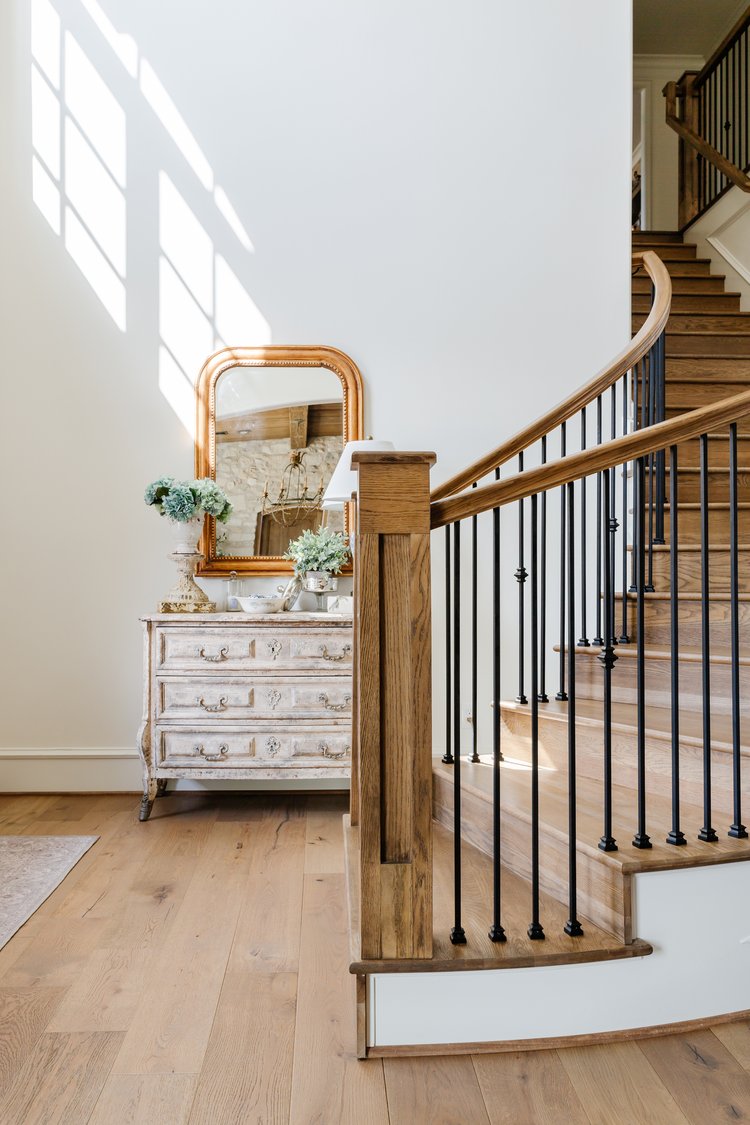 The entry way sets the tone for the home with an iron and wood staircase, pale French oak floors and a French country dresser and gold mirror.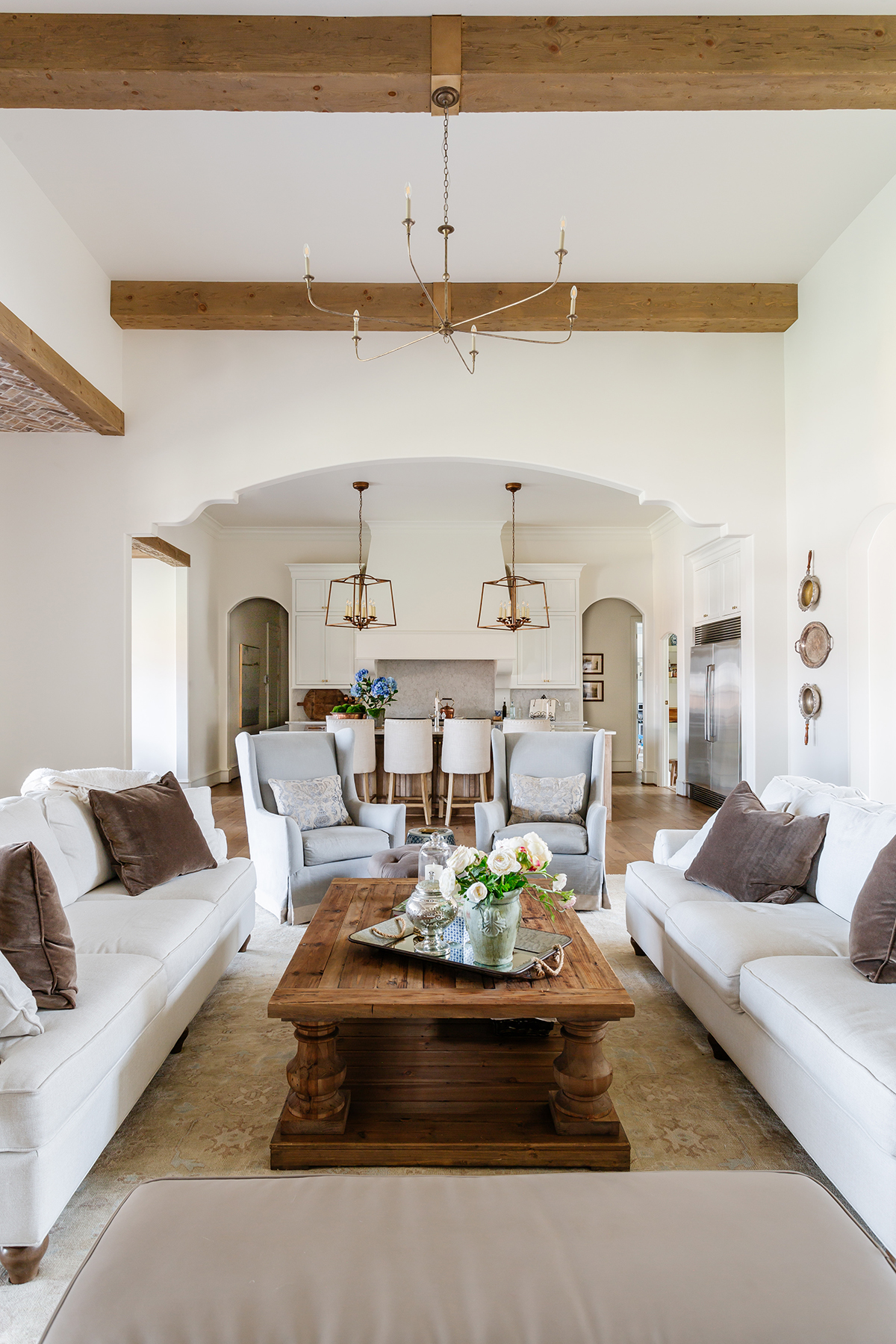 Comfy neutral sofas, pretty French blue slipcovered chairs and a chunky wood table create a warm and inviting space to relax.
The home is in Lubbock, Texas and was built in 2020.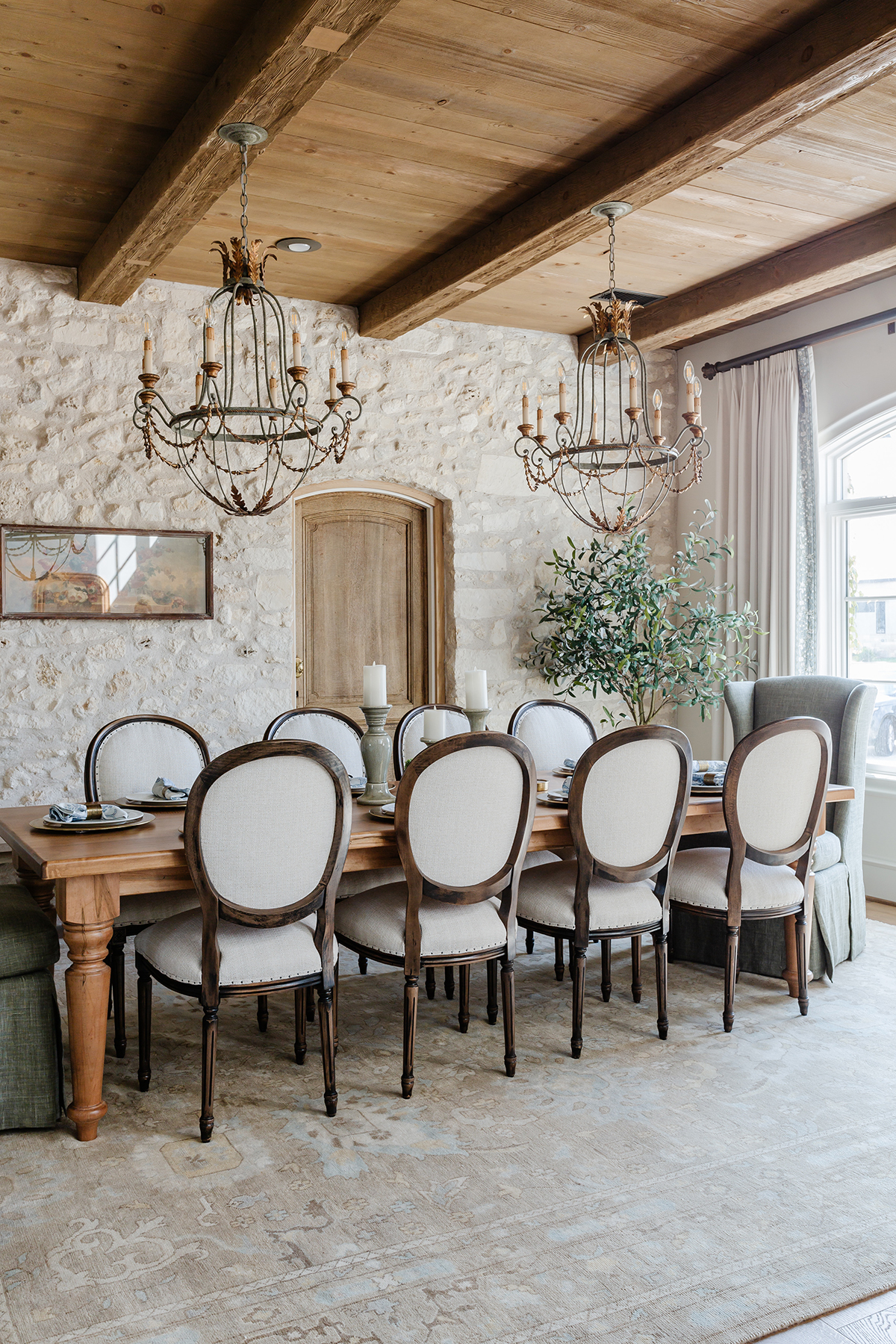 This dining room truly blows me away! Brittany created a rustic vibe with the stone walls and wood ceiling treatment.
"I love the antique doors from Hungary we used in the formal dining room. They were purchased prior to framing in order to make sure they were functional," says Brittany.
"I also love the stone accent wall!" she says.
The kitchen combines a dramatic hood, pale stone backsplash and counters as well as a natural wood island.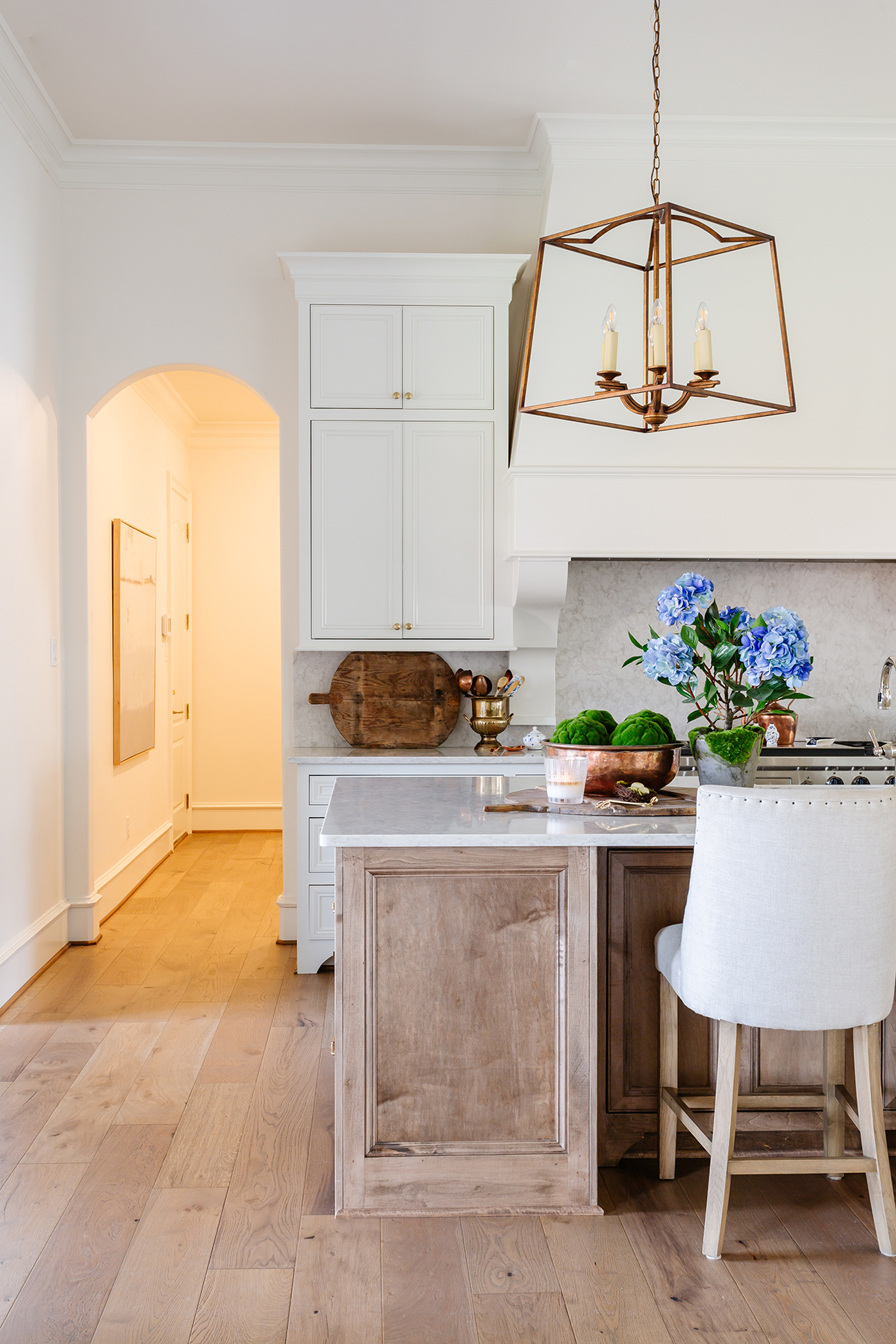 The use of archways is repeated throughout the home.
The wood island was stained and distressed to mimic the antique wood doors used throughout the home. The butler's pantry is through that archway on the left.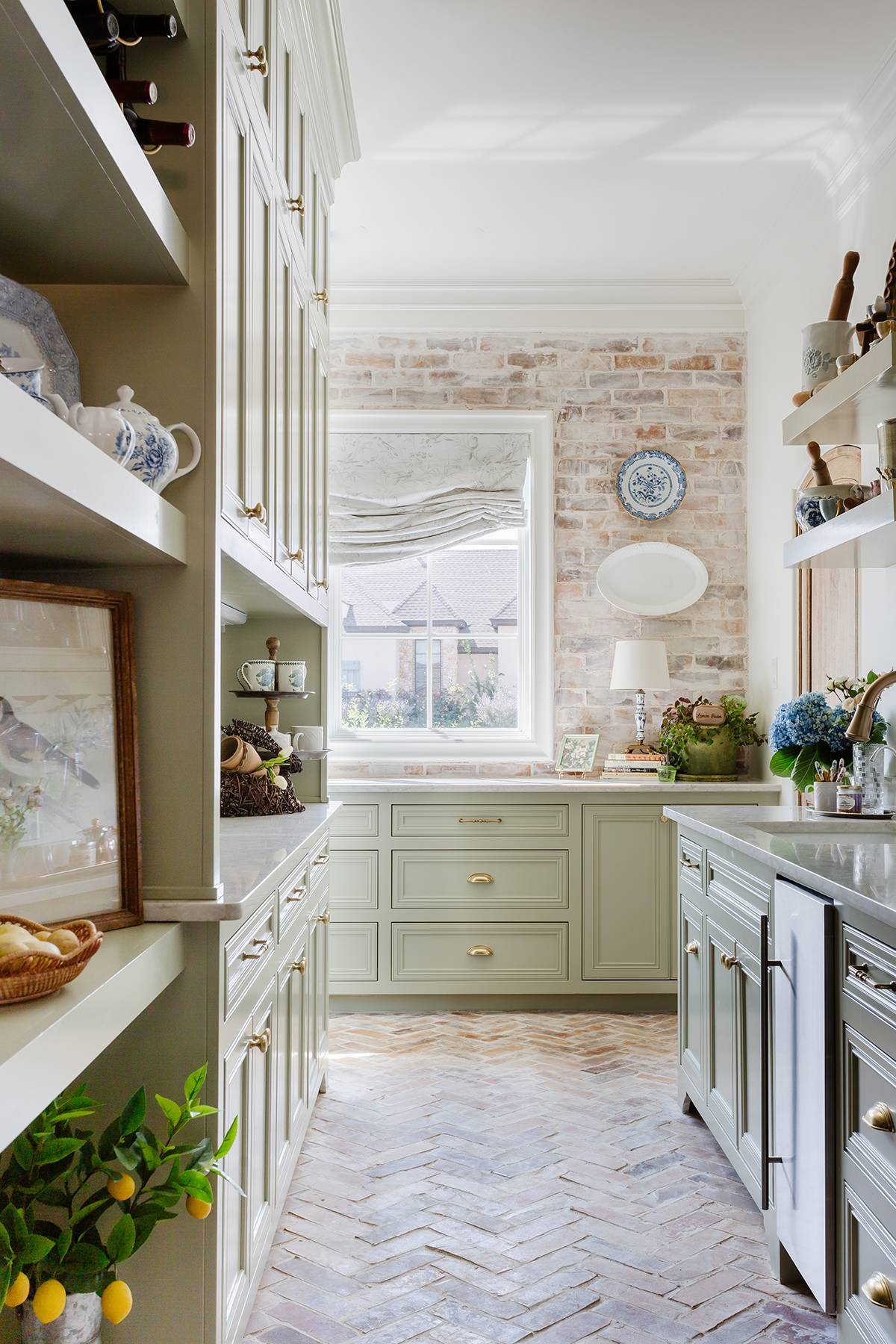 And now onto the butler's pantry – probably one of the most beautiful I've ever seen and definitely my favorite space in this amazing home!
I love the white washed brick, as well as the soft sage cabinet color and pretty roman shades.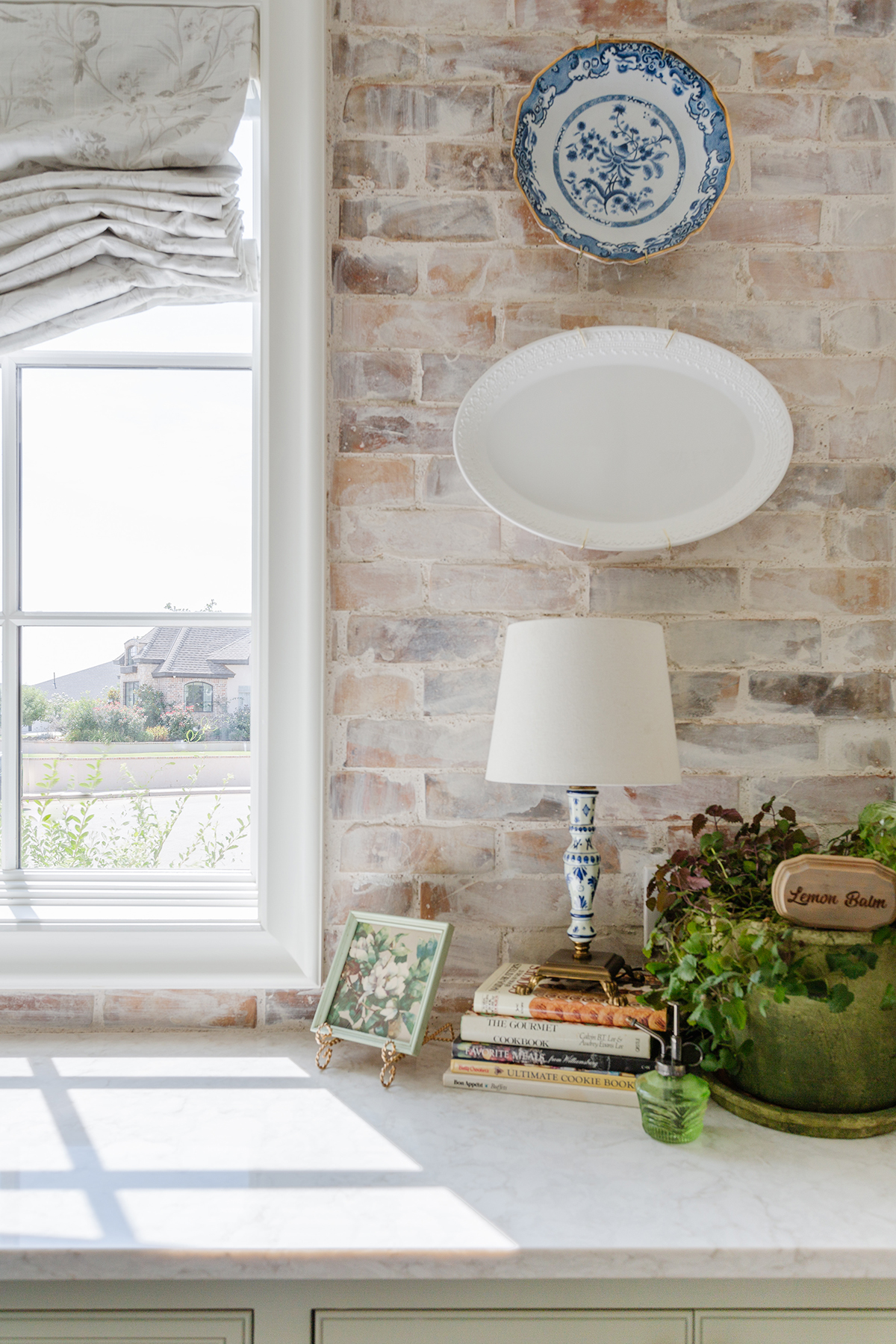 Brittany describes her style as French country and says she wants a new home to have elements that make it feel old and time worn.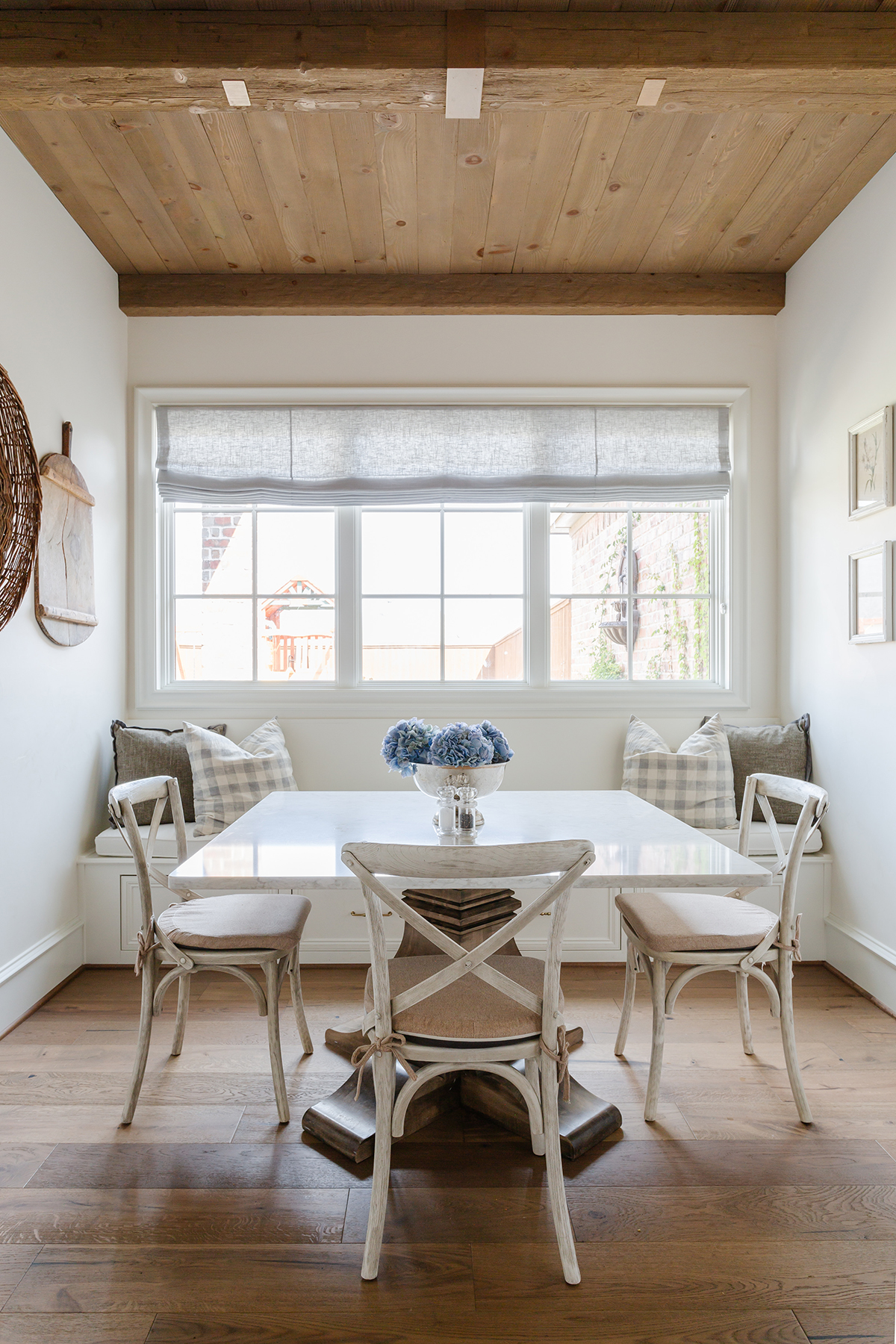 A charming breakfast room off the kitchen is perfect for a family dinner or lingering over a cup of coffee. Notice the repeat of the gorgeous wood ceiling treatment.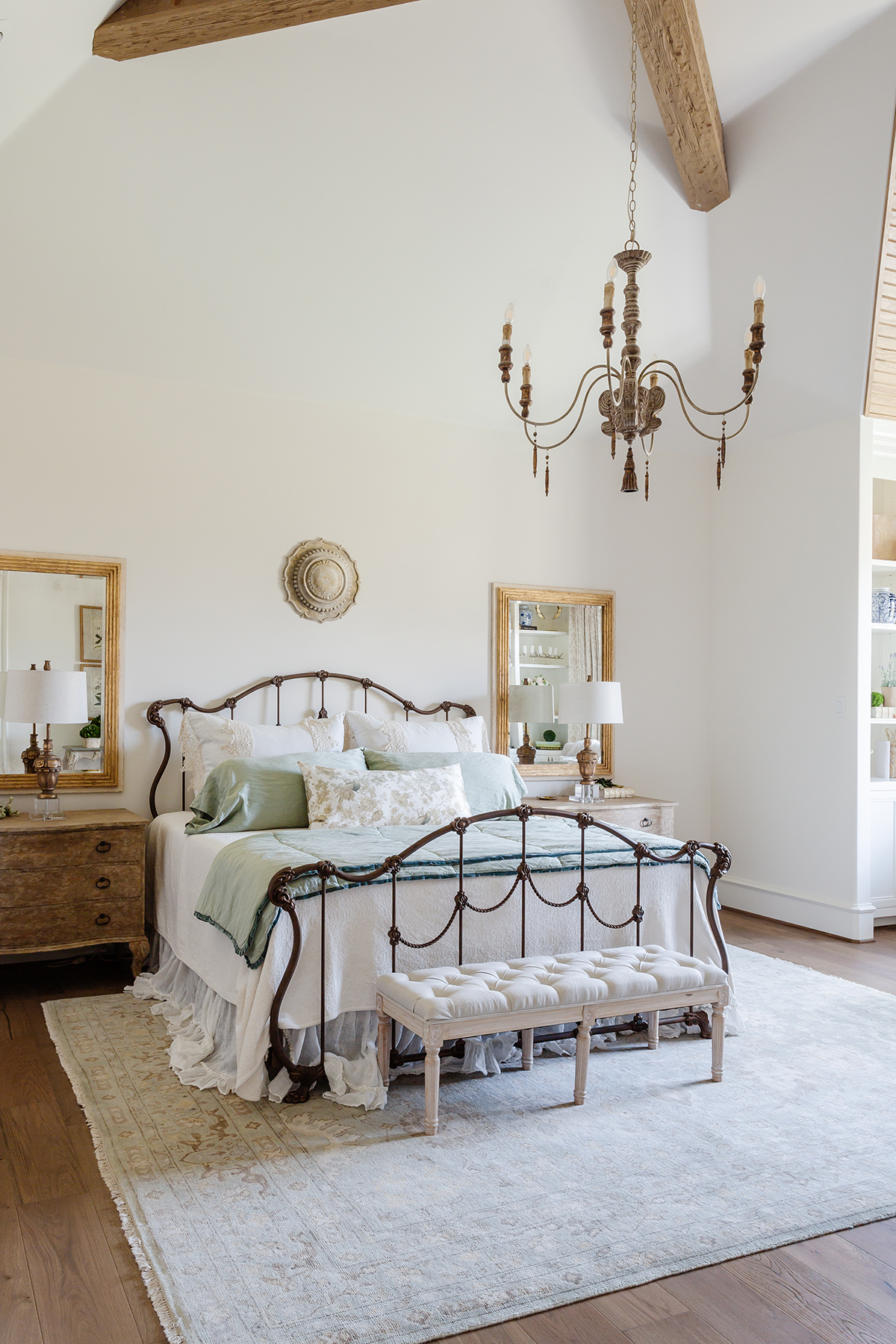 The primary bedroom has an iron bed, a beautiful area rug, as well as wood nightstands and more wood beams.
Brittany says the primary bedroom is probably her favorite space in the whole house!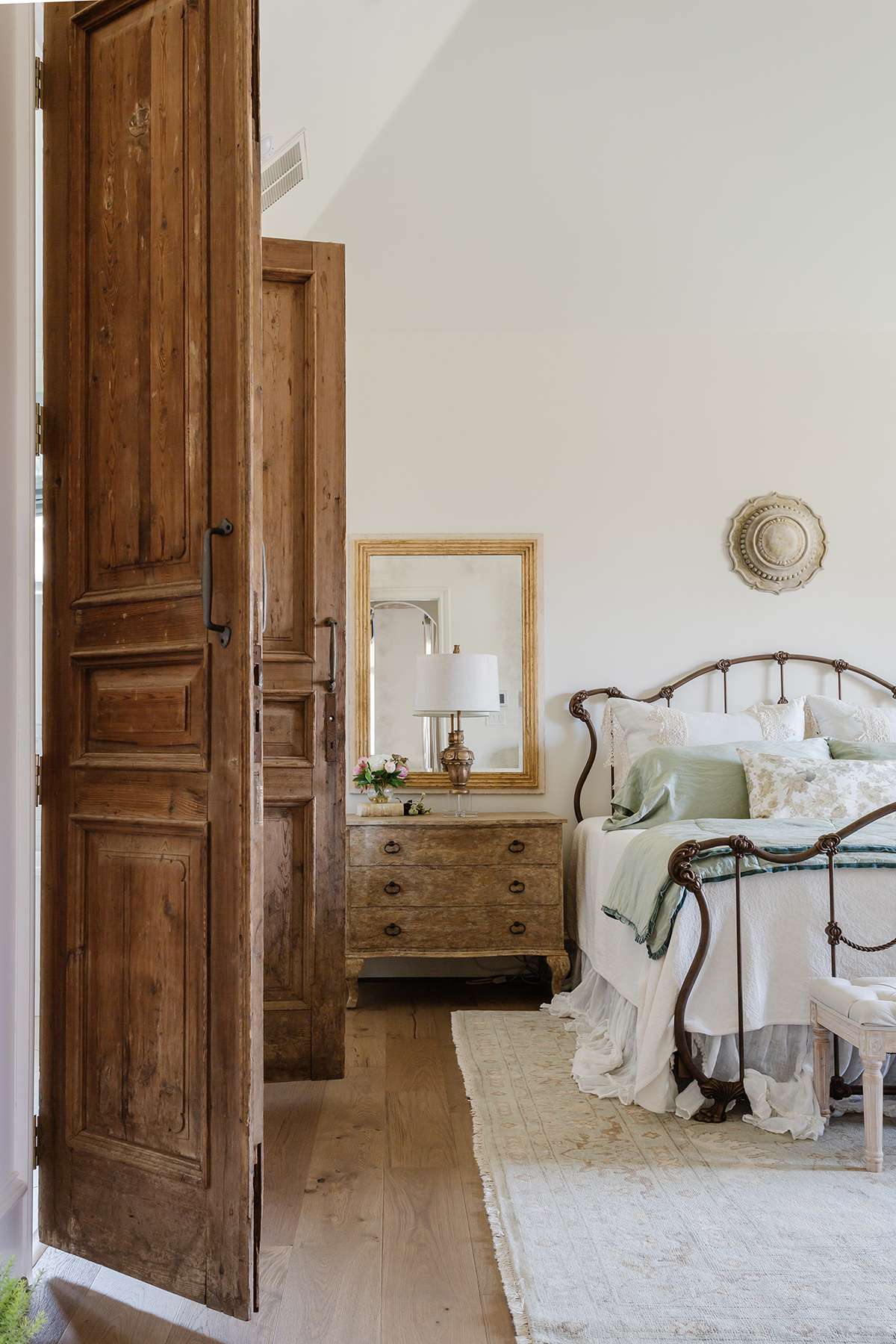 Antique doors appear again here leading to the primary bathroom.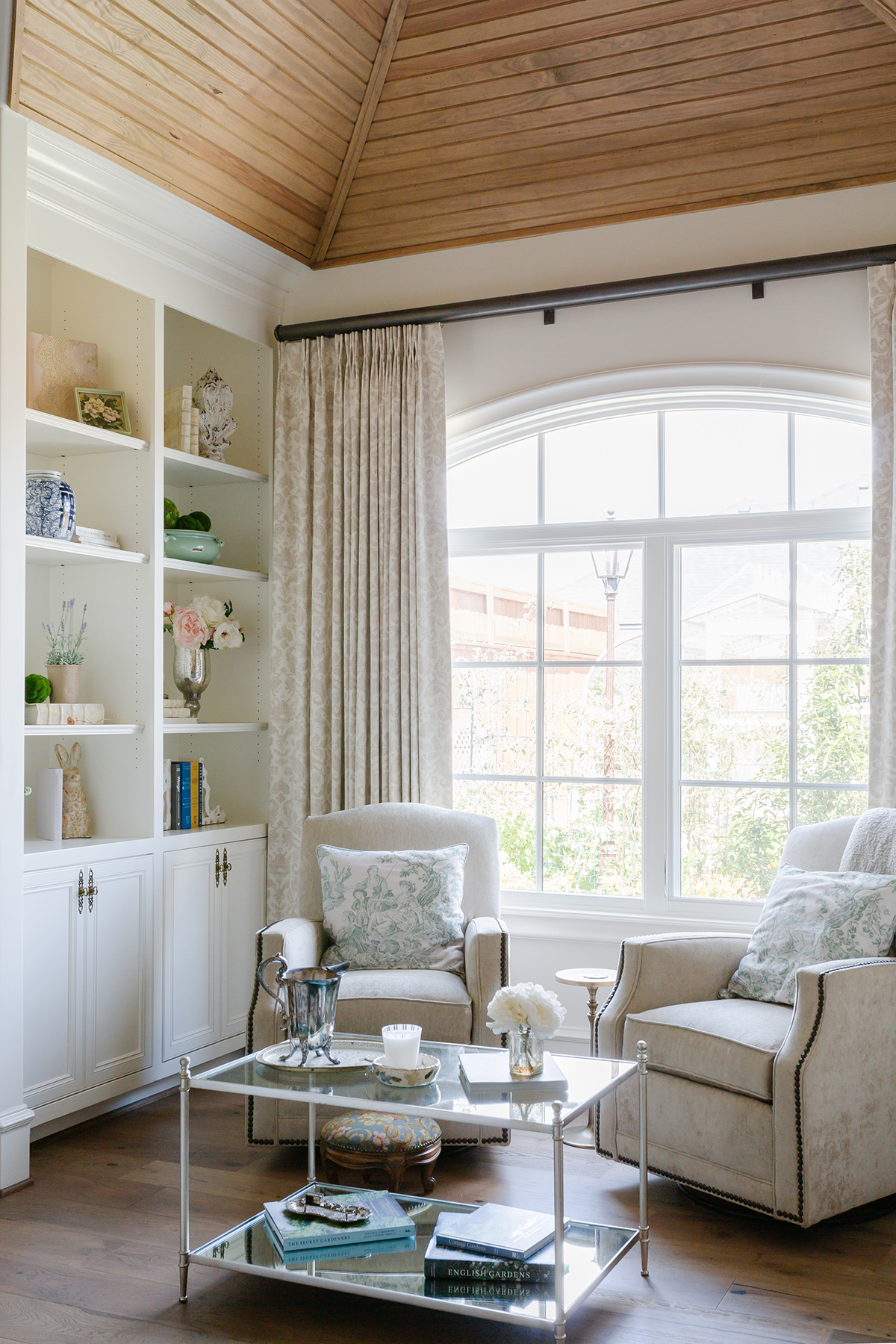 A lovely corner with neutral chairs and bookshelves makes for a perfect reading spot.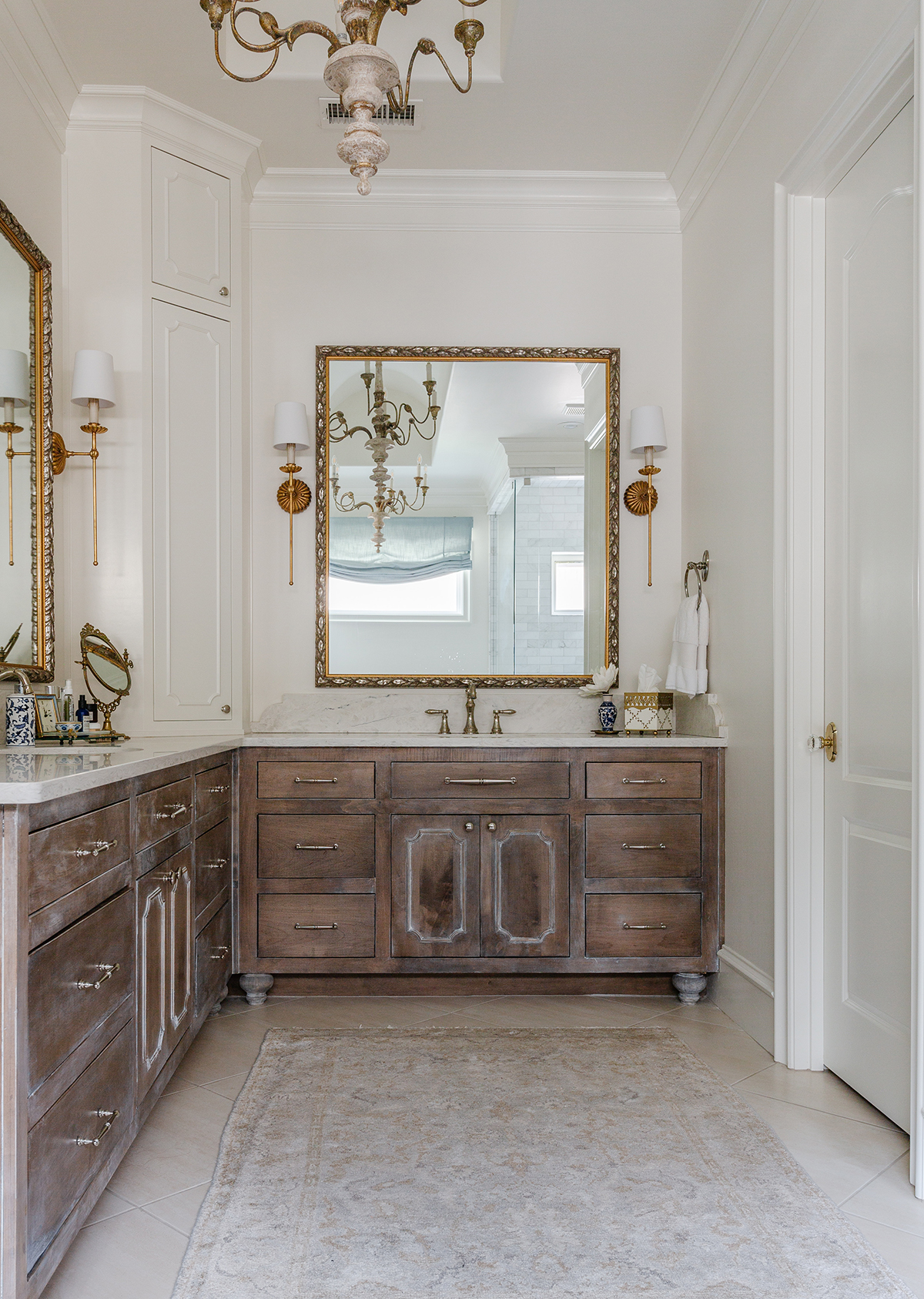 I really love the wood cabinet tone of the vanities in the primary bath. And another pretty rug! Brittany has such a talent for finding stunning rugs!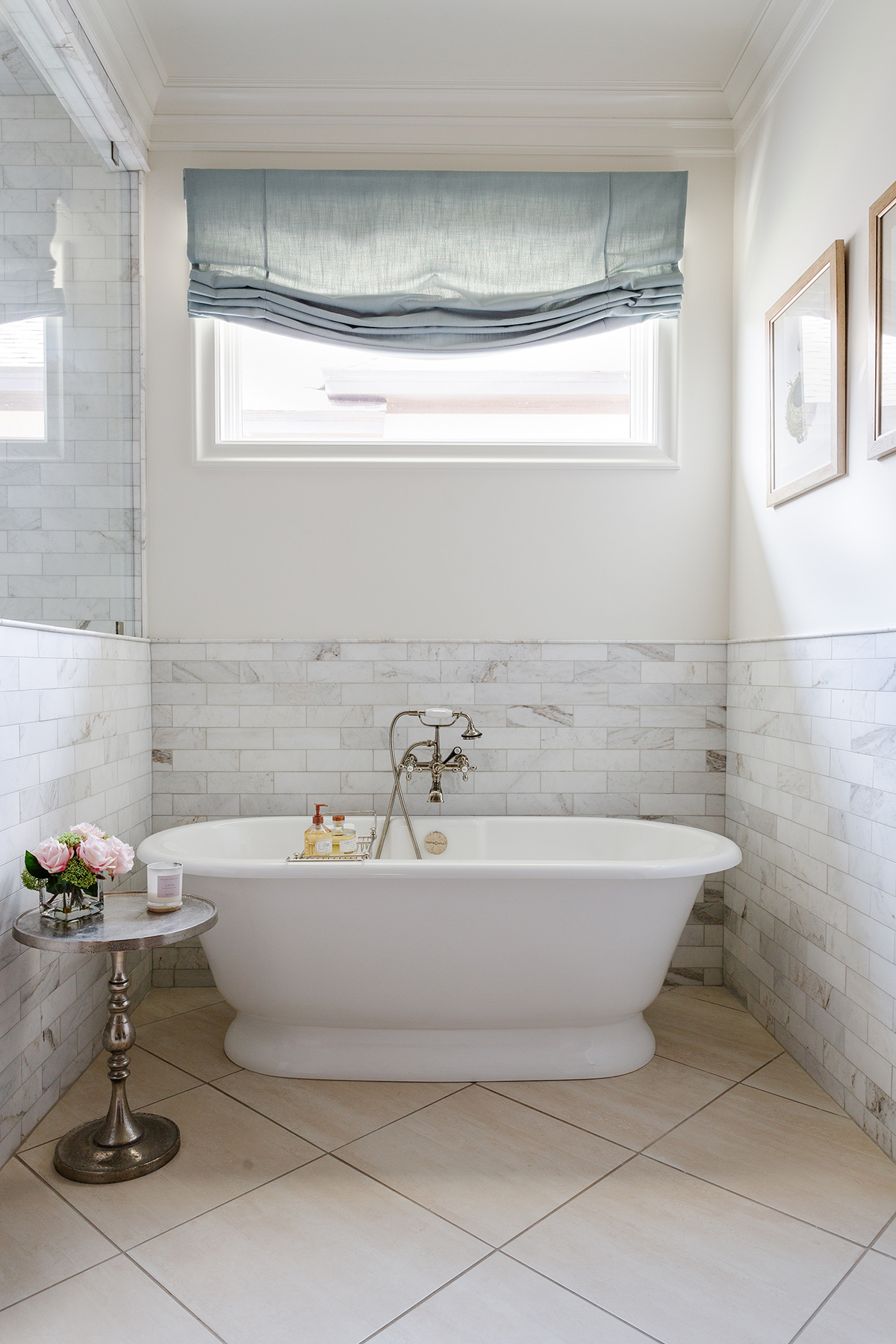 Surrounded by marble wainscoting and framed under a window, the stand alone tub is a feature point in the room.
This pretty guest bedroom is similar to the master while also remaining distinct. An otherwise neutral room allows the pops of French blue to really stand out.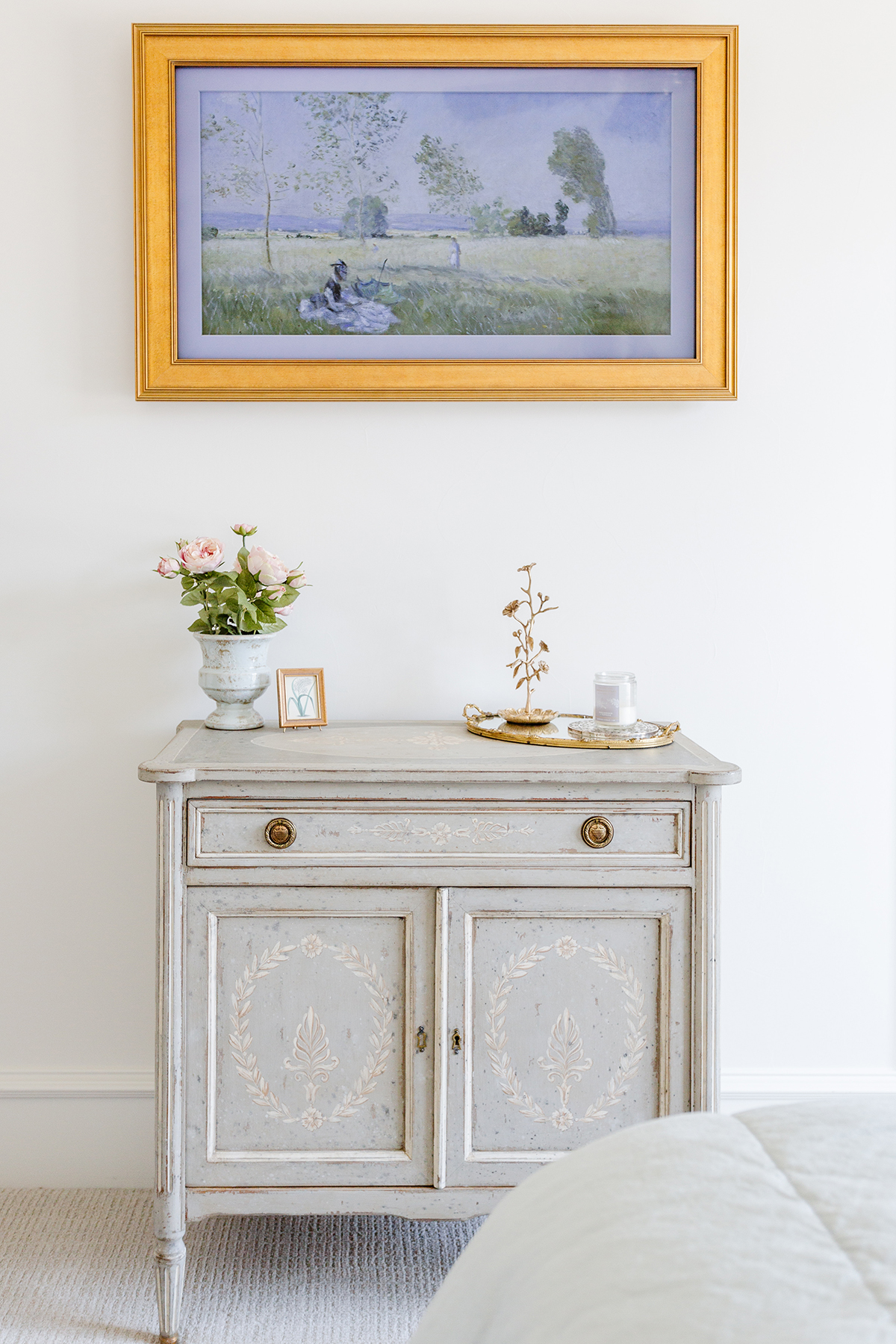 A lovely painted French-style chest creates a moment in the guest room.
When I asked her what the best part about this project was, Brittany said "The most fun thing about designing this house is that it belongs to one of my dearest friends! It was so fun to work together to make her dream home come to life in the way she envisioned it."
I hope you enjoyed this rustic French farmhouse style home! To see more of Brittany's beautiful work and inspiring spaces, check out her Instagram here.
You can also see the tour of her own home here, as well as all the other Inspiring Home Tours here.
Sheila
xo
All photos are courtesy of Becca Lea Photography.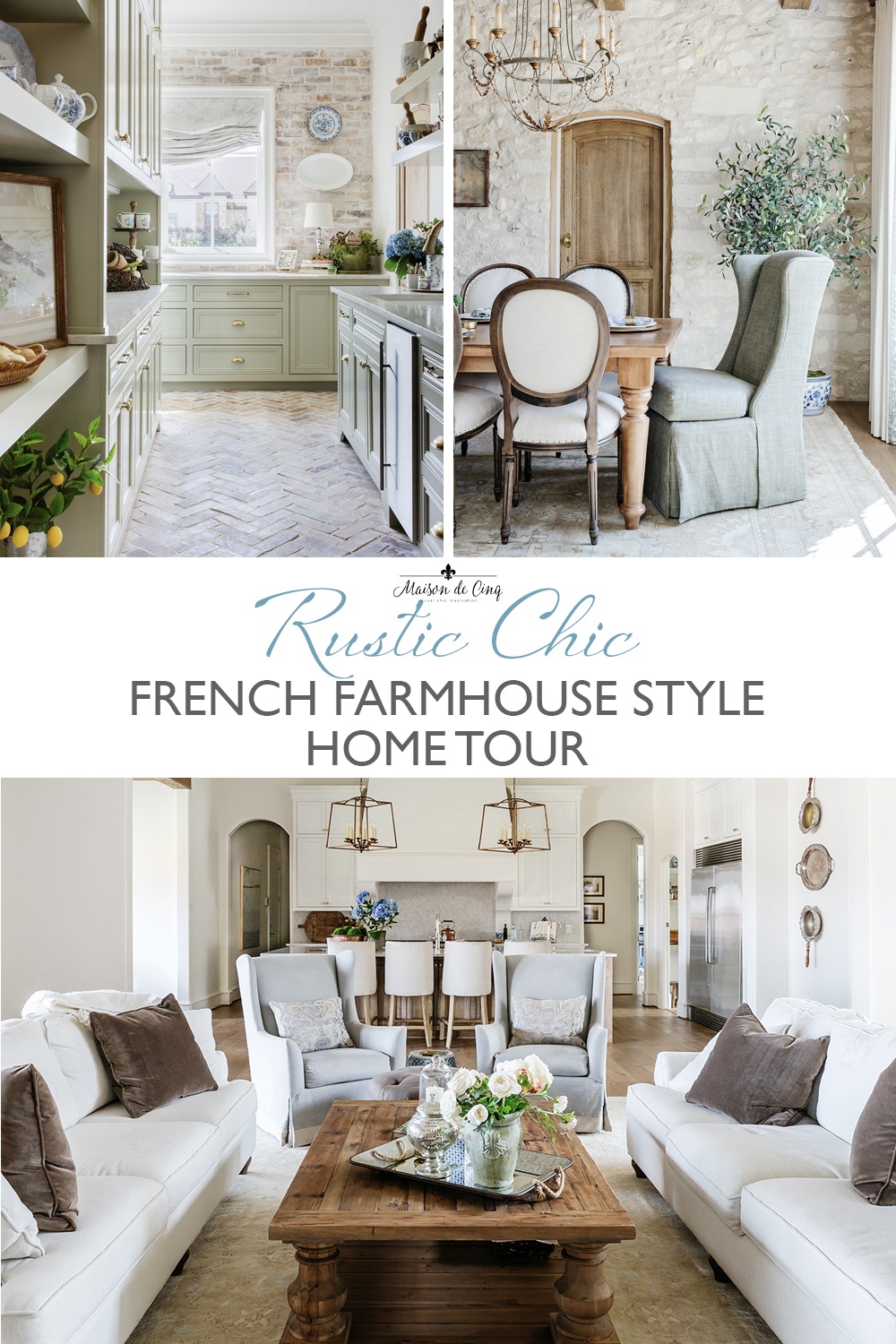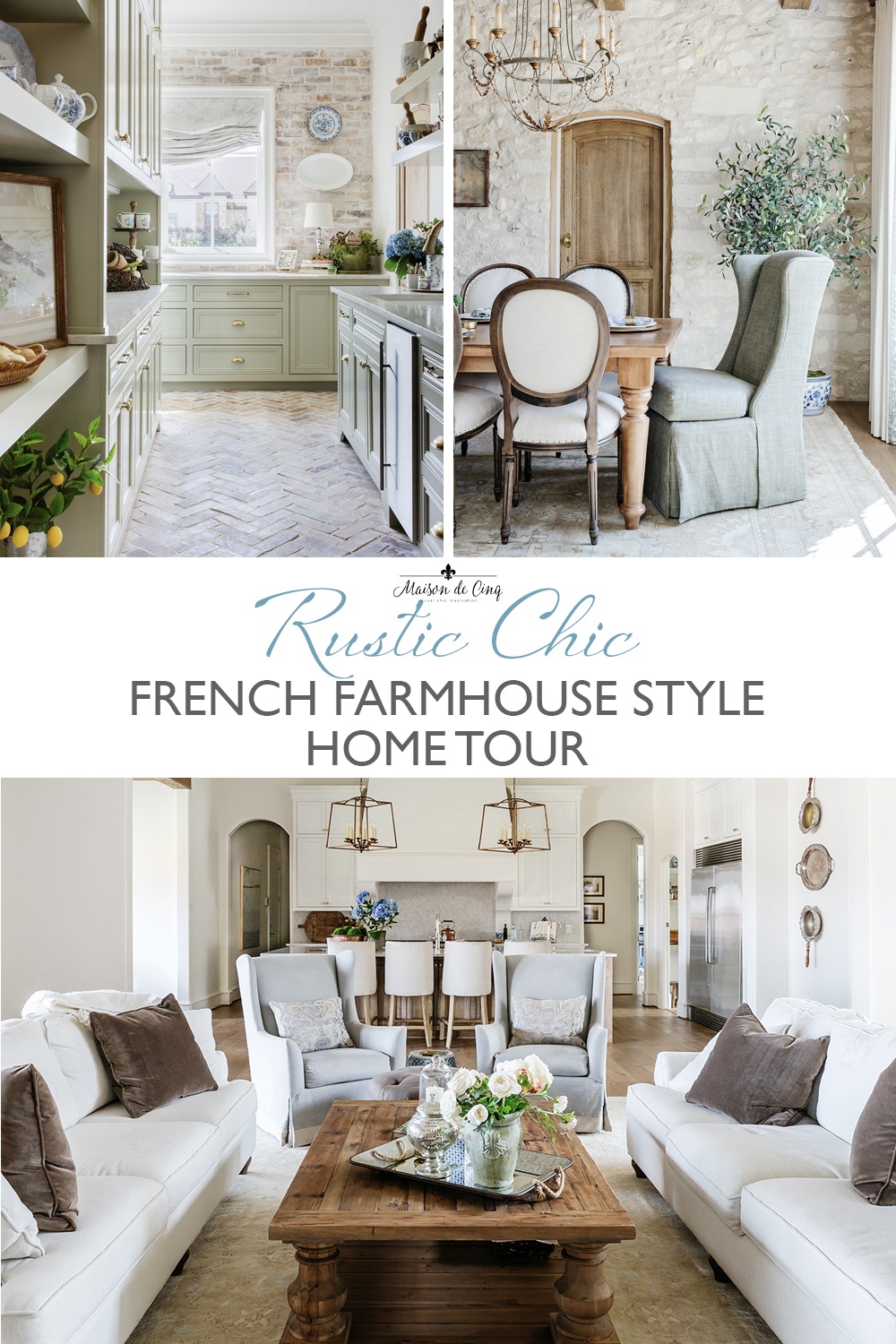 If you enjoyed this post, be sure to check out more French farmhouse inspiration below!