Simple Fall Decor Ideas: Autumn in the Family Room
This year's fall decor is traditional, but decidedly on the softer side of things. Today I'm sharing some simple fall decor ideas for the family room in the subtle shades of autumn.
Are you someone who decorates for the season quickly, or do you take your time? Normally I spend a few days pulling out some seasonal touches, but this year I spent the better part of a month finally finishing!
I think some of the reason is that I had a certain idea of what I was going to do, and I ended up completely changing it almost before I even started.
Originally I thought I was going to decorate for fall in all the traditional colors of autumn.
I had spent a few years doing everything from complete neutrals to muted fall tones. Which is why this year I thought I'd go with bright oranges, dark rusts and browns.
But once I started adding those bright oranges to the house, it just didn't feel like me!
So I pulled back a little, and went for a soft and simple take on traditional. The colors I used are still very representative of autumn, just a little more faded.
I used soft browns, greens, and cream and I'm loving the more muted look!
It feels comfortable. It feels like me.
I guess I'll never be a bright orange type person, what can I say?! 😉
On the coffee table I brought out some of my copper pieces, along with some seasonal flowers (essential!) For more on how to decorate with copper, check out my post all about it.

And of course, white pumpkins are an essential part of any simple fall decorating.

The little copper plant mister is vintage, but I found a very similar one here.

This Gather pillow is from a few years ago at Pottery Barn. Unfortunately it's discontinued, but you can frequently find it on Ebay and I've linked some very similar options below, too.

White roses mixed with cattails and eucalyptus fill a vintage ironstone pitcher and sit on the table with a Jarrahdale pumpkin.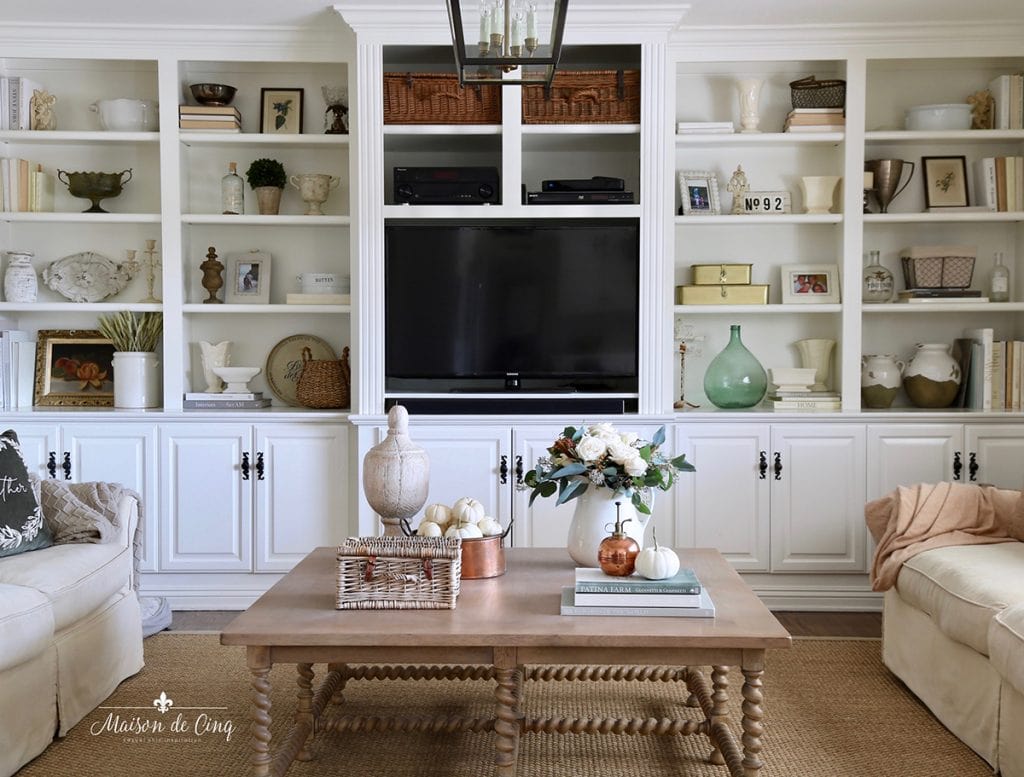 On the bookshelves in the background, I added some wheat to a simple cache pot. I also removed the few blue items I had in the shelves to keep all of the tones on the warm side.
I hope these simple fall decor ideas give you an idea of how to decorate for the season! You don't need a lot of money or effort to decorate for fall. Pumpkins, simple flowers, and a few pillows or throws can completely change your space and make it feel festive!
Shop Simple Fall Decor Ideas


*please note affiliate links are added for your convenience*
Happy fall!
Sheila
xo
Now be sure to visit my friend Karen who is also sharing fall decorating ideas!
Sanctuary Home Decor: Soft & Subtle Fall Decorating
If you enjoyed this post, be sure to check out more fall inspiration and decorating ideas below!