Simple Fall Kitchen Decor: Warming up with Seasonal Color
I can hardly believe it's September, school has started, and we are entering my favorite season! Fall can never come soon enough for me. I love everything about it. The changing leaves, pumpkin spice anything, and cooler weather (well, that has yet to come, but you know, at some point!)
It's a season that calls for more nesting, more cozying, more home. But it's early, so for now I'm starting with some simple fall kitchen decor. I'm warming things up with copper, fall foliage, apples, and (just a few) pumpkins. Subtle and simple. And easily achieved!
There are lots of inspiring ideas for bringing fall into your kitchen. In fact, I'll bet you'll be looking for a few pumpkins of your own after today. Or at least a pumpkin spice latté. 😉
I have to say that as much as I love summer, I love fall even more. And my cool blue and white decor had been out and on display since April! That's almost six months, and I was definitely ready for a change!
One of the first things I do when the fall season rolls around is to bring out my copper. I love it! It's amazing how much warmth it adds to a room all by itself. I feel the whole space changes immediately.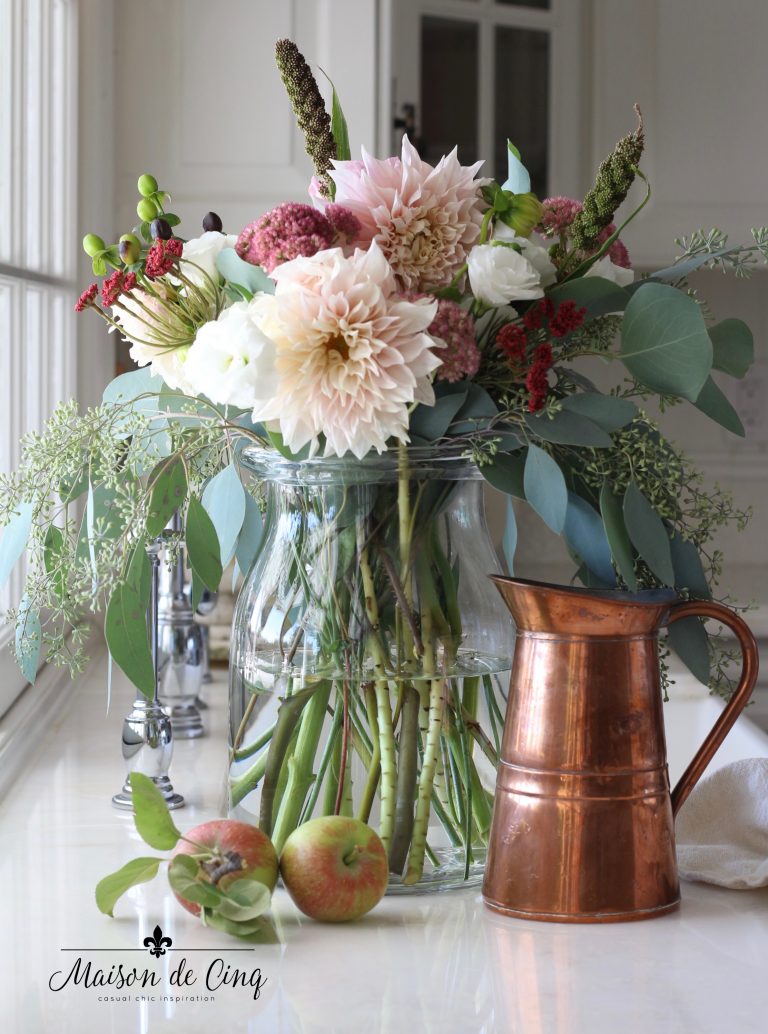 I also brought in some fall flowers in soft shades of pink. Pink isn't something I've used in my fall decor before, but I love how it looks with the copper pitcher.

I did find some small Casper white pumpkins the other day and I have to tell you, I about did a dance! I had been calling Trader Joe's and every market and no one had any yet. Finally, I contacted a local farm and they said yes, and I couldn't get there fast enough!
I'm also loving this new wood cake stand! I'm typically using white ones but this is such a nice change. And the texture and warmth really work for the fall season.

My fall kitchen decor always includes some fruit or vegetables that represent the season, and since my apple tree had some ready to pick, I brought them inside and filled a copper pan with them.
And of course, I had to light my new favorite candle! I've shared before how much I love candles (I might have a bit of a problem, haha) In fact, I have a whole blog post dedicated to my favorite fall candles of all time here. This Chai Latté fragrance is discontinued now, so I'm back to my all-time favorite Pumpkin Soufflé candle (which is very similar).

The copper kettle is a new find and I'm so in love!! I'd been wanting one for quite awhile and I love the warmth it brings to the kitchen. In fact, it doesn't matter if it's vintage or new, there is just something about adding a copper kettle to the stove that adds such character to the space!

By just bringing in some copper, displaying some seasonal fruits and a few pumpkins, and adding flowers in the rich colors of the season, you can change the whole feel of a room! This simple fall kitchen decor is casual and chic, and perfect for this in-between time before fall really arrives.
So for now, these simple changes are making my heart sing. It might be hot outside, but inside I'm warming up for fall. And I'll definitely be getting more pumpkins when they're finally in the stores!
Shop the Post!



*please note some affiliate links added for your convenience*
Happy Fall!
Sheila
xo
I hope you'll pop over to some of my friends who are also sharing their fall kitchen decor – I know you'll be inspired!
Ella Claire & Co. | Julie Blanner | Inspired by Charm | Craftberry Bush
Boxwood Avenue | French Country Cottage | Zevy Joy | Jennifer Rizzo
My 100 Year Old Home | Home Stories A to Z | Keeping it Cozy | Happy Happy Nester
Maison de Pax | Maison de Cinq | My Sweet Savannah | Rooms for Rent
If you liked this post, you might want to check out the ones below:
Fall Kitchen Featuring the Coppery Colors of Fall
Warm Colors of Fall Family Room Tour