Simple Summer Decorating – Lightening Things Up with Blue and White
It's hard to believe we're already half way through May!! How did that happen?! I feel like I was just talking about winter decorating, and now we're well into spring and about to talk summer! (Not that I'm complaining mind you – we've had such a rainy winter and quite a gloomy spring so I'm very ready for some sun!)
Today I'm excited to be joining my friend Kristen for her Seasons of Home Summer Tour! This is one of my favorite groups to tour with, as these ladies are so talented! I love their creative ideas and simple aesthetic. So, since I'm starting to slowly bring in some summer, I thought I'd share some simple summer decorating in the kitchen today.
It seems whenever I start decorating for a different season, I usually start with the kitchen. I'm not quite sure why this is! Maybe because it's a small space, or I spend the most time there, but for whatever reason, I usually introduce a change of seasons there first, and this time was no exception.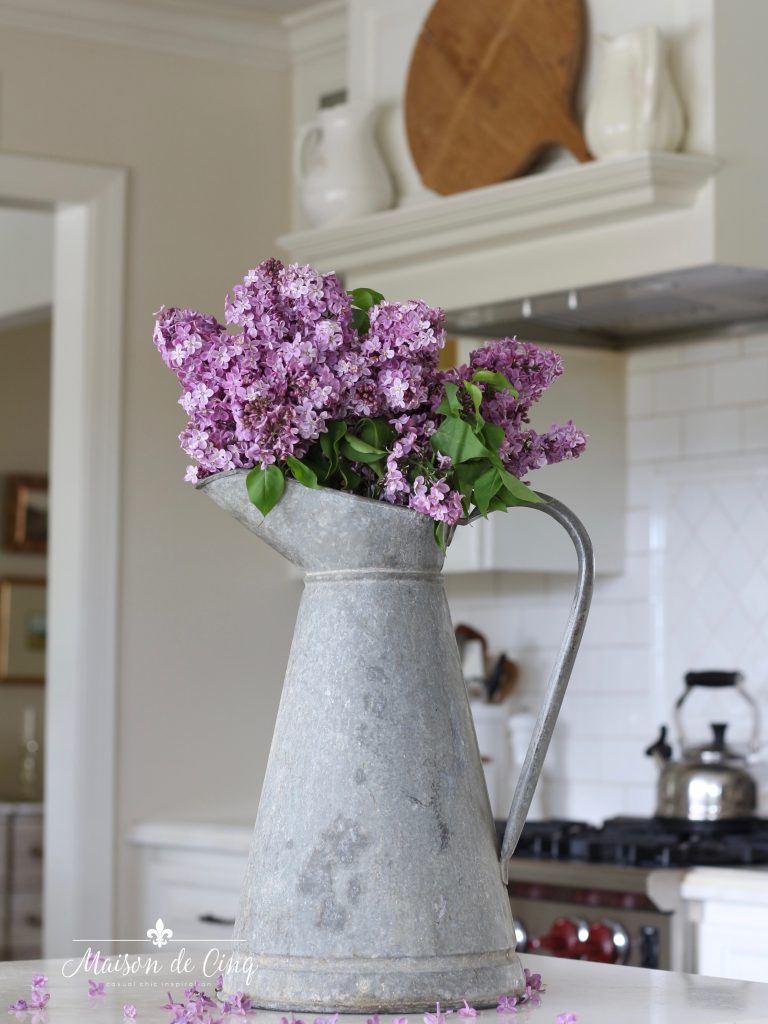 As I frequently do, I started with flowers! I have found I have been really crushing on lilacs this year. In fact, I've bought them for several weeks in a row now – I can't get enough! (For even more seasonal floral tips, check out my post How to Decorate with Flowers).
Lilacs are absolutely one of my favorite flowers. There's something about their light and airy look, as well as that gorgeous lavender color, that just has me smitten! To me, they are the perfect expression of late spring and/or early summer!

And since the these pale purple colors have really been speaking to me this year, I also bought some lavender and brought it inside. Admittedly, it doesn't last long inside the house. But it does last considerably longer than a cut flower. And if you keep them inside for a few weeks and then transfer them outside, you can then enjoy them for the rest of the summer!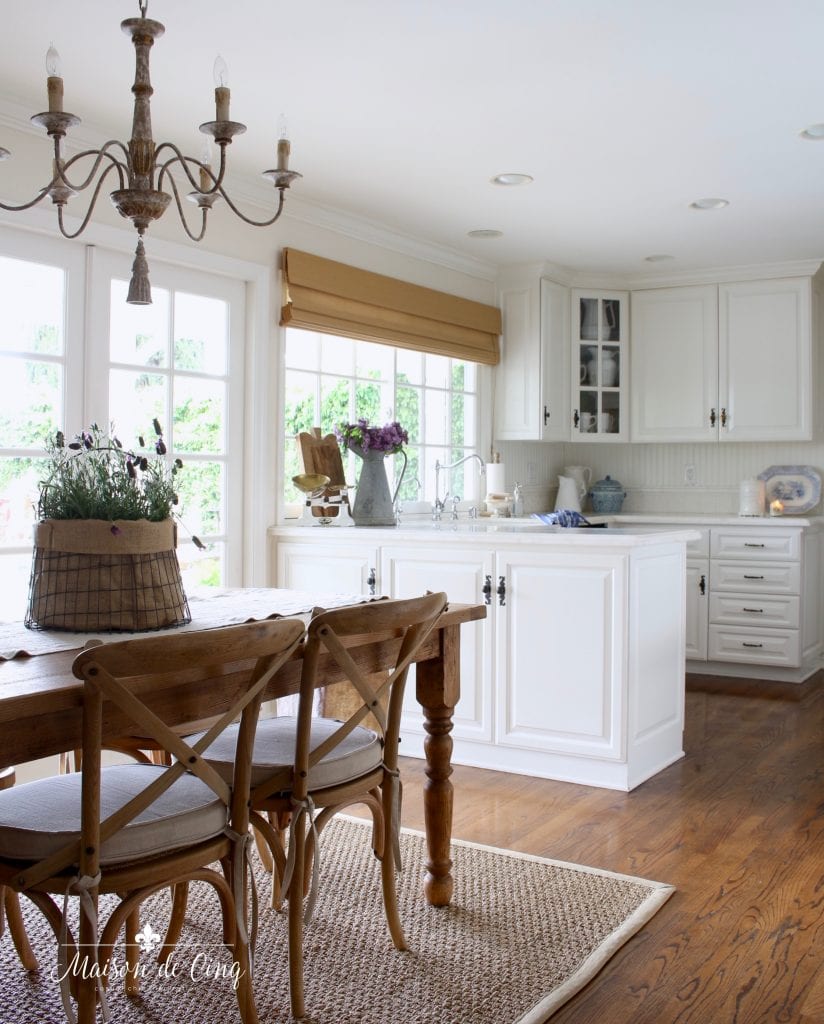 I plopped a couple of lavender plants in this cute metal basket, and I'm loving the simplicity of it. And the smell! Every time I walk near the table the scent wafts right by me, which I love!

Another thing I love to do to bring a little freshness to any space is to bring out the blue and white. Whatever you have that's blue, bring it out! To me, nothing says summer louder than this classic and crisp combo!
This vintage blue and white transferware platter is a favorite, and I usually bring it out every year, along with some ginger jars and some other pieces. And did you notice the scent of my candle?! It's lavender rosemary, and it is heavenly!!
That's another way I like to change things seasonally. I usually change out the candles I have sprinkled around the house to some lighter, fresher scents.

I also change out my tea towels to all blue and white ones. It's such a simple thing, but it really makes an impact in my all-white space.

So it's a simple start on summer, but it's early so I thought just a touch would be good for now. I will slowly be bringing out more summer decor in the next couple of weeks! I have a few more tours coming, and even more exciting, the backyard/pool remodel reveal will finally be coming!! I'm so excited to share that with all of you!
I've sourced some of the items in this post for you below – including some of the vintage items! And where the exact items aren't available, I've found some similar items for you that could work.
Shop the Post!



*please note some affiliate links have been added for your convenience*
Sheila
xo
In the meantime, I hope you'll visit some of my talented friends sharing their early summer decorating inspiration below!
Ella Claire | Zevy Joy | Boxwood Avenue | Home Stories A to Z
Rooms for Rent | My Sweet Savannah | Craftberry Bush | French Country Cottage