Spring and Summer Refresh: Simple Spring Decor Ideas
Looking for ways to lighten and brighten your home this season? We're sharing simple decor ideas for a spring and summer refresh!
Most years I'm rushing to decorate for spring. I literally can't wait to lighten and brighten and do a little refresh for the season. But this year, time got away from me! Not only that, it was so cold and rainy for so long that it just didn't feel right to be decorating for spring yet.
But for someone who usually decorates for spring on March 1st, the beginning of May is definitely way late! So I decided to re-think my spring decorating. As a blogger, I enjoy changing things around and freshening things up often, but let's be honest, most people probably don't do a spring and a summer refresh!
So instead of doing a spring refresh in March and then a bit of a change for the summer again in June, I thought, why not just change things one time? After all, the two seasons aren't that different anyway!
And while I was at it, I decided to try to use things I already owned. I moved things into different rooms, or used them in new ways, and it's amazing how different it looks!
So the house is lightened and brightened, but I didn't have to spend much.
Except on fresh flowers, of course. 😉
THIS POST MAY INCLUDE AFFILIATE LINKS. CLICK HERE FOR MY FULL DISCLOSURE POLICY.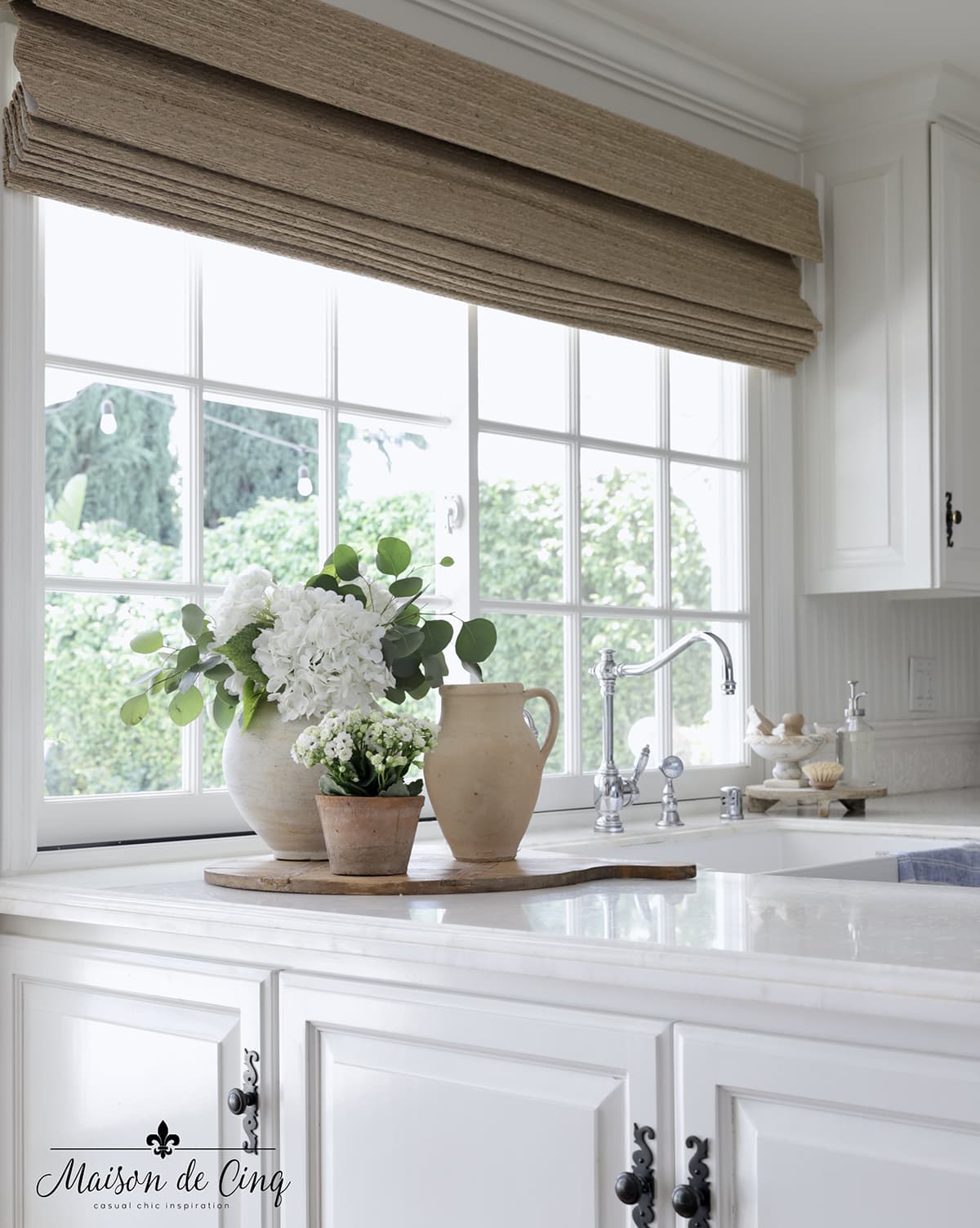 I love adding plants to every room, especially if some of them died off over the last few months of winter. And if they're blooming plants, even better!
And fresh flowers are always a favorite, of course. But can you believe some of these are faux? Yep, that's right.
I am not kidding when I tell you that these hydrangeas are the most amazing faux flowers I've ever seen! Even up close (and we all know that's the true test!), you can't tell. Not only are the petals amazing, but the leaves look so real. And to me, that's usually the tough part.
Sometimes the flower part looks fine, but the leaves just give it away! I added fresh eucalyptus to help make the whole display read more 'real.'

And did you notice the lantern?! This lantern used to be in the family room, and now the chandelier that was in here, is in there! The switch was something I'd been thinking about for a long time, and it's worked out so well. I think the size and style of the lantern fits better in here, and since the chandelier is wider, it works well in the larger space.
That's the epitome of using what you have, right?

I did also add some fresh flowers (I can never resist – especially in the spring!)
Ranunculus are one of my favorite flowers and are only around for a short time so I usually indulge at least a few times. Their pretty little blooms just make me so happy!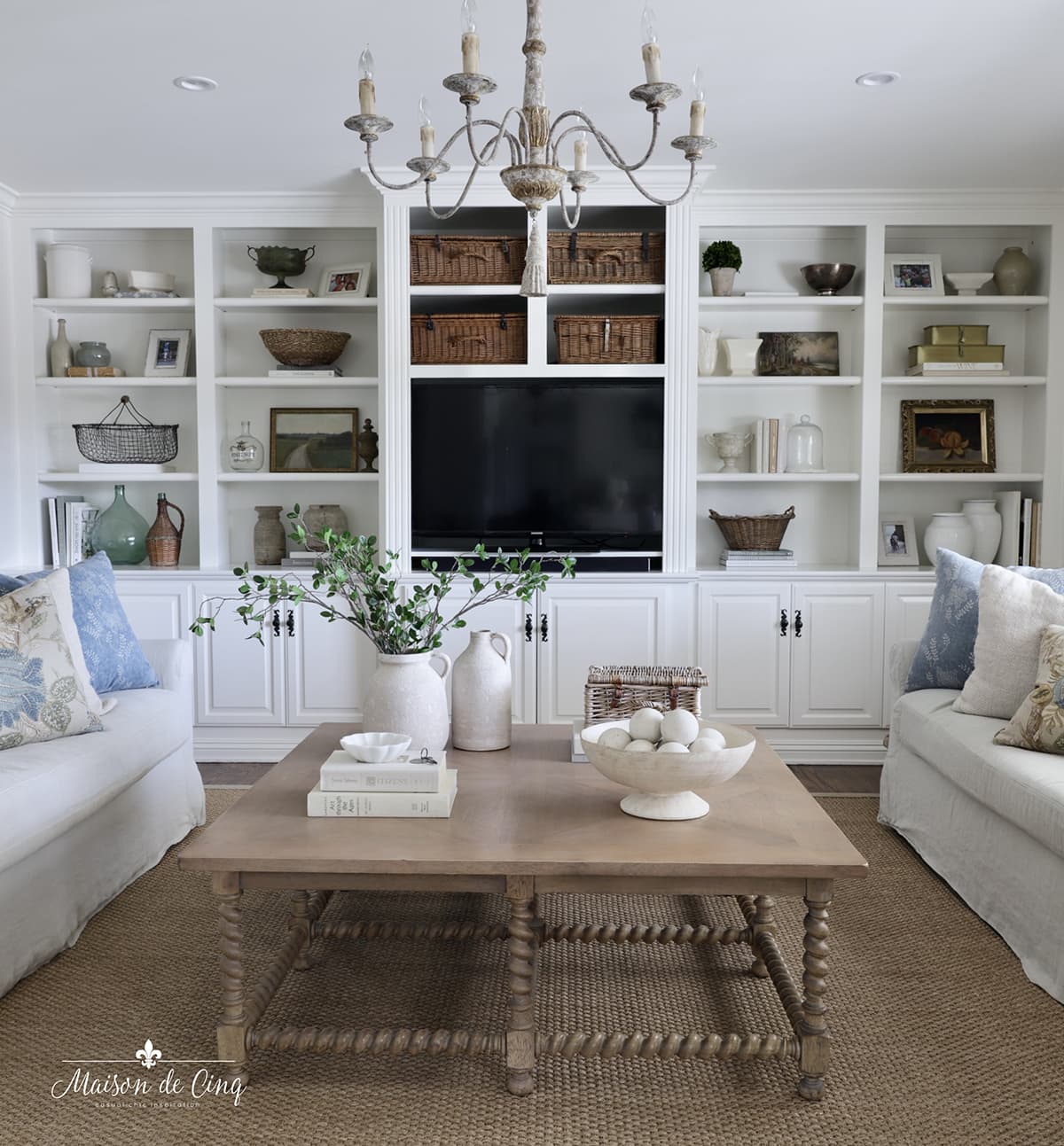 See? The chandelier works really well in this larger space. So glad I finally did it!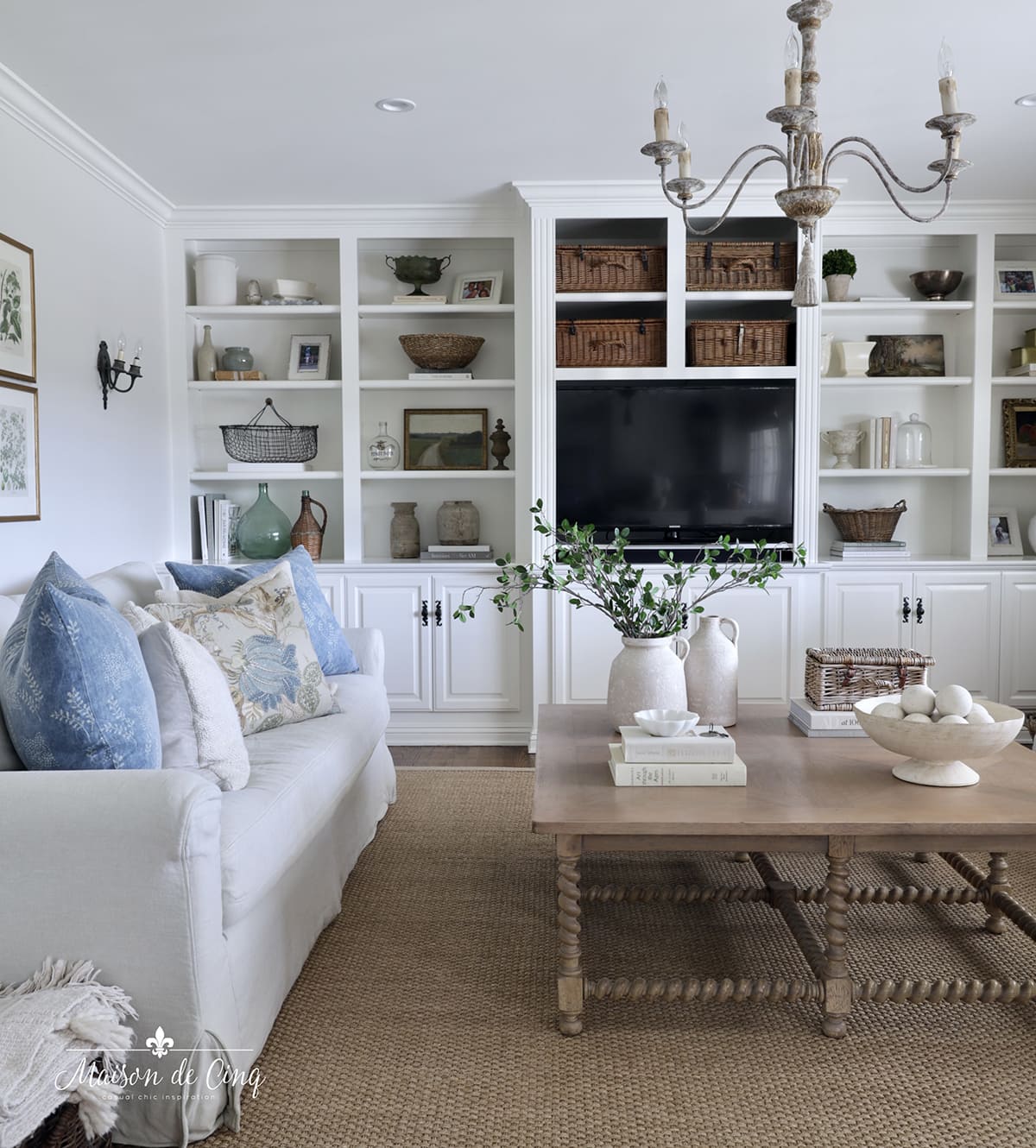 Blue floral pillows bring lots of springy cheer to the space.
You might recognize these pillows from last year. I had the darker blue and white one in here, but the botanical pillow in the front has always lived in the living room in seasons past. I combined them both with my favorite textured linen pillows.
But I switched things up and I love the way it plays in here! They work really well together and to me, blue is the epitome of spring and summer!

Green branches in a vase is a great way to bring freshness to any space. These are one of the very few faux branches I've ever used because I'm so picky, but they look so real. And I love that they last all season!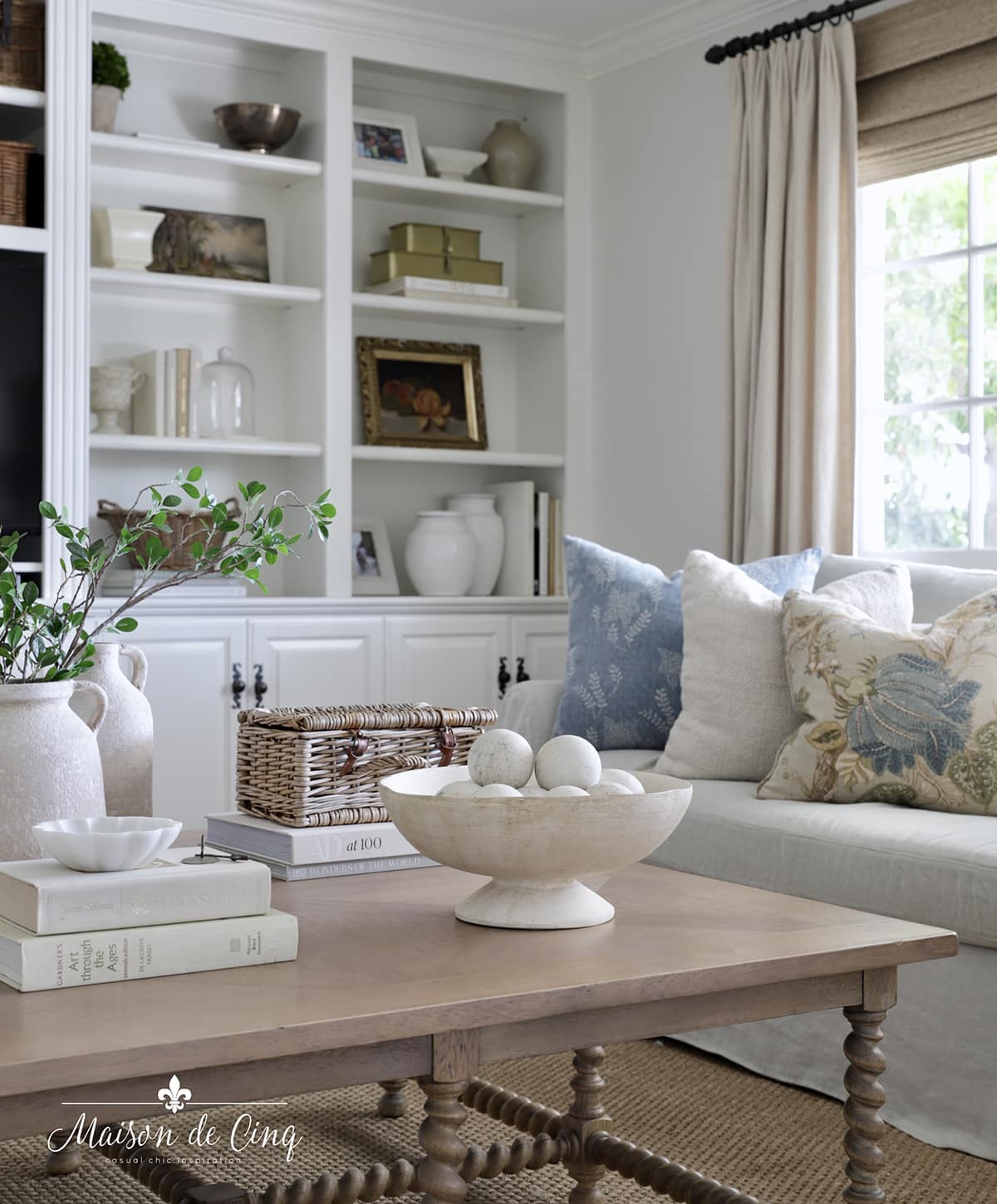 It doesn't take much to brighten up your spaces for the spring and summer seasons.
Pretty flowers in a pitcher. Fresh or faux branches in a vase. And a few bright pillows can bring so much to a space! It's amazing how a few changes can make for an easy spring and summer refresh that will last all season.
I hope this gave you some ideas for your own spring and summer refresh. And if you are looking for new spring decor, or are interested in some of what I used, I've linked most of it below!
Shop Spring and Summer Decor

Happy Spring!
Sheila
xo
If you enjoyed this post, be sure to check out more spring decorating inspiration below: