Happy weekend friends! And what a happy weekend it is. Today it is in the 80s – woot, woot!! I can't even tell you how excited I am to have some truly warm weather! And how appropriate that I would be sharing some more spring decorating with you today.
This week some gorgeous wreaths arrived from Balsam Hill, which was perfect timing. Although I had already sprinkled some spring decor (and even a little Easter decor) around the house, I hadn't done anything about the sad state of my porch. The plants were long dead. The doors were bare. And all that was sitting there were some neglected pine cones in my lantern!
We've had so much rain and wind this year that everything was just a mess. Such a mess that I had kind of ignored the outside – until now. It was time. It needed a refresh.
And the wreaths were the perfect thing to bring some spring cheer to the porch….
These wreaths are the Provencal Lavender Wreath and the lavender color just spoke to me this year! A few weeks ago I did a table with similar colors and some purple stock, and I've been loving the soft purple colors ever since. They just scream spring to me! I think I've found my spring decorating palette 😉
The porch also got freshened up with some new plants! I added some white azaleas to my vintage olive basket, as well as a blue hydrangea. It's so nice to see something blooming after months of dead plants and brown sticks in every pot, haha!
I also got another pretty wreath that I used in the living room ~ apparently lavender is my recurring theme this spring! 😉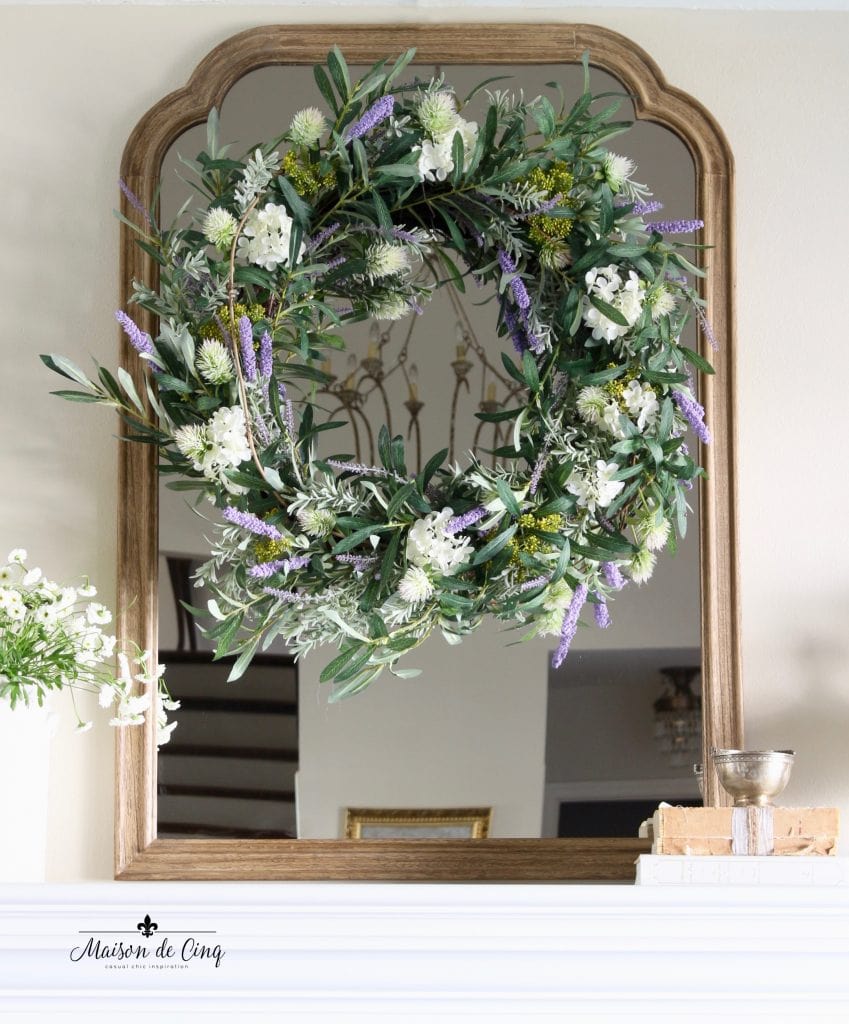 Isn't this gorgeous?! It's called the French Market Floral Wreath. I love that it mixes wild flowers with thistle and lavender. Again, a bit of a "French" influence (no surprise there, right?)
And it looks incredibly real!
And I'm loving how it looks on the mirror over my fireplace mantel.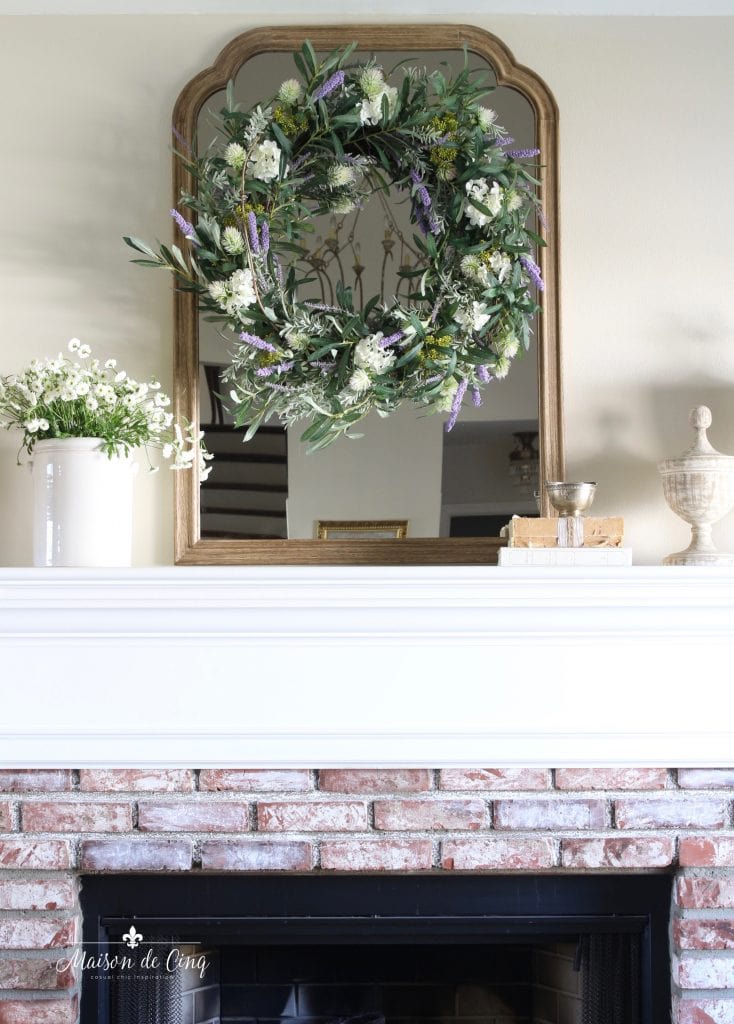 I also added some faux lavender from my Provencal Lavender Garland – it's so pretty and looks so realistic!
A cache pot of chamomile brings more French farmhouse charm to the mantelscape.
I also added a little more spring in the kitchen, featuring this Brittany Rose arrangement. I love the roses, and of course, the adorable container it comes in!
Sprinkling just a bit of spring decor around the house really makes a difference. It's amazing what a few wreaths and florals can do to change the whole house, and make it feel like spring is here!
Shop the Post!

You can also catch my friends posts below who are also sharing their Balsam Hill spring wreaths and floral collections below! I think you'll love their spring decorating and inspiration!
Sarah at Dreaming of Homemaking
Courtney at French Country Cottage
Thanks so much for stopping by, and happy spring!
Sheila
xo