French Vintage Inspired Spring Dining Room
Do you love spring as much as I do?! To me, it is one of my favorite seasons. There is just something so lovely about the flower buds popping out, the grass turning green, and some sunshine on your face after a long (and in my case, wet) winter!
That spirit of renewal and a clean slate is what prompts all the spring cleaning I think! And though spring cleaning is definitely something I love to do (is there anything better than a purged and cleaned out closet?!), bringing out the spring decor is also something I look forward to. Which is why I've been slowly bringing it out since February!
However, this week I was asked to join a small group of friends for a spring tour, and I was inspired to do something slightly different than usual! I decided to bring in some new spring decor to the dining room. This time, I was inspired to go for a French vintage feel. So I changed out the decor I had in there earlier last month, and brought in some vintage pieces and fresh flowers. I love the vintage feel that my spring dining room has now!
I created a sweet spring vignette on the dining table by combining a cement bunny statue, my cast iron pedestal, and some ranunculus in a vintage French urn.
This cast iron pedestal is usually on the patio, but I brought it inside for this. I love using items that are typically outdoor decor pieces on the inside of the home, especially in spring! I placed one of my little nests, along with some faux eggs and some faux grass on top.

And ranunculus are some of my absolute favorite flowers! Don't you love that they look like a small peony?!! I don't know about you, but here in California I see them for about two weeks at my Trader Joe's, and then they're gone. So when I do spy them, I usually pluck them up!

Across the way on the buffet, I used a Pottery Barn basket to hold some white tulips. I absolutely fell in love with this basket last year, and guess what?! They've brought it back again! I also added a sweet vintage wire basket to hold some eggs.

I love this little cement bunny! How cute are his floppy ears?!
Well, now that I've been decorating for two months straight, haha, I think I'm done 😉 I'm loving the French vintage feel of the dining room, and plan on keeping this out through Easter next week! If you're looking for some of the same decor, I've linked lots of vintage items below to help you get the look!
Shop the Post!


*please note some affiliate links are included for your convenience*
Happy Spring!
Sheila
xo
Be sure to visit my friends below for lots of spring decor ideas!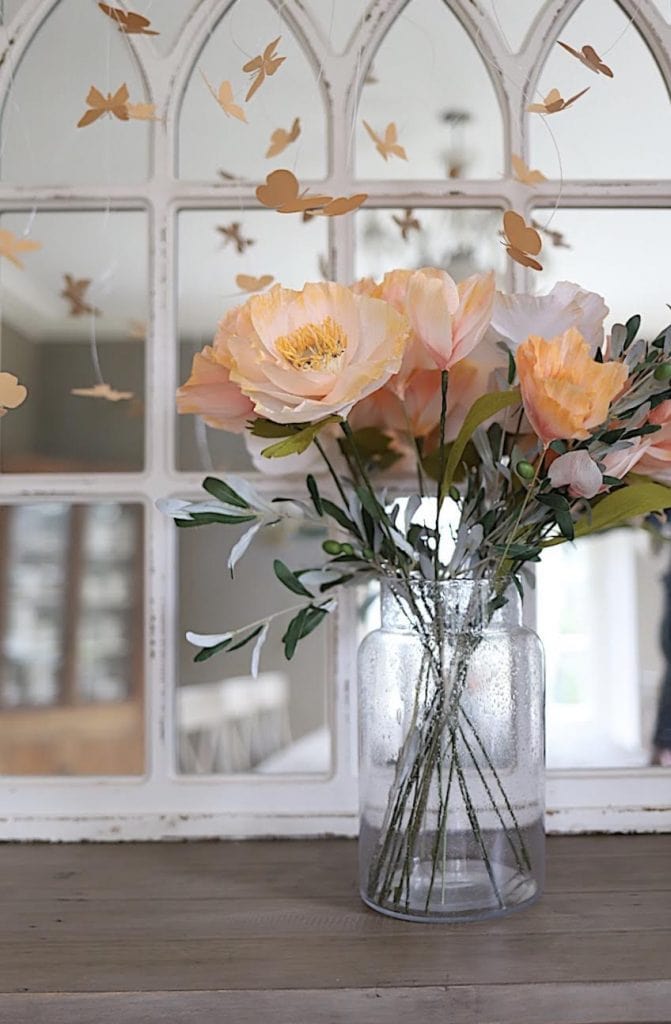 My 100 Year Old Home
The Handmade Home