Spring Kitchen Decorating: A Simple & Easy Spring Refresh
Looking for a spring refresh? In today's post I'm sharing four tips for easy spring kitchen decorating ideas!
Well hello friends! I feel like I haven't shared seasonal decor here in quite awhile, so I'm thrilled to be talking spring decorating today!
We've had the most erratic weather lately – one week it's pretty warm and I'm feeling that spring is here, and the next (like now!) it's cloudy and cold and dreary. But my solution is to ignore the weather and bring spring inside – whether it's here on the outside or not! 😉
Do you want to add some pretty touches of spring but keep thinking it's not worth the hassle? Well I beg to differ!
Changing up your seasonal decor doesn't need to be super fussy or complicated. In fact, all the changes I made today are super easy to do. And you know what? They completely changed the feel of the room!
THIS POST MAY INCLUDE AFFILIATE LINKS. CLICK HERE FOR MY FULL DISCLOSURE POLICY.
Tip One: Add Plants
There's nothing like a little greenery to make a room feel springy! I added a few plants to the kitchen and I just love the way the whole room feels fresher and more alive.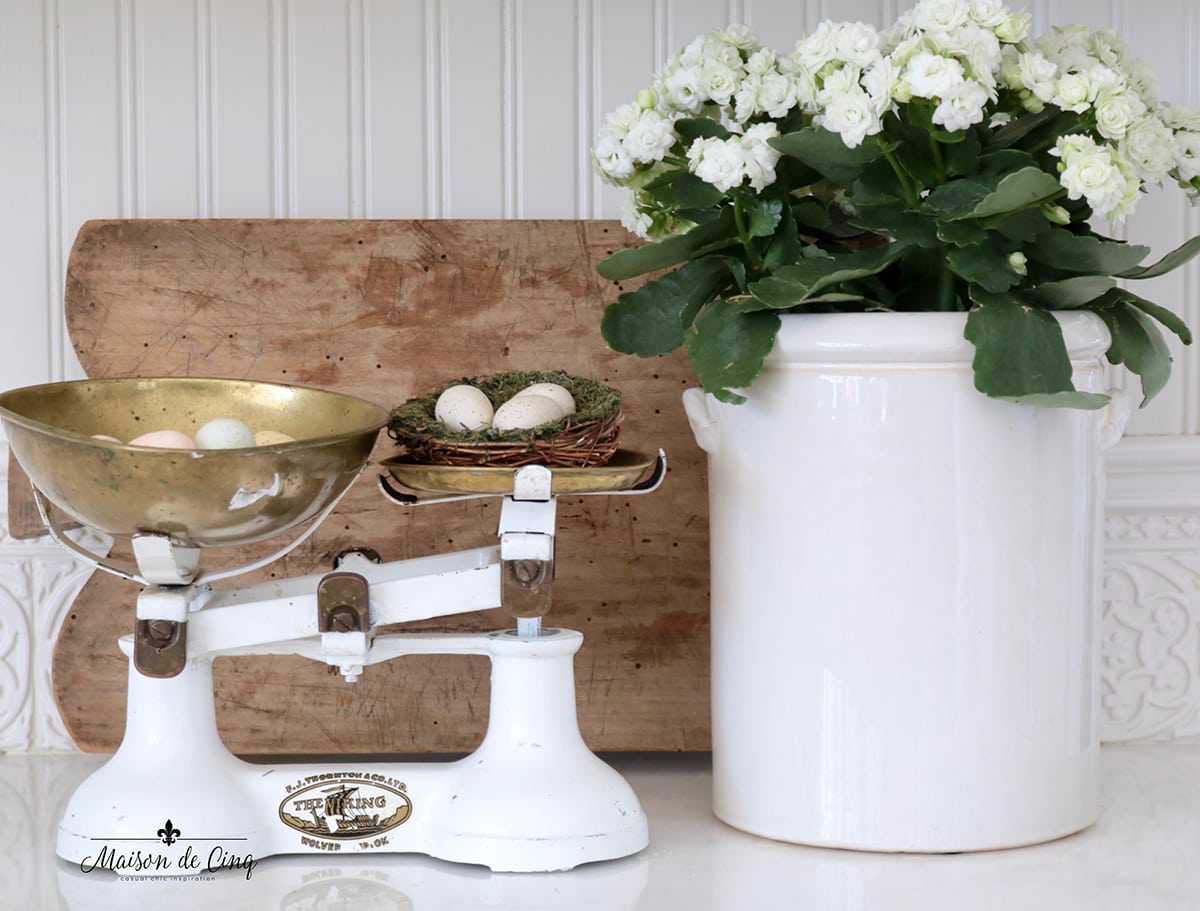 Tip Two: Lighten Things Up
For me this means the colors of your linens or towels, the candles you choose to burn or even the soap scent you use. All of these visual cues and scents really change the way you respond to a space!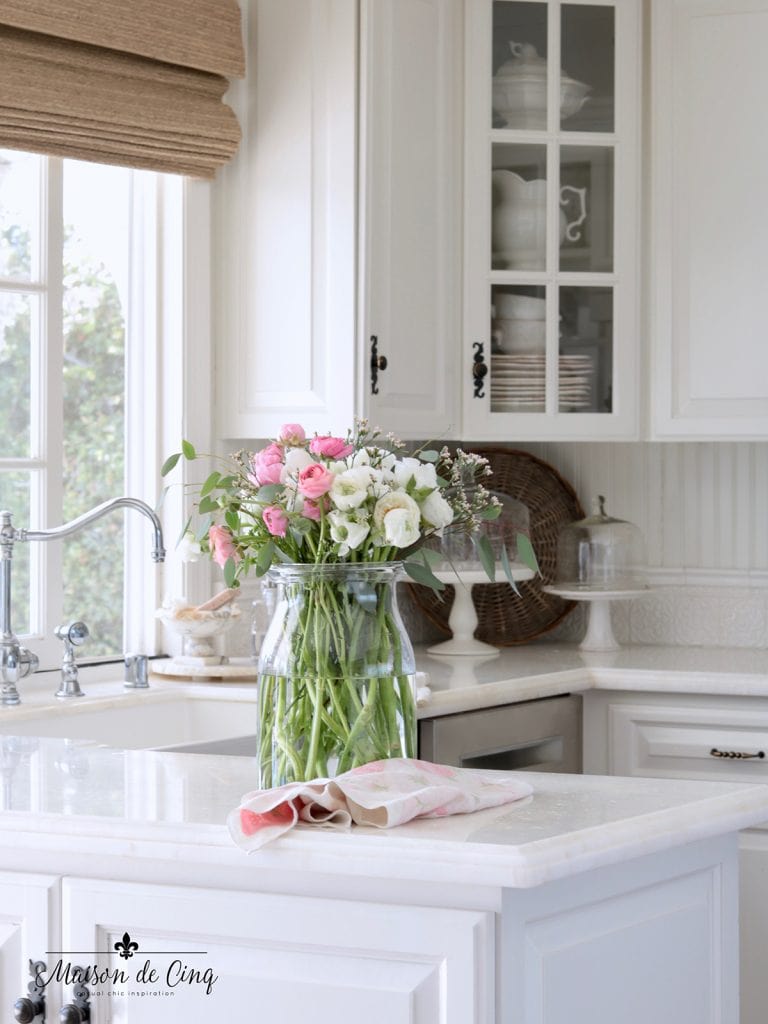 The first thing I do when March rolls around is change out my kitchen towels. I always use linen tea towels, but instead of the darker colors I use in winter (or even the reds I've used during the holidays), I change them out for pretty neutrals, as well as cheerful blues or soft pinks.
I also put away the pine scented candles of the winter and bring out some non-seasonal or spring scents. Right now I'm burning my favorite Espresso candle. And since it's a bit lighter than something like a pumpkin, it works year round! Another favorite is this candle from Voluspa – I love the Casa Pacifica scent, but all three scents are yummy!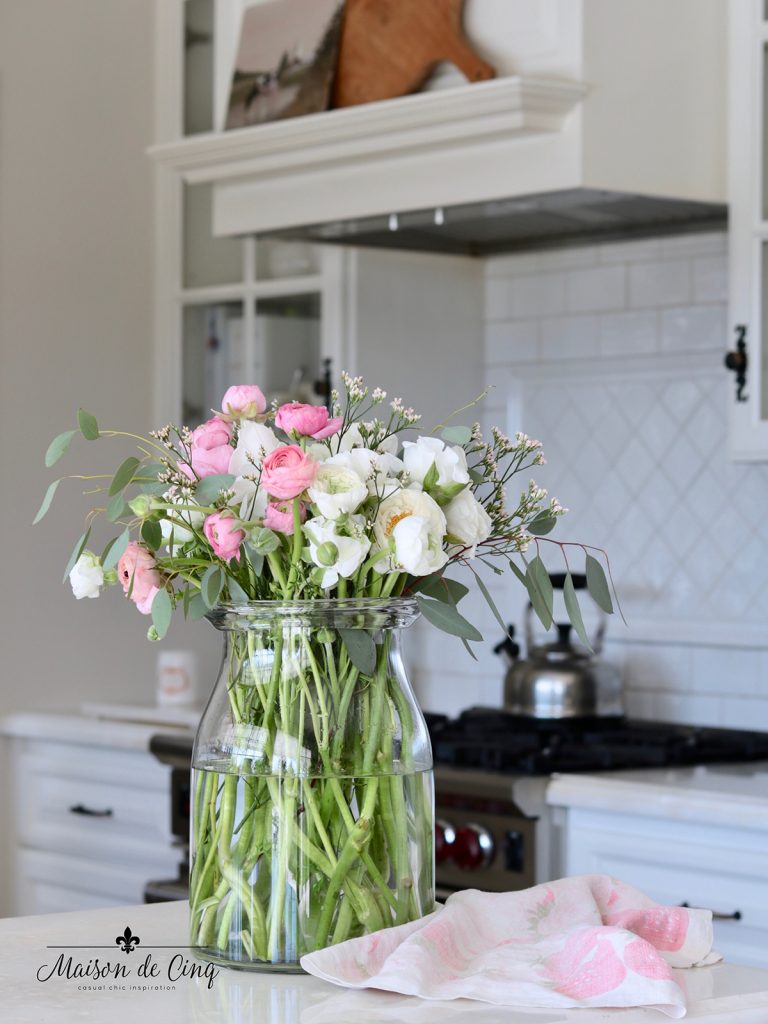 Tip Three: Use Seasonal Decor
For me this is a subtle thing. I don't like to go too crazy with signs that scream spring, or "themed" decor. However, just adding a few touches with a nod to the season really set the tone for the room.
This speckled egg platter is a favorite! I love the soft colors and the fact that it says spring in a fresh way.

And I also bring out lots of eggs! I may bring out bunnies when it gets closer to Easter, but for now, the eggs symbolize spring to me.
Another favorite is to use little nests. They're another nod to the season and I love that they symbolize nature and rebirth – all the things that spring represents!

And this vintage French egg basket is a favorite! I love the sweet shape – and it's so practical in the kitchen, too!

Tip Four: Bring Out the Flowers
I'm sure this one is a shocker, haha! You all know how much I love flowers, and try to have them in my home year-round as much as I can. However, spring is definitely a season that just screams for some!
So whether it's a blooming tulip plant, hydrangeas from the market, or ranunculus from the flower mart, flowers go a long way towards bringing that feeling of spring into your home!
I usually choose either flowers in all white, white and green, or in this case, white and pink. These are the colors that say "spring" to me, but choose whatever speaks to you. I guarantee you that any fresh flowers you find will be just the right touch for your spring kitchen decorating!
And if you can't find fresh near you, you can always get some high-quality faux – they'll still brighten up the room.

I hope this gave you some ideas of how to bring spring into your home. Today I started with the kitchen because that's the place I seem to spend the most time in. But next week I'll be completely "springifying" my home and lightening and brightening the other rooms as well!
And if you're interested in creating some of these spring looks yourself, I've sourced most of the items I used in my spring decorating below!
Shop Spring Kitchen Decorating


Happy Early Spring!
Sheila
xo
Now be sure to visit my friends who are also sharing their spring decorating ideas below!
Designthusiasm | 8 Design Elements to Refresh Your Home for Spring
Shabbyfufu | 10 Tips For Making Realistic Faux Flower Centerpieces
Maison de Cinq | Simple Spring Decorating in the Kitchen
In My Own Style | Spring Decorating Ideas for the Entry Console Table
StoneGable | Spring In The Kitchen
If you enjoyed this post, check out these other posts below for more spring decorating ideas!