Spring is such a fun season to decorate for. I love that with just some simple touches, it's so easy to create a pretty space. This week I'm sharing some easy ideas for creating spring in the living room. I added some florals, fresh plants, and a few seasonal changes to both the living and dining rooms, and they are definitely feeling ready for spring!
We're just seeing the first signs of spring here in Southern California, and it is making me so happy. There's nothing like some buds on the trees and my roses starting to sprout some leaves to bring a smile to my face. Though it's still raining, I keep telling myself that it will bring even more green and blooms in a few weeks and that's reason to celebrate. 🙂
Today I'm joining my friend Lory of Designthusiasm for a spring tour with some talented friends who are all sharing some spring inspiration with you.
Taking my cues from nature, I've created some pretty spring-inspired spaces…
Adding flowers and plants is one of my favorite ways to bring in spring. I switched up the mantel a bit from the look it had a couple of weeks ago, adding some hydrangeas in a glass vase and a small plant to create a little vignette. It creates a simple nod to spring without going overboard.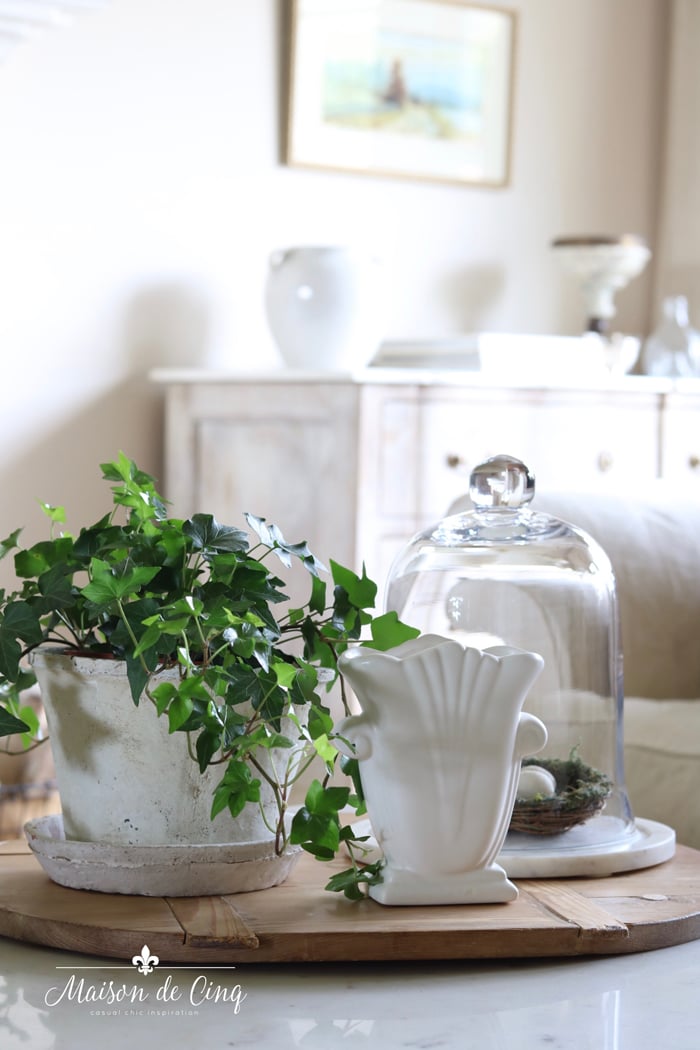 Plants are something I love to add year-round, but they're especially appropriate come springtime. This little ivy sits on the coffee table along with a cloche over a bird's nest – one of my other favorite things to bring out come spring.
Little nests or eggs are such a sweet way to add a bit of spring anywhere you put them! And a cloche makes anything feel special.

Birds, too, represent spring and I tend to bring some out each year. These were hiding in the builtins in the family room and I decided to bring them into the living room. I love how they look on the coffee table and they're so cute featured here! When doing seasonal decorating, think of ways to move around decor you already have that will feel fresh.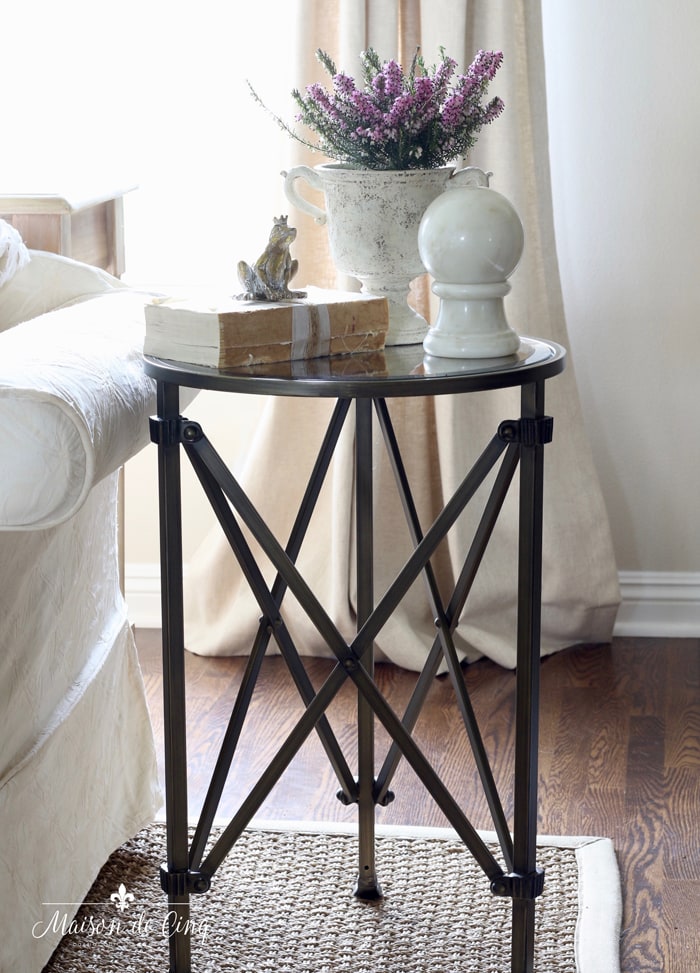 This little blooming plant is such a charmer! It's seriously my favorite thing I've added this season. I love the color – and it's supposedly low-maintenance (perfect for this plant-killer!)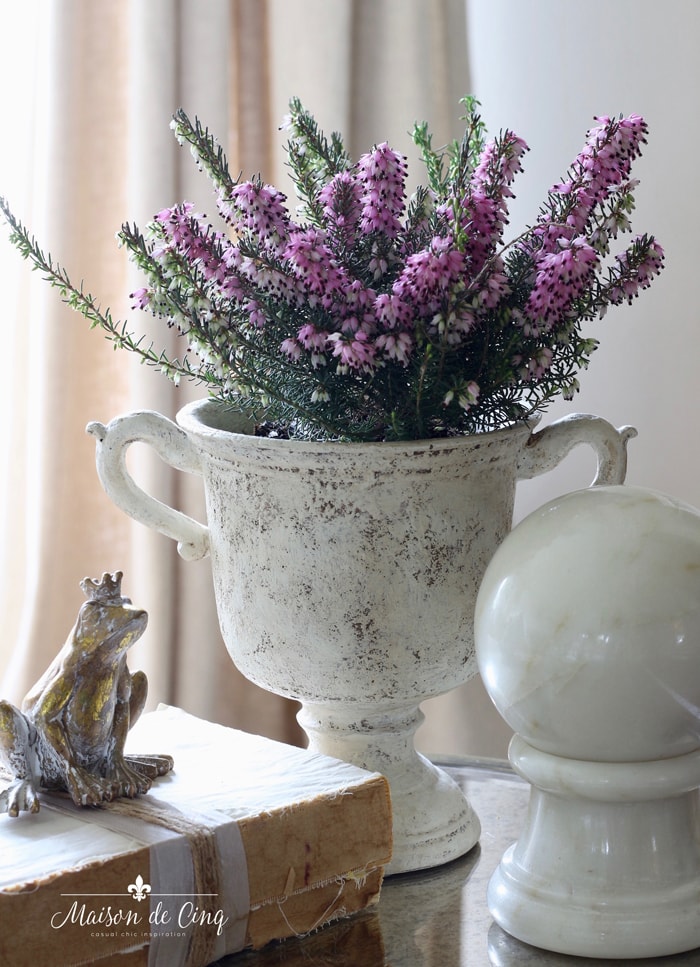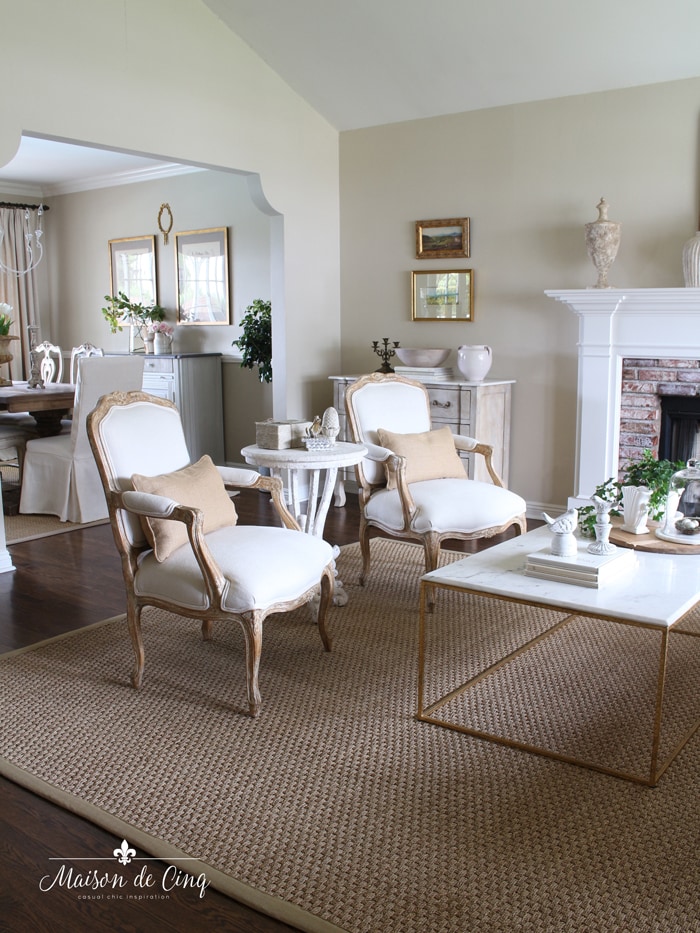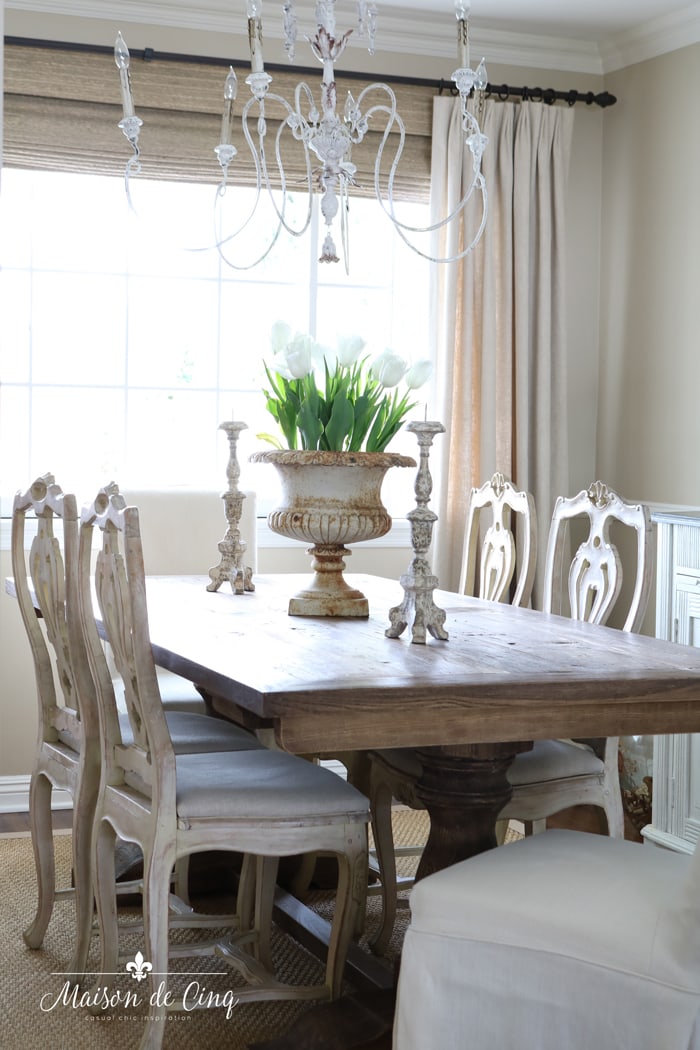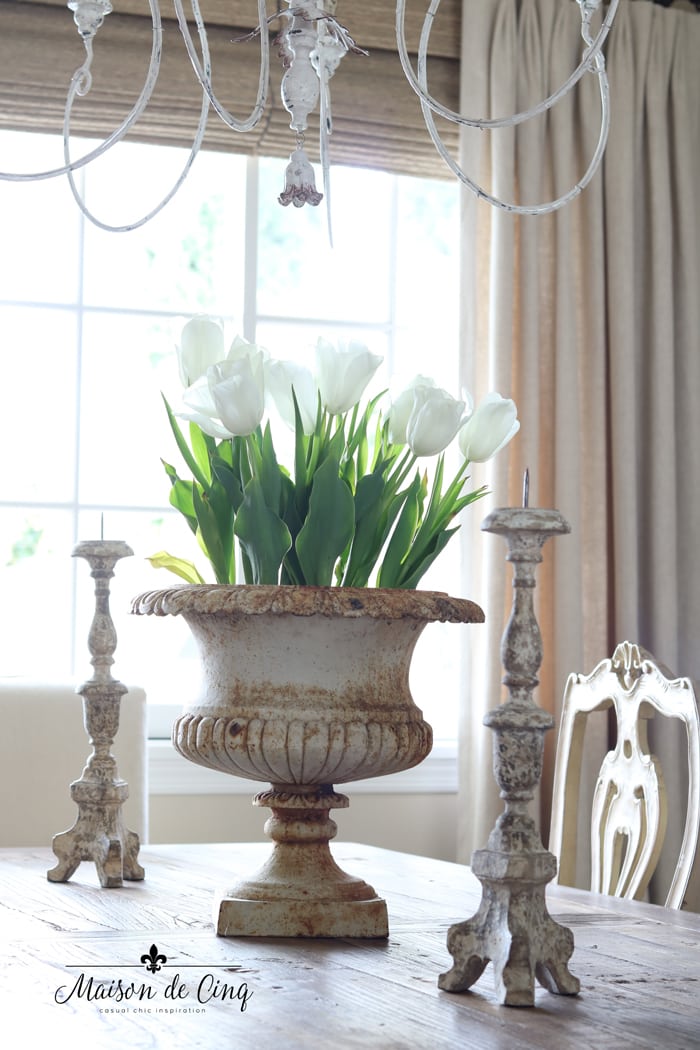 Tulips are one thing that always say spring to me, so when I saw white ones I just had to have them! I love to buy blooming plants in the spring rather than just cut flowers – they last a lot longer.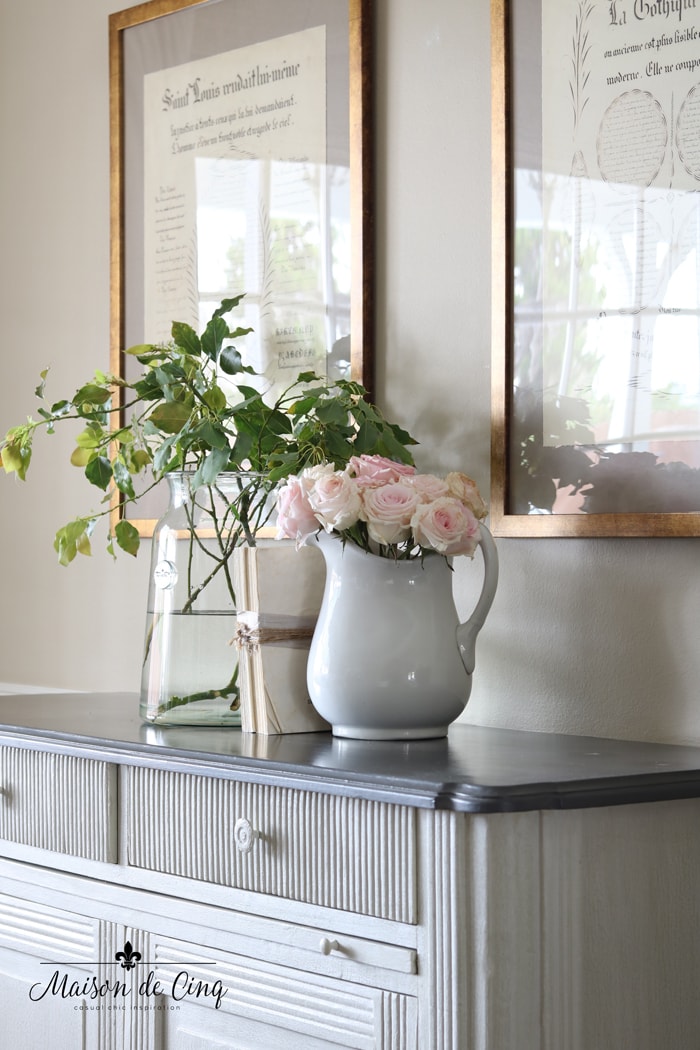 Some pink roses and green branches decorate the buffet. I love cutting branches from the yard to use in my decorating. Not only is it free, but it's the perfect seasonal touch. And again, the green really speaks of spring and new life 🙂
Soft pink roses create a sweet and simple touch.

I hope this has inspired you with some easy ways to add some spring decor to your own home. With something as simple as the addition of some plants and flowers, you can make your rooms feel ready for spring!
And if you missed either of my previous spring posts, be sure to check out the kitchen and the mantel!
Shop the Post!



*please note some affiliate links have been added for your convenience*
Sheila
xo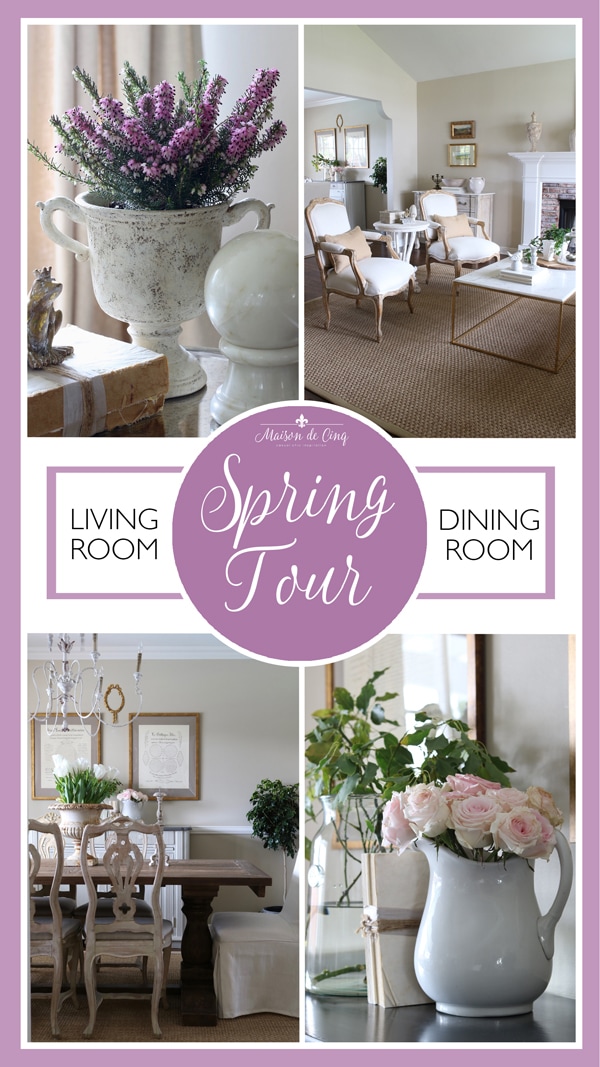 I hope you'll visit some of my friends below who are also sharing their spring tours and decorating ideas!
Designthusiasm | StoneGable | On Sutton Place
Shabbyfufu | Maison de Cinq | Cedar Hill Farmhouse
Sanctuary Home Decor | Town and Country Living | Rooms for Rent
If you enjoyed this post, you might want to check out some of my other spring posts below!