Strawberry Gin Cocktail – Sweet, Creamy & Refreshing!
Looking for a delicious summer cocktail recipe? With a secret ingredient, this Strawberry Gin Cocktail makes for a fun and refreshing drink. It's like a little taste of summer!
Summer might be my favorite season. There's just something special about the way we all let out a collective sigh and relax a little more. No matter if we still have to work or no longer have summer break, it still feels like we do. There's a difference in the air. Everyone seems a little lighter and happier.
I remember as a kid when the first fresh strawberries arrived how excited we were. Because if any fruit is the quintessential summer fruit, it's the strawberry. And since I still love them as much as I did when I was 8 or 9 years old, I use them as much as I can when they're at their best.
Strawberry ice cream? Oh, yes. Strawberry short cake? Delicious. And a refreshing, icy, strawberry gin cocktail? Even better!
THIS POST MAY INCLUDE AFFILIATE LINKS. CLICK HERE FOR MY FULL DISCLOSURE POLICY.
This Strawberry Gin Cocktail is versatile, too. If you're not a gin lover, it can easily be made with tequila or rum.
And it's easy to make, taking but a few minutes until you're drinking your fruity, icy, creamy reward.
Mix gin, honey, and lemon in a cocktail shaker. Muddle or mix some strawberries until they're broken up (I used a Magic Bullet blender).

And that creaminess? That's the secret ingredient! A dollop of plain yogurt gives it a slightly tangy flavor and cuts the sweetness. And lest you think it's going to taste like a smoothie, it doesn't.
It's definitely still a cocktail, just one with a slightly creamy texture. And the creaminess plays well against the sweet fruit and the little bit of tang from the lemon juice, creating an irresistible combination.
Full confession time. I originally had this cocktail in a restaurant and I wanted to recreate it at home. They added cracked black pepper which I didn't really care for so I took that out (feel free to add it back in though, if you want to try it). And it had a racy name, so I decided to clean up the name a little too, haha!
I serve it in a double old-fashioned glass but you could also do a tall version in a highball glass.

Yield: 2 drinks
Strawberry Gin Cocktail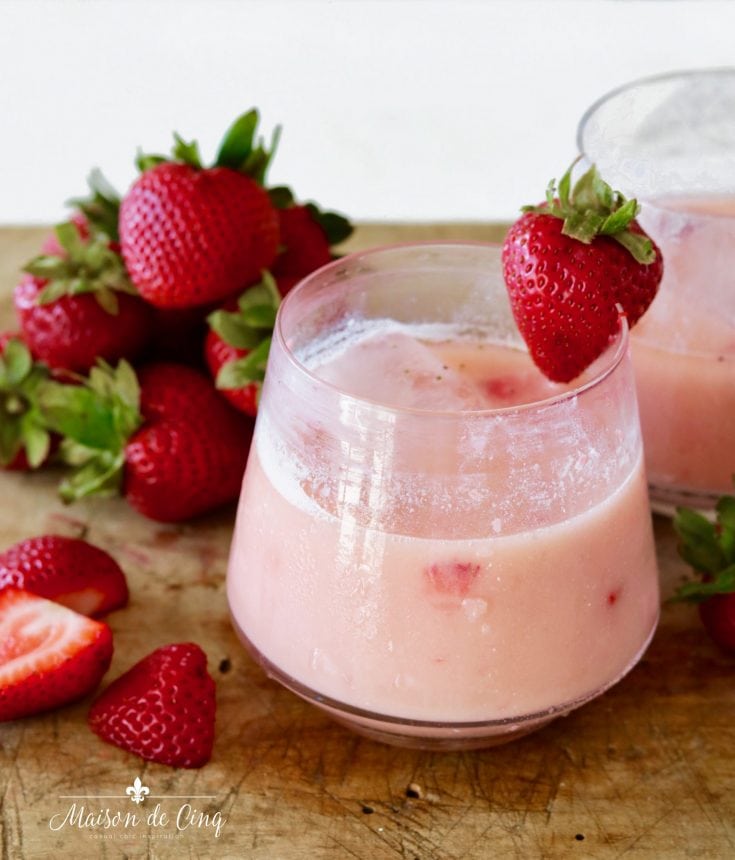 Ingredients
2 large or 4 small ripe strawberries, halved
1 1/2 ounces lemon juice
1 ounce honey
3 ounces gin
2 heaping tsp. plain Greek yogurt
Strawberries for garnish
Instructions
1. Combine strawberries, lemon juice, and honey in a cocktail shaker and muddle until mashed and broken up. Alternately, blend ingredients together in a blender until broken up and slightly, but not totally, mixed. (I used a Magic Bullet blender).

2. Add gin and Greek yogurt and fill shaker with ice. Shake until well chilled and yogurt is dissolved, about 15 seconds.

3. Fill a rocks glass with ice (I used silicone ice cube trays to create one large cube) and strain cocktail into it.

4. Garnish each glass with a strawberry slice, and enjoy!
Notes
If you aren't a gin fan, this tastes equally delicious with either tequila or rum.
The original recipe called for crushed ice, but I prefer it with one large block so it doesn't melt as fast. But if you prefer, you can use crushed ice for an icier texture.

Here's to more summer! More relaxing, more beach days, more tasty fresh fruit, and of course, more refreshing summer cocktails!
I think I'll be making one of these this weekend! 😉
Shop the Post

Happy Summer!
Sheila
xo
And now if you're a strawberry lover like me, you'll want to check out the recipes my friends are sharing below!
13 Summer Strawberry Recipes

Fresh Strawberry Pie // Happy Happy Nester
Strawberry Shortcake Cupcakes // Inspiration For Moms
Strawberry Tart // Paint Me Pink

Muddled Strawberry Basil Cocktail // Modern Glam
Strawberry Cocktail // Craftberry Bush
Refreshing Strawberry Cocktail // Maison De Cinq

Strawberry Shortcake Ice Cream Sandwiches // My 100 Year Old Home
Strawberry Basil Ice Cream // Most Lovely Things
Keto Strawberry Shortcake In A Jar // The Happy Housie

Strawberry Spinach Salad with Quinoa // Satori Design For Living
Glazed Strawberry Sweet Bread // Sincerely, Marie Designs
Breakfast Granola Tart // My Sweet Savannah
Easy Strawberry Banana Cheesecake Salad // Twelve on Main
If you enjoyed this post, you might want to check out my other favorite cocktails below!