Strawberry Mojito: Summer Cocktail Craving
Looking for a cocktail that will really beat the heat? This Strawberry Mojito recipe is easy and delicious and perfect for summer!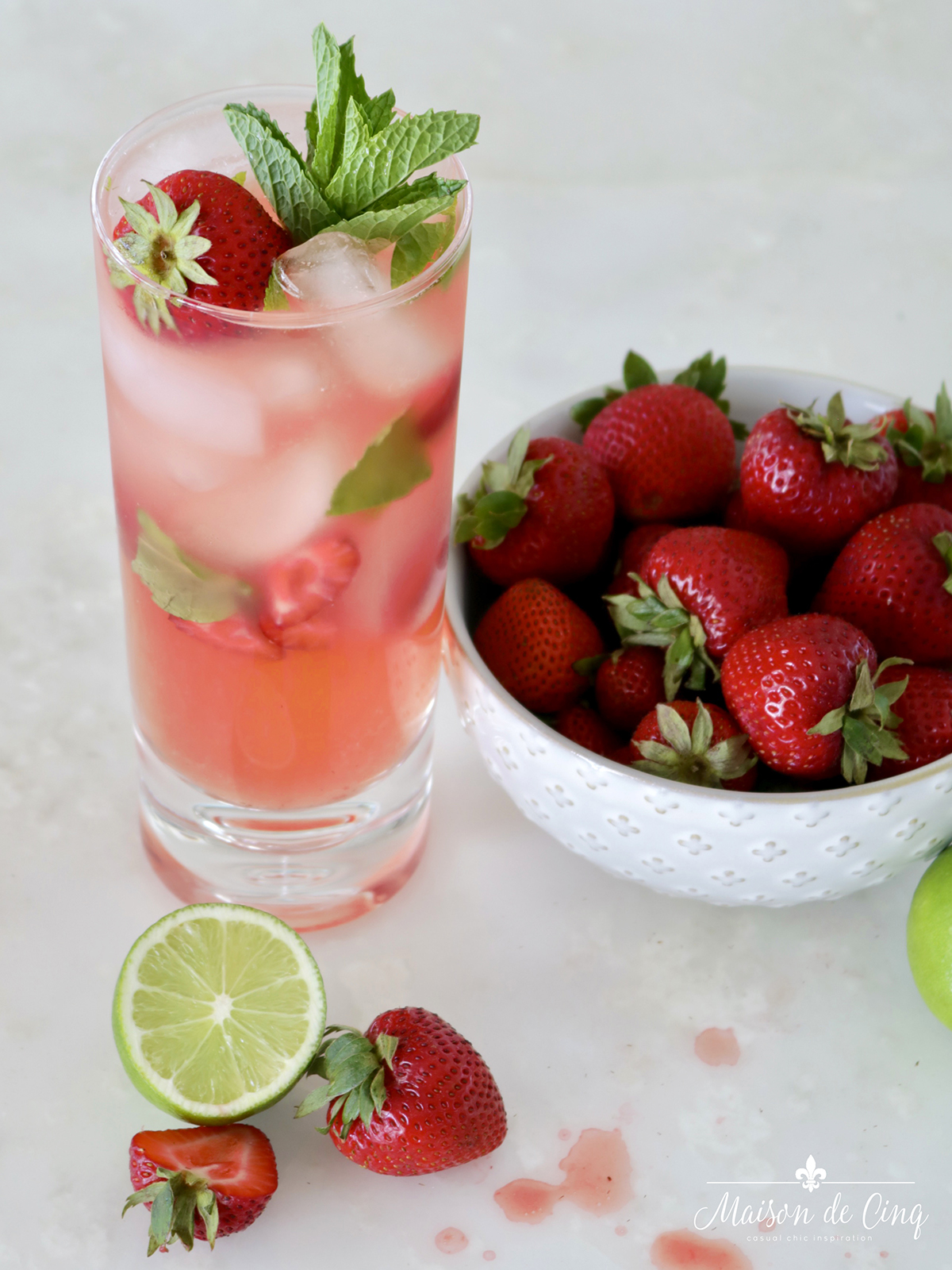 I'll be honest, I don't drink a ton of cocktails the rest of the year. But there is something about summer that calls out for them. It's hot. And muggy. And sticky. And nothing hits the spot quite like an icy, refreshing cocktail!
One of my favorite summer cocktails? A mojito! If you've never had one, they're a delicious mix of mint, lime juice, and rum. And they lend themselves to variations very easily.
A couple of summers ago I shared this Watermelon Mojito Recipe which we love. And now seemed like the right time to do another variation on this summer favorite. And since strawberries are the quintessential summer fruit, I decided to share a super yummy Strawberry Mojito recipe!
THIS POST MAY INCLUDE AFFILIATE LINKS. CLICK HERE FOR MY FULL DISCLOSURE POLICY.
It's got lots of mint, lime juice, and rum, and of course, fresh strawberries. The lime juice and the mint make a for a refreshing combination, and the sweet strawberries really take it to the next level.
To me, it's a perfect summer cocktail!
If you've never made a mojito before, you're going to be 'muddling' the ingredients. All this really means is mashing the ingredients together in the glass. You can use a wooden muddler like this one I have, a cocktail spoon, or even the back of a regular spoon.
The idea is you want to break down the elements into smaller pieces so no one is swallowing large chunks of strawberry or mint.

In this recipe I called for whole mint leaves, but if you want them smaller, feel free to cut or rip them into smaller pieces before muddling. The same goes for the strawberries. I usually slice them and with that I'm able to break them down sufficiently, but you can always cut them smaller if you like.
You might notice that I used only one tablespoon of sugar, but you're welcome to increase or decrease that to suit your taste. Many recipes are much sweeter than this one, but I encourage you to play around with it until it's perfect for you.
And if you're wondering about using frozen strawberries, I wouldn't do that in this recipe. The strawberries really are the star and the freshness will show through. Same thing for the lime juice.
The cocktail will be infinitely better tasting if you use fresh squeezed juice vs. bottled.
And there's nothing quite like a made-from-scratch cocktail to cool you off during the dog days of summer!
Yield: 1 cocktail
Strawberry Mojito Cocktail
This Strawberry Mojito is easy and delicious and the perfect cocktail for summer!
Ingredients
1 TBSP. sugar (or to taste)
4 fresh strawberries, stemmed and sliced
8 fresh mint leaves
2 TBSP. (1 oz) fresh squeezed lime juice
1/4 cup (2 oz) white rum
1/2 cup (4 oz) sparkling mineral water or club soda
Whole strawberries and mint sprigs for garnish (optional)
Instructions
1. In a highball glass combine the sugar, strawberries, mint leaves, and lime juice.

2. Muddle everything together using the back of a spoon or wooden muddler, making sure to break the strawberries into small pieces.

2. Stir in the rum, making sure to dissolve the last of the sugar.

3. Fill the glass with ice and top off with club soda. Gently stir to combine. Garnish with mint sprigs and whole strawberries, if desired.
Notes
If you like your mojitos on the sweeter side, simply increase the sugar added.
I typically use sparkling mineral water but club soda also works perfectly well.
Rum recommended: Bacari
These are also easy to double, triple or even make a large batch. You can muddle the ingredients together right in a pitcher, and then add the alcohol. Fill each glass with ice and top off it off with the sparkling mineral water or club soda.
Not only is this drink ultra-refreshing, but it's also pretty to serve!
Shop the Post

Happy Sipping!
Sheila
xo
And now be sure to visit my friends below who are also sharing yummy summer recipes!
Blacked Green Bean & Shrimp Quinoa Salad | Basil & Corn Cakes with Tomato and Avocado Salsa | Peach Rhubarb Muffins
Best Fruit and Honey Parfait Recipe | Strawberry Mojitos
Raspberry Lemon Cake | Raspberry Peach Swirl Popsicles
If you enjoyed this post, be sure to check out more cocktails, recipes and summer inspiration below!