Obviously if you've been a reader for awhile now, you know that I love neutral Christmas decor. You can read here about when I first was falling love with a neutral Christmas palette. Well, it turns out, I'm more in love with it than ever!
I love that a neutral Christmas usually means a more natural look. More greens. Less busy-ness. Because with Christmas decor, at least for me, less is definitely more.The last thing I want is for the house to feel even more cluttered than normal. Using a natural, neutral palette feels more serene and calming to me. And with all our lives getting busier all the time, that is something I definitely need. Not every neutral Christmas room is natural, or even simple, but it does feel like most are. The earth colors just seem to lend themselves to a more pared back look in general. And neutrals always feel soothing and peaceful to me.
So today for my Friday Favorites post (I haven't done one of these in a while!) I thought I would share some of my favorite examples of Neutral Christmas Decor! Some of these I've had pinned for years (check out my Christmas Pinterest board for more inspiration), but others are newly discovered. I think you'll see why I find this look so stunning!
This is one of my all-time favorite spaces in general! Love that crusty urn with the greens and just a few mercury glass trees as the centerpiece. Design by Lisa Luby Ryan.
This is the other side of the same kitchen. Just a simple wreath on the mirror. Via Lisa Luby Ryan.
How cute is this tree? And I love that it's in a basket! Via Nordic Style Blogg.
Simple Scandinavian kitchen. Via Min Lilla Veranda.
Stunning example of neutral Christmas decor. Via Better Homes & Gardens.
Natural greens on the stairwell- and I love how long they are! Via Better Homes and Gardens.
This is seriously perfect! The mostly white decor on the tree is simple yet sophisticated. Stephanie Jean Design via Elle Decor.
Via Better Homes and Gardens.
Eddie Ross shows how neutral Christmas decor can still feel festive. Via Country Living.
I love the natural look of this tree and how she printed cards with photos as the ornaments! The old bucket as tree stand, and plain wrapped packages complete the simple space. By Country Living.
Via Southern Living.
Her blog is a study in simplicity, with the most divine photography. Via Dreamy Whites.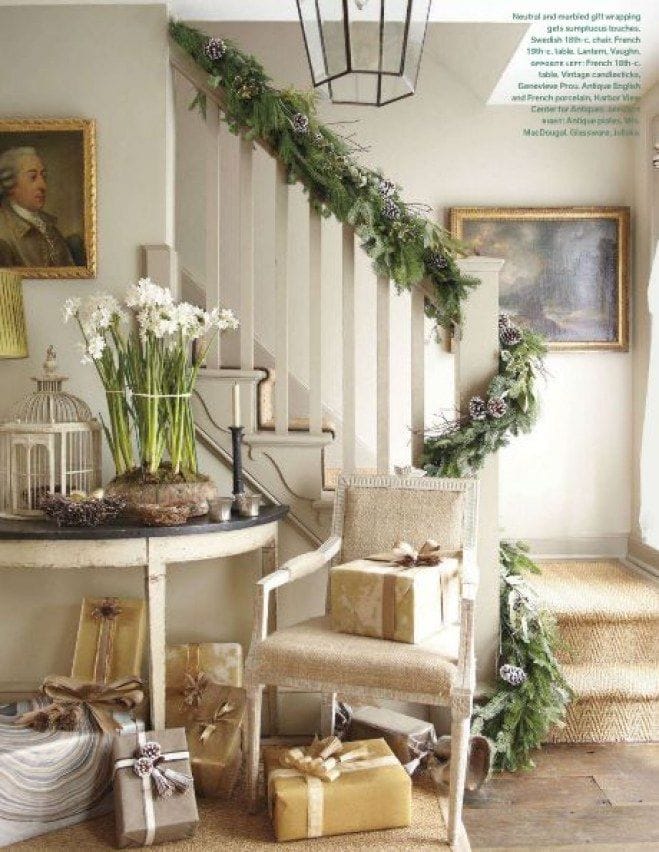 One of my all-time favorite images! This whole space just speaks to me. Via Veranda magazine.
Simple tabletop tree in a coffee bag, I think? Adorable. By designer Mariella Houtsma via My Cosy Retreat.
The display of wreaths is so simple, yet so effective. Found on One King's Lane.
By Lisa Luby Ryan via Traditional Home.
Pam Pierce does the most amazing neutral Christmas decor! Inspired, simple, and stunning. Via Milieu magazine.
Love the simple swags of greenery used here. Via Veranda magazine.
I hope you've found some inspiration today! And I'd love to hear, do you like neutral Christmas decor? Or are the traditional reds and greens the thing that speaks to you more? Let me know below!
Happy Friday!
Sheila
xo