Inspired by nature, with a serene and peaceful palette, these are 20 examples of the most stunning neutral Christmas decor around!
Obviously if you've been a reader for awhile now, you know that I love neutral Christmas decor.
I love that a neutral Christmas usually means a more natural look. More greens. Less busy-ness. Because with Christmas decor, at least for me, less is definitely more. The last thing I want is for the house to feel even more cluttered than normal.
Not every neutral Christmas room is natural, or even simple, but it does feel like most are. The earth colors just seem to lend themselves to a more pared back look in general. And neutrals always feel soothing and peaceful to me.
So I thought I would share some of my favorite examples of gorgeous neutral Christmas decor! I think you'll see why I find this look so stunning!
This is one of my all-time favorite spaces! Design by Lisa Luby Ryan.
How cute is this tree in a basket?! Via Nordic Style Blogg.
Simple Scandinavian kitchen. Via Min Lilla Veranda.
Via Better Homes & Gardens.
Natural greens on the stairwell. Via Better Homes and Gardens.
The mostly white decor on the tree is simple yet sophisticated. Stephanie Jean Design via Elle Decor.
Via World Market.
Design by Eddie Ross via Country Living.
Love the old bucket as a tree stand! Via Country Living.
Via Dreamy Whites.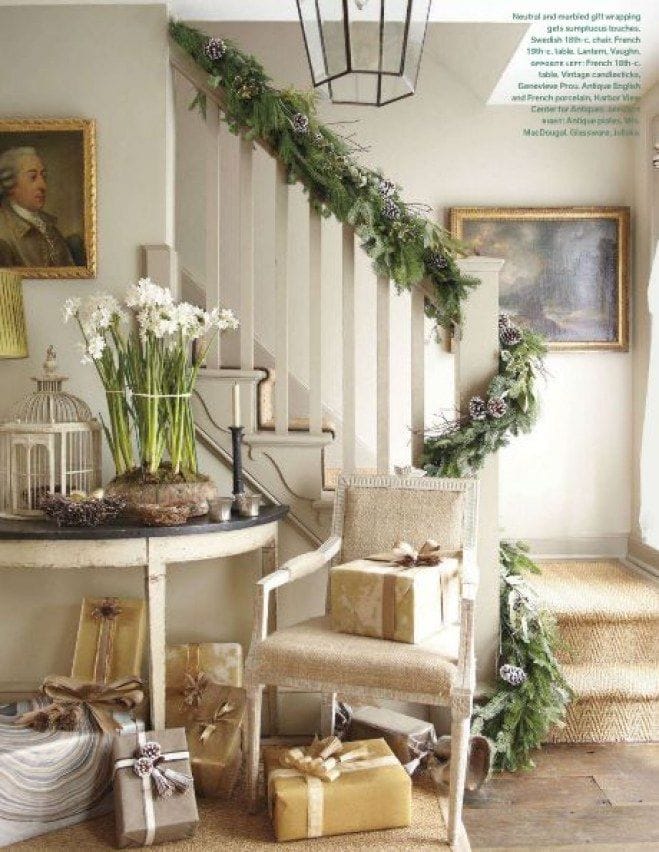 One of my all-time favorites! Via Veranda magazine.
Beautiful space from my friend Kelly of Lily Pad Cottage.
Simple tabletop tree in a coffee bag. Design by Mariella Houtsma via My Cosy Retreat.
The display of wreaths is so simple, yet so effective. Found on One King's Lane.
Via Cella Jane.
Design by Lisa Luby Ryan via Traditional Home.
Pam Pierce does the most amazing neutral Christmas decor! Via Milieu magazine.
Love the simple swags of greenery used here. Via Veranda magazine.
I hope you've found some inspiration today!
And I'd love to hear, do you like neutral Christmas decor? Or are the traditional reds and greens the thing that speaks to you more?
Happy Holidays!
Sheila
xo
If you enjoyed this post, be sure to check out more holiday decorating and inspiration below: