How to Style Book Shelves: 8 Tips for Easy Shelf Styling
Do you find book shelves hard to style? We're sharing 8 tips to help you style your book shelves so they look polished and pulled together!
The main thing that I've focused on over this last year is really nailing down my neutral palette, and changing the things that don't fit within it. And one of the things on my very long to-do list was to style the book shelves in my family room. These shelves are large and dominate the whole room, so their effect on the room is significant.
My home and aesthetic has been evolving, and the bookshelves have not. I wanted them to look pulled together and beautiful, but instead they were busy and definitely not cohesive.
So, I thought it would be fun to show you the before and after, and also share my process with you. There are lots of ways to go about styling shelves, but this is what worked for me.
How to Style Book Shelves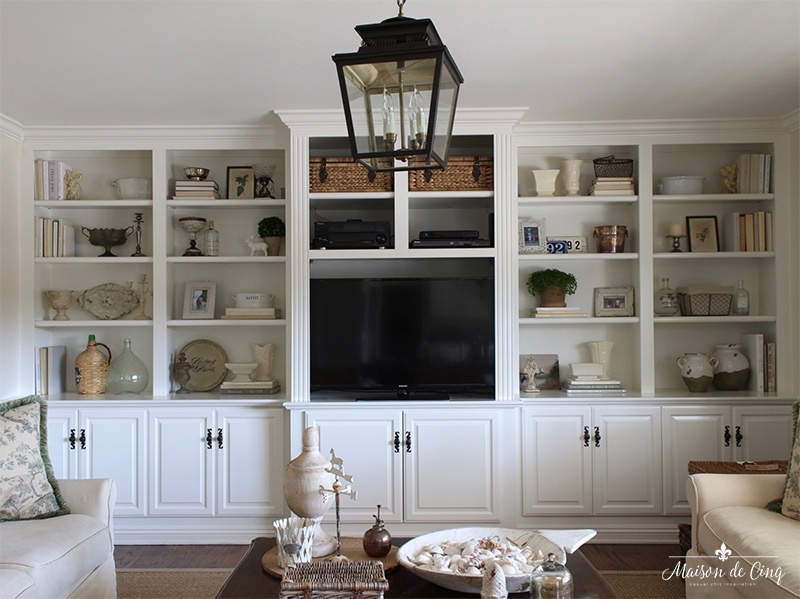 Eight Tips for Styling Shelves
Edit, edit, edit! Get rid of anything that is not useful, sentimental, or you don't absolutely love. For me, that was quite a lot of what was there, haha! Some shelves can even just have one or two large items all by themselves. Reminder: every inch does not need to be covered.
Think about scale. Make sure you have things of different sizes, and that they are evenly distributed throughout the shelves. You don't want all large or all small items clumped together.
Play with height. Stack things on top of books to add height in some areas, while leaving shorter items in others. Variety is key.
Add texture. This is one of the most important things to remember, I think. Whether it's baskets, wood items, or something else, make sure that everything is not smooth and shiny. Without texture, the whole thing can fall a little flat.
Decide on a palette. For me, this was a chance to really lighten up my shelves. The green, red and blue books were clashing with the color scheme of the room and driving me crazy! I focused on a neutral palette, though not everything is white. White is the overriding theme, but I've got cream, iron, and metallics in there, too. And of course, the aforementioned textured items add some "neutral color" as well.
Add artwork. I love artwork in a bookshelf! Whether it's leaning among the shelves, or actually hanging on the outside molding, artwork adds personality and creativity in a way that nothing else will. And it doesn't need to be a painting – it could even be a framed drawing that your children made. The personal touch is what matters.
Make sure you have books! I know it's a thing these days to put only decor on book shelves, and maybe it's because I'm a reader, but I like there to be at least some books on the bookshelves. I like to pull the jackets off as they are typically pretty busy and can be garish. And don't forget to stack them both vertically and horizontally!
Add something natural. A plant, flowers, shells… organic materials (like texture) add interest that nothing else can.
So I implemented the basic rules above, and spent a day re-styling the built-ins. First, I removed every single thing from the shelves and went through and donated all the books and decor I wasn't going to be using. And now, I have shelves that are pared down and much more cohesive. They look more pulled-together, and to my eye, calmer too.
Before
After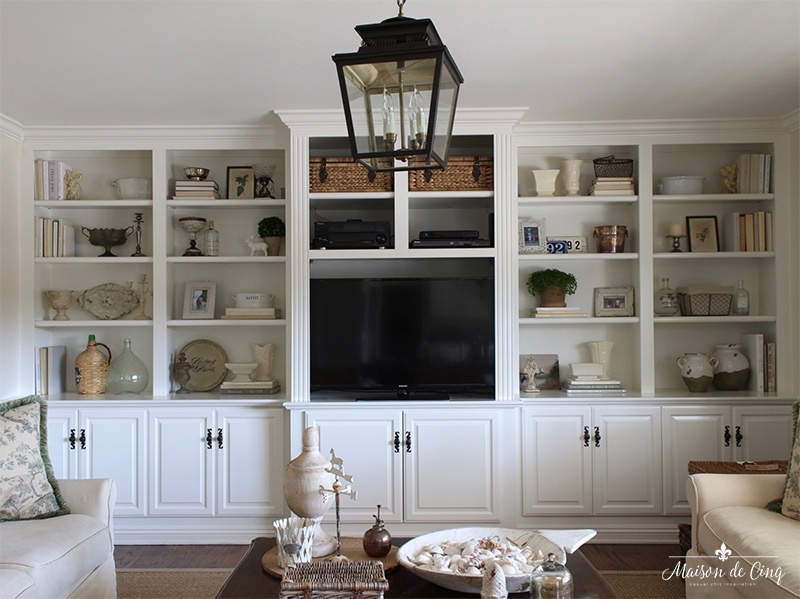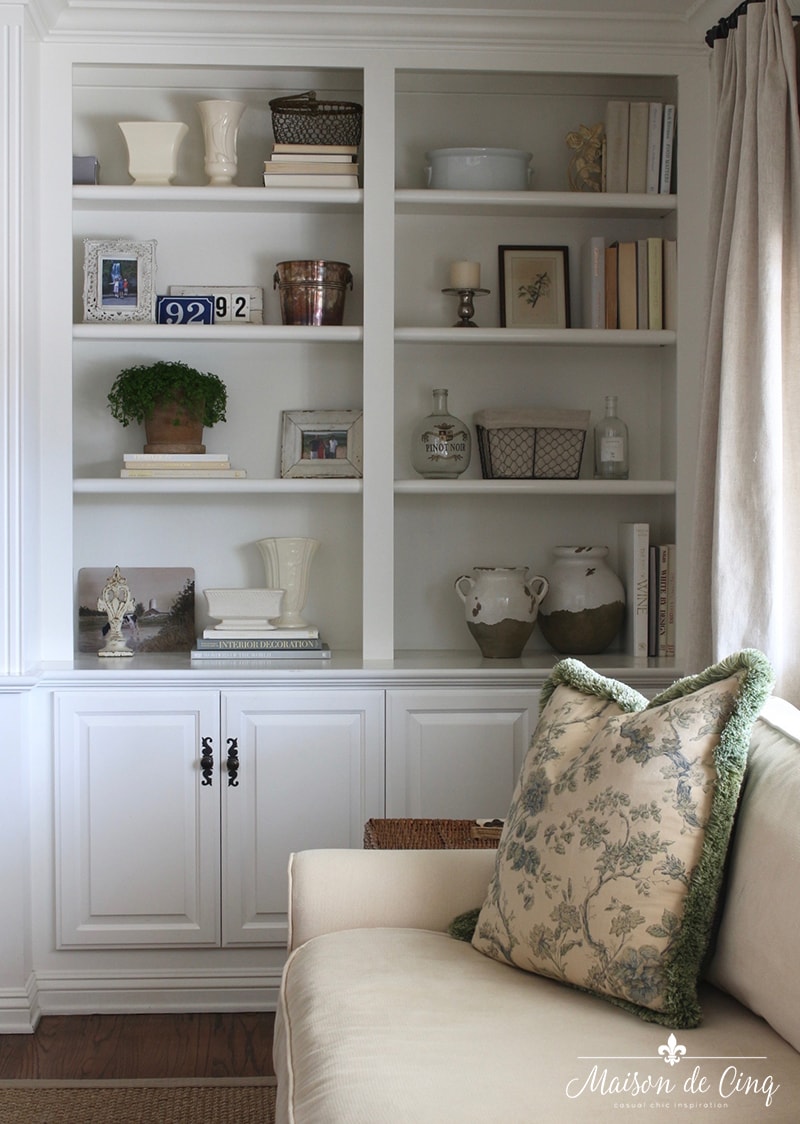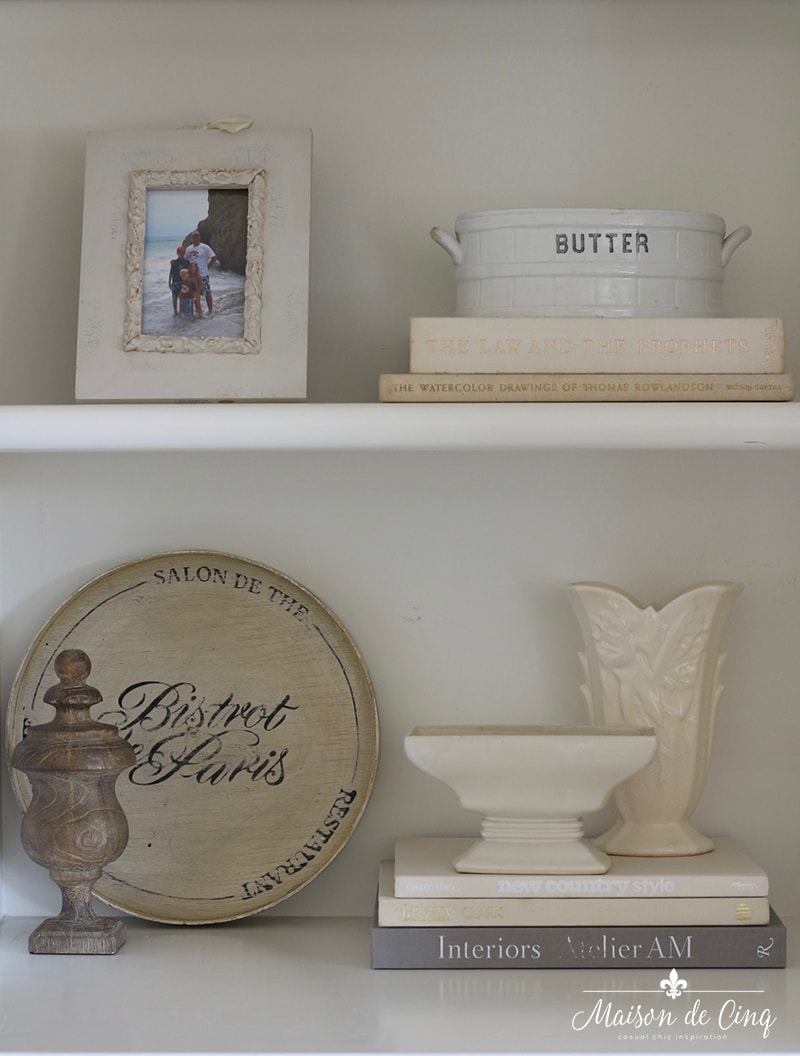 I hope this gave you some ideas of how easy it is to style your book shelves. With the exception of going to the library and getting some second hand books in white, cream, and grey, I didn't purchase a single thing for this project!
It really was all about editing, paring down, and simply re-thinking and re-arranging what I already had. The difference is pretty dramatic, and I actually love looking at them now!
Shop the Post


*please note affiliate links have been added for your convenience*
Sheila
xo
If you enjoyed this post, be sure to check out more decorating tips and ideas below: