Summer Decor Ideas: Soft Blues in the Living & Dining Room
Looking for summer decor ideas? We're lightening and brightening up the living and dining rooms with accents of blue as well as some touches of sand and sea.
Embracing each season is something I love, and that includes the inside of my home.
When the weather warms up there's a natural feeling of wanting to lighten up, both literally and figuratively. So why not do that with your home, too? With that in mind, I'm sharing my living room and dining rooms all dressed up for summer.
Or I guess I should say, dressed down. 😉
Because summer for me is all about less. Less heavy, less dark. More light, more bright.
And the first thing we did to achieve that is paint the rooms a nice, clean white! We decided on Cloud White from Benjamin Moore which is what our kitchen cabinets as well as all the trim in the house are painted. I've been wanting to paint these areas for several years now and just hadn't gotten around to it. And wow, what a difference it's made!
I've also added lots of blue accents (my favorite color that just screams summer) like this distressed blue bowl on the coffee table.

One of the first things I do when I'm doing a summer refresh, is remove all the things I think feel too heavy or not seasonally appropriate.
In this case, my green pillows were wonderful for winter and spring, but I wanted to bring in some soft blue tones so out they went. (*Tip: if you love to change pillows like me, buy pillow covers and not a fully stuffed pillow. I purchase most of mine in a 20 x 20 size and then I just change out the covers as needed. That way, there's a lot less to store!)
On the sofa is a mix of floral linen, solid textured linen, and another paisley pattern. Once you've decided on a color palette, you can mix and match to your heart's content.

I also took out some darker vases and accessories, and of course, the pine cones I found in one of my urns, haha! Yes, pinecones. They were tiny ones so I guess I never noticed them? Now the same urn is filled with tiny shells. Much better!
Speaking of shells, I added shells to the marble bowl that always lives on the dining table. I've decorated with these in other rooms in the past, but this was a fresh way to use them and I love them in here. I feel like it ties the two rooms together, too.

Some coral is also nice for a seasonal touch. I put this piece under a cloche, and used this piece on another side table. They are small and easy to store and like the shells, I enjoy bringing them out again each year.

If you have heavier throws or rugs, you may want to swap those out for lighter, brighter options as well. We already have seagrass in here but natural fiber rugs are one way to really make a space feel more summery.
And I also decided to change out the art I had leaning on the living room mirror. It was a landscape which is perfectly fine, but I thought this seascape would really give a coastal vibe to the room for summer so I switched them. Then in the fall, I'll just switch them back. When in doubt, shop your house!

And of course, I added a little bit of blue with one of my favorite ginger jars. I love the pop of dark blue, as well as the vintage vibe it adds. You can find some of my favorite ginger jars below.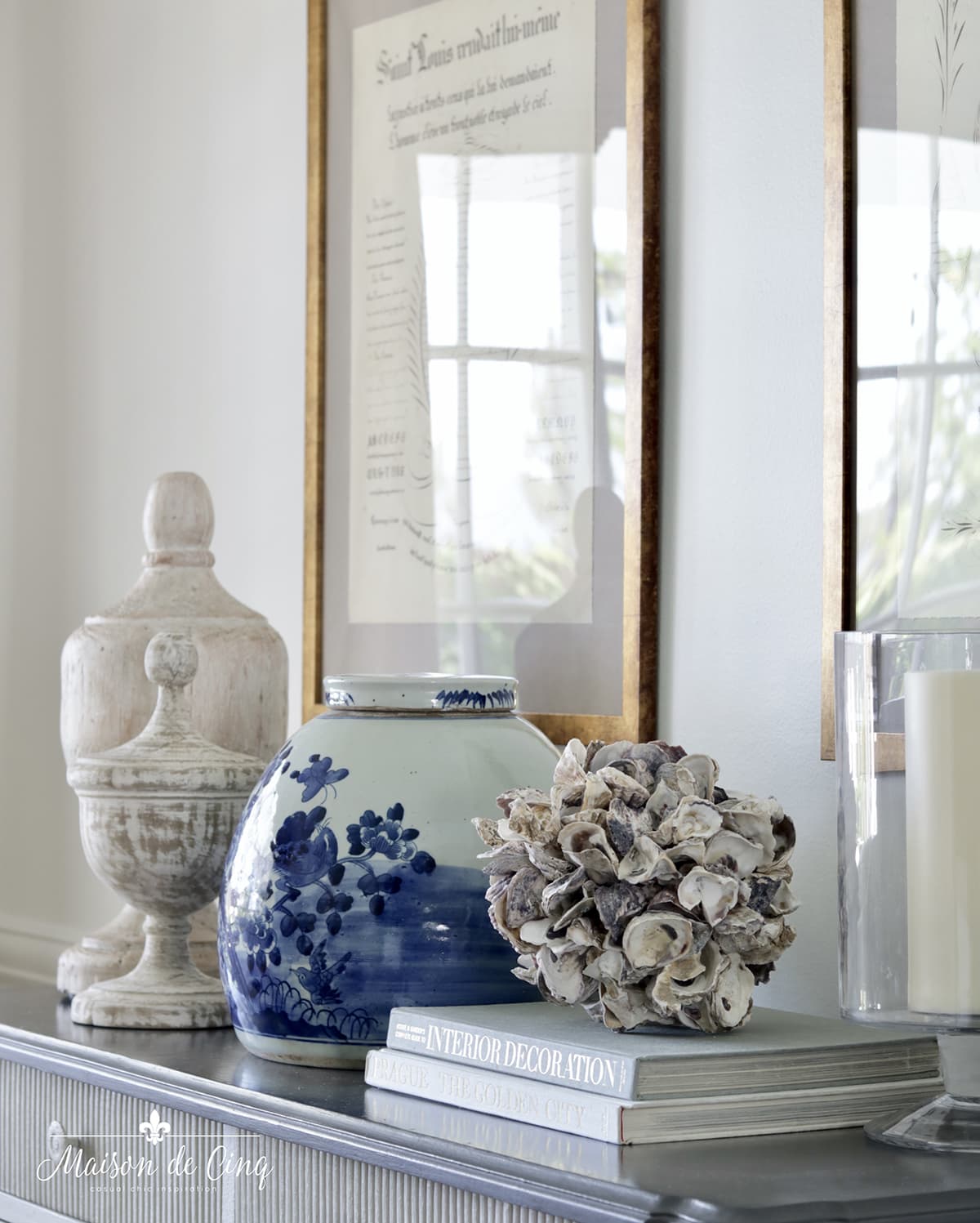 And how great is this oyster shell ball? I purchased this in North Carolina when we were there a few years ago. At the time I'd never seen one before, although now I've found them elsewhere as well as online. I love the coastal feel it imparts and of course, the fact that it reminds me of our trip is nice, too.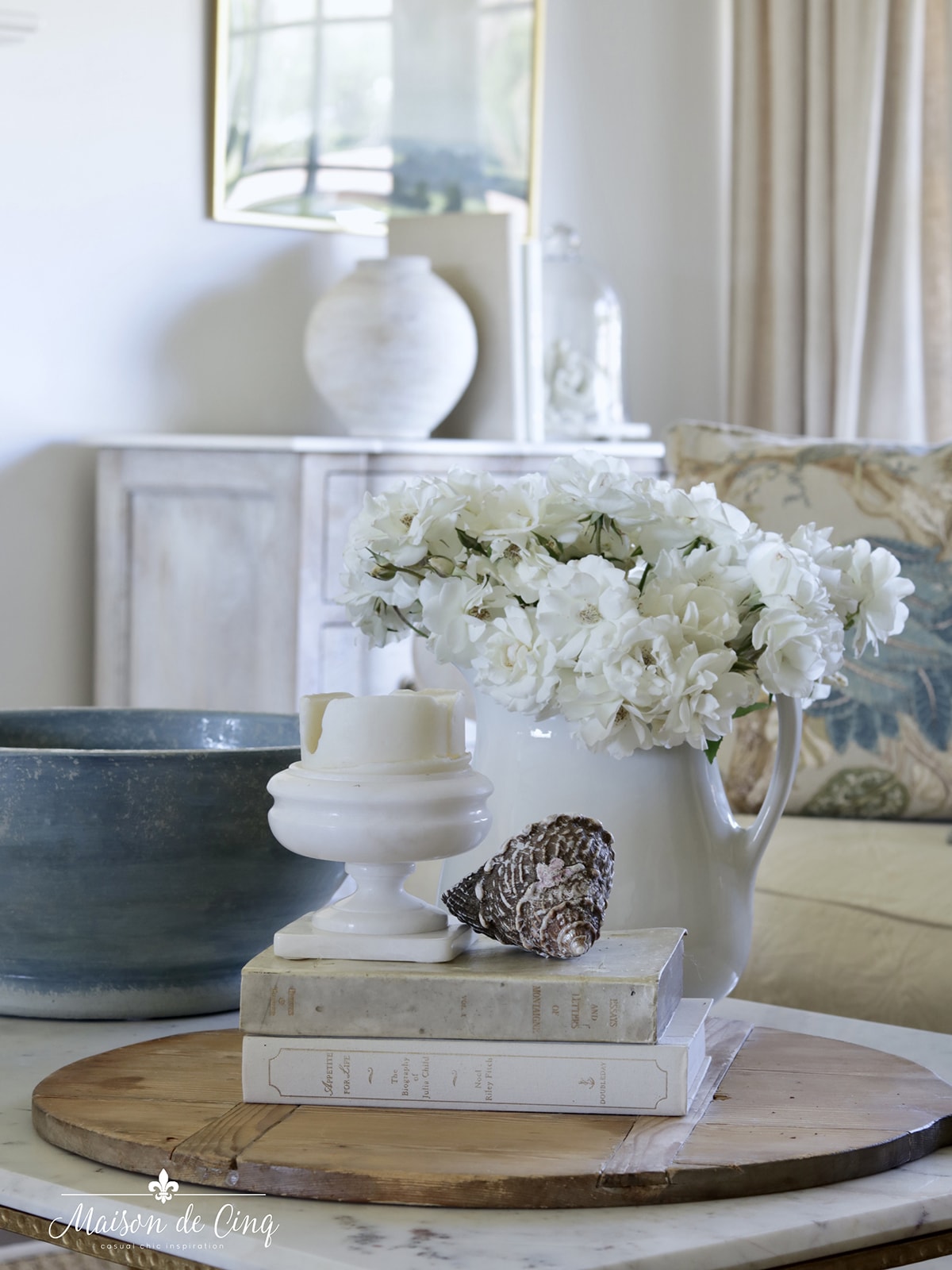 If you don't already have plants, greenery or flowers, it's nice to bring those in, especially in the summer. I love the inside of our home to reflect the outdoors.
And even if you don't want to go crazy with seasonal decorating, give your rooms a good cleaning. Shake out the rugs and sweep underneath them. Wash all the pillow covers and throws, and even the slipcovers if you have them. Dust everything.
And make sure you clean the windows, too. It's amazing how much brighter and prettier the space looks now that we cleaned them! It literally lets the sun shine in!
If you're looking for some summer decor ideas for your own home, be sure to take a peek below at some of my seasonal favorites, including much of what I used here!
Shop the Post


*please note affiliate links have been added for your convenience*
Happy Summer!
Sheila
xo
And now be sure to check out all the summer decor ideas my friends are sharing below, too!
The Happy Housie |Maison de Cinq| Clean and Scentsible
My Sweet Savannah | She Gave it a Go | Rambling Renovators | Paint Me Pink
Tatertots and Jello | Zevy Joy | Joanna Anastasia
If you enjoyed this post, be sure to check out more summer inspiration below: