10 Tips for Creating Timeless Interiors: Design Basics
Follow our top 10 tips for creating timeless interiors and achieve a home that is beautiful AND won't go out of style any time soon!
Do you struggle with decorating decisions because you're afraid of making a mistake, or worse, worried that it might go out of style soon? Decorating can be difficult – and even more so if you want to create a classic home that will stand the test of time!
But it can be done! Today I'm sharing 10 tips for creating timeless design in your own home. By implementing these rules when making design decisions, you're sure to create a home that will look beautiful for years to come.
Design by Gail Plachety via Traditional Home.
Can you believe the room above is from 2014?? I clipped this from a magazine many years ago, and to me, it looks as good today as it did then. A modern coffee table, Turkish rug, antique console table and classic artwork create a mix that is gorgeous and timeless.
What makes a home 'timeless'?
'Timeless' as defined in the dictionary means 'not affected by the passage of time or changes in fashion.' In other words, timeless interiors should feel current and not look 'dated' prematurely. And while no home stays truly timeless forever, no one wants to have to redecorate every few years.
But by incorporating these 10 tips you can create a home that will stand the test of time and will feel comfortable and current for years to come.
How to Create timeless Interiors in 10 Steps
1. Pick quality furniture with simple, clean lines
Since furniture is arguably one of your most expensive investments, it's a wise idea to choose carefully. Pick furniture pieces that have clean and simple lines. Try to stay away from anything too extreme or too trendy, and skip the ornate details.
Think classic design in comfortable, well-designed pieces. And always spend as much as you can afford on things like sofas and armchairs. That way, when the upholstery is worn out you need only have it re-covered or a slipcover added, and you've got a whole new piece of furniture.
2. decorate in neutrals for walls and furniture
I've said this before but it bears repeating – always choose neutrals for major purchases like furniture, draperies, and walls. Neutral colors are timeless. Plus, they allow you to bring in color in smaller and less expensive ways through pillows and accessories.
A classic sofa in a neutral shade will allow you to change your style and/or color scheme without having to 'decorate' around that lime green sofa!
3. use trends in accessories, art, and/or pillows
Just because we want our homes timeless doesn't mean you shouldn't introduce any trends! In fact, without any trends, a home may feel flat and not as interesting. Add trends in small ways that are easy to replace or reverse.
Pillows and accessories are perfect for bringing color or trends into your home. Art is another great way to make your home personal while still being easily changeable.
4. clear the clutter
A cluttered home is a dated home, pure and simple. Even if you have the most up-to-date decor, too much of it just feels overwhelming. But a clean and clutter-free space will feel airy and inviting.
This is one area where the rule of 'less is more' should really be applied. Think of your accessories as you would your jewelry. Two or three layered necklaces looks gorgeous, but 10 would feel like way too much. Resist the urge to cover every surface and decorate every wall. Spaces need breathing room and areas of 'rest' for the eyes.
5. mix old and new
To create a timeless feel, it's essential to mix old with new, traditional with contemporary. Embrace antiques and don't be afraid to mix them with more contemporary or transitional pieces. Not only does this create a 'collected look', but it also makes it less likely your room will ever feel dated.
Another element when mixing old and new, is to make sure to mix the wood tones in a space. Nothing makes a room feel more like a hotel room than woods that are all in the exact same tone! When creating timeless interiors, think multi-layered and 'lived-in' rather than staged.
6. when using patterns stick to classics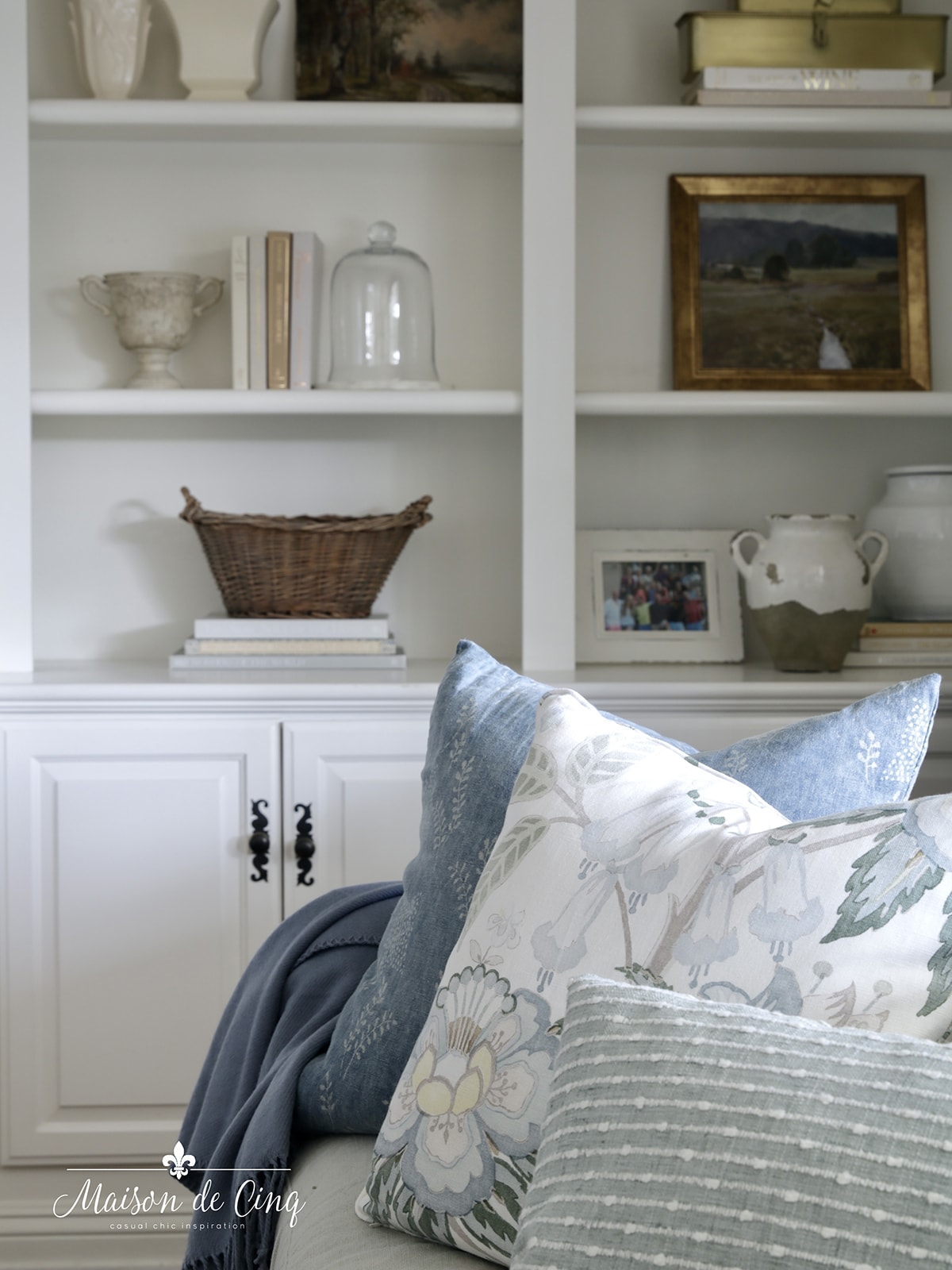 Just like adding colors and trends, it's absolutely okay (even necessary!) to add some pattern to your spaces. If a room has solids in the large furniture pieces and draperies, it can start to look dull without pattern added somewhere. Throw pillows, rugs and accessories are ideal places to bring in that variety.
But rather than using the trendiest patterns, choose fabrics in classic patterns like stripes, florals and plaids, and rugs in classic styles.
Or, if you really love that newest pattern you're seeing all over Instagram, buy it inexpensively at a store like Home Goods or Target! That way you can easily replace it when the time comes that it looks dated (or you tire of it!)
7. add millwork and builtins
Nothing is more timeless and classic than custom millwork and built-ins. Millwork like wainscoting, board and batten, and moldings add that classic touch that makes a room feel timeless.
While creating a timeless look, it also adds dimension, interest and texture to a space. Plus, they look gorgeous!
8. add symmetry
Erin Sander Design via Houzz.
Adding symmetry is a classic design technique and because of that, gives a timeless look. The human eye is naturally drawn to symmetry and balance which means that no matter what happens with decorating styles, symmetrical rooms will always be pleasing to the eye.
When using symmetry you are also creating a focal point in the space, another classic design technique. In a living room that's commonly a fireplace, or if there isn't one, then a large window or builtins on a major wall. A timeless room will always have a focal point and the furniture will be symmetrically arranged around it.
9. use natural materials
Design by Joanna Gaines via HGTV.
Designers frequently use natural materials like marble, stone and wood because they have a timeless quality. After all, they've been used in design for centuries! Think marble countertops, wood floors, stone walls and fireplaces, exposed brick, as well as natural fabrics like cotton and linen.
Not only do natural materials add texture and interest to a space, they are also better for the environment and for your health. If you need to use synthetics for certain reasons, try to add natural materials elsewhere in the space. For instance, if your floors need to be manufactured wood, add natural rugs made from sisal, seagrass or wool.
10. avoid 'sets' or anything matchy/matchy
No one wants their home to look like a bad hotel room, yet so many people buy dining or bedroom sets simply because they aren't sure how to do it any other way. To achieve timeless interiors, avoid buying furniture sets or anything too matchy-matchy. Not only does it date your home, it can also make it feel less personal.
If you already have a set, consider moving pieces into other spaces by splitting up the set (ie; using a dresser from the primary bedroom in a hallway or guest room). Or, refinish a dresser so that it no longer matches the nightstands exactly.
If you have a dining set with six matching chairs, consider selling the end chairs and replacing those with a different style to break it up. (You can read more about mixing dining chairs in this post.)
Creating timeless interiors is all about using items that will stand the test of time, while creating spaces that are comfortable and beautiful. When you use these 10 tips, your rooms will have character and texture while being unique and reflecting you and your style.
Sheila
xo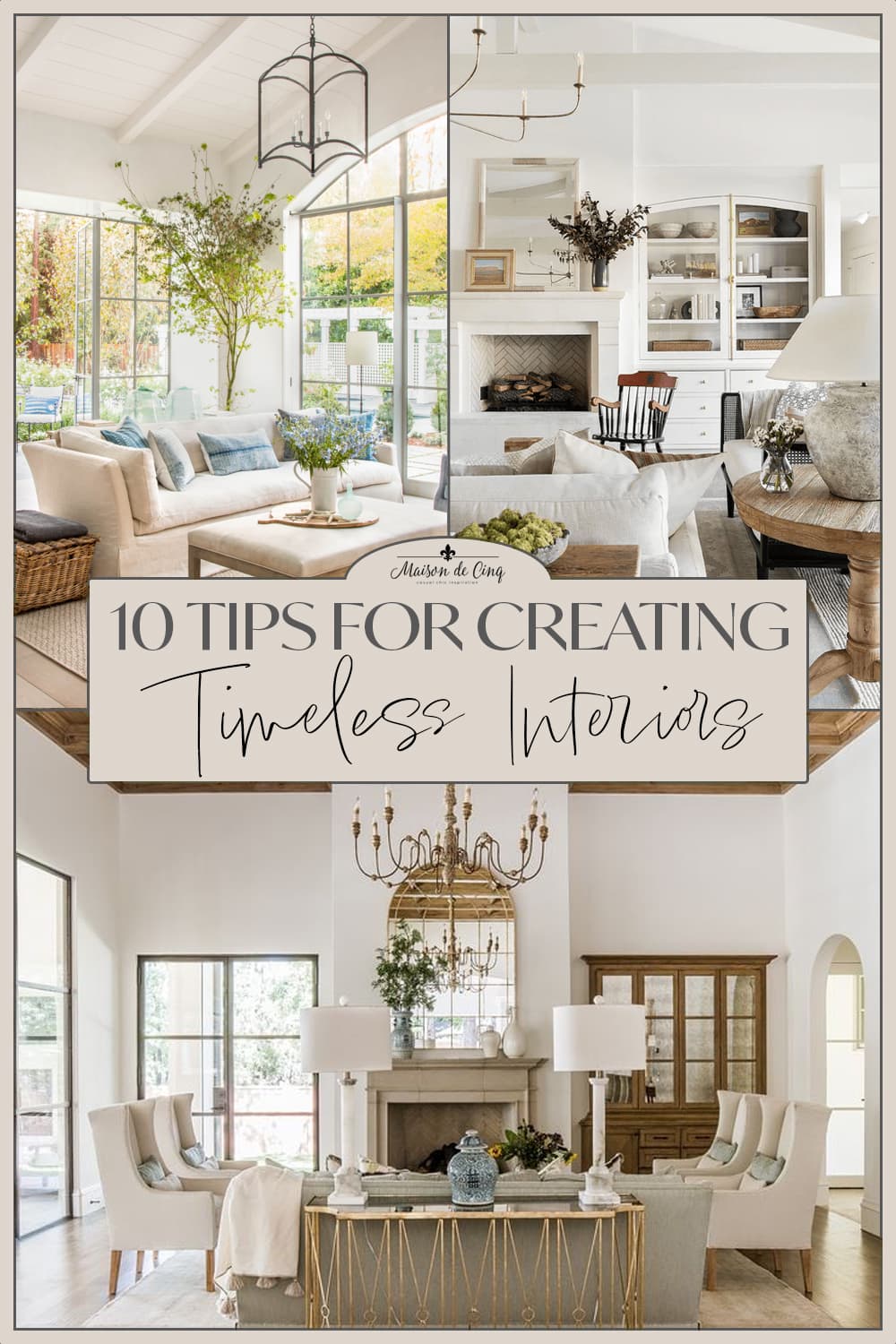 If you enjoyed this post, be sure to check out more decorating inspiration below: