Vintage Olive Buckets – Versatile and Charming!
Those of you who know me know I love antiquing. And one of the things I found a couple of years ago that is a definite favorite is my vintage olive bucket. If you're not familiar with them, they are old metal buckets that were used for gathering olives during the harvest, primarily in Italy and France, though they were used all over Europe.
I've seen them used for so many different things, and in so many different ways. I love their versatility and utilitarian charm. They're great for flowers or plants, but also for seasonal decor which is the way I've used them the most.
I've used mine in the fall on the porch quite a few times. Here I filled it with some seasonal mums and I love the way the color pops against the metal!

One of my favorite sources for antiques is Atelier de Campagne. I love how they filled this one with some pretty flowers, which I'm thinking of doing for spring.

Used here to hold firewood and some greens, it makes an adorable addition to Christmas decor. Via Tidbits & Twine.
This one holding a Christmas tree is absolutely adorable! Via Eclectically Vintage.
Love this with a plant inside! Via Atelier de Campagne.
The true vintage olive buckets almost always have some rust, usually the handles, but sometimes more, which I actually love. The contrast of the rusty edges with the still-metal color of the rest of the bucket just makes my heart sing!
Last year I filled mine with greens, pine cones and brass bells and used it on the porch. I tied some blush ribbon to the handles to add a little color.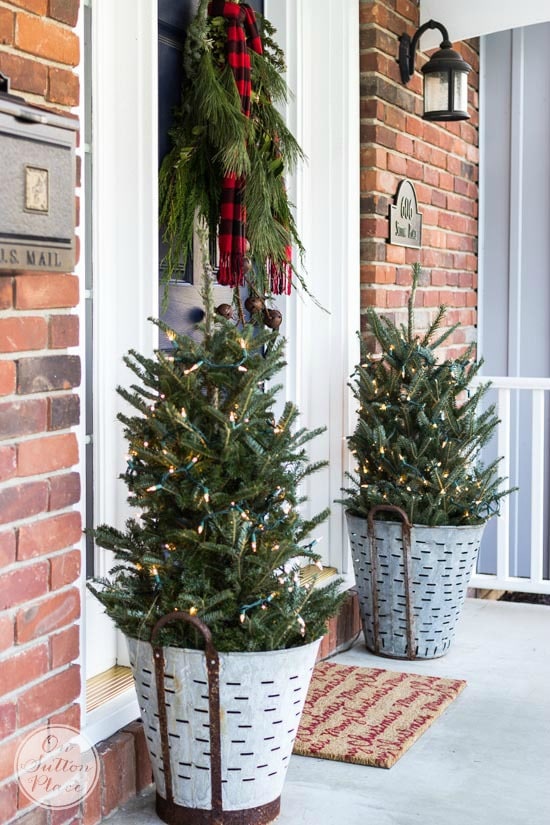 Soo adorable on a porch with twin Christmas trees! Definitely need to think about getting a second one now! Via On Sutton Place.
I think they are just so cool. They would also be great for magazines in the family room, towels in a bathroom, or even by the pool! I've even used mine in the backyard to hold all of Hudson's toys 😉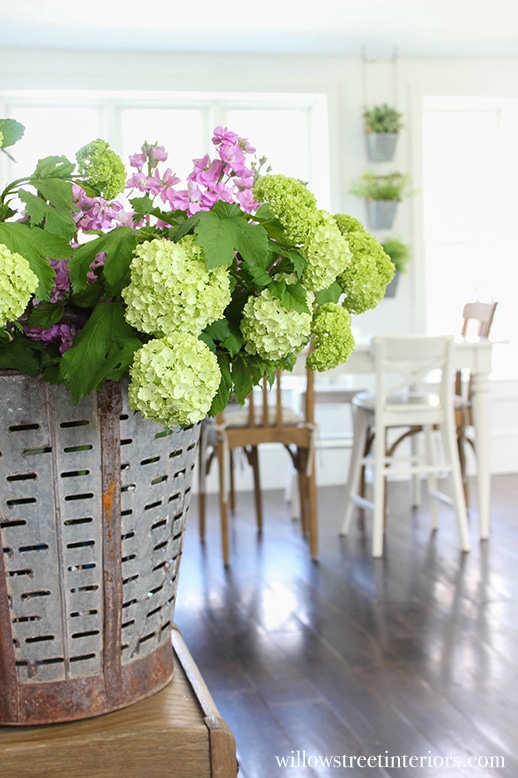 This prettiness is from my friend at Willow Street Interiors. Love the hydrangeas in it!!
Heaven via Dreamy Whites.
Here in California they are easy to find at flea markets and antique stores. I've even seen true vintage ones at both Pottery Barn and Home Goods, believe it or not. And nowadays, there are also lots of reproductions, which is totally fine! Just make sure they are labeled as such.
There are also vintage ones available at retailers like Pottery Barn, believe it or not! Etsy and Ebay are also great sources for them, though you do need to add shipping costs. I'm actually looking to find another to use in the office to hold magazines so looks like I'll be doing a little shopping this weekend!
Shop the Post!

*please note affiliate links are included for your convenience*
Sheila
xo
If you want to check out more vintage decorating ideas, take a peek at the posts below~