Why I Chose My Home: Location, Location, Location
Do you love a good before and after as much as I do?! Then I think you'll love reading the story of why I chose my home (you might just think I was crazy!)
We've all heard the saying, I know, so you may think my answer doesn't seem terribly original. But I am really not kidding when I say we chose our house for the location, because, it's almost the only reason to have chosen it!
Today I'm sharing the back story of our house and why we chose it, and I'm joining 13 other bloggers who are also sharing their "Why I Chose My Home" stories!
If you're a regular reader, then you know I've done a ton of seasonal blog tours – the kind where everyone decorates their homes for the season. But this tour is so different! I think it's such a clever idea (I love reading about real houses owned by real people) so when Jennifer asked me to participate, I knew I couldn't say no.
Why I Chose My Home
So let me start with the title of this post. We chose our house for the location, and pretty much only for that reason. You see, we live in a suburban area of Southern California. The school district is one of the best, the area is safe and has a very low crime rate, and it's not terribly far from the city. So, it's highly desirable to a lot of families. But the architecture? Not so much.
So the story of our home really is a story of change. A story of seeing possibility. And looking beyond dated or ugly. What we saw was a home that needed work, but one that was in an area that was highly desirable. As they say, you can always fix the house – but you can't change it's location.
I jokingly describe our home's architecture as "Ugly 1970's!" 😉 However, technically it's Contemporary. Which really means, it's asymmetrical, with not a lot of ornamentation, detail or character.
If you know me even a little, then you know that is not my style at all! I love character! I love moldings, details, paned windows, and the like. Anything that adds character to a home. And I love symmetry!
Since our home lacked any of that when we bought it, we decided to completely gut it and make it the home we knew it could be. So today, I'll walk you through the ugly before, and show you the reasons we did end up saying yes!
Exterior

Ironically, our front doors have ended up being one of my favorite things! Though I will admit, they were not at the time. They are super drafty (read: not installed correctly) and warped. So much so that leaves actually blow in under the doors in the fall and winter! It was one of the things we were going to replace when we moved in, but because we were basically gutting the whole house, we had to cut some corners, and replacing these doors never happened. We painted them black and never looked back.
And the truth is, they are beautiful doors. We get a lot of compliments on them, and I love the French-influenced style of them. So they've stayed. But they are still just as drafty, lol! 😉
But I think the main thing that made us purchase the house, besides school district and location, was the floor plan. It's a fairly open plan (though we made it more so) and very livable. That was something that appealed to us, even in it's oh-so-1980's state that we bought it in!
Entry Way

This is the view you see when you walk in, with our dining room directly behind the living room. It's a nice, bright room with lots of light, and big front windows – another plus.
But it wasn't always like this!

Living Room Before
Forgive the bad photo quality (it's a scan of an old one), but this is what it looked like when we bought it! The windows were large, but they were aluminum and poor quality. We replaced them with paned wood windows to add some charm and character that I thought were sadly lacking. And we also widened the window, almost doubling the size. It's one of the best things we did!
Living Room After

Find more living room decor and accessories here.
The dining room is right behind the living room. Believe it or not, it's the only area where we actually made it less open.
Dining Room Before
There was no distinction between the living and dining rooms, so I designed the arched opening. We just closed it in a few feet, but it made a huge difference in the space!
Dining Room After

Find more dining room decor and accessories here.
Another element that we loved was the huge family room area. We had one child when we moved here and were planning on more, so we knew a big family room would be a huge plus. When we first saw it, the kitchen and family room were divided spaces.
Family Room Before
Family Room After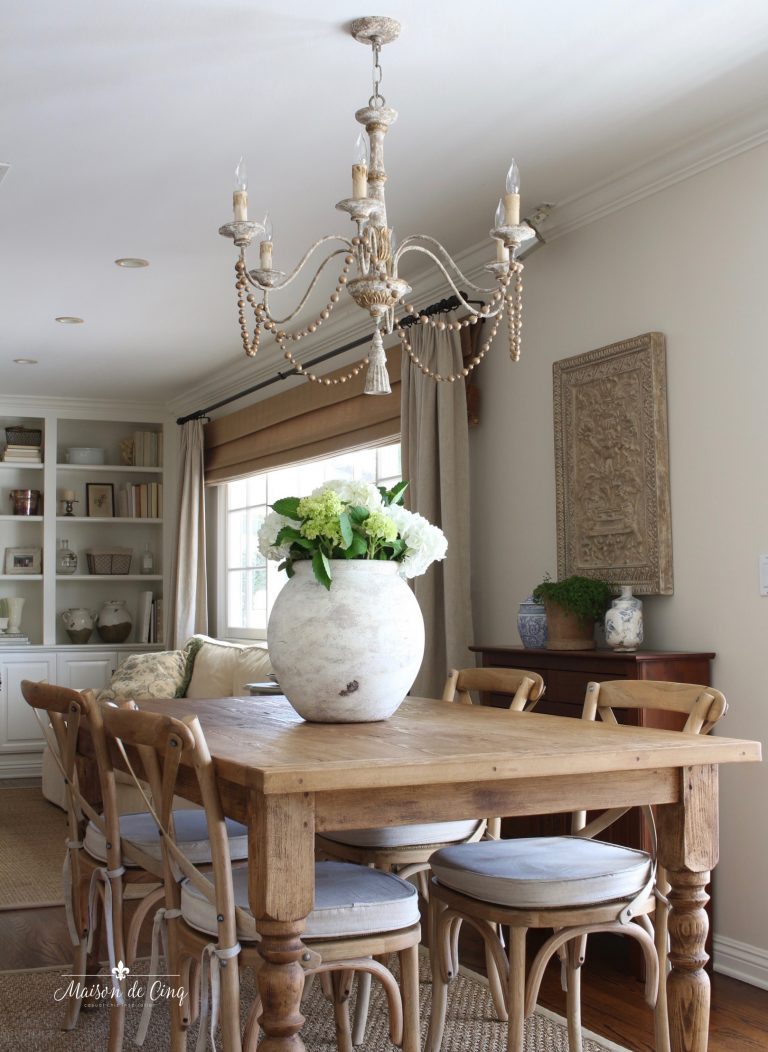 It's truly hard to believe it's the same room! There was a corner wall and a half wall dividing the two rooms, both of which we were lucky enough to be able to remove. What a difference!

Find more family room decor and accessories here.
Now this room is truly an open floor plan, with the kitchen, breakfast nook and family room all one space. We truly live in these spaces more than any other.
Kitchen Before
Kitchen After

Find more kitchen decor and accessories here.
Another thing that made us choose this home were the amount of light and large windows, the semi-open floor plan that we knew we could open even more, and the view.
We are set above the streets below so it affords us a view out over the hills. The sun sets in this direction so in the evenings as we are cooking or eating dinner, we get to enjoy the sunset.
I'm so glad that we had the vision to see the beauty behind the ugly in this home. I know many people would have passed it up. And admittedly, it's been a ton of work! But the natural light, the view, and of course, the location all added up to a 'yes' for us. And I'm so glad it did!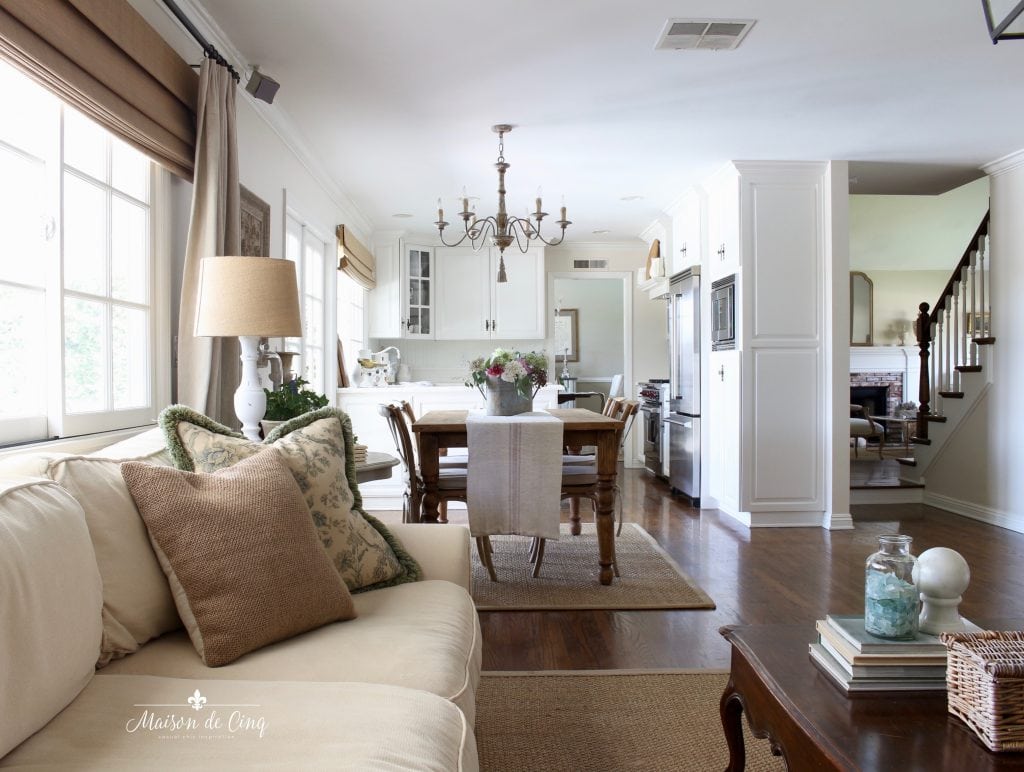 I hope you've enjoyed finding out more about why I chose my home, and touring our scary "befores" with me! I've been wanting to share them for awhile now, and I was kind of excited to break them out and see them myself again, too. Sometimes even I'm shocked by how it used to look and how far we've come!
Hopefully this has inspired you to think about things you can fix when you look at prospective homes. There are so many things that are cosmetic and if you're able to see past them, you can often get more house for your money.
Shop the Post!


*some affiliate links used for your convenience*
Sheila
xo
Monday's Homes
Town and Country Living / Designthusiasm / StoneGable
Tuesday's Homes
The Happy Housie / The Wicker House / Sincerely Marie Designs
It All Started with Paint / Maison de Cinq / Jennifer Rizzo
Wednesday's Homes
Worthing Court/ The Happy Housie Cabin / Duke Manor Farm
If you enjoyed this post, be sure to check out more decorating ideas and inspiration below: