How to Host an Easy Holiday Wine & Appetizer Party
Looking for an elegant and safe way to entertain this holiday season? Today I'm sharing a super easy wine and appetizer party that can be thrown together in under a couple of hours!
If you've been following along for awhile now, then you know I love to entertain! It's my favorite thing any time, but even more so at the holidays when it feels extra festive.
We normally throw a cocktail party for about 50 people and I look forward to it every year. And though this year is quite different (obviously, no cocktail party will be happening!) that doesn't mean we can't celebrate and make it special in its own way.
For this gathering, I wanted to come up with something that was easy and elegant, and could be thrown together in as little as two hours. By combining a few of my favorite appetizers with some purchased hors d'oeuvres and sweets, along with some wonderful wines, I've created a fun, festive, and more importantly, no-fuss evening!
This would be perfect to do with your immediate family, or a small, safe group or pod – and you could even take it outdoors if you have the weather for it!

One of the beautiful things about a wine and appetizer party is that, with a little extra care put into the presentation, it looks much fancier that it actually is. This whole thing came together in under two hours!
These ideas should help you throw an easy get together that looks like it was way more work than it was! 😉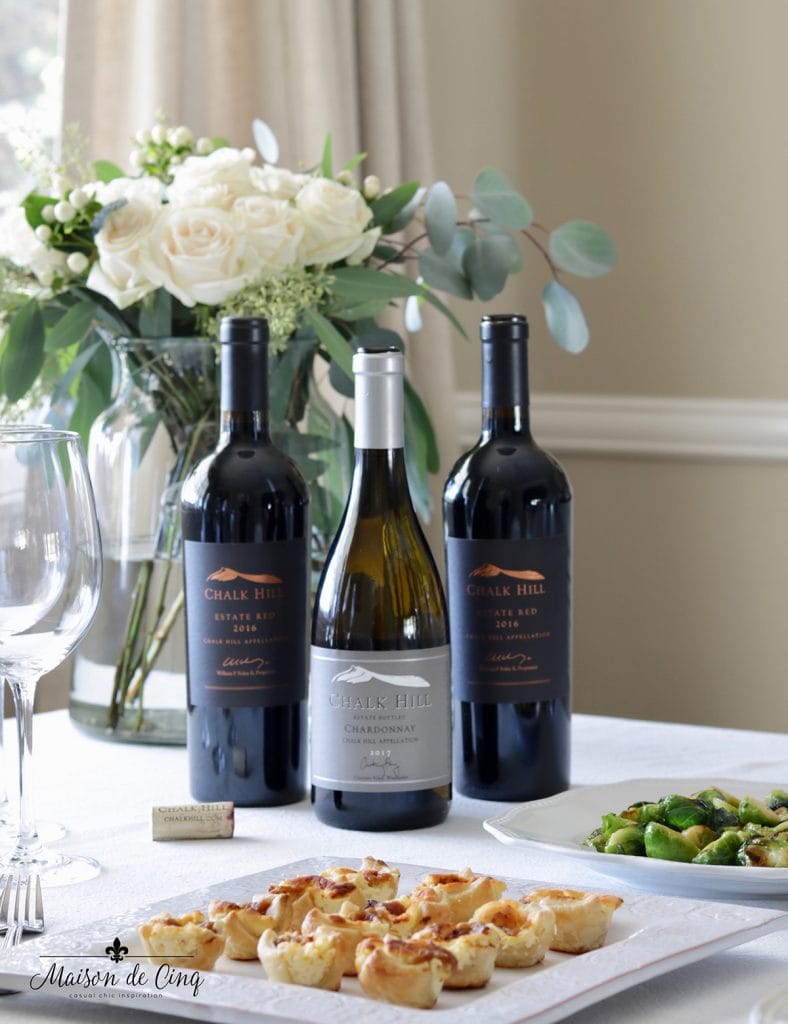 Of course, an essential part of any Wine and Appetizer Party is the wine! Chalk Hill is a favorite of ours, and the two wines I chose here are both delicious. These are a little more elevated than a typical weeknight wine so they make it feel extra special.
First, I chose to not make everything myself! Though I love to cook, this is made to be an easy night so to keep it that way, I mixed it up.
I made three of the appetizers on the table, and then bought a couple of high quality ones from my local market. Purchased chocolates, peppermint bark, and caramels make for a delicious and simple dessert.
My Sparkling Cranberry and Brie Bites might be the perfect holiday appetizer! The combination of the sweet sugar, tart cranberries, along with the richness of the cheese creates a perfect mix.
They are delicious, look beautiful and best of all, they are so easy! You can find the full printable recipe in this post.
I also always add a charcuterie plate to any appetizer table. In fact, I don't think I've ever thrown a party without one!
Not only is it easy to pull together, but it's filling, and everybody loves them. Be sure to have a mix of soft and hard cheeses, as well as those from different milks, ie; goat cheese and cow's milk cheese. I also like to add some meats, seasonal fruits, and nuts or olives.

Flowers are an essential part of any gathering, and this time of year I'm all about simple! I almost never buy flowers at a florist – you don't need to! These gorgeous white roses, St. John's Wort and eucalyptus were purchased at the market for under $20!
These Maple Glazed Brussels Sprouts are a delicious way to add some green to the table, and my Bacon Wrapped Dates are probably my favorite appetizer of all time!
Wine and Appetizer Menu
• Bacon Wrapped Dates (recipe card included below)
• Maple Glazed Brussels Sprouts (recipe card included below)
• Sparkling Cranberry Brie Bites (recipe can be found here)
• Charcuterie Tray with a selection of cheeses, meats and seasonal fruits
• Pastry Bites with Feta Cheese and Caramelized Onions (purchased)
• Marinated olives (purchased)
• Rosemary mixed nuts (purchased)
• a selection chocolates for dessert (purchased)
Yield: 6 servings
Bacon Wrapped Dates
Easy to make and completely addicting, each bite of these fabulous appetizers features a mix of sweet, salty and smoky.

Prep Time 10 minutes

Cook Time 10 minutes

Total Time 20 minutes
Ingredients
18 (1" by 1/4") sticks of Parmesan cheese
18 pitted dates
6 bacon slices, cut crosswise into thirds
Instructions
Put oven rack into middle position and preheat oven to 450ºF.
Stuff 1 piece of Parmesan into each date, then wrap 1 piece of bacon around each date, securing it with a toothpick. Arrange dates 1-inch apart on a baking sheet.
Bake 5 minutes, then turn dates over with tongs and bake until bacon is crisp, 5 to 6 minutes more. Drain on a paper towel spread on a plate. Serve immediately.
Notes
If you can't find pitted dates, simply buy them with pits and remove pit and replace with cheese pieces.

Yield: 4 servings
Maple Braised Brussels Sprouts
Maple syrup and a quick saute bring out the best in these Brussels Sprouts. Perfect as an appetizer or side dish for dinner.

Prep Time 15 minutes

Cook Time 10 minutes

Total Time 25 minutes
Ingredients
4 cups Brussels sprouts
2 Tbsp. butter, cubed
2 Tbsp. olive oil
4 Tbsp. maple syrup
1 tsp. salt
1 tsp. pepper
Instructions
Rinse the Brussels sprouts under cold water and reserve on a cloth or paper towel to dry. Once dry, cut each sprout into halves and place aside.
Heat olive oil and butter in a medium saute pan. Once butter is melted, add Brussels sprouts and stir frequently. Saute until the sprouts begin to brown and caramelize.
Add the maple syrup. Heat until the syrup appears to stick to the sprouts and a deep caramelization is reached. Season with salt and pepper.
I also love to use my large vintage punch bowl as a wine cooler. It looks so elegant and makes the table feel extra festive!

At any gathering it's a good idea to serve both a red and a white wine so everyone can find something they like. I also like to include extra glasses so guests can taste both wines if they want without having them mix in their glass!

The Chalk Hill Estate Red is one of my absolute favorites – it's so good! It's a blend of four different reds, rich and savory with notes of black cherry and chocolate. And unlike a lot of red wines, it's super smooth and drinkable and it's delicious with food.
This wine would also be perfect for an elegant Christmas dinner and it would make a great gift, too.
And for those white wine lovers, the Chalk Hill Estate Chardonnay is a treat! We love it's notes of baking spices and hints of apple pie, as well as the fact that it's perfectly balanced.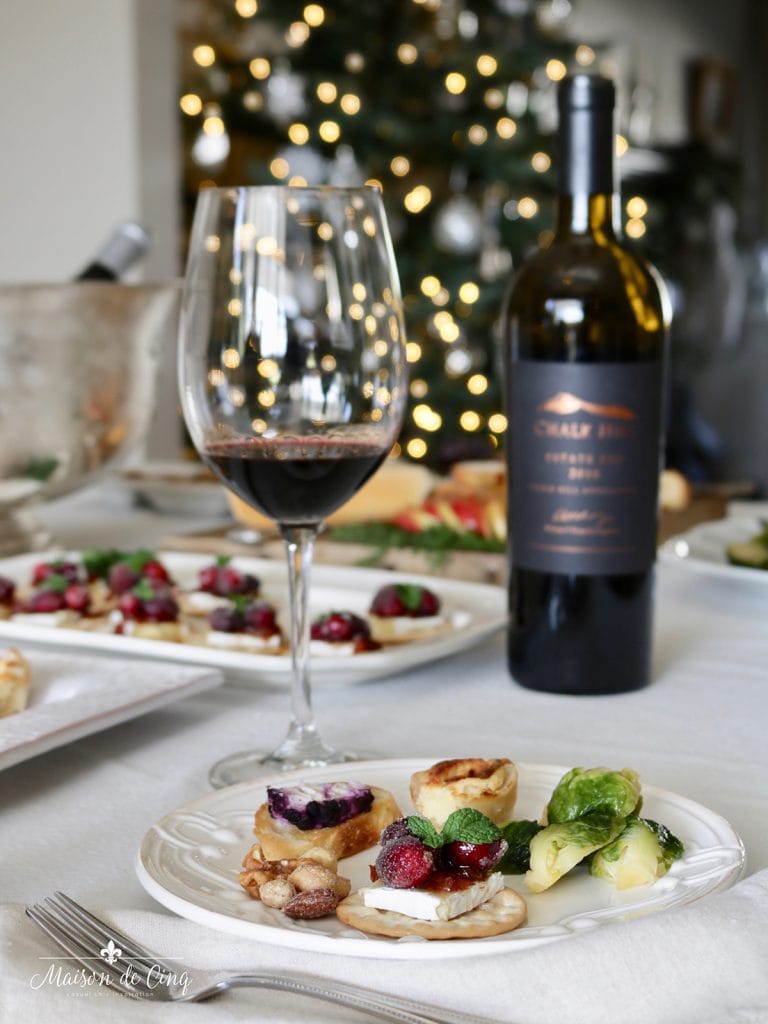 Holiday Wine & Appetizer Party Resource List

*affiliate links added for your convenience*
This holiday wine and appetizer party is all about great wine, delicious food and making memories with friends and family! And whether you use it this year with a small family group of five, or adjust these tips for next year and host 25, I hope these tips inspire you to throw your own!
You can visit the Chalk Hill website to read all about their wines and see photos of the winery. And you can shop all of their wines here.
Happy Holidays!
Sheila
xo
*This post was sponsored by Chalk Hill, the perfect pairing for our holiday wine and appetizer party*
You also might want to check out the Summer Wine and Cheese Party I did with Chalk Hill here!