Looking for an easy but elegant way to entertain? A summer wine and cheese party is the perfect way to host friends or family, and it's casual chic vibe is the essence of the season!
As my husband will tell you, a charcuterie plate is my favorite dinner on the planet! Not only is it one of my favorite meals, but it's also one of my favorite ways to entertain.
Is there anything more perfect than a wine and cheese party on the patio on a warm summer night?! No cooking, delectable nibbles, and some delicious wine makes for an easy but elegant evening.
In today's post I'm sharing lots of tips for to help you throw your own summer wine and cheese party!
For this setup I used a drop cloth as a tablecloth. This is one of my favorite tips for a casual chic look! I love that the tablecloth makes it feel more special than the average BBQ, but because the fabric is so casual, it keeps it from feeling too formal. And it gives a similar lived-in look to linen for much less.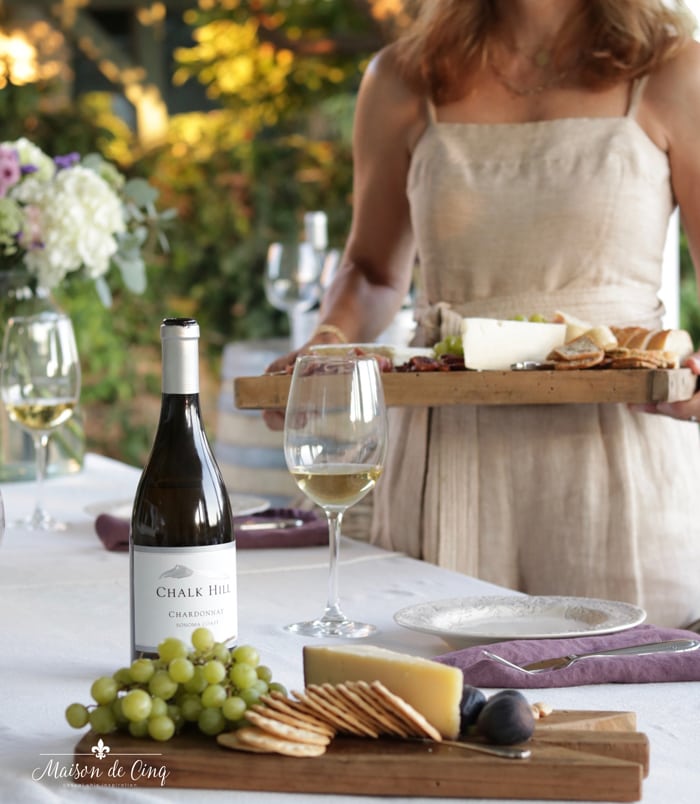 A few tips for arranging the perfect cheese plate:
Allow about 1-2 ounces of each cheese per person, with at least 5 total.
Let the cheese sit at room temp for at least a half hour before serving. Cheese is at its full flavor at room temperature.
Include a mix of both soft and hard cheeses, as well as different types such as goat, cow's milk, and sheep's milk.
Add a selection of meats such as prosciutto or salami, as well as nuts and olives for a variety of flavors.
Fresh and dried fruit such as grapes, figs, dried apricots or dates add sweetness and they're so yummy with wine!
Toppings like honey or jam are wonderful with softer cheeses.
Offer a variety of breads and crackers. Personally, I don't think anything beats a fresh baguette but I like to offer a selection of crackers, too.
Chill the wines for at least a couple of hours but remember to take them out of the refrigerator 15-20 minutes before guests arrive.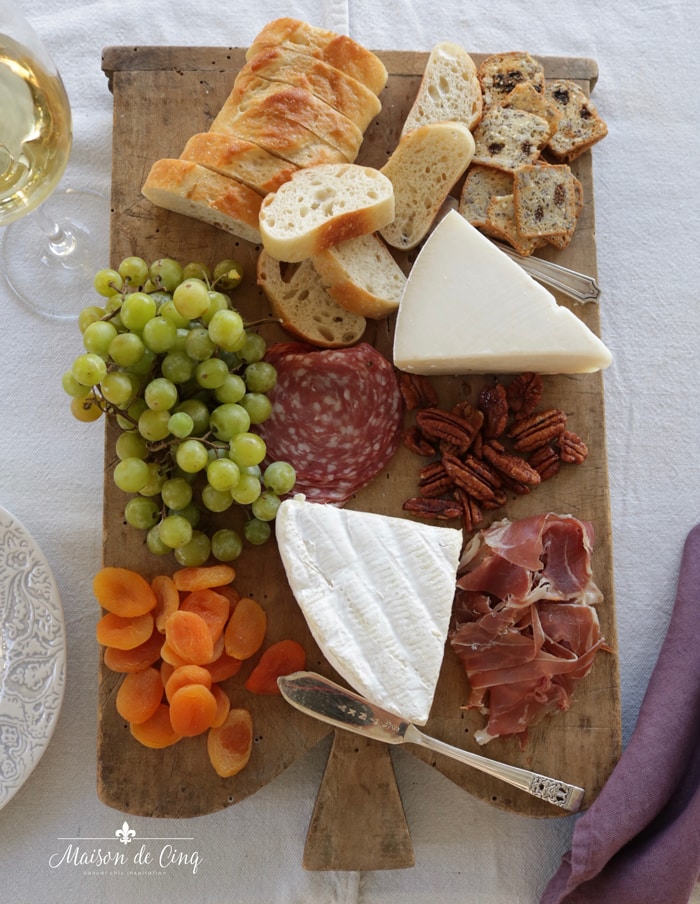 When it comes to place settings, I think the simpler the better, especially during the dog days of summer.
I like to use salad sized plates for a wine and cheese party. Dinner plates are too large, while appetizer plates can feel too small when you're having this as a meal. The salad/dessert plate is the perfect size for an event like this.
And I love to use natural linen napkins. Again, they give a perfect casual chic vibe and always feel perfect for summer. Here I used a pretty plum color to go with the flowers, but a classic flax color is lovely and versatile, too.

We used our wine barrel as an extra table on the side. It was perfect for stashing extra wine, corkscrews, and dish cloths, but any portable table will work. I also usually have some bottles of water there as well for hydrating in between drinking.
I wanted the flowers to be simple yet elegant, with a California vibe. But also easy! Believe it or not these were all grocery store flowers. I purchased a mixed bunch with some lavender and purple florals along with one bunch of white hydrangeas.
After removing a few bits from the mixed bunch that I didn't like, I simply mixed the rest with the hydrangeas in my favorite French mason jar. They're pretty and add interest to the table, without competing with the food.
Another tip? Skip the roses or any flower that might overpower sniffing and sipping the wine. 😉

I love to use vintage bread boards – they have such a great patina. Also, I scatter a few different, smaller charcuterie platters scattered around the table. This way each guest can easily get to a cheese board without the need to constantly pass the cheese back and forth.
It's fun to try different flavors – salty prosciutto or sweet honey on some blue cheese – and see how they taste with the wine. This exploration is what makes this such a fun event!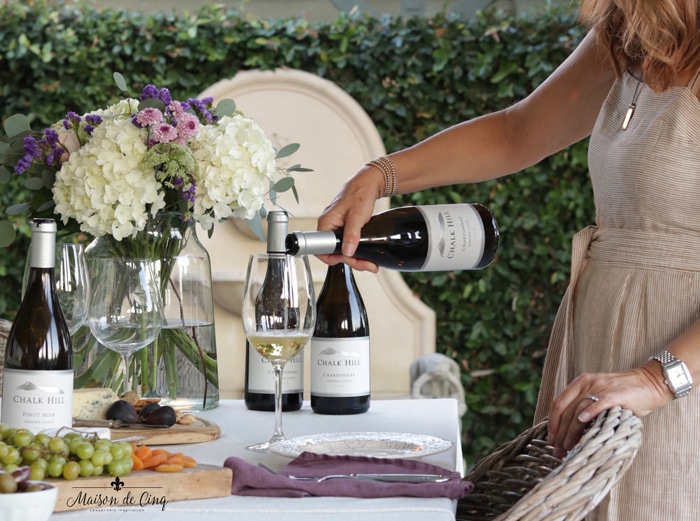 For this party I wanted to serve lighter wines that are perfect for summer. Chalk Hill is one of our favorite wineries so I decided on a Chardonnay and a Pinot Noir from them.
For the white, I chose their Sonoma Coast Chardonnay. We love that it's a perfect balance of acidity and minerality and that it's consistently high-rated but also very affordable. And it's delicious with cheese!
We also offered their Chalk Hill Pinot Noir as an option for those who wanted a bit of red. It's fruit forward and approachable, and another delicious option. Both of these can usually be found in supermarkets and they have a very reasonable price point.
But really, any wine that you love can work! Just make sure that you offer both a red and a white, and that the red isn't so heavy that it overpowers the cheeses you're serving.

Though I do have acrylic wine glasses, for this I wanted it to feel special and a little elevated so I used our favorite glass options. And no, you don't need a million different glasses for all different wines!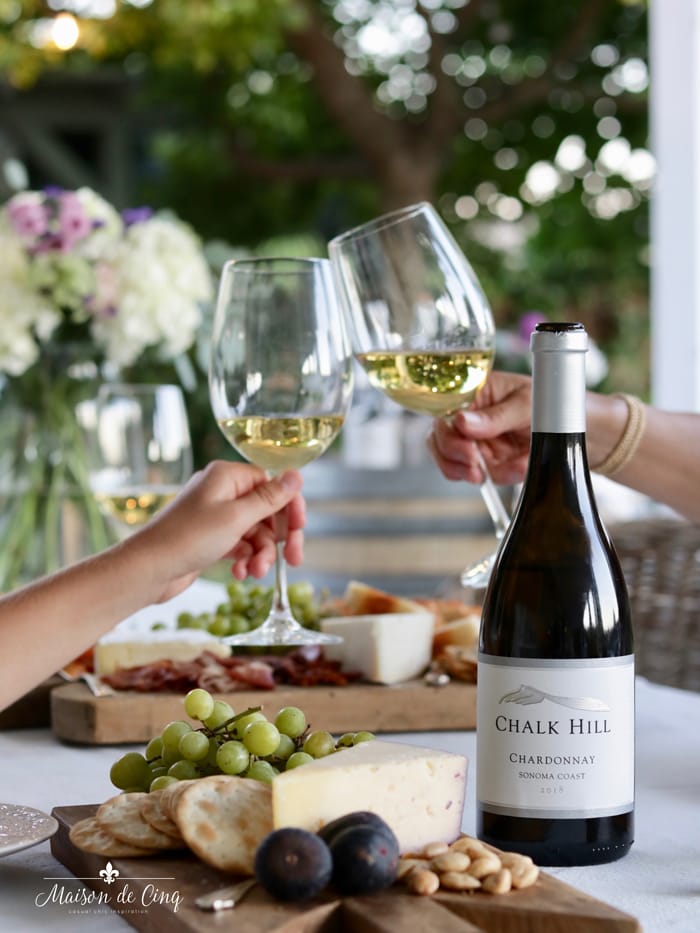 You can easily get away with one nice glass for everything (we use this one). Or if you want to be a little more precise (or fancy!), you can invest in both a Bordeaux and a Burgundy glass which is all you'd ever need.

Easy, simple and low-key, a summer wine and cheese party is one of the best parts of summer!
Here's to a gathering that is the very essence of the season. This summer wine and cheese party is all about great wine, delicious food and making memories with friends and family!
I hope this inspires you to host one of your own. 🙂
Get the Look

*please note affiliate links have been added for your convenience*
Cheers!
Sheila
xo
If you enjoyed this post, you might want to check out some of my other summer entertaining ideas below: