Purple Rain: Violet is Pantone's Color of the Year
Each year I usually touch on what is purported to be the "Color of the Year" as seen by Pantone. And this year that color is violet. I have to admit, purple of any shade is not something I've decorated with since I had a room that color when I was ten!
However, I really wanted to challenge myself and see if I could come up with ways that it works, and that are realistic for the average homeowner. Because obviously, we aren't all changing our color schemes every year to match what's "in" or "out"!
PANTONE COLOR OF THE YEAR: ULTRA VIOLET
And I have to admit, once I really started looking for it, it grew on me. I gravitate towards the softer sides of violet; shades of lavender and lilac, as opposed to the deeper shade they're showing.
It's a truly lovely color. Universally liked, and universally flattering. And if you're a fan of blue and green as I am, it mixes with those very well. And it's amazing with grey!
So if you are looking for a change, want to brighten up your accessories, or add a punch to some rooms, maybe violet is the color for you! Let's take a look….
Adding Violet in Furniture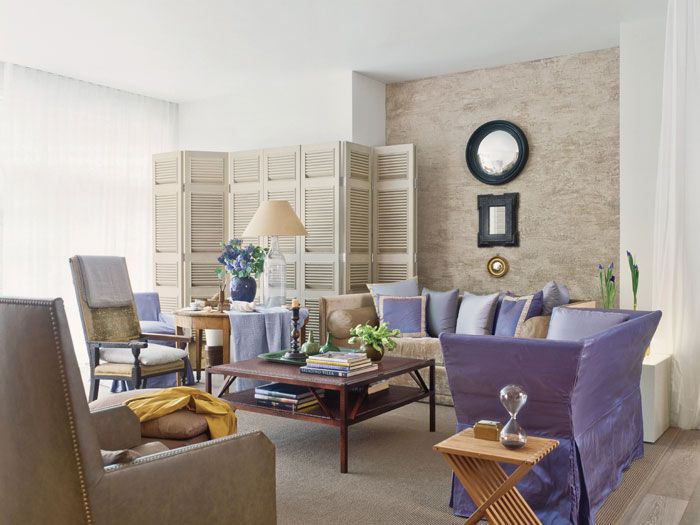 Design by John Saladino via Veranda magazine.
Design by Wendy Labrum via Luxe.
One of my all-time favorite kitchens by Suzanne Kasler! I don't think this space would be nearly as pretty without those gorgeous lavender barstools! Via One Kings Lane.
A gorgeous dining room! I pinned this years ago and it's still a favorite! Design by Marshall Watson via Traditional Home.
This sofa is stunning! And I love the mix against all the neutrals in the room. Via Deaveta.

Adding Violet with Wallpaper
Okay, I love this wallpaper! It's definitely out of my wheelhouse, but I love what a statement it makes in this traditional bathroom! Via This Old House.
Adding Violet with Bedding
Love this bedroom so much! I think the touches of purple are just right! Design by Suzanne Kasler.
Here the violet is paired with grey, a natural combination. Designer Suzanne Kasler is clearly a lover of purple! Via Decorpad.

Adding Violet in Artwork
One of the easiest ways to add a touch of this color, without making a huge commitment.
Painting by Robert Rea via Veranda magazine.

Adding Violet in Pillows & Accessories
Again, a subtle nod is wonderful! Especially if you just want to change the accent color and not spend a lot, pillows are the natural choice.
Design by Sarah Richardson.
Perfect pop of soft lavender Via Wisteria.

Adding Violet with Florals
And of course, the easiest way (and least expensive!) is just to add a punch with nature's version!
From Style at Home magazine.
By Designer Sara Story via House Beautiful.

So, what do you think? Is violet a yay or a nay for you? For me it's a definite yes, but in small (and soft) doses. I would definitely do pillows or accessories, or a door!
Via House Beautiful.
Some great finds if you are looking to add some violet to your home!
*please note some affiliate links have been included*
Get the Look!


Or yourself !!

Sheila
xo
Sharing this week at 21 Rosemary Lane, Savvy Southern Style, Shabbyfufu, Cedarhill Farmhouse, French Country Cottage