I recently fell madly in love with antique French olive jars. They're gorgeous and expensive, but I've found some dupes that will give you the look for much less!
I'm sure if you've been a reader for awhile now, you know I love French country style. But I would say in the last couple of years, I've been heading toward a cleaner, more modern version of French country. Gone are my red toiles, roosters, and dark wood furniture. And in their stead, I've moved towards neutral walls, creamy linens, and painted pieces.
One of my absolute favorite designers, Pamela Pierce, does what I consider "pared down" French country perfectly! She's been a large influence on my style (though I've definitely got a ways to go before I'm there yet!) And while looking through photos of her work, I kept seeing these amazing antique-looking jars, but I had no idea what they were!
I absolutely fell in love with them, so I set about trying to find out what they were. I did a little research and found out they are actually called French Biot jars, or French olive jars. These jars have been around since the 16th century and are still used for storing olives. And I am smitten!
They make such a great statement in a room…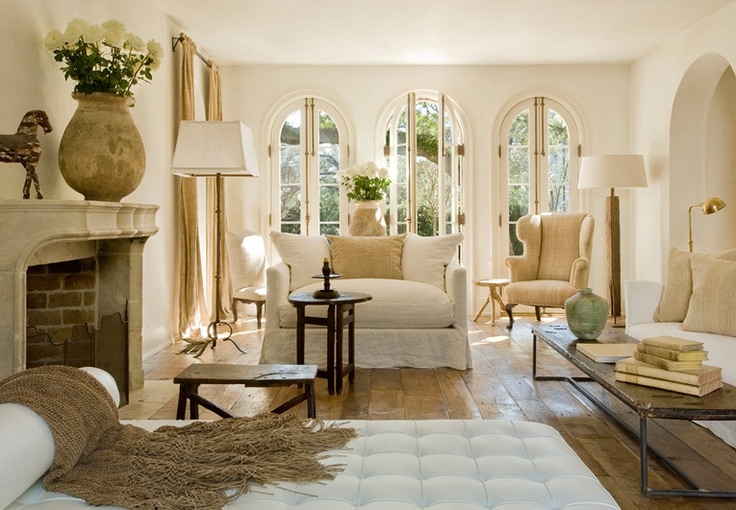 See the jars on the mantel and by the French doors at the back? So gorgeous! Via Pamela Pierce Designs.
Another gorgeous living room shows one at the back of the room. One of my all-time favorite rooms! Design by Jane Moore via Veranda.
At this point, I've fallen in love with yet another expensive antique, so what to do? Normally when this happens, I try to find a decent reproduction, if there is one. But in the case of antique French olive jars, I had yet to find one…. until recently!
I was looking through the Pottery Barn catalog and I saw a vase that I thought might work….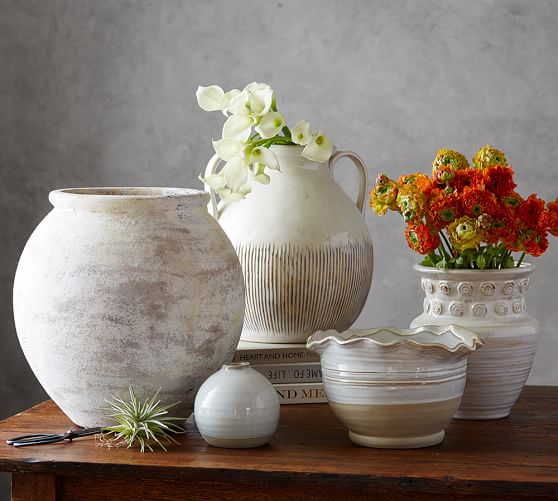 When I spied the one on the left, I had a feeling it might work as a suitable stand-in. And at a cost of around $100, it was a splurge, but definitely a whole lot more affordable than the antique versions which are $3000 or more!!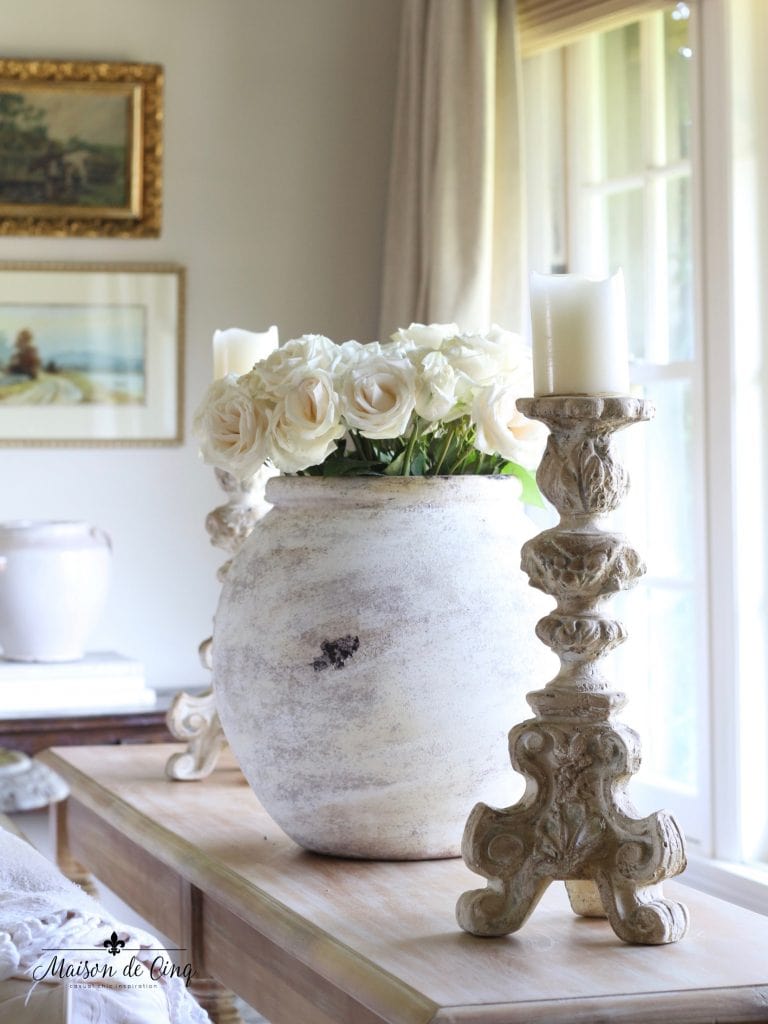 And while it's not exactly the same, it does give the look. Really, it's the strong design statement that those vases make that creates the drama.
And I don't think it needs to be an antique to do that. Simply finding a vase that is large and has a bit of an antique feel can easily give you that same look!
It's not authentic, I know, but I love it anyway. It is beautiful, and makes a substantial statement no matter where I put it. So until I can afford a real one (never), this one will be the stand in!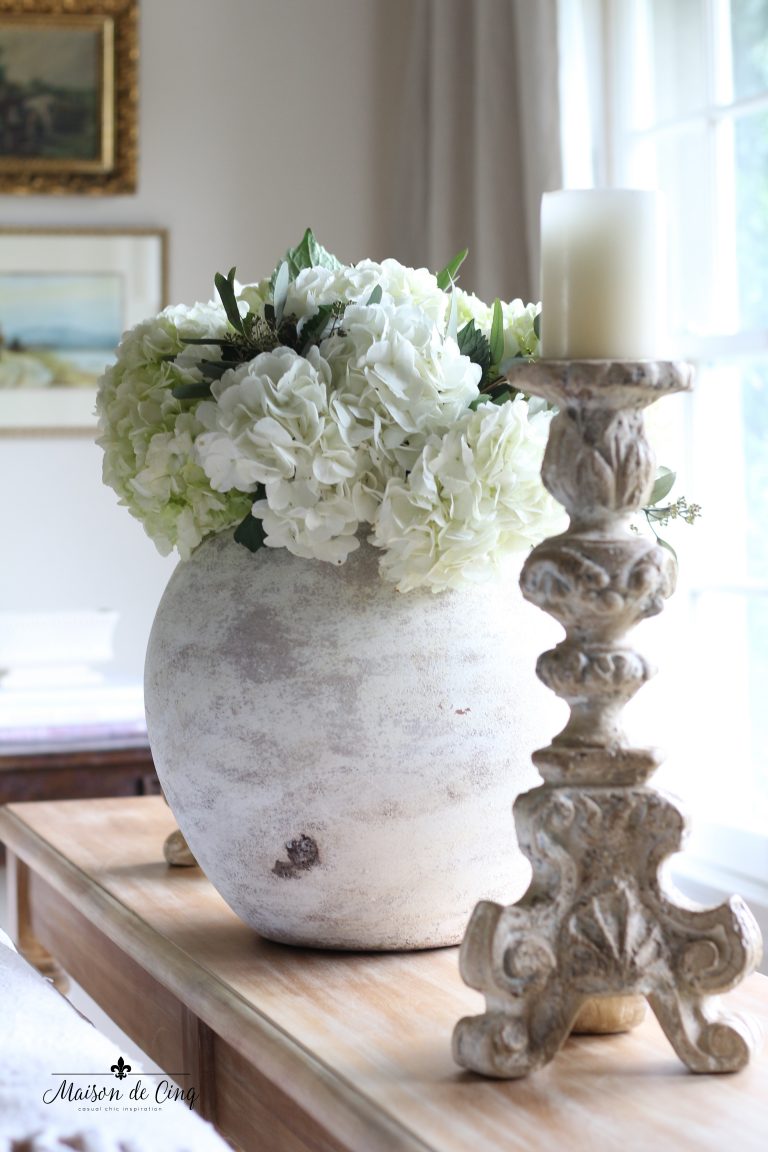 I love it so much in fact, I really wish I would have thought to buy two! I would love to see two of them on the back patio, or on the porch. Sadly, I'm never quite that prepared and/or organized!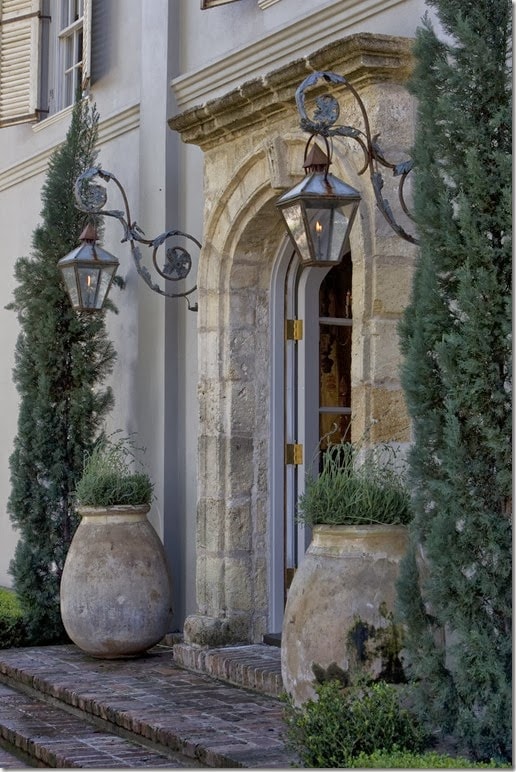 Gorgeous outdoor space via Pam Pierce Designs.
So the good news is, I found a pretty decent reproduction. But the bad news is, it is no longer available. However, I have now found a few others. Keep in mind, none will be quite the same as the real thing.
But regardless of whether these look exactly like a French olive jar, they are all pretty! And the statement a large vase makes in a room can't be beat!
Shop the Post

Shop the Room!

*affiliate links have been added for your convenience*
And if you are in the mood to be a little spendy (or just want to ogle the real thing!) you can find some gorgeous antiques here. Also, there is a company that makes real reproductions – made by hand, in France. You can find those here.
Sheila
xo
If you enjoyed this post, you might want to check out more French inspiration below: