A French Inspired Christmas in the Family Room
If you're a regular reader then you know that I recently made the exciting announcement that I joined the bHome App (You can read all about the app here). And now, those talented ladies invited me to do a Holiday Tour with them, and well, of course I couldn't say no! This is my third holiday tour this season (one more – stay tuned!) and though it sounds like a lot (especially for a not-so-big house!) I figure it's better to break it up for all of you anyway. No one wants 50 photos in one post, and this way, I can talk details and really show you each area.
Today I'm taking you all into my family room for a French Inspired Christmas Tour. My entire downstairs is a pretty open floor plan, with the kitchen and family room being one big area. And you can see the living room from the family room, and vice versa, so it just makes sense for it to all have a cohesive look. Recently I shared my French Country Holiday Tour featuring the living and dining rooms, which is why I'm calling this tour "French inspired." The decor in those areas of my house set the tone for the rest of the downstairs. I've gone with the same neutral Christmas palette that's in the rest of the home, featuring mostly greens, creams, gold, and white.
So let's get started! And welcome….
French Inspired Christmas in the Family Room
Like the previous tour, I used neutral colors of greens and creams with no red, and I'm loving the softer feel it imparts.
This tree is a new one for me. I've always wanted a tree in this room but it's been a little hard to find a tree that fit the scale of the room. I've had a larger live one here, and I loved it, but then it blocked so much of the builtins it didn't really work. However, I'm loving the size of this King of Christmas King Fraser Slim tree and I think it's scaled correctly for the room. And I absolutely love having a tree in the room I spend the most time in!

The wreath is the same as the ones in the kitchen, preserved boxwood from Target. I love the look of boxwood, especially since I was decorating before any live greens were available!

Because this room is more casual than the living room, I decorated the tree with more casual ornaments. They are predominantly earth tones, silver and white. I used several "woodland" themed ornaments like deer, bears, pinecones and little cabins. I love the natural vibe!

A couple of my Belsnickle Santas with a little tree nestled in a vintage silver tray. I've collected these for a few years now and I love sprinkling them around the house.

The little woodland houses were found at Home Goods last year. Combined with my birch wrapped candle and some greens and pinecones, it makes a natural themed vignette on the coffee table.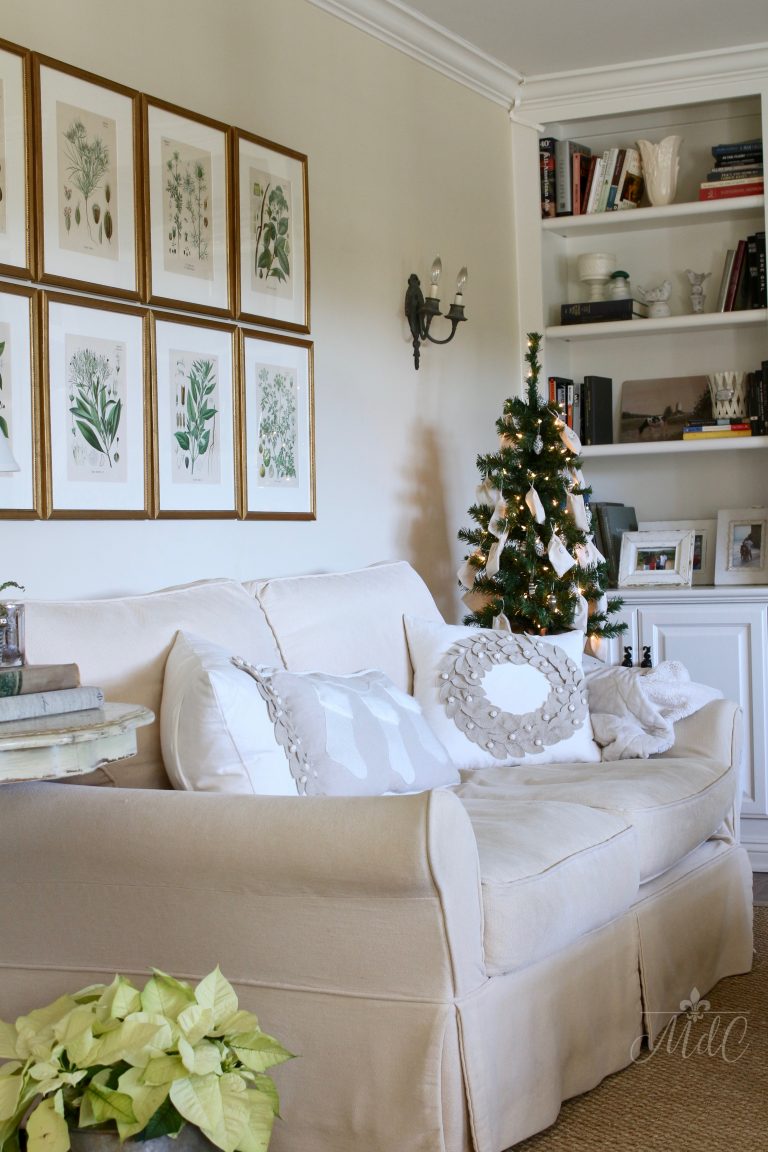 On the other side of the room is my little tabletop tree, as well as a poinsettia in a vintage French bucket.

This little tree is now an advent tree! I've always had an advent calendar but the one we had been using was red and white and it just wasn't working with my new neutral Christmas decor. So, I decided to make my own using these little favor bags and hanging them on the tree I already had.

A crafter I am not, but I'm pretty happy with how it turned out! I stamped the numbers on the little bags (I found them at Michael's) and had fun filling them with little chocolates and treats. I also put some ornaments in as well so the kids can hang more ornaments on the tree as we take the bags off!
The throw pillows are from both Home Goods and Wayfair.

Painted pinecones add more of that nature-inspired feeling.
This mercury glass jar holds my all-time favorite holiday scent, Thymes Frasier Fir! I absolutely love this smell (you can read about all my favorite holiday scents here) and buy it in bulk in the fall because it sells out so fast!

And my paperwhites. I just did a tablescape featuring them earlier this week, and I wish you could see them now. They are at least 3 or 4 inches higher than they are here! I've been wanting to grow them forever but had never tried it until this year, and I'm so glad I finally did! They should be fully blooming by Christmas. I found these adorable mercury glass pedestal dishes at a local boutique, but I sourced some below if you want to get a similar look.

Shop the Post!




*affiliate links included*
Thank you again for stopping by my French Inspired Christmas Tour! I know there are so many tours this time of year, and I so appreciate you spending your time here. And be sure to visit more of the tours below for even more holiday inspiration!
Sheila
xo
Wednesday's Posts
Thursday's Posts
Friday's Posts