Best RH Style Dining Tables – for Less!
Do you love Restoration Hardware dining tables, but hate the prices? We found some great options that give the same farmhouse look for much LESS!
So I've been looking for a dining room table for what seems like forever now! Not looking everyday, all-the-time mind you, but looking here and there and shopping around – for at least two years! I've been looking on the internet, in catalogs, shops, and antique stores, as well as on sites such as Chairish and Ebay.
At first, it was a matter of simply looking, since I wasn't sure what style I wanted, or even what color. However, now it's become even more of a challenge, since I essentially want the Restoration Hardware Trestle Dining Table, but I don't want to pay that price!
At $4000.00, that is quite a bit more than I'm willing to spend! So now I've been scouring the internet to see if I can come up with either a used RH table, or just a copy that will work.
Even I'm a little surprised that I'm choosing this particular table. For one, it's everywhere! And also, it's a pretty strong farmhouse look and I wasn't sure I wanted to go there. However, after looking at what feels like literally hundreds of dining tables, it really started to grow on me. And this photo had a lot to do with that….
THIS POST MAY INCLUDE AFFILIATE LINKS. CLICK HERE FOR MY FULL DISCLOSURE POLICY.
I love the way this dining table looks with dressier pieces around it. Design by Linda MacDougald.
This was another photo where a comparable table caught my eye. This isn't the Restoration Hardware dining table, but it's very similar and it's combined with chairs that are very much like mine.
Design by Meredith McBrearty via Traditional Home.
And I love this look, too, with the slipcovered chairs. Design by Kelly Deck.
See what I mean? It just seems to work! Regardless of the space, and no matter what it's combined with, it holds its own.
One thing I love is that because it's made from reclaimed wood, it's very casual. I like the idea of toning down the dressiness of my dining room. I feel like the curtains and the chairs are already on the formal side, so combining them with a more distressed, farmhouse style dining table will create the balance I want in the room.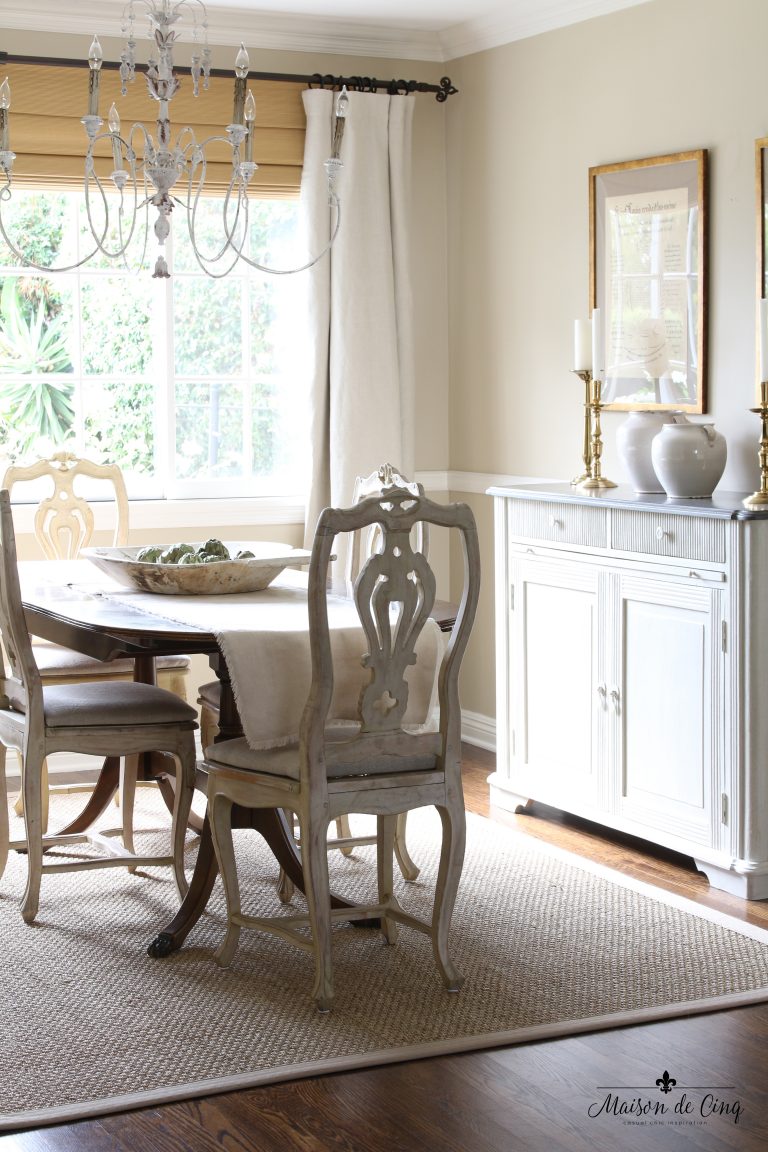 Here's the actual Restoration Hardware dining table…
Restoration Hardware Salvaged Wood Trestle Table from $3995
Okay, so even I was surprised by how many good options there are – at literally a fraction of the price! And since this is such a popular table, I thought I'd share with you what I've found. I've never been so excited to share great information!
I've been calling the RH outlet weekly for months, and the table doesn't come in often. Or it comes in but it's the bigger size. Or too damaged. And the price is still not as low as most of these!
1.Rachael Ray Monteverdi Table | 2. Kinston Pine Solid Wood Trestle Table | 3. Petrey Solid Wood Trestle Table |4. Charlotte Dining Table | 5. Margr Extendable Trestle Dining Table | 6. Dunnes Extendable Solid Wood Dining Table | 7. Banks Extending Dining Table | 8. La Pergola Extension Dining Table | 9. Kensington Dining Table | 10. Raleigh Solid Wood Trestle Dining Table
Scroll and click to shop

Shop more fab finds below!

Sheila
xo
If you enjoyed this post, be sure to check out some of my other shopping guides below: