Hi everyone! I'm joining some blogging friends today for a small blog hop sharing Christmas inspiration. I actually intended to share my Christmas entryway as part of my Front Porch Tour last week, but I hadn't finished the garland and just couldn't swing it that early. Then I had several cloudy days which made taking pictures impossible, so it just worked out to share it now.
If you've landed here from my friend Janet at Shabbyfufu, welcome! Janet is so talented…. I am always inspired by whatever she shares and her stunning photography! And make sure you go all the way to the bottom of the post to see all the other inspiration being shared!
My Simple French Inspired Christmas Entryway is reflective of the way I'm feeling right now. As it gets closer to the holiday, I'm really craving some simplicity amidst all of the craziness. At this point, I'm starting to get overwhelmed with all that needs to be done and all I want is some decor that gives the house a cozy, Christmas-y vibe, yet doesn't involve too much work. The last thing I want to do is drive all over town getting supplies, or spend hours decorating when I've still got cards, shopping, and wrapping to do! So if you're feeling the same way, yet still want to add some holiday cheer, this post might just inspire you!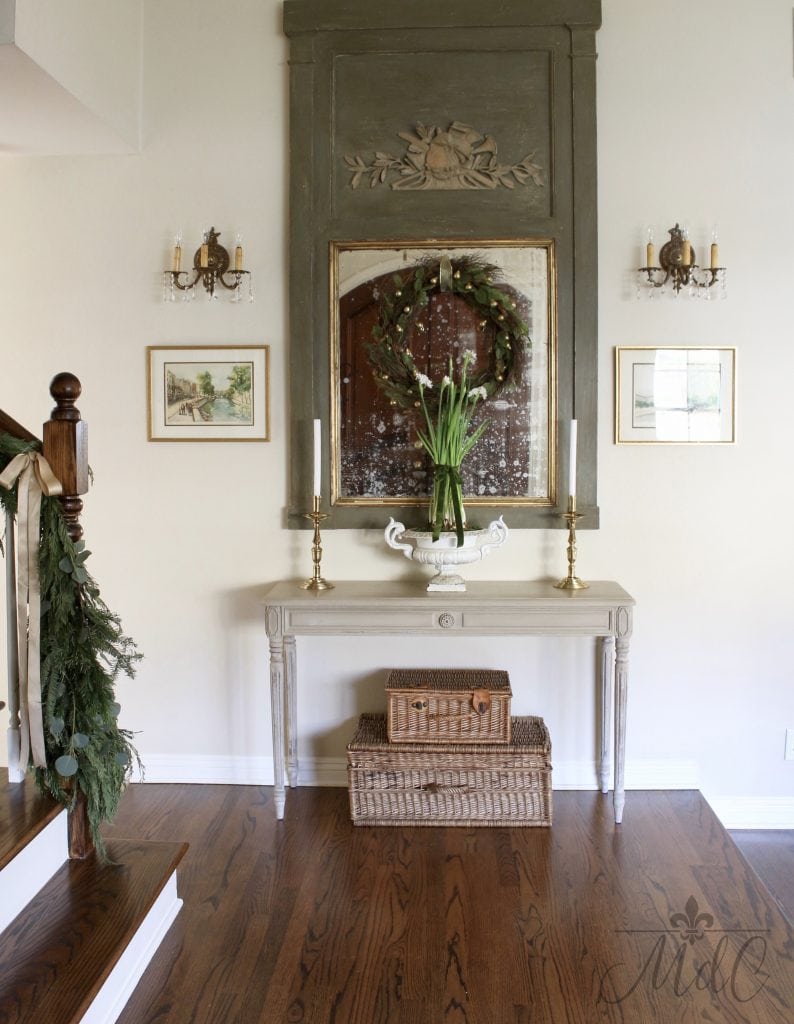 Welcome to my entryway! This is the view you see when you first walk in the door, so of course I wanted it to have some Christmas decor, but as I said, it's already later in the season and I definitely didn't want to go all out only to take it down two weeks from now! A simple fresh garland on the stair railing, a wreath on the mirror, and my paperwhites are enough to add some holiday spirit!
The mirror, urn, sconces, art and baskets are all vintage. The candlesticks are from Pottery Barn and the console table is from Wisteria.

If you read my French Inspired Family Room Tour, you would know that this is my first year ever growing paperwhites and I'm loving them!
They are so low fuss, no muss!! You don't even need dirt to plant them! Just gravel and water and they sprout on their own. They are seriously low-maintenance and boy, have they grown quickly! I tend to have a bit of a black thumb when it comes to indoor plants, so believe me, if I can grow these, anyone can! And I love how they look in my vintage French urn.

My collection of vintage and reproduction Belsnickle Santas sits on another entryway table. These I already own and I usually bring them out every year. There's something about them that just makes me happy!


It's amazing how anything can be made Christmas-y just by adding some greens! Here I tied some of the extra greens which were left over from the tree to the top of this painting in the entry.
The garland is real pine garland that I purchased at my local Trader Joe's. I also added some eucalyptus to add a little dimension to it and I love it! I simply shoved it in here and there and it really makes it more interesting than the pine alone.
With the ribbon, I actually wanted a different color, or even to mix two, but we were going for low fuss here so I simply used ribbon I already had.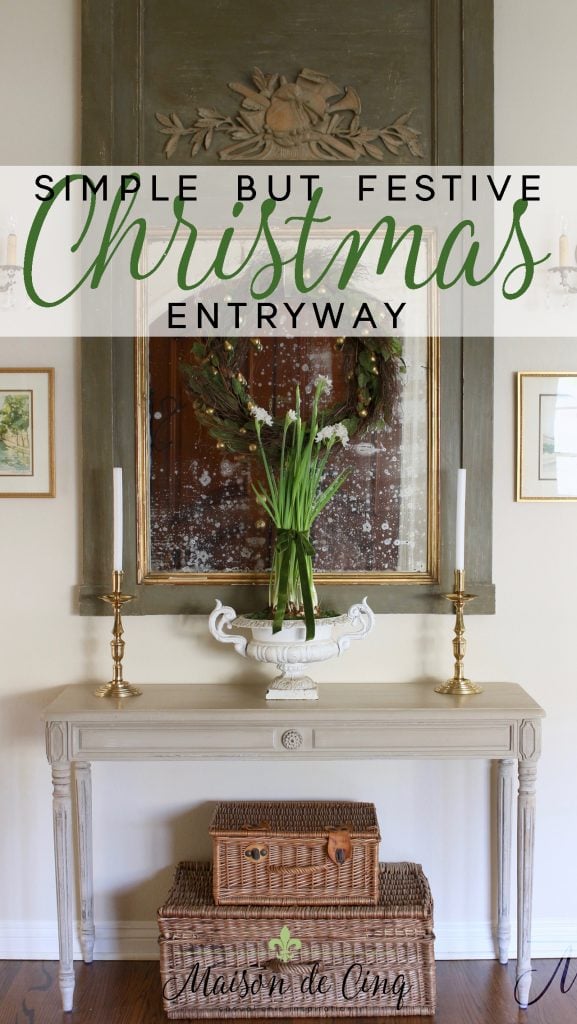 *please note some affiliate links are included for your convenience*
I know sometimes it can seem like we need to do more to celebrate the holidays; more decorations, more lights, more spending. It's easy to get caught up in that. But I really think it's the opposite. We sometimes miss the meaning of the holiday during all that rushing around. So take time to slow down. Savor the moments with family and friends. Treasure the good feelings that the season brings. It truly does feel different this time of year, and for me, this is one of the best things about the season.
I decorate to create a warm and welcoming home, but the true meaning of the season lies in the people I share this home with, not in how it looks. Years from now I know my children will remember the family game nights, trips to look at neighborhood lights, and tree trimming, much more than any of the decorations.
Wishing you all a wonderful holiday season. One that is full of warmth, and laughter, and love.
Sheila
xo