How to Make a Diamond Pattern Espalier: Creating a Belgian Fence
Have you ever wanted to grow vines along a fence or wall in that pretty diamond pattern espalier? In this post I'm sharing the step-by-step plans as well as all the details you need to create one, too!
THIS POST MAY INCLUDE AFFILIATE LINKS. CLICK HERE FOR MY FULL DISCLOSURE POLICY.
This is a post that I've been dying to share with you guys ~ and one that's been over a year in the making! It all started when I wanted to grow some vines in a diamond pattern on a blank wall in our front yard. I'm sure you've seen them. They're a form of espalier, which simply means to grow vines flat against a wall. And in this case, they're done in a diamond pattern.
They're elegant and very European looking. And I thought they'd be the perfect thing to fill the empty wall we have on the front of our house. However, when I started to look online for instructions on how to do it, it was actually hard to find them!
Because this involves math. Yes, math! You can't just guess where to put the wires. You need it to be symmetrical, and you need math in order to figure out how many diamonds you'll be making. Which leads to how much wire you need, which then leads to how many plants you'll be buying. You get the picture.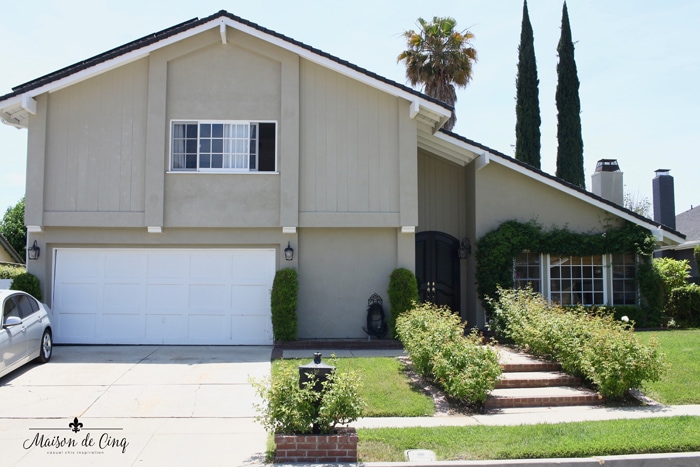 As you can see, we have a weird asymmetrical wall in the front of our house that was completely blank. It's asymmetrical in the fact that it doesn't exist on the other side of the garage. There's just one, to the right of the garage. Other people who have our same house have planted larger shrubs there (trying to cover it up!), and I've even seen decor hanging there (not my favorite look). But once I got it into my head that I wanted this diamond pattern espalier, there was no changing my mind!
And this espalier thing? It originated in France. Of course it did! Apparently everything I love is French! 😉
So a Belgian fence is just an espalier that is done in a diamond, or criss cross pattern. And it's actually relatively easy to recreate in your own garden. It's the perfect way to add vertical visual interest, and in case you have a big blank wall, disguise that, too!
Supplies You'll Need
200 ft 16 gauge galvanized wire
Concrete screws
Needle nose pliers with wire cutter
Measuring tape
Cordless screw gun
Set of masonry drill bits (if you're doing this on a fence, you can just get wood drill bits)
Chalk reel
1 tube of clear 100% silicone caulk (you only need this if you're doing it on a wall, not a fence)
Shovel
Gloves
(3) creeping fig plants
Soil amendment
Picking a Vine
As far as picking a plant, there are tons of climbing vines that will work. I chose Creeping Fig because we love it, have it in the backyard (it's covering all our fences) and it's a super fast grower. I'm not patient and in this kind of situation, I didn't want to have to wait years for it to fill in. It's also basically maintenance free after the first year – yay!
If you want something that will bloom, trumpet vine, jasmine, or bougainvillea can all work.
How to Install Your Diamond Pattern Espalier
1. Measure your wall or fence space you want to cover. This will determine how many diamonds you're making and how many plants you'll need. Typically, a Belgian fence pattern has vines planted 2 feet apart, but you can adjust that slightly if you need to. Ours are planted 28″ apart because of the size of the wall. Adjust so that you're as close to 2 feet apart as is possible with the distance you're covering.
2. Plan out the measurements on paper with a grid to determine spacing and anchor points like we did below.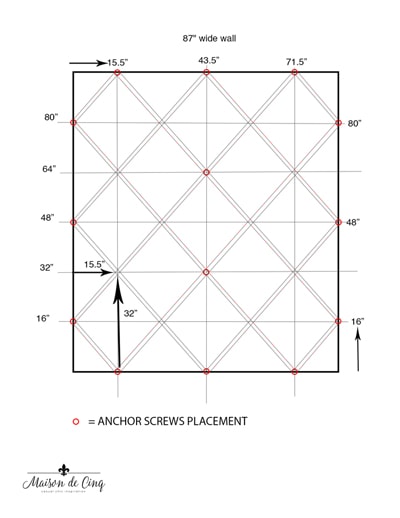 3. Chalk the same grid you have on paper onto the wall. We used a chalk reel to do this and it made it so much easier to implement! This also is a time to tweak what it looks like and make sure you like it.
Mark your diamond bottoms (where the vines will be planted).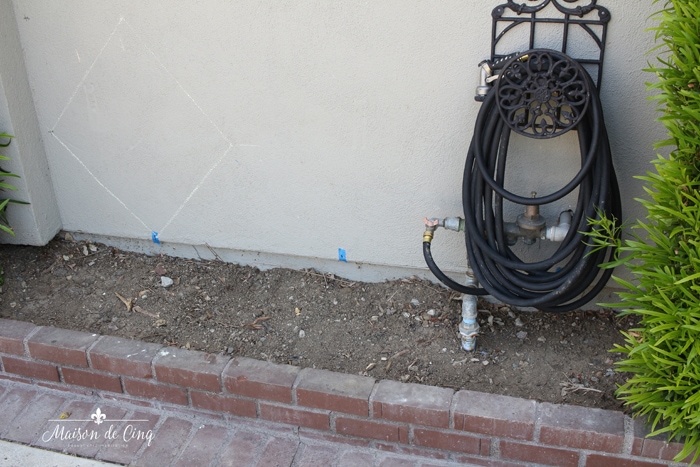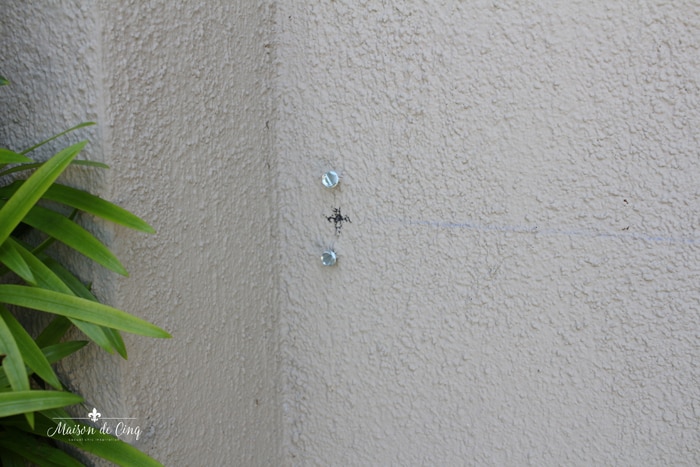 4. Drill pilot holes at each of the points. We used 2 screws per anchor point to run 2 strands of wire. Two strands just makes it easier to weave your vines in and around it – and it's more secure. But you could definitely use just a single wire.
5. Fill hole with silicone caulk just before setting the screw to protect against water getting into the wall. If you're doing this on a fence, you can skip this step.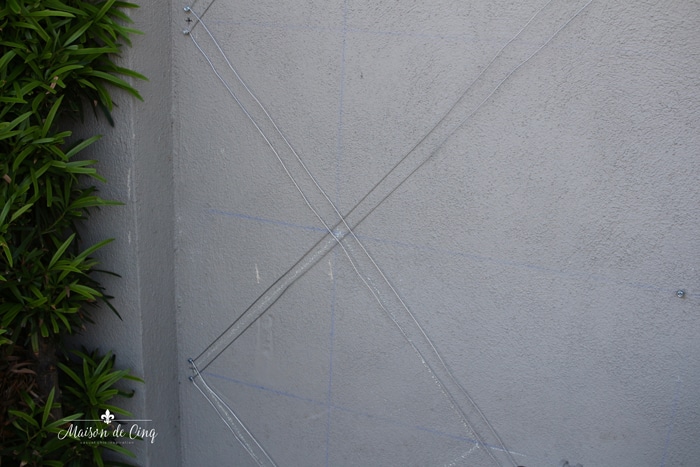 6. Leave about 1/4" of each screw exposed for wrapping wire around it. Run wire taut to each anchor point creating the diamond pattern, wrapping the wire around each screw to secure.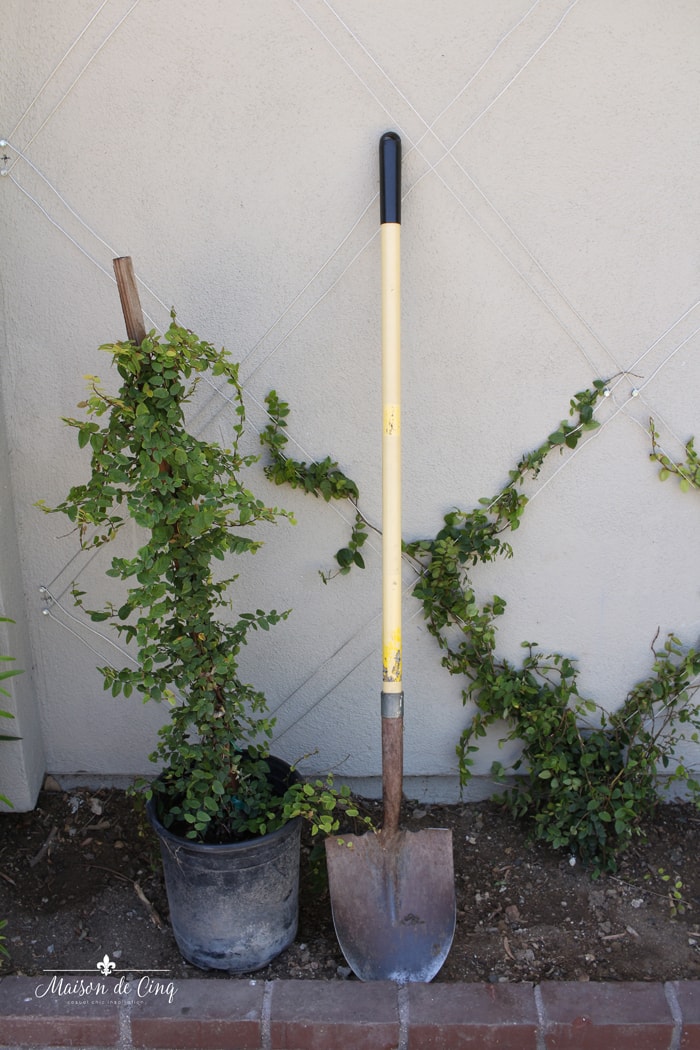 7. Plant one vine at the bottom point of each diamond (for us that was 3), separating and pulling out some of the vines and weaving them onto the wire to guide the growth. I like to give them a head start 😉
8. Add soil amendment and water thoroughly.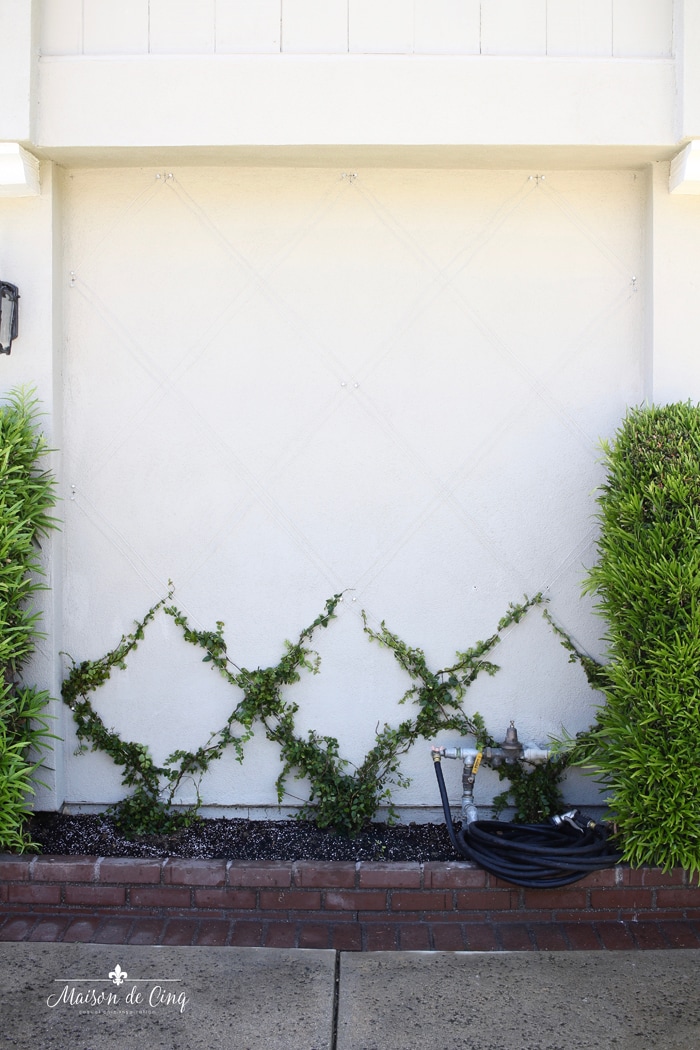 9. For the first season, water once a week, more frequently if it gets really warm. Once established, Creeping Fig plants don't need any additional watering and can survive on rain water alone (even here in sunny Southern California!)
10. As the plant grows, continue to weave it up the wires to fill in the diamond pattern. Trim any shoots or tuck them in so they grow into the pattern.
I love how it turned out!
Our house is still a terrible 1970's architectural mess. And the wall is still asymmetrical. But the Belgian fence is so pretty that it distracts from all that. Or at least I like to think so! I'm so in love with it, in fact, that I've been looking for places to add another one ever since!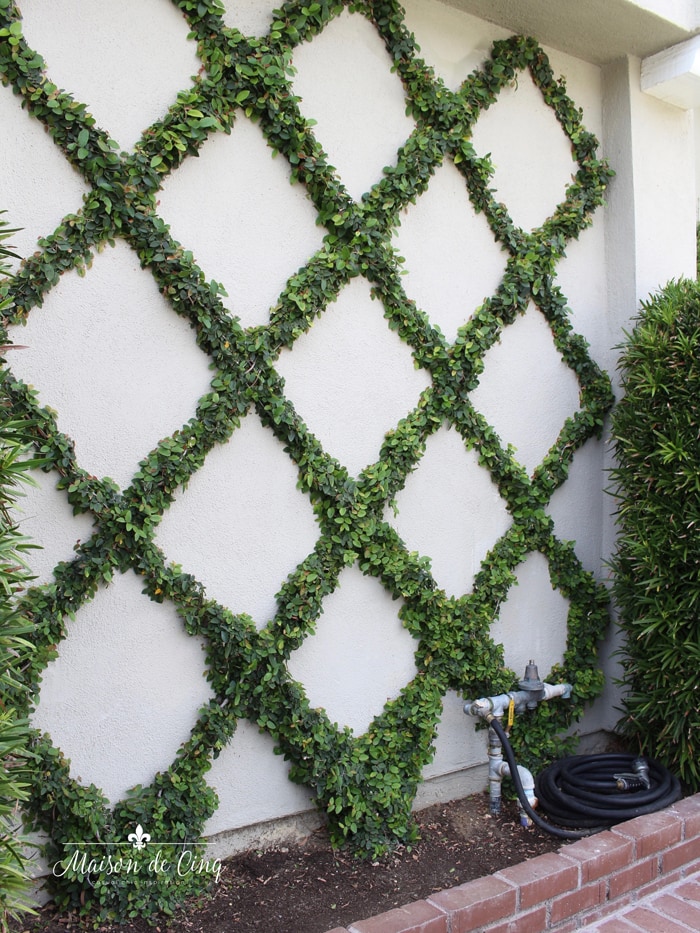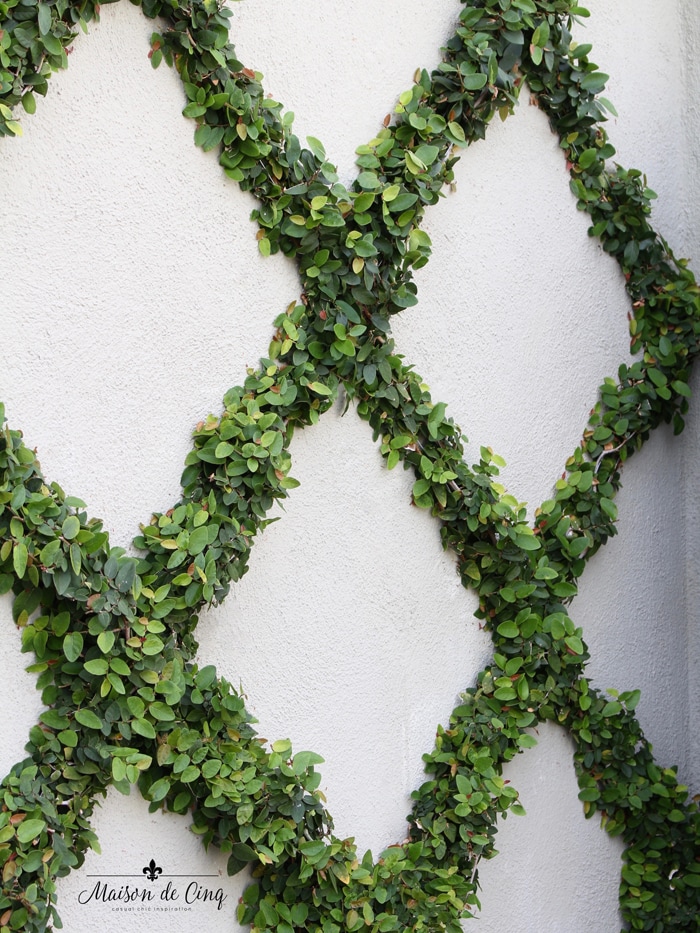 This is absolutely one of my favorite projects we've done. I love the charm and interest it adds to the front of the house, and I can't think of another project that literally took so little effort for so much results!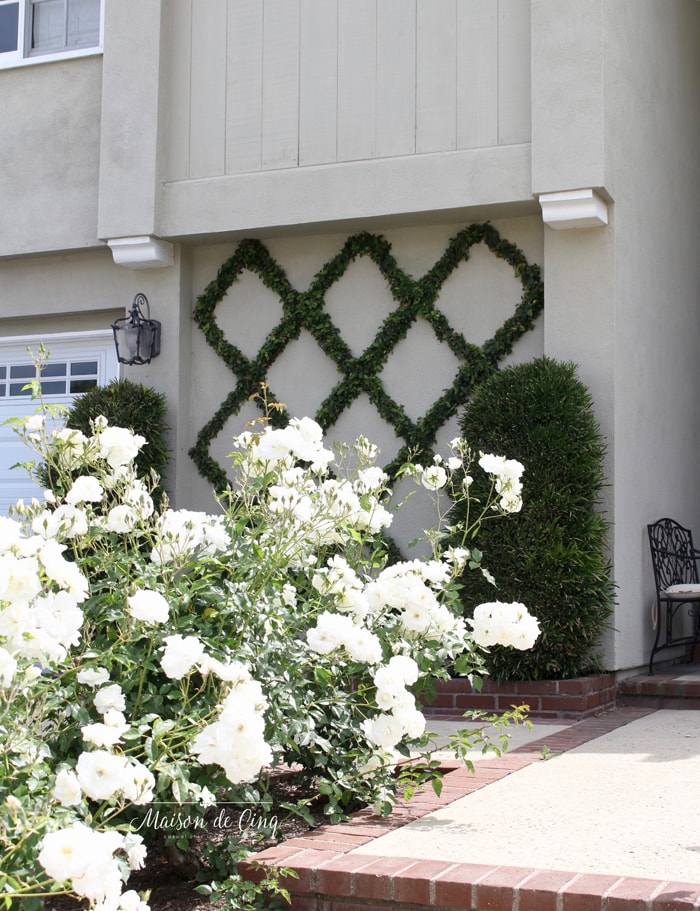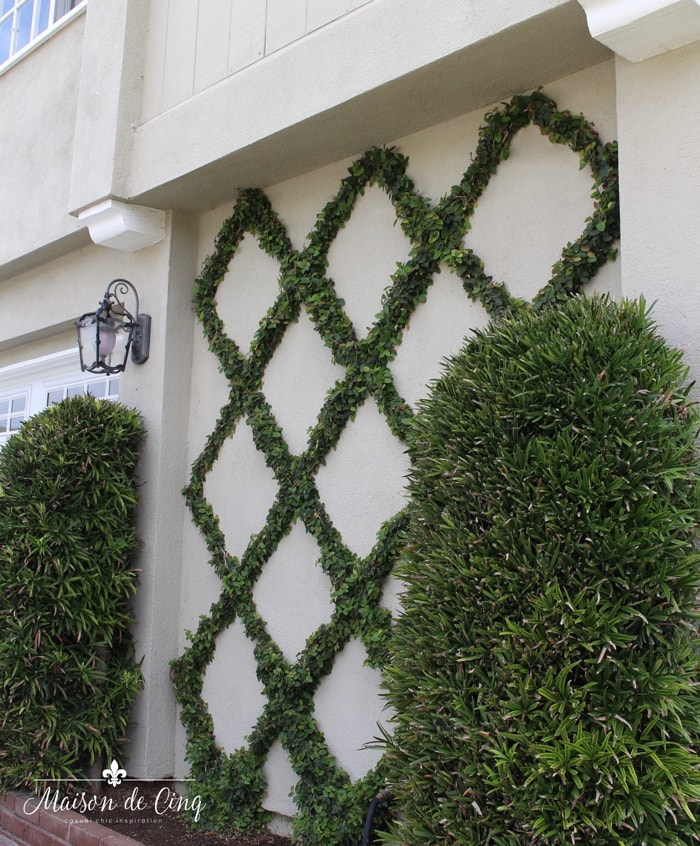 Depending on your climate, it usually takes one to two growing seasons to see it fully grown in. For us, it has been about a year and a half since we planted them and they are completely filled in!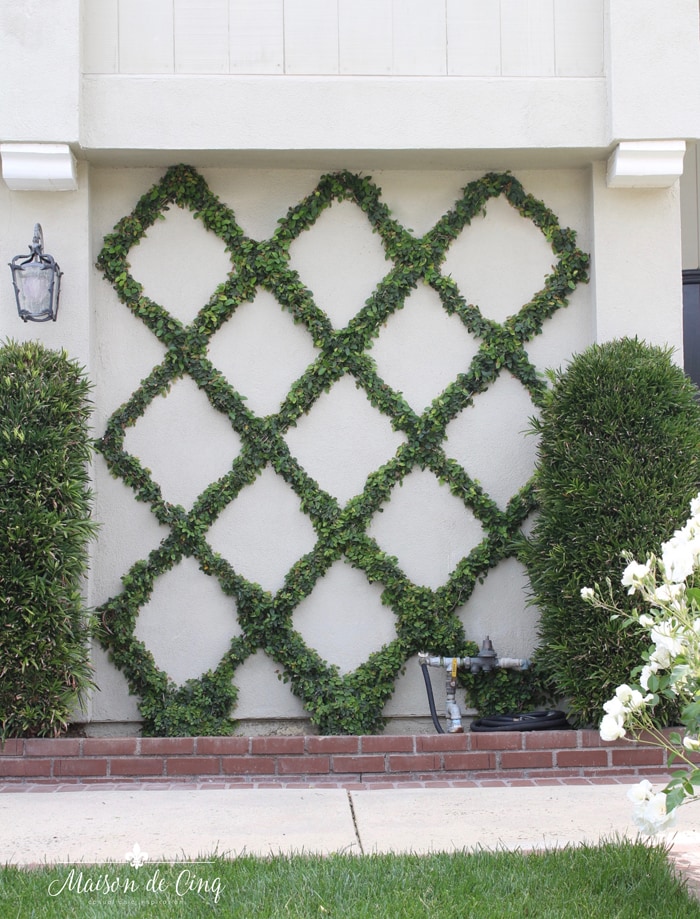 And there you have it! A Belgian fence diamond pattern espalier that wasn't hard to install and gives you a lot of bang for your buck – and time! I hope if you've ever thought about doing it that this gives you the confidence to try it!
Shop Diamond Pattern Espalier Supplies

And I'd love to know if any of you try it. If so, be sure to send me a note or leave a comment here!
Happy Spring!
Sheila
xo
PIN THIS FOR LATER!!
If you enjoyed this post, be sure to check out some of my other outdoor and landscaping posts below: