Six Tips for Making Cut Hydrangeas Last Longer
Do you love hydrangeas but find it frustrating when they wilt soon after buying them? Learn my six tips for how to make cut hydrangeas last longer!
As many of you know, I'm a big believer in having fresh flowers in the house weekly, and hydrangeas are one of my all-time favorite flowers! They are a quintessential spring and summer flower and oh-so charming. There's just something so endearing about those giant round blooms!
This post may include affiliate links. Click here for my full disclosure policy.

In fact, if Instagram is any indication, I would say they are many people's favorite flower! I'm often posting photos of them over there and I get a lot of questions about how to make cut hydrangeas last longer and what I do to keep them from wilting. So today, I thought I'd share the techniques I use that really help to make them last!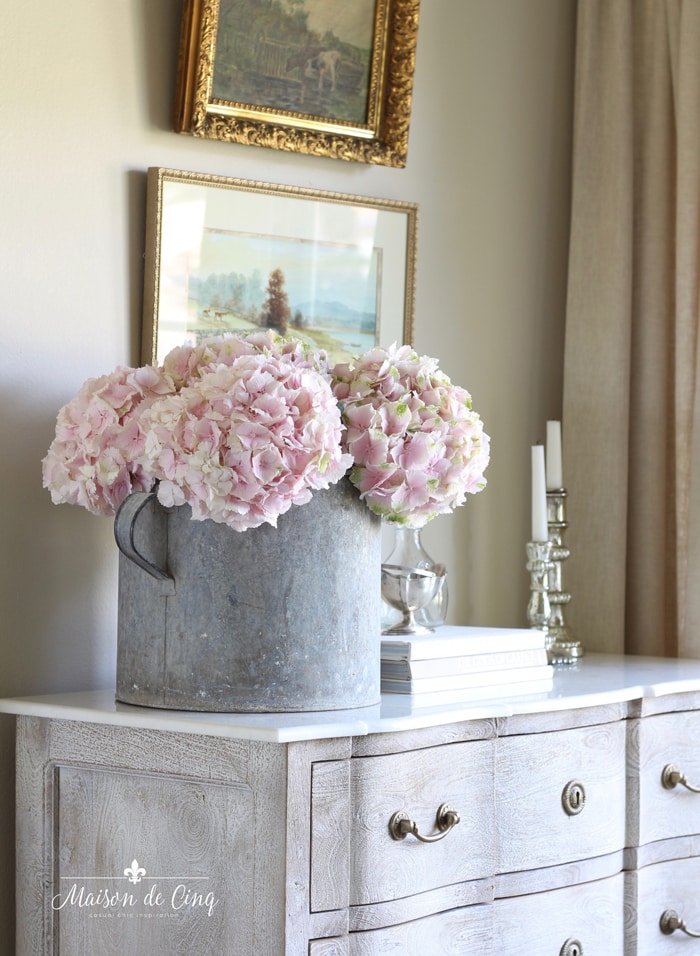 People have shared that they are sometimes frustrated when their hydrangeas don't last very long. But truthfully, they are one of the longest lasting cut flowers if you know what to do.
There are several reasons your hydrangeas might be wilting, and we will cover them all below. If you're finding that your hydrangeas aren't lasting as long as you'd like, these are some things that I do that really help.
How to Make Cut Hydrangeas Last Longer
1. Buy from a trusted source
Unfortunately, depending on where you buy your flowers they can be less than fresh when you get them. Or, and this is the worst, people often take them out of the buckets and don't put them back in! That makes for flowers that have been out of the water for anywhere from a few minutes to a few hours.
For a flower that loves and needs lots of water, this is deadly. I believe this can be the difference between them lasting only a few days vs. a week or more!
So my first word of advice is to buy from a few different sources and see if you notice a consistent pattern. You'll usually find one purveyor that has fresher flowers than others. For me, I do very well at the farmer's markets and my local Trader Joe's.
Also, I make sure all the flowers are wet at the bottom and that they are all the way in the bucket when I pull them out! You can also tell by how springy the blossoms are. Oftentimes the older ones may not actually be wilting, but if you look closely the blooms are not tight and when you touch them gently they don't seem firm or springy to the touch. Those are the ones you should leave behind.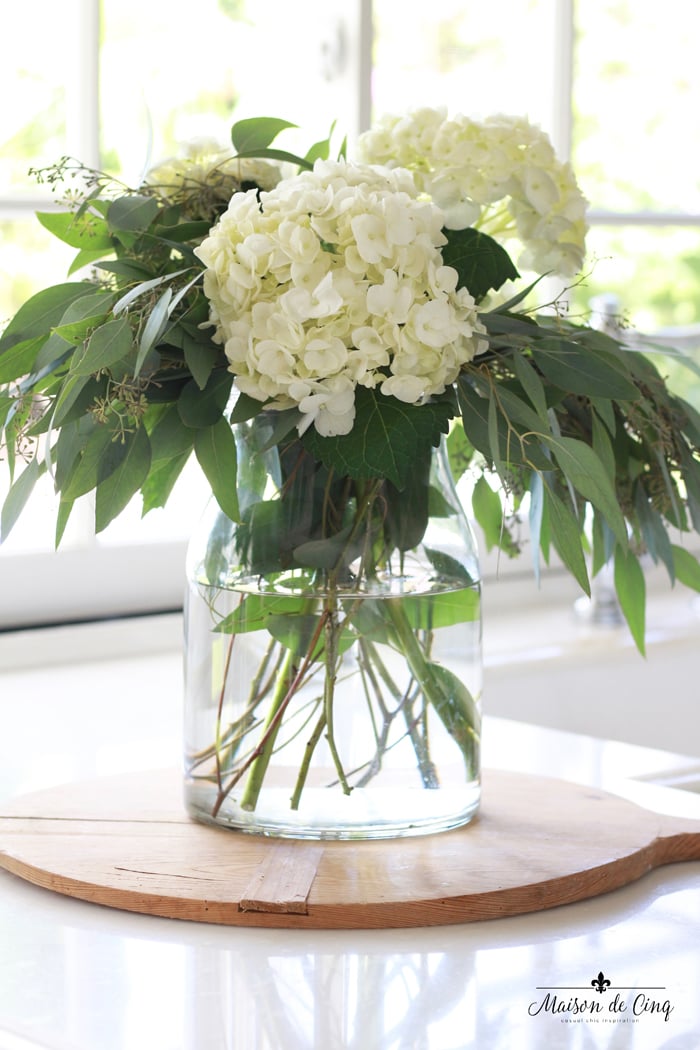 2. Put Them in Water Right Away
Bring them home and put them in water right away. Don't be tempted to run another errand or leave them in your car for any length of time. Hydrangeas are water guzzlers and they don't like to be out of it for long! Thus the Latin root of their name "hydra," meaning water.
Maybe it's because I'm in Southern California and it's warm here, but I find if I don't get them into water right away, they definitely don't last as long.
I like to fill the sink with tepid water (not ice cold) and just set them right inside while I put away the rest of the groceries. Or grab a large glass or pitcher and stash them in there while you finish what you're doing. Either way, make sure they are in water as soon as possible.
3. Trim Them at Least a Half Inch
Once you have your vase ready, make sure you trim them at least half an inch on the bottom with a sharp scissor or floral clippers. A fresh cut, done at a slight angle, allows the flower to absorb more water.
And as I would recommend with any cut flower, remove any leaves that land below your water line. The reason for doing this is they breed bacteria and cause the water to get yucky much sooner which leads to the flowers being very unhappy!

4. Use Flower Food in the Water
I've talked to so many people who don't do this! It's important to provide the flowers with a high quality flower food (this is what those little packets that come with the flowers contain) as they are no longer getting it from the soil.
I recommend using a little less than what is in the envelope unless it's a very large vase. Just like any garden fertilizer, a little goes a long way. If it's an average size vase or pitcher, I will usually use 1/2 to 3/4 of the packet and I only use the whole packet with very large amounts of water.

5. Change the Water Every Few Days
Another important thing to do consistently is change the water, usually every two or three days. This is important no matter what cut flowers you have in your home, not just for hydrangeas.
The water gets cloudy and starts to contain bacteria, something that makes them wilt a lot sooner. I like to freshen the water every 2-3 days, make another slight cut, and add new flower food. In my experience, this makes a big difference!

6. Emergency Revival Technique
Sometimes, despite your best efforts, they wilt way sooner than you'd like. Hydrangeas will wilt or start drooping when they cannot get the water that they need. That's when you can try reviving them by giving them a nice cool bath in the sink!
Hydrangeas are one of the few flowers that can absorb water not just through the stems, but also through the leaves and the blossoms. The minute I see any of mine drooping, I fill the sink with fresh, cold water, and give them a soak for 10 minutes or so. Alternately, you can also hold them upside down under running water, making sure to soak both the blossoms and the leaves.
I then shake off the excess water, trim them slightly again, change the water, and add new flower food. This almost always does the trick!
I've even been known to do the "revival" several times, extending their life by as much as a whole week!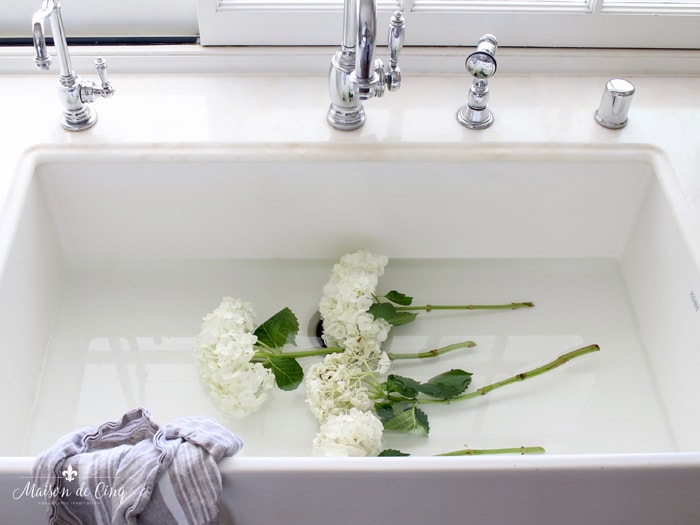 I've heard several people say they using boiling water – now we all have our own methods but I have not found that to work for me. When I tried it, the hydrangeas didn't revive at all but stayed wilted and I had to throw them out.
Since hydrangeas are sensitive to heat and many florists even add ice cubes to the buckets to keep them cool, this idea is counter-intuitive to me. I always use cold water for my cut hydrangeas and have had great success with that.
7. A couple other tips
One other way to revive them is to use alum. Alum is found in the spice section of any typical grocery store and in some nurseries. In this method, you re-cut the stem and dip it in the alum, then into the fresh water. I've never tried this but people do swear by it.

Florists often use a splash of bleach to inhibit bacterial growth (just under 1/4 teaspoon per gallon of water). Again, this isn't something I do but I've heard it can help.
And lastly, make sure to display your hydrangeas away from full sun, such as next to a window. This makes a big difference! I've found if I leave my hydrangeas right next to the kitchen window they perish way faster than if I have them as little as a few feet away. Direct heat and/or sun is too much for them – just like in the garden!
Using these tips your cut hydrangeas should last at least a week, often longer! In fact, the photos I took for this post I took almost 3 weeks ago and guess what? Those hydrangeas are still going strong on the kitchen counter! 😉 #truth
And if you're looking for some great vessels to put your hydrangeas in, I'm sharing some of my favorites below!
Shop the Post

Sheila
xo
If you enjoyed this post, you might want to check out some of my other posts about flowers below: