This easy Red Wine Sangria hits all the right notes of summer – boozy, fruity, and delicious – and perfect for a warm summer day!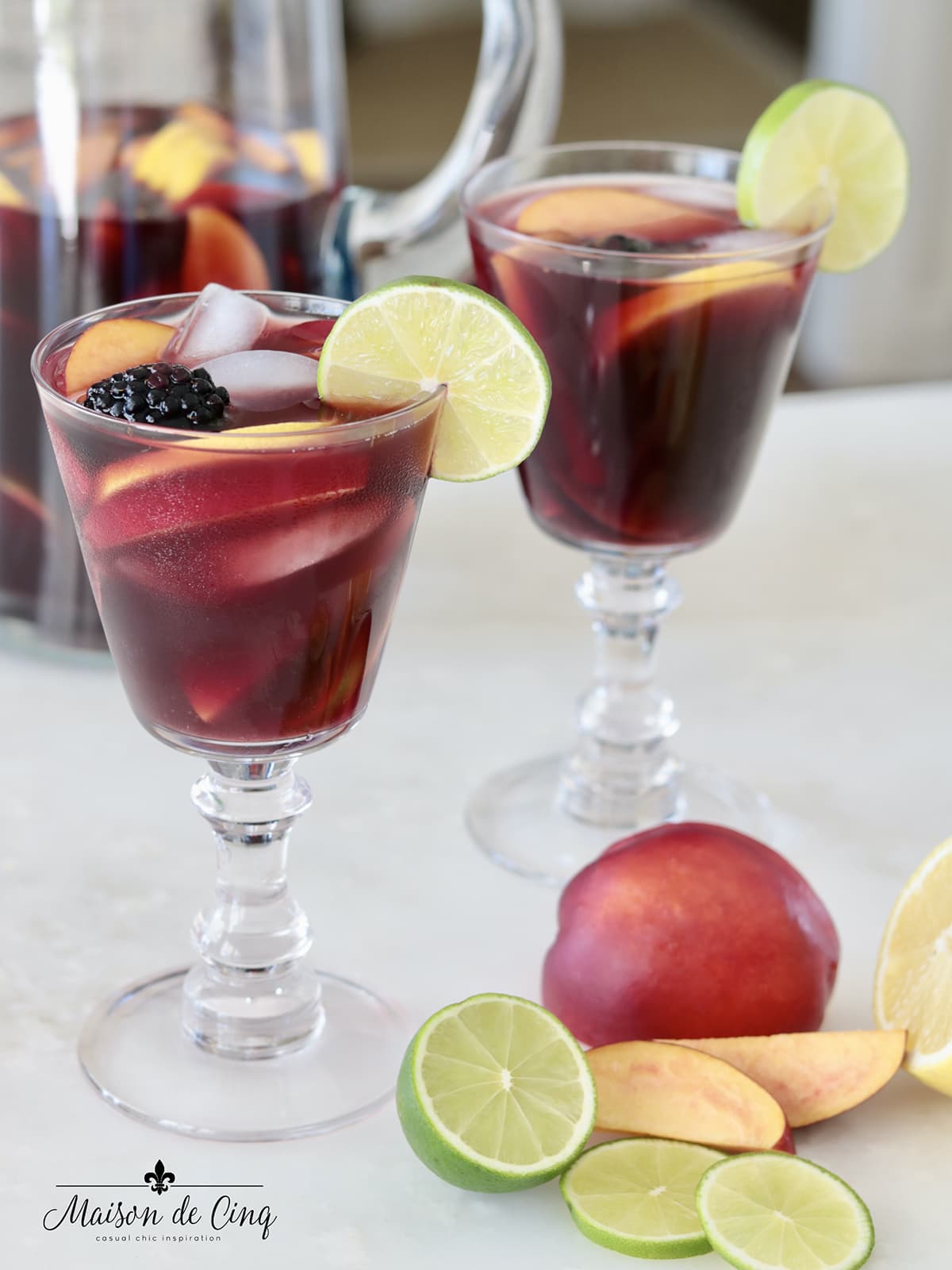 It seems the Spaniards have got summer down. Wake up to fresh coffee. Work a little. Have a leisurely lunch with sangria. Work a little more. Nap. Have a leisurely dinner with more sangria. Repeat. 😉
Sangria has always been one of my favorite things to drink in the summer. Ever since my husband and I found an amazing tapas restaurant that served the most delicious sangria, it's been something I've wanted to recreate at home.
And since that restaurant has since closed, and I didn't get to Spain this summer, I thought I'd bring Spain to us with this deliciously fruity (and easy) sangria recipe!
THIS POST MAY INCLUDE AFFILIATE LINKS. CLICK HERE FOR MY FULL DISCLOSURE POLICY.
It's hard to beat it as a summer cocktail. It's boozy. And fruity. And refreshing. And oh-so-good!
So good in fact, that it's quickly become one of my favorite summer drinks. And of course, it's perfect for serving in my favorite French wine glasses!

Of course, any summer cocktail needs to be easy. And it seriously doesn't get any easier than this! It's like a cocktail version of a dump cake. 😉
You basically combine the alcohol, fruit juice, and wine in a pitcher. Add some sugar or simple syrup and the fruit. And stir.
That's it!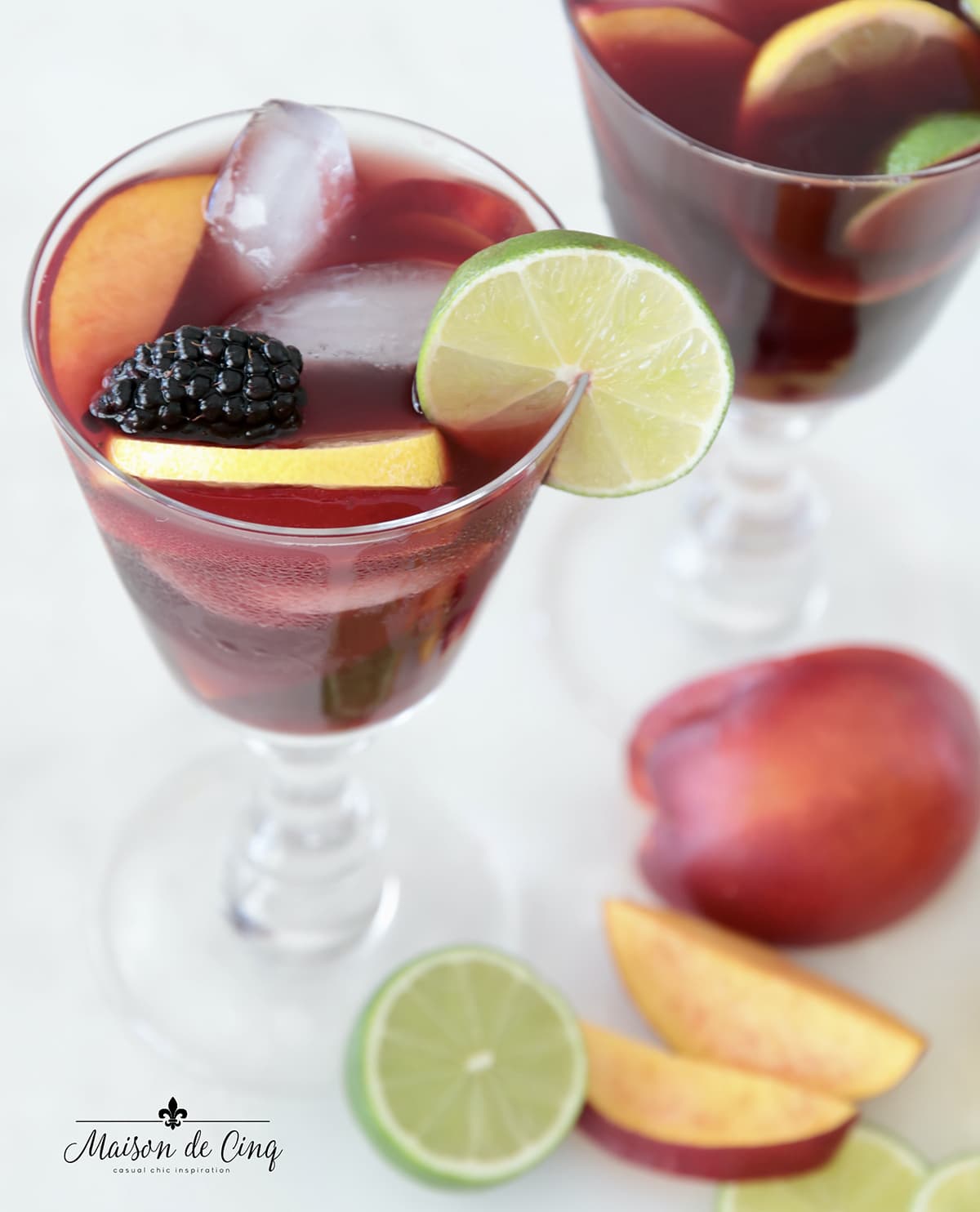 The key, at least to me, is the fruit. Not only does it infuse the wine with lots of fresh fruit flavors, but the fruit itself makes for a great little bonus 'snack'. Kind of like a summer version of the celery in a Bloody Mary!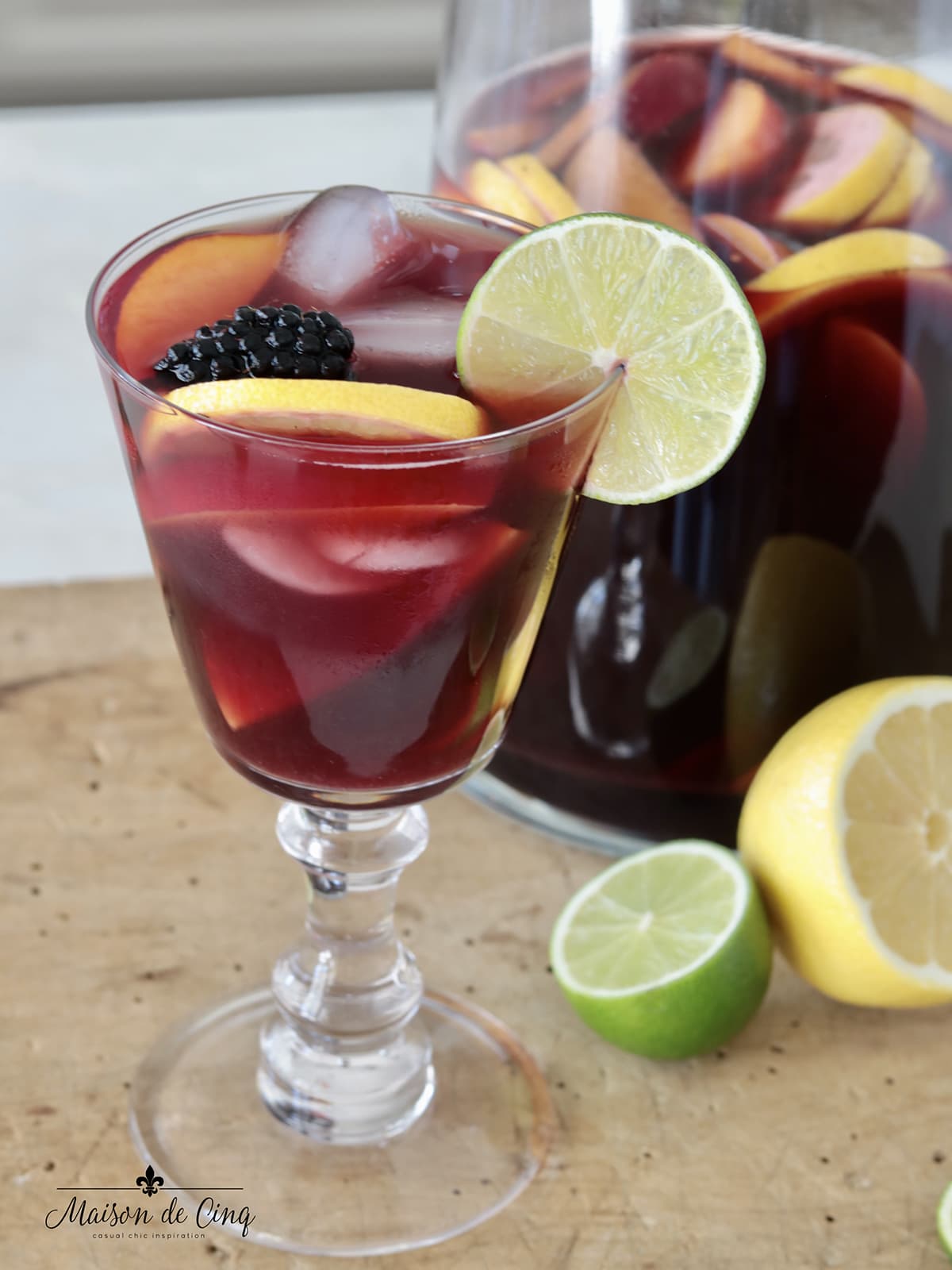 There are about a million sangria recipes out there, but I wanted to start with a traditional red wine version. If you've never had sangria before, it consists of only a few basic ingredients.
Red wine.
Brandy (or rum).
Fruit juice.
Fresh fruit.
Sugar or simple syrup.
The only difference comes with the balance of ingredients, and which alcohol, juice or fruits you add.
And though this is a pretty traditional version, you can really change it up however you want. If you don't like orange juice, feel free to use pomegranate or cranberry juice.
If you don't care for brandy, use rum.
If you don't have nectarines or peaches, switch to more plums, add apples, or even strawberries.
There are endless possibilities and they're all delicious!
Yield: 6 glasses
Easy Red Wine Sangria
This easy Red Wine Sangria is fruity and delicious, and perfect for a warm summer day!
Total Time
1 hour
10 minutes
Ingredients
1 bottle of medium-bodied red wine (suggested: Garnacha (also called Grenache), Beaujolais or other fruity red wine
1/4 - 1/2 cup brandy or Cointreau
1/2 cup orange juice (fresh squeezed is best)
1 orange, sliced
1 lemon, sliced
1 nectarine, sliced
1 plum, sliced
1/2 cup berries, such as blackberries or strawberries
1/4 cup simple syrup (or to taste)
Ice, for serving
Instructions
1. Add wine, brandy, and orange juice to pitcher. Stir.
2. Slice orange and lemon into rounds. Slice nectarines and plums. Add sliced fruits and berries to pitcher. Stir to combine.
3. Add simple syrup. You can also add granulated sugar, starting with 2 TBSP. and then adjusting as needed. Stir until sugar is dissolved.
4. Chill for at least 1 hour and up to 4 hours to let flavors meld.
5. Serve over ice in wine glasses.
Notes
Make sure to use a light to medium-bodied red wine. If it's too strong or tannic, it won't taste right.
I prefer fresh squeezed orange juice, but bottled not-from-concentrate orange juice can work, too.
For a lighter sangria, add a small amount of sparkling water or club soda to each glass before serving.
I like to use an inexpensive light to medium bodied red wine, like Garnacha (Grenache), Beaujolais or Tempranillo. Traditionally Garnacha is used in Spain so I used Grenache here (who am I to break with tradition?!)
As long as the wine is inexpensive, fruity and tastes good on its own, it'll work well in sangria.
Sangria is a good match for most summer meals. BBQ, grilled meats, seafood, Mexican food, spicy dishes, and even charcuterie or cheese plates all go well with it.
And the recipe can easily be double or triple-batched making it one of the easiest things to serve at a summer party. Believe me, there is nothing more festive than serving a pitcher of this to friends on a warm summer night!
Shop the Post

Cheers!
Sheila
xo
Now be sure to check out more fruity recipes my friends are sharing below!

Summer Peach Tart | Wild Maine Blueberry Pie | Blueberry Crumble Kit | Summer Fruit Crostata

Summer Peach Salad | Peach Crisp | Raspberry/Strawberry Shortbread Cookies | Fresh Strawberry Cheese Cake

Mini Tri Berry Trifle | Delicious Red Wine Sangria | Grilled Stone Fruit and Cheese Pairings | Easy Skillet Peach Crumble
If you enjoyed this post, be sure to check out more cocktail recipes and summer entertaining ideas below!