How to Host an Easy & Delicious Summer Grilling Night
This summer grilling night is not only full of simple and delicious recipes, but we've also paired them with the perfect wines for an amazing summer get-together!
Eating outdoors is probably my absolute favorite thing about summer. There's just something magical about eating outside with good friends and good conversation.
To me, it's one of the things that makes summer so special and we try to do it as much as we can. And usually our outdoor entertaining involves grilling. But not just any grilling. We're talking delicious. And pretty. And EASY.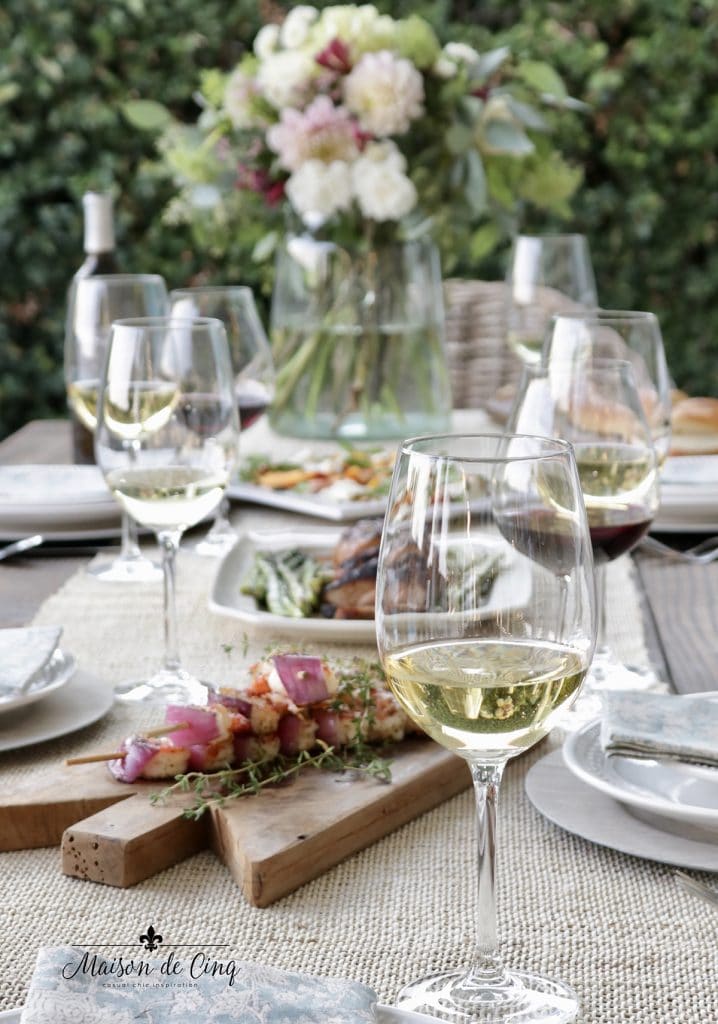 We've done it so many times now that we've got it down to a science. We have several favorite recipes we turn to again and again that taste great and are easy to prepare. And if you think beer is the beverage of summer, think again! I don't think I ever entertain without wine, and outdoor entertaining is no exception. 😉
If you've ever wondered how to pair grilled food with wine, this menu makes it super easy to create an easy but elegant summer grilling night! (All of the printable recipes can be found at the bottom of the post.)
This shrimp recipe is a wonderful starter, and it only has 4 ingredients! Simple and delicious – it's the epitome of summer grilling.

And this salad is my absolute favorite! Grilled peaches and burrata is elevated enough to feel special, yet it's super easy to put together. Perfect for when the weather's hot and no one wants to be working too hard. 😉
If you've never had burrata, it's out-of-this-world good! It's a semi-soft cheese similar to mozzarella with an extra creamy texture that's definitely worth finding if you can. But if not, fresh mozzarella works perfectly well here, too.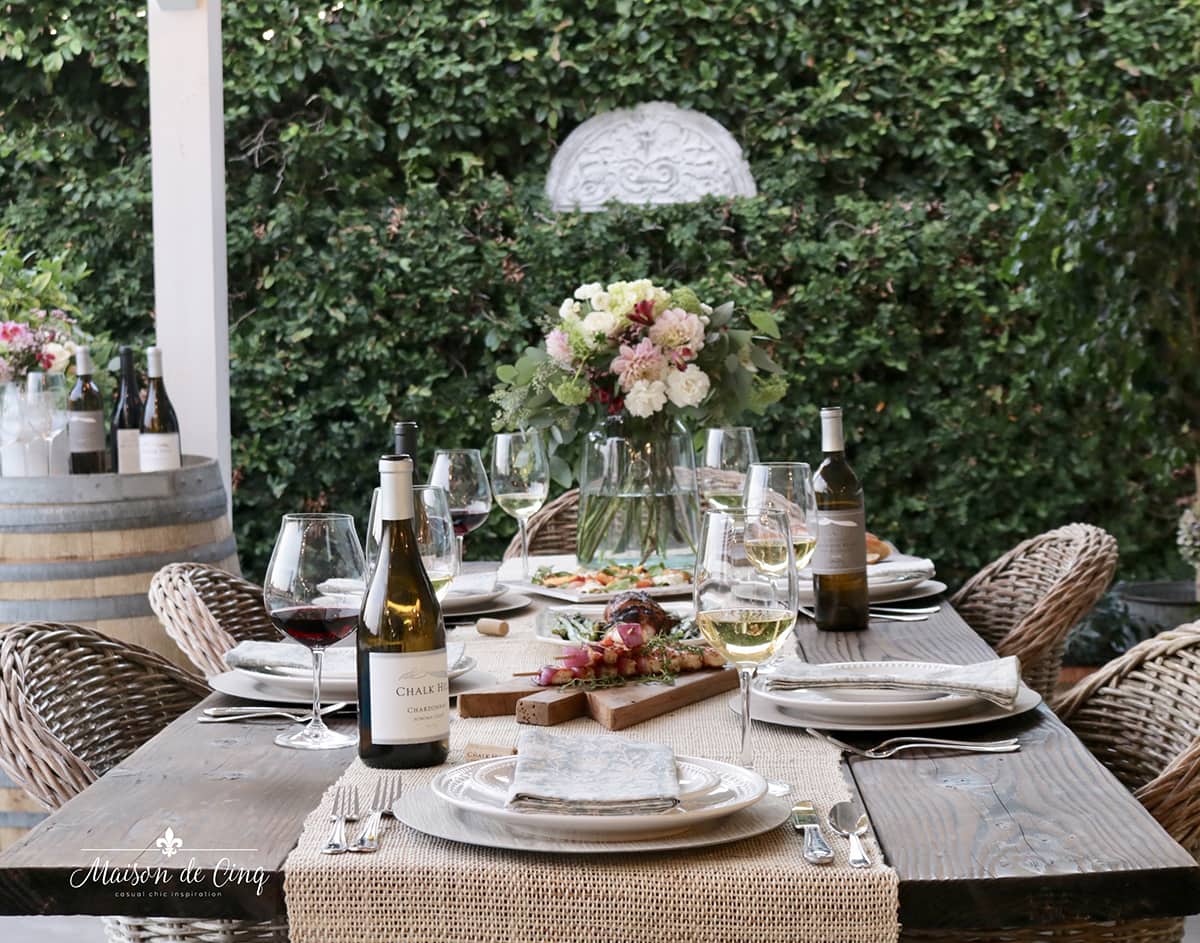 I always like to have fresh flowers on the table and this time I went with lots of pretty pinks – it just seemed seasonally appropriate to celebrate with a little color!
Pink dahlias along with white roses, eucalyptus and some bright filler flowers in a clear glass vase create a garden-inspired centerpiece.

To complete the menu, I'm serving a few of our favorite Chalk Hill wines. The Sauvignon Blanc is crisp and refreshing while the Sonoma Coast Chardonnay is a little richer and more luscious with hints of apple pie. And the Pinot Noir is a special treat that's also the perfect summer red wine because it's lighter bodied and not too heavy.
It's also nice to set up an extra table or other small space to create a little bar area. I like to store extra wine glasses here and more bottles of wine so that guests can refill their glass or try another wine if they want.
Lots of texture on the table creates interest. Here I used a woven runner, a wood grain charger layered over simple everyday dishes, and a pretty patterned napkin for a sweet nod to summer.

For the main course we grilled an easy pork tenderloin – another recipe with very few ingredients but lots of flavor!
I know a lot of people steer away from red wine during the summer because they think it's supposed to be served at room temperature, but that's actually not true!
In fact, most people serve their red wines too warm. We always serve ours slightly chilled, but it's especially essential in the summer. Just throw it in the refrigerator for about 15 minutes and it will be perfectly chilled, and much more refreshing!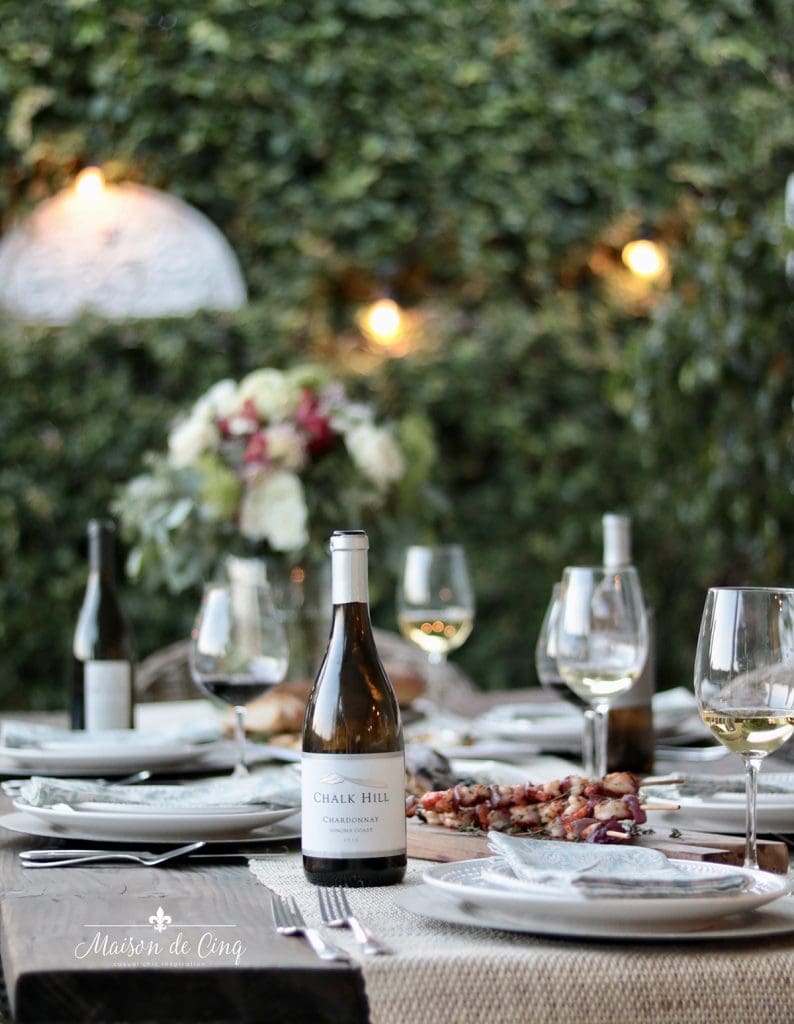 These easy and delicious recipes along with some great wines makes for a perfect summer night with friends. No pots and pans to clean or slaving over a hot stove ~ now that's my kind of entertaining!
And what's better than a night spent outside lingering over some wine long after the sun sets?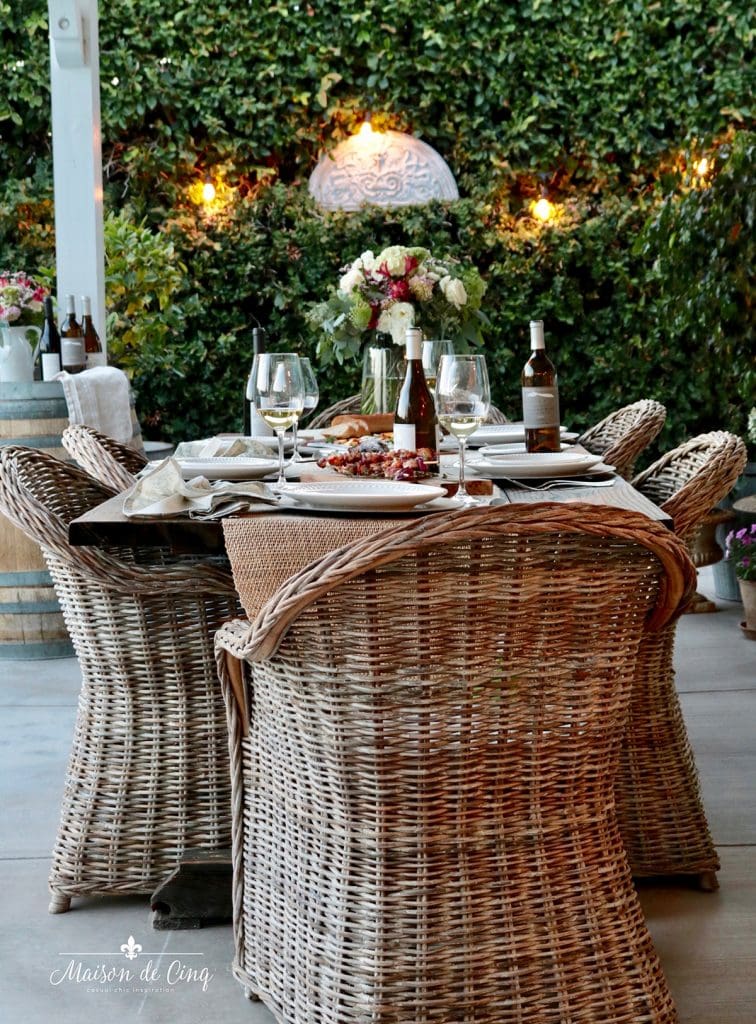 Shop Summer Grilling Night Essentials


*please note affiliate links are included for your convenience*
Happy Grilling!
Sheila
xo
Yield: 4 servings
Grilled Oregano Shrimp
This easy appetizer or main course uses a handful of simple ingredients that transform into a tasty, fuss-free dish.

Prep Time 10 minutes

Cook Time 4 minutes 3 seconds

Total Time 14 minutes 3 seconds
Ingredients
1/4 cup olive oil
2 tsp. dried oregano, crumbled
1 small red onion
24 peeled and deveined large shrimp (about 1 lb.)
EQUIPMENT: 4 metal skewers
Instructions
Preheat gas grill on medium-high heat. (If using charcoal, prepare for cooking over medium-hot charcoal).
Stir together oil, oregano, and 3/4 tsp. each of salt and pepper
Cut onion lengthwise into 3/4-inch wedges and separate layers. Toss shrimp and onion with oil mixture, then thread 6 shrimp onto each skewer, alternating with layers of onion.
Grill shrimp, covered, turning once, until just cooked through, 3-4 minutes total. Do not overcook.
Notes
Keep an eye on the shrimp and make sure you don't overcook them as they become rubbery. They should be cooked until they just turn pink.

*Adapted from Gourmet magazine.

Yield: 6 servings
Grilled Peaches and Burrata
This delicious salad is literally summer-on-a-plate. Easy to throw together and full of flavor!

Prep Time 25 minutes

Cook Time 5 minutes 4 seconds

Total Time 30 minutes 4 seconds
Ingredients
3 large ripe peaches
2 8oz balls of burrata cheese
2 TBSP. honey
Handful of fresh basil
Salt and pepper to taste
Olive oil
Flaky sea salt to garnish
Instructions
Preheat your grill to medium high heat. Slice peaches down the middle and remove the stone. Toss peach halves in salt, pepper, and olive oil.
2. Grill peaches flesh side down for about 4-5 minutes, until deeply caramelized. Remove from grill and let rest for about 10 minutes. Slice halves into wedges.

3. To plate, arrange sliced peaches on a plate. Top with spoonfuls of burrata, basil leaves, and sprinkle around. To finish, drizzle with honey and olive oil, and sprinkle with sea salt.

Yield: 4 servings
Curried Pork Tenderloin
This grilled pork tenderloin transforms a few simple ingredients into a tasty, fuss-free dinner that's sure to please.

Prep Time 10 minutes

Cook Time 25 minutes 20 seconds

Additional Time 2 hours

Total Time 2 hours 35 minutes 20 seconds
Ingredients
1/4 cup olive oil
1/4 cup soy sauce
1 TBSP. curry powder
1 TBSP. honey
1 tsp. grated fresh ginger
1/4 tsp. cayenne pepper
2 pork tenderloins (about 1 1/2 lb. total)
Instructions
Mix marinade ingredients together and add those plus pork to a large plastic food-storage bag. Refrigerate at least 2 hours, and up to 6. Let pork stand at room temperature 30 minutes before cooking.
Preheat grill. Lightly oil grill rack. Remove pork from bag and cook on grill for 20-25 minutes, turning, until internal temperature is 155°F. Let stand 10 minutes before serving.
Notes
Do not overcook pork. Interior should be slightly pink for full flavor.

*Adapted from Better Homes and Gardens
If you enjoyed this post, be sure to check out more summer inspiration and entertaining ideas below: