Window Covering Update – Fabulous New Woven Wood Shades!
Hello friends! Today I thought I'd take a break from the all-fall, all-the-time I've been bringing you these past couple of weeks and share an update we recently did here in the house. We recently redid our window coverings in the downstairs and got new woven wood shades and I couldn't be more thrilled!
If you've been following along for awhile now, you know how important I think window coverings are to a space. And I did have some shades here before, but they were definitely a problem. When they arrived they were very different from the sample. I'm sure it was just a dye lot difference but it was a big difference! So shades that I thought would be a pretty, neutral beige ended up always looking a little orange! Sometimes when I would publish photos here on the blog I would tweak the color slightly to try to help. But frankly, even then they didn't look good! So forget about how they looked in person!! But our new woven wood shades from Blinds Galore are a perfect color!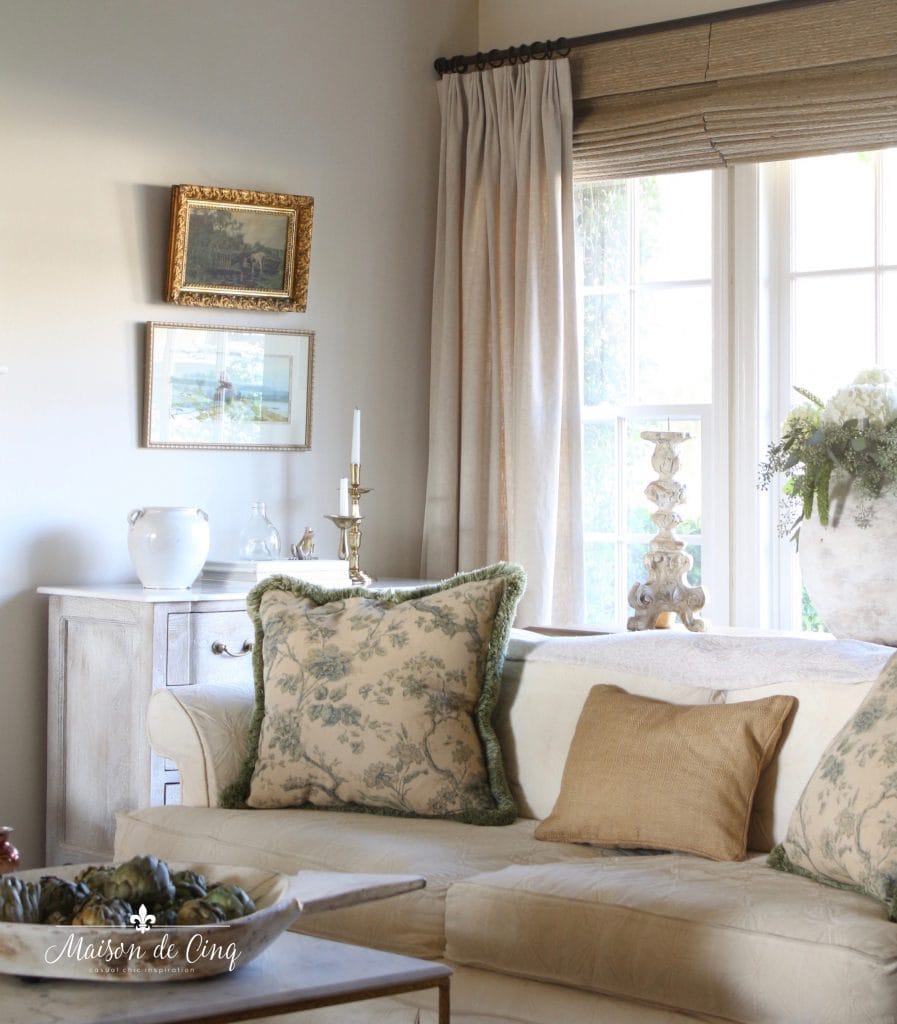 Ours are the Boutique Natural Woven Shades in Monterey Spanish Bay. In fact, they are made of seagrass (just like my rugs) and are very close to those in color so they are a perfect neutral!
I love woven wood shades! The natural materials add so much texture to a room. They also add some casualness to the living room which I really like. I'm always going for that casual chic mix and this is one way to achieve that. The drapes are linen and a little dressier, but combining them with the shades takes them down a little.
I'm a huge fan of woven wood shades combined with drapes – in fact, it's my favorite way to cover a window!
And the best part? These have no cord!! I was so tired of having the cords hanging down all the time. These are cordless and very easy to move up and down.
And because we did three across (treating each window separately) I can easily close the other window and blinds (say, in the evening) but still keep one window open and the blind up to let fresh air in.
Shop the Living Room

We did the same in the dining room, using three separate shades to keep it consistent. These two rooms are open to each other so it makes sense to keep the window coverings the same.
The designer at Blinds Galore was super helpful and professional, and really guided us when it came to measuring and making sure they'd be perfect!
Shop the Dining Room

This room was the worst one of all! It had one gigantically long shade and because it was so long and heavy, it was sagging horribly in the center! It's so nice to have three shorter shades, and to be able to raise and lower them separately – with no cord! (Can you tell that's my favorite part?!)
Shop the Family Room

The kitchen is my favorite one! I think because this room is so bright, the orangey color of the old one was the most noticeable in here. And it's the room I'm in the most so it was really driving me crazy! This color is so much better!
We did have them lined with the "privacy liner". This makes it so less light seeps through the shades (since they are natural seagrass light naturally comes through) but it's not as dark as black out which we didn't need. The privacy liner is just enough to make them not see-through and give us privacy, especially in the evenings.
I couldn't be happier with how they turned out! My orangey toned shades are gone, and these new woven wood shades are in their place 🙂
Shop the Kitchen

Blinds Galore did a wonderful job! You can find their website here. And they do many more types of window coverings, including different blinds as well as custom drapery. Our woven wood shades and color choice can be found here.
Sheila
xo
If you enjoyed this post, you may want to check out some other decorating and design posts below:
*This post was sponsored by Blinds Galore, but all opinions and love of their products is my own*