The Charm and Character of Art in the Kitchen
Nothing adds charm and character quite like art in the kitchen! Take a peek at this growing trend and it's easy to see why it's becoming more and more popular!
If you've been reading my blog for awhile now, you know how much I love real art of some kind in a house! In fact, I think it's so important in interiors that I wrote a blog post earlier this year with five of my top tips on adding art to your home. However, one of the things I most love – an absolute favorite – is art in the kitchen!
When I see real art used in a kitchen, it sets my heart aflutter. The contrast of the cool, crisp white with old paintings in chippy gilded frames is something I immediately gravitate to.
The art creates character in a way that not much else does. And yes, I think it is that contrast that really appeals to me. Adding something antique, especially in a sleek, smooth room like a kitchen, adds tons of warmth and really ups the charm factor!
This year in I removed this little antique oil painting from it's ugly frame and rested it on the mantel over the range and I love it! It brings the perfect amount of color and vintage charm to the space.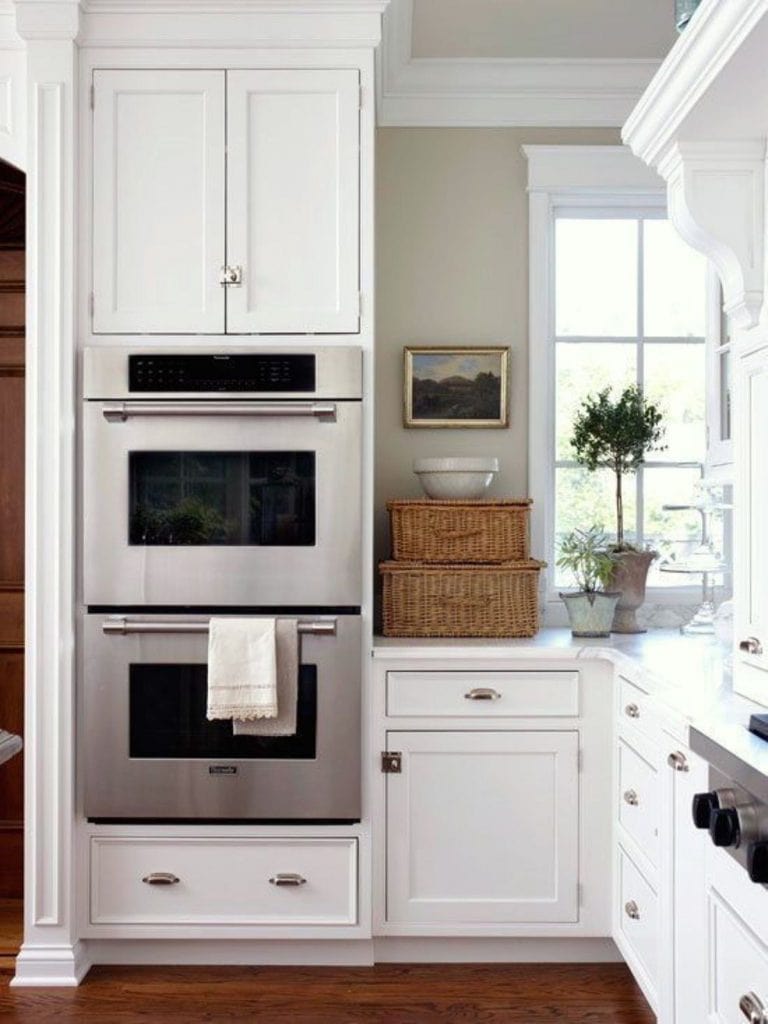 For a few years when white kitchens first became popular, it seemed like they couldn't be white enough! White counters, walls, cabinets, etc, were all white, as were many of the accessories. And I do love a white kitchen! I mean, I have one. 😉
But even more, I love to add some vintage touches that are rich in character and texture, and help to balance out all that white so it doesn't end up looking too sterile.
Two lovely vintages paintings add to some seriously perfect shelf styling! Via
Country Living
magazine.
I just adore the gold framed art and the brass hardware contrasting with all the white here.
So
charming! Via
Southern Living.
I often add this oil with the richer colors for the fall season.
If you're looking to add some art in the kitchen (or
bath
!), try
Ebay
or
Etsy
for inexpensive vintage oil paintings. There is grease, water and food in a kitchen that aren't good for valuable art, so you don't want to spend too much.
A definite favorite by Chris Barrett via
House Beautiful.
This kitchen is amazing, and is one of the first 'non-kitchen' kitchens I ever saw. The combination of all the textures really makes it special, and the art is part of that. Design by
Donna Temple Brown
.
I'm lucky to have the mantel in my kitchen over my range where I love to do my seasonal decorating. But when it's not decked out for Christmas or Easter, I often feature a painting of some kind leaning there.
Other things that add warmth to a white kitchen and create that French farmhouse are bread boards, baskets, wood floors or beams, copper pots, and stone or brick.
If you're looking to add some art to your kitchen, you can also try yard sales or flea markets, but I've had really good luck on both
Ebay
and
Etsy.
and I'm sharing a few great pieces that I found below!
Shop the Post!

*please note some affiliate links are included for your convenience*
Sheila
xo