Nothing adds charm and character quite like art. But have you ever thought about adding art to the bathroom? Take a peek at this growing trend and see why it's becoming more and more popular!
A subject I've talked about before is how essential I think it is to add art to your decor. But something I really love, is finding art in unexpected places. Like the kitchen. And believe it or not, the bathroom! Art in the bathroom is one of my absolute favorite ways of using it, and I'm glad to see it's a trend that is becoming more common.
Amazing bathroom by designer Kerry Joyce. I just adore this classic oil framed in gold against all the white.
The contrast of utilitarian things like chrome finishes, tile, and toilets, set against the glamour of a piece of art, is unexpected and adds visual interest into what can otherwise be a pretty bland room. And though personally I love an old oil in a gilded frame, any art can add character to the space.
Here just one etching makes a big statement in this otherwise all-white space. Via Country Living.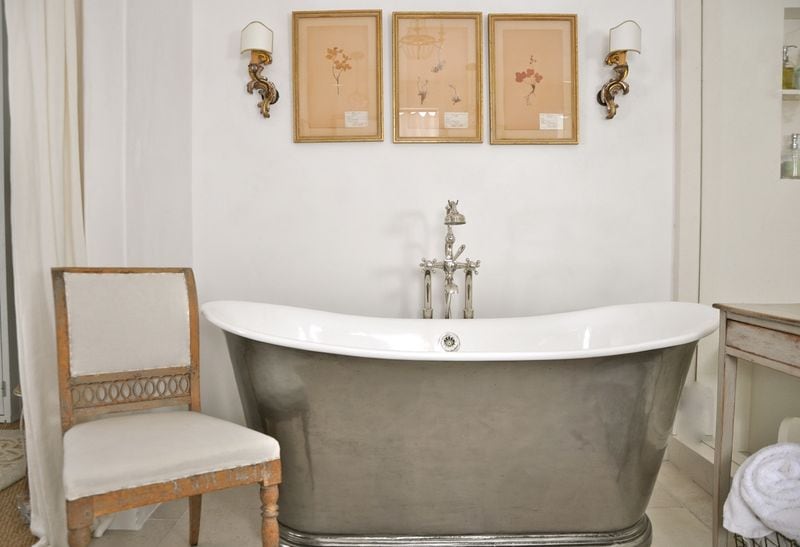 Bathroom by Brooke Giannetti via Veranda magazine. Love the mix of finishes here, too!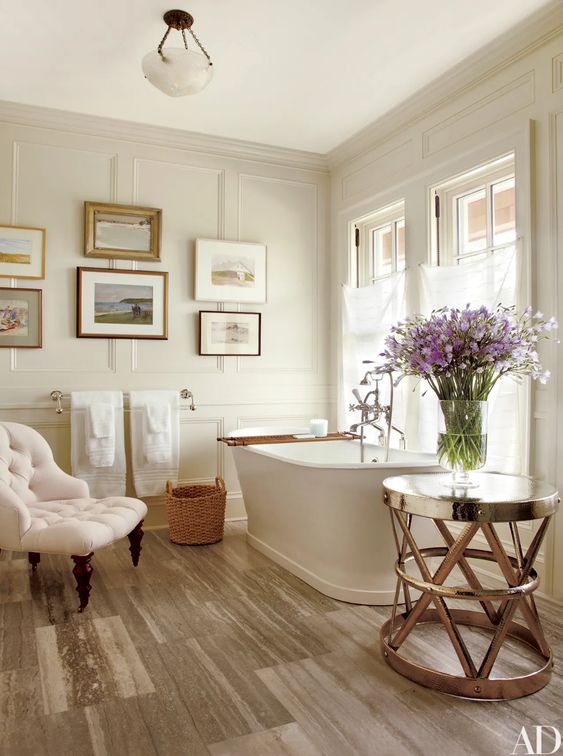 A fun gallery wall in this pretty bathroom. Design by Carrier & Co. via Architectural Digest.
These stunning and unusual Chinoiserie art pieces are the focal point of the whole room! Design by J. Wilson Fuqua & Associates Architects.
Whether you use watercolors, oils, or even drawings or photography for art in your bathroom, they all add an element of surprise. But I do think the real part is essential. Prints from a chain store, though pretty, don't really have the same effect. The idea is for it to be something original and not mass produced.
Design by Melanie Pounds via Veranda.
Real art can be surprisingly affordable, especially if it's unsigned or by an unknown artist. In fact, I would argue that you may want to spend a little less on something that will be in a bathroom since that space gets a fair amount of moisture. As long as the painting is something you love and isn't a collector's item or especially valuable, it will survive just fine for many years in a bathroom.
A designer I love who always includes original art in her bathroom designs, Amber Lewis.
If you can't find affordable "real" art, or paintings aren't your thing, then frame one of your children's drawings or even an enlarged photo from a special trip. That way it will be personal and special. And truly reflect you. And it won't be something that anyone else has!
Design by Carrier & Co. via Architectural Digest.
Another old-school style oil updated by putting it in a contemporary bathroom. By Designer Ken Fulk.
Another great option if you can't find real paintings that are reasonable, is to get printable vintage artwork. There are a number of vendors who sell that on Etsy, and it's a great way to get a vintage look for less. You can even have them printed on canvas or very high quality paper which gives much more of an authentic art look than a print from a store.
I've found a few favorites that I've ordered from. Maple & Oak Vintage, Olive & Oak Prints, and North Prints all have beautifully curated collections.
Designer Brooke Giannetti frequently uses art in her bathroom designs.
For some ideas on where to get affordable vintage original art, check out Ebay or Etsy. Most of the pieces in my home are from those two sources. I've had especially good luck with two favorite sellers on Ebay, here and here. They source lots of European art and have low shipping. Garage sales, flea markets, and even some vintage stores are also good sources.
If vintage isn't your thing, Etsy also has artists that will produce a new custom painting for a reasonable price. You could have a portrait done, a painting of your home, or even a favorite pet.
All that matters is that it speaks to you in some way, and that it brings you joy when you look at it from your view in the bathtub!
Sheila
xo
If you enjoyed this post, be sure to check out more inspiration posts below: