Simple French Christmas Dining Room
Funny enough, I was going to share my Christmas dining room with you when I shared the Christmas living room last week, but it just seemed like an overwhelming amount of photos! I never want you to feel bored or like the post is too long – so much better to have you wanting more! So, rather than only have a few photos of each room, I thought it better to split it into two posts (which is what I did last year 😉 ).
So today, a little extra holiday cheer is coming your way~ and it's the last of my holiday decorating posts for this year! Today I'm sharing my simple French Christmas dining room. A little bit French, a little bit cozy, but not overly done or complicated. And of course, there's some of that French blue that I'm loving so much this year…
I love that you can see the tree from here! It's so nice to have that twinkle when we're eating or playing games.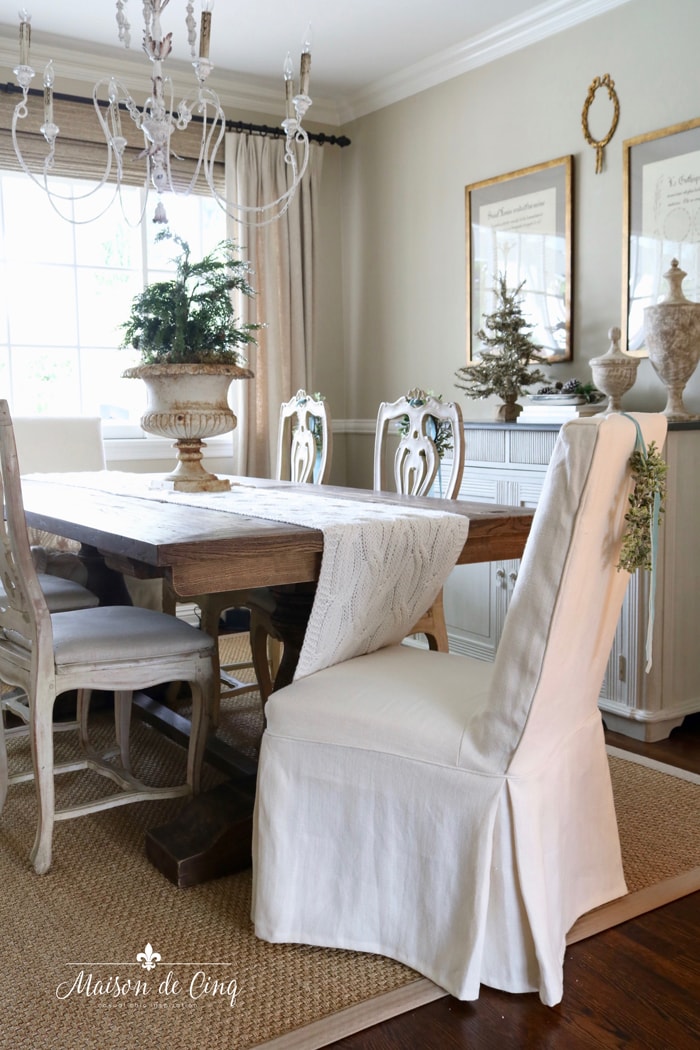 You may have noticed the dining table is new! I've been wanting to change the old one in here for years (I wrote a whole post about my search!) I finally found one that could work size-wise and I'm so thrilled! It's wider (ours was incredibly narrow) and just a little longer and it's amazing how much more spacious a few inches feels!
The little wreaths on the backs of the chairs are the same ones that I used in the kitchen. I also used them last year ~ just changed the ribbon from white to blue. I love when things can be reused again and again!

I've gotten a lot of questions over on Instagram about how I attached the ribbon. I simply tied it through the cutouts in the chairs. And on the upholstered ones, I used a small safety pin at the top and it's hardly noticeable.
The ribbon is gorgeous blue velvet from a wonderful source on Etsy. I got my pink velvet from her last year, too!

A little free form faux tree fills the antique French urn on the table for a simple centerpiece. I didn't want to overdo it on the table with a whole new table setting. I like to keep things simple in the everyday. 😉

The wreath is the same ones I have on the porch and I'm in love! This is also a small seller on Etsy and she does beautiful work. The wreaths are all live and custom made once you order them so you can change the size, etc. I loved the blue juniper berries and thistle in this one (goes so well with my blue theme!)

A couple of Santas add some charm to the vintage silver tray, and of course, these little blue mercury glass ornaments made an appearance. They're one of my favorite things I found this year and I can't resist sprinkling them everywhere!

Over on the sideboard, a simple tray with some pinecones and a tinsel tree join two urns that sit here all year.
Shop the Post!


*some affiliate links are included for your convenience*
Thanks so much for stopping by my French Christmas dining room tour! I know there are so many tours this year, and lots of places to go for inspiration, so it means so much to have you here. Your support and appreciation here and on Instagram truly make it all worth it!
I wish you and your families a wonderful holiday season!
Sheila
xo