Looking for some creative and fun ideas for celebrating Valentine's Day at home? I'm sharing a romantic (and easy) table setting that's perfect for creating a wonderful date night at home, along with tips to make it extra special!
For us, Valentine's Day dinner has mostly been an 'at home' affair. We've often found the over-crowded and over-priced restaurant meal to be a bit much, and if it falls on a weeknight, not all that convenient either. So years ago we started making it a ritual to stay in and have a romantic night at home.
And now I've noticed many people saying the same thing. They either don't want to spend money on a dinner out, or they can't do to work or kids. However, just because you stay in doesn't mean it can't be as special as dinner in a fancy restaurant. In fact, I've got lots of tips for how to create an evening that's beautiful, special, and easy!
Before the kids left for college, we enjoyed a special family dinner and we celebrated a day of love with the kids, complete with gifts and looking at their school Valentine's cards. So since we're alone now, this is the perfect year to pull out the stops and create a romantic evening right here at home! After all, there's no reason a night at home can't be as romantic as an evening out. 😉
Six Tips for Creating a Romantic Valentine's Table Setting at Home

Tip One: No Cell Phones
This should actually be at every dinner (IMHO!) but most definitely there shouldn't be any phones during what's supposed to be a romantic night for the two of you. Try setting your phones aside and pretending like you're alone in the most romantic restaurant around.
Tip Two: Create Ambiance with Candles
Candles are part of almost any table setting I create, but since this is the night of romance, it's even more important than usual. These brass candlesticks are a favorite of mine, and I love the little bit of gold mixed with the pale pinks.
If you're anything like us, we don't light candles on a regular basis so that simple act makes the whole evening feel different. So dim the lights and eat by candlelight.

Tip Three: Include a Treat (or Dessert)
We love chocolates so I sprinkled some around the table, as well as on each place setting. But whether you do something similar, or go for a decadent dessert, something sweet needs to be on the menu.
Last year I picked up my favorite cake from a fancy steak house we love and it was just as amazing as it is when we're there in person. And I didn't have to make it!

Tip Four: Flowers are a Must
If you've been a subscriber or reader for awhile, then you know flowers are almost always part of any table setting I create. But in this instance, I'd say they're a must!
Since this is the day of romance, I went with pretty pink roses and some white filler flowers placed in a simple glass vessel. These were all from the grocery store and couldn't have been easier to pull together.

Tip Five: Add Something Unexpected
I found these little bottles of rosé wine and I knew I had to include them on my table. I mean how cute are these? And the color is so perfect!
It's always fun to include something unexpected – whether that's a special note, an expression of love, or in this case, a special wine or treat.
I also added these cute new coupe glasses to the table. I've been wanting some for awhile now and these were a great price – and I love how elegant they feel! Anything that elevates the evening and makes it feel like more than an average night at home is the name of the game here. And these glasses make me feel like I'm in a 1940's movie!

Just because you're celebrating at home doesn't mean it can't be as fun and romantic as a night out. And, you have the added benefit of no crowds, disappointing food, or feeling rushed. Usually we watch a movie after dinner, but some years we get so involved talking that we end up sitting here for hours lingering over dessert or a second glass of wine!
Tip Six: Presents are Welcomed!
We don't do anything fancy with our gift giving – there's no jewelry or anything of that nature. But we do usually exchange cards or small, thoughtful things to celebrate the holiday. It doesn't need to be expensive or fancy to be meaningful or romantic. In fact, I would say just the opposite!
Some of the best gifts we've given each other are heartfelt, simple gifts or gestures that mean more.
Below are some ideas for meaningful gifts that aren't just a box of chocolates from the drug store. These are at all different price points, but whether you spend a little or a lot, they're more about the effort and thought than the amount spent:
•First edition of a favorite book
•Gift certificate for a massage or spa day
•Monogrammed anything
•Personalized photo puzzle
•Offer to spend the day doing something your partner loves but you don't (ie; going boating, fishing or golfing if your husband loves that, or even watching football with him)
•Subscription to a wine or beer of the month club
•Coupons for doing something for your significant other (ie; doing dishes for the month, or a "honey-do" that hasn't gotten done, etc.)
•Photo collage
•Make a CD of your favorite music
•Tickets to a play, musical, or concert
•A romantic getaway
And even the getaway could be something as simple as renting a cabin in the woods. Anything that gives you the chance to reconnect is what matters.

Whether you order in or cook the whole feast yourself doesn't really matter. Some years I've cooked a special meal, but we've also ordered in from a favorite restaurant and I actually like that just as much (and the plus, no dishes!) What does matter is putting that little extra bit of effort in to create a romantic table setting and creating a great date night at home – no reservations required!
Romantic Table Setting Resources


And if you're looking for some cute Valentine's decor, I'm sharing some of my favorites below!

*affiliate links have been added for your convenience*
Sheila
xo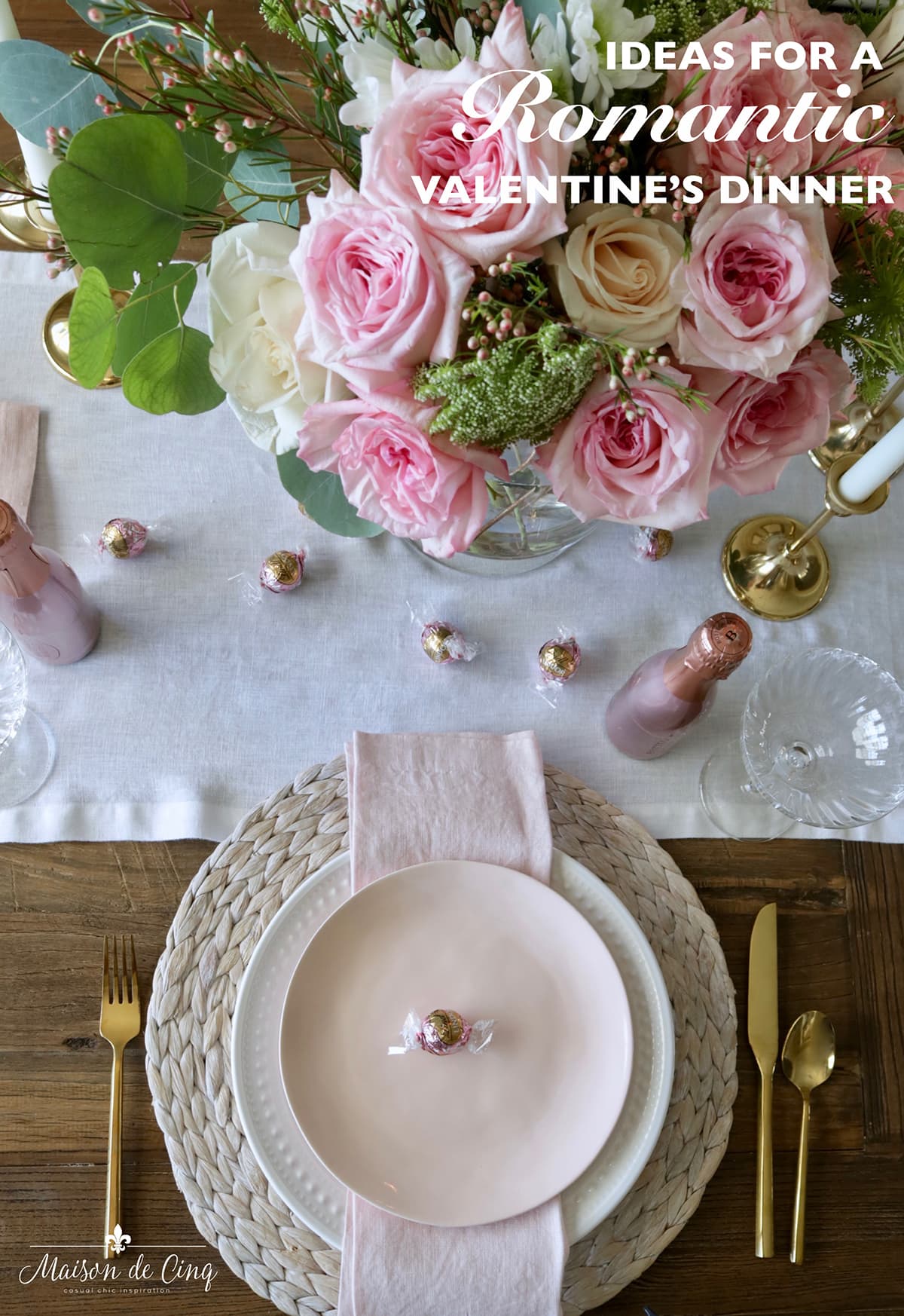 For even more Valentine's Day tables and decor inspiration, check out some of my other posts below!