An Evening in the Garden – a Summer Wine & Cheese Party
Today we're celebrating the season with one of our favorite ways of entertaining, a summer wine and cheese party! In this post we'll show you how to create an easy but elegant evening for friends.
Summer entertaining. Two of my favorite words – and they're especially good when strung together, don't you think?!
There's something so special about summer. Picnics. Beach days. Squeaky screen doors. Sandy feet.
And for me? Another one of the best parts of summer is spending an evening eating outdoors with good friends. And today, in honor of that summer ritual, I'm sharing a casual evening in the garden. A summer wine and cheese party. Which for me, is probably the single best party there is!
THIS POST MAY INCLUDE AFFILIATE LINKS. CLICK HERE FOR MY FULL DISCLOSURE POLICY.
I often say that a cheese or charcuterie board is my favorite dinner, and that's actually true! Give me some delicious cheese, good bread, and some wine, and I'm happy! And the best part?
A wine and cheese party is one of the easiest and most elegant parties to throw together!
I set up the table on the grass in the yard which set the tone for the whole tablescape. Eating out under the sky feels different – and so special!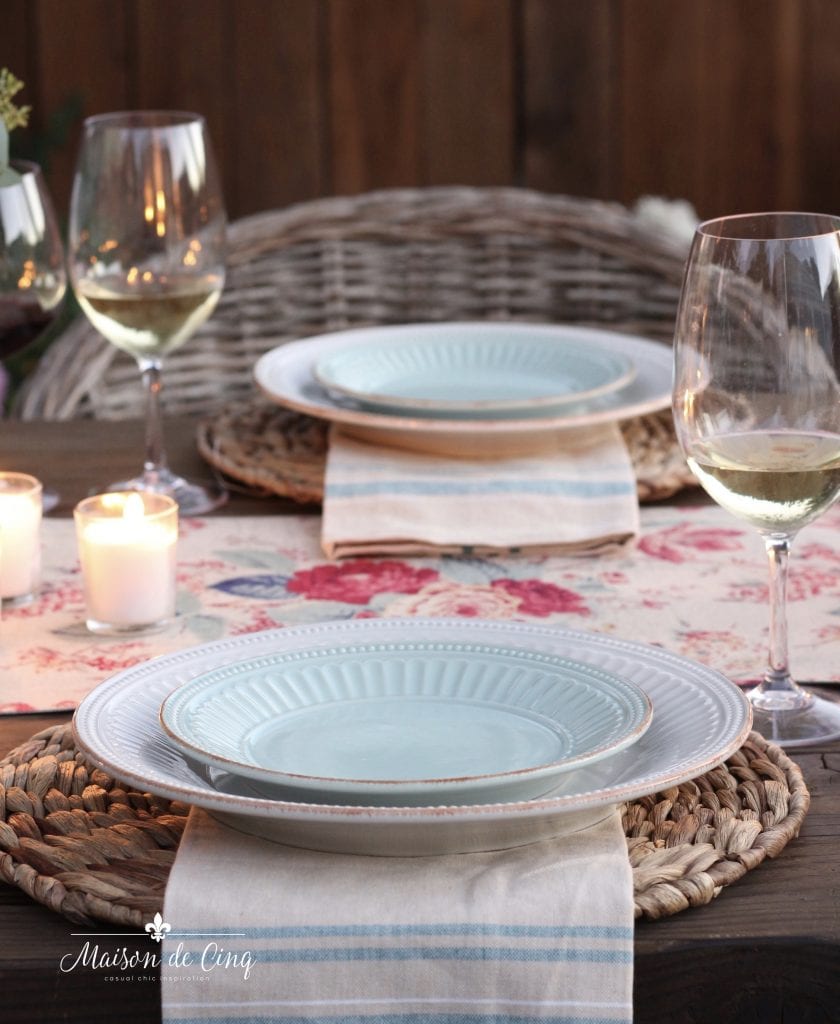 I wanted to create a "dinner in the garden" feel for this wine and cheese party, so I chose a pretty floral runner which set the tone for the whole table! Mine is old and no longer available, but I found this one that would give a similar look – and it's even prettier!
I love the French striped napkins in a soft blue. They coordinate well without being too matchy-matchy. Or a pretty linen solid would also be beautiful!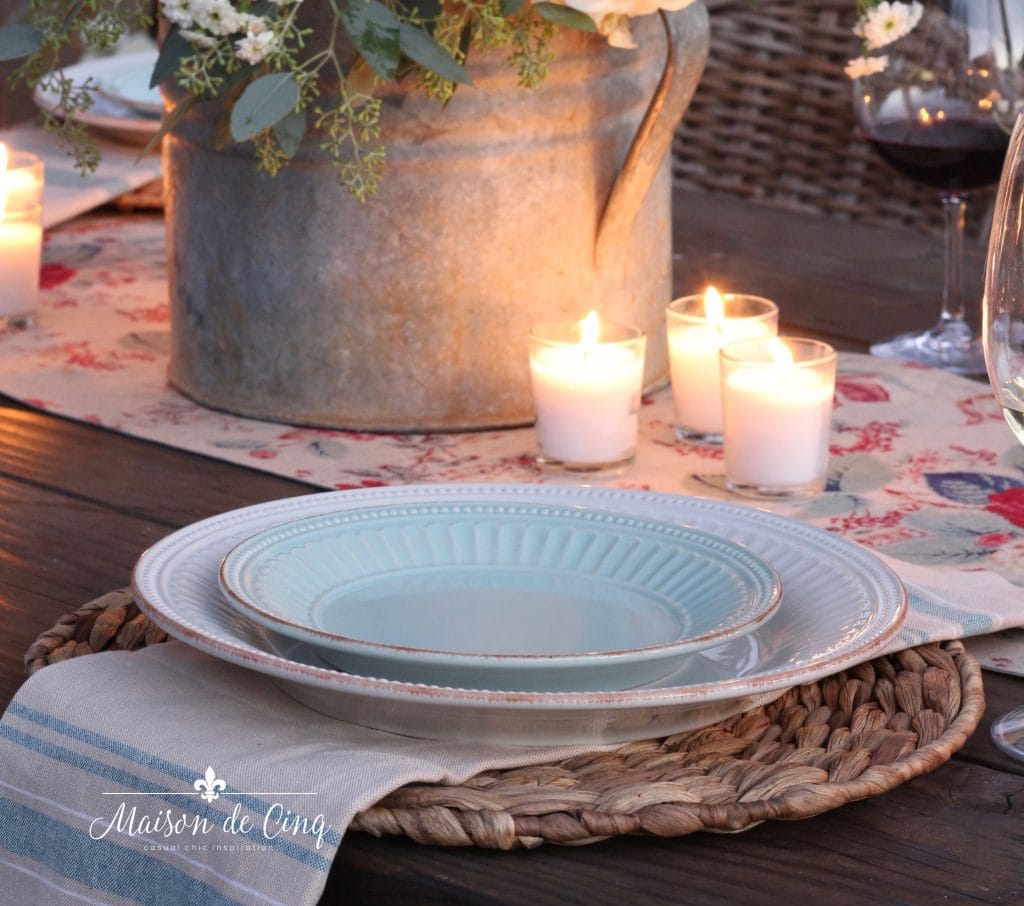 These pretty blue salad plates work well with the soft colors in the runner. I layered them on top of the same plates in white, and placed everything on seagrass chargers. I love that the chargers keep it casual and add some great texture to the table.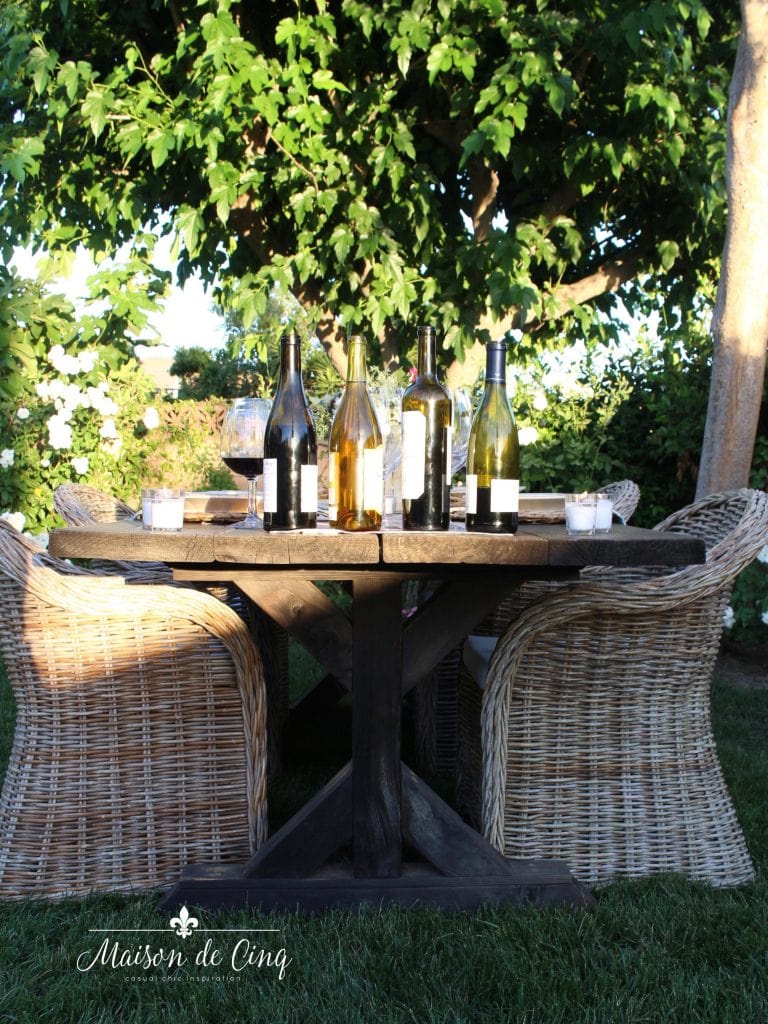 Different choices of wines – from rosé, to white, to red, allow guests to choose what they like. And maybe try something new, too!
For the cheese board, I usually use my giant wood cutting board. It's quite large and can hold a lot of all the different elements. Sometimes I'll mix up cheeses and use different ones on smaller vintage bread boards, but this time I piled everything on one massive board.
I like to offer at least three cheese selections. Here I chose one blue, one goat, and one cow's milk cheese.

Add some nuts, grapes, olives, or other fruits or savory items to round out the board. And I always add a couple of different crackers, along with a fresh baguette.
And these glasses are acrylic! I know this sounds odd, but I've never had plastic glasses before. And it seems every time we sit outside we're either breaking a wine glass, or worrying about doing so! But now, I found these truly beautiful acrylic glasses that look as pretty on the table as their glass counterparts!
We have both the red and white sizes, but you could easily get away with one.

The flowers have a relaxed, unstructured feel to go with the casualness of the evening. White hydrangeas mixed with white chamomile, along with a pop of light and dark pinks and some eucalyptus all plopped into a vintage bucket create a French farmhouse vibe.
But really, any simple flowers would work. You could even simply cut some from the garden! It's all about the good conversation, and of course, those delicious wines and cheeses!

I wanted lots of candlelight, but I didn't want to block the view or the conversations. These glass votive candles are economical and perfect for what I wanted. Layer lots of them to bring in some summer magic!

As the sun sets, the mood lightens, and everyone relaxes even further.
We often move over to the fire pit after dinner to enjoy dessert or in the summer, sometimes s'mores. If you don't have a built in fire pit, there lots of affordable options now for portable versions – some even have builtin tables!
Or, simply move to the lounge area and have some outdoor blankets nearby, or a portable heater. We just purchased this one last year and it's a game-changer for sure!

It doesn't get much better than spending time with friends under the stars!
Shop the Wine & Cheese Party


If you're looking for more summer entertaining ideas, be sure to click on the Summer Tablescapes tab where you can find lots of ideas!
Happy Summer!
Sheila
xo
If you enjoyed this post, be sure to check out some of my other summer entertaining ideas below!