Neutral decor can sometimes be boring, but it doesn't have to be! We're sharing the 5 essential tips you need for decorating with neutrals successfully.
Neutral decor can sometimes have a bit of a bad rap. People think it's boring or feel it's not interesting, but nothing could be further from the truth!
If they're done right, neutral rooms can be just as gorgeous as a room full of color. In fact, color doesn't actually guarantee anything – there are plenty of boring rooms full of color! And neutral rooms are more flexible, allowing you to change accents colors, rugs, or pillows much more easily.
The truth is, it's not the colors you use in the room that matter, it's the way you put them together and the other essentials you add to the space that create interest. Today we're sharing the 5 essential tips you need to create neutral rooms that are anything but boring!
THIS POST MAY INCLUDE AFFILIATE LINKS. CLICK HERE FOR MY FULL DISCLOSURE POLICY.
One: Add Texture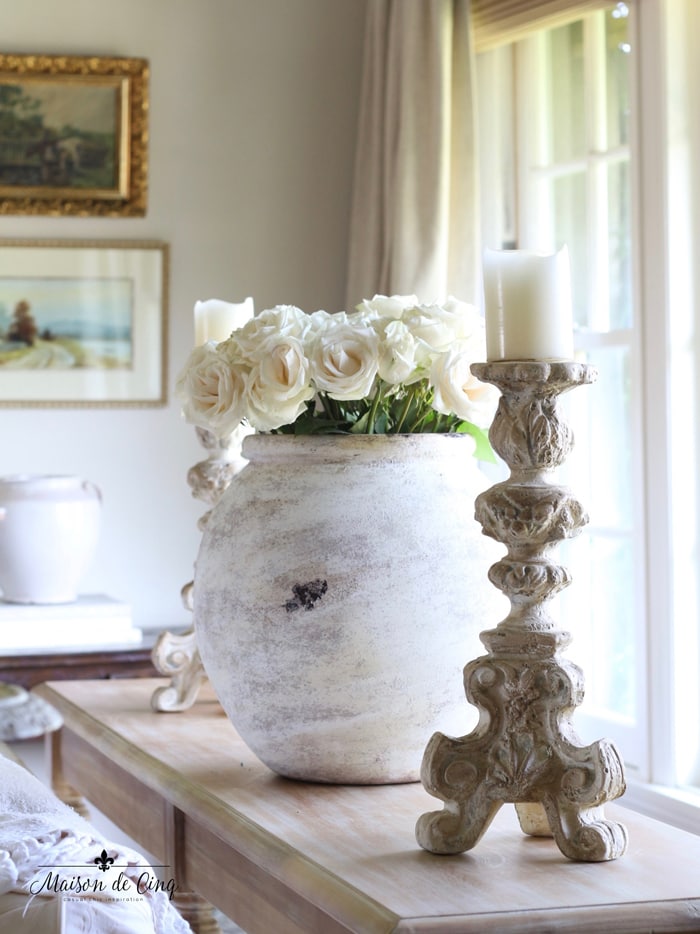 I made this the first requirement for decorating with neutrals because it's truly the most important one! All rooms need texture (I talk about why in this post), but that's especially true for neutral ones! Texture adds interest to the eye and is essential to creating depth in an otherwise neutral space.

To keep neutral rooms from falling flat, add baskets, natural fiber or hand-tufted rugs, woven shades, throws, and textured fabrics like linen, velvet, or nubby weaves.
All of these layered together in a space keep it interesting!
Two: Mix your Neutrals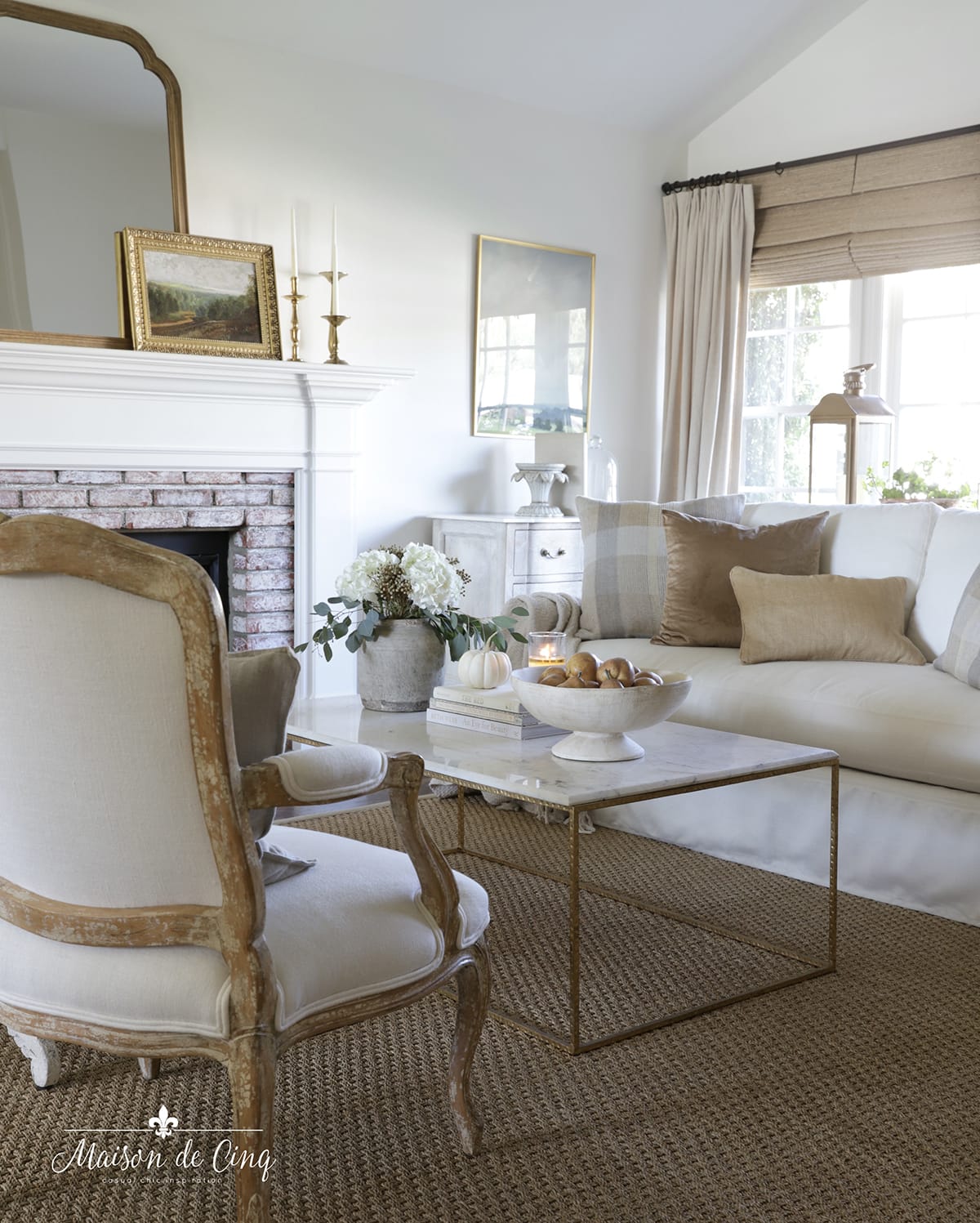 Just because a room is mostly neutrals doesn't mean the entire space should be white! To avoid an overly sterile space, make sure you're using the full spectrum of neutral colors.
To decorate with neutrals the right way, use lots of subtle variations and different tones of the same palette, from ivory, to beiges and creams, to grays, browns, and even black.
Three: Add Warmth

All white rooms with no warm elements can really feel cold! I've seen rooms on Instagram and Pinterest where literally every single thing in the space is white – everything! That's a sure way to make a room feel sterile and 'hospital-like'.
Make sure your neutral rooms have lots of warmth added to keep that from happening. Warm up neutral rooms by adding texture (see above), warmer shades, or by mixing the wood tones in the room.
Design by Nikie Barfield via Atlanta Homes.
If every wood piece in a room is the exact same tone, it can feel like a hotel lobby or doctor's waiting room. A mixture of different woods brings lots of texture and warmth to a space, plus it helps your home feel more collected. If you don't have a lot of wood furniture, you can even add wood with accessories like bowls or vases.
Four: Add Patterns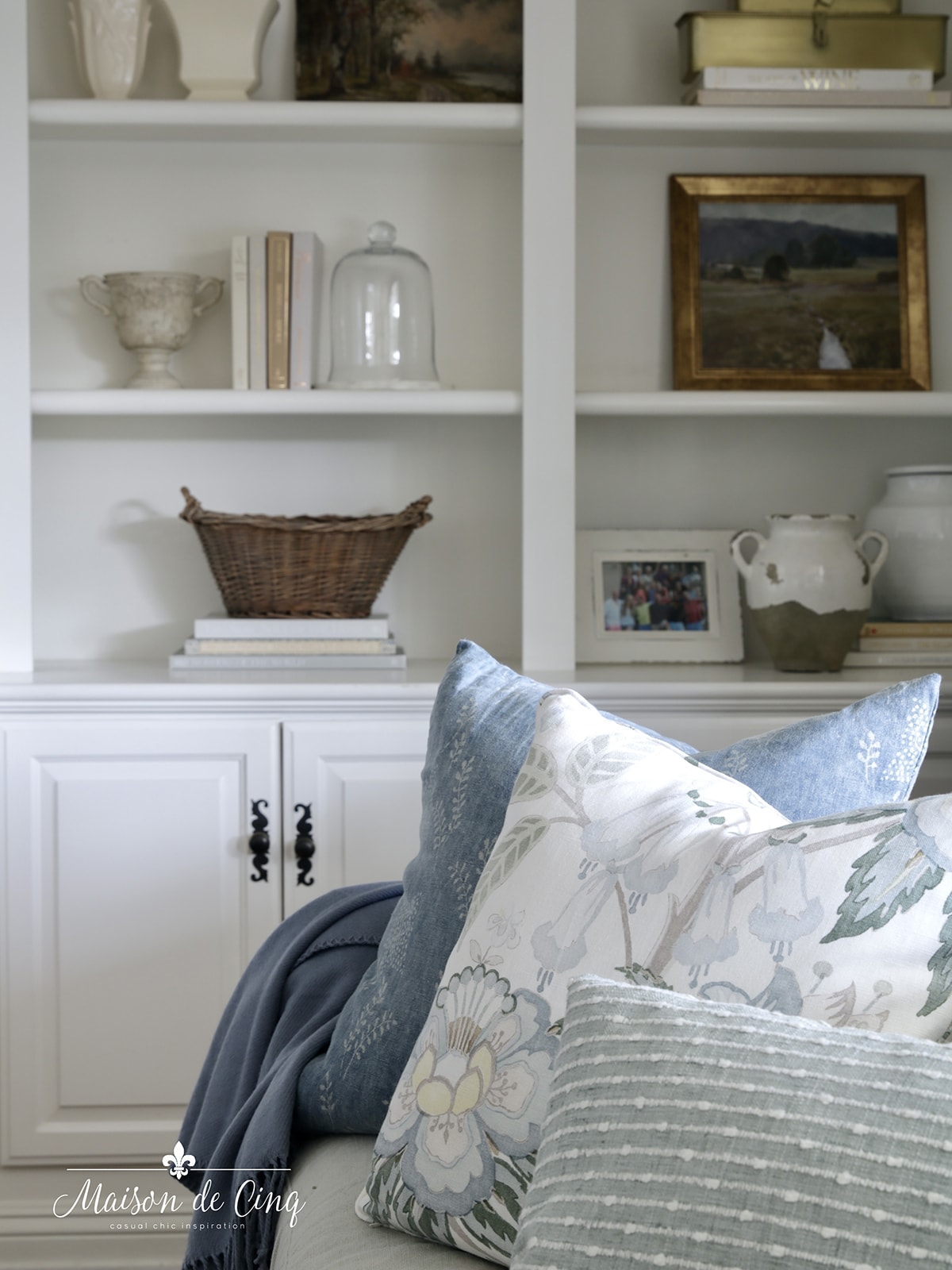 Another sure-fire way of making a neutral room feel boring is by having all solids in the space! Since we want the room to feel textural and have depth, patterns (even tone on tone versions) help to achieve that.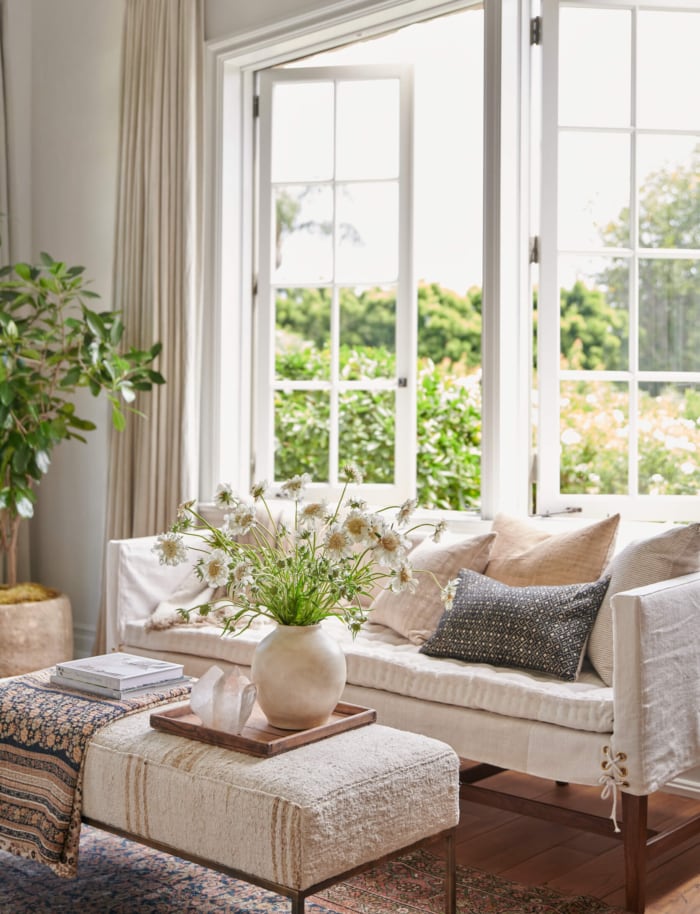 Whether it's the weave of linen fabric on a sofa, nubby bamboo shades on a window, or a patterned natural fiber rug, these all add pattern to a room without adding more color.
Also think of pattern when it comes to furniture. That could mean interesting shapes or pretty details on a table or chair leg.
Five: Pop of Color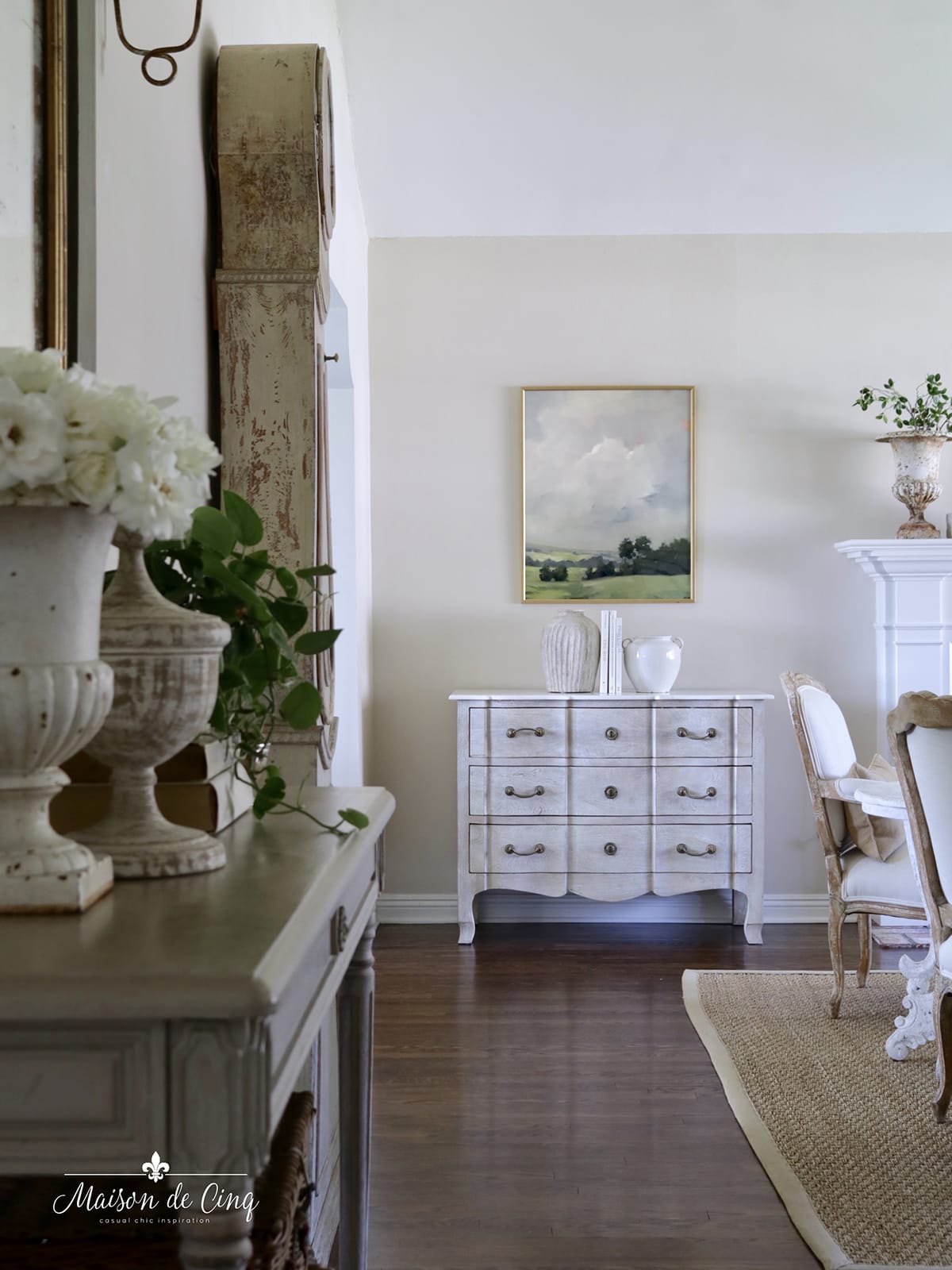 Just because we're decorating with neutrals doesn't mean we can't use any color! I once wrote a whole post about neutral rooms that feature a 'pop of color' and I still love them!
While you can achieve interesting spaces using only neutrals, feel free to experiment with adding a pop of color here and there. I would say the ability to change the accent colors or add seasonal decor is one of my favorite things about neutral rooms!

Whether that's achieved through plants or flowers, or you choose to add color in pillows or rugs, even a small pop of color will help bring a space to life.
In fact, colors will pop much more against a neutral space than when they are competing in overly-colorful rooms!
Decorating with neutrals successfully comes down to a few essential additions. By adding texture, warmth, pattern, and a small amount of color, you can create neutral spaces that are full of depth – and far from boring!
Shop Decorating with Neutrals


Happy Decorating!
Sheila
xo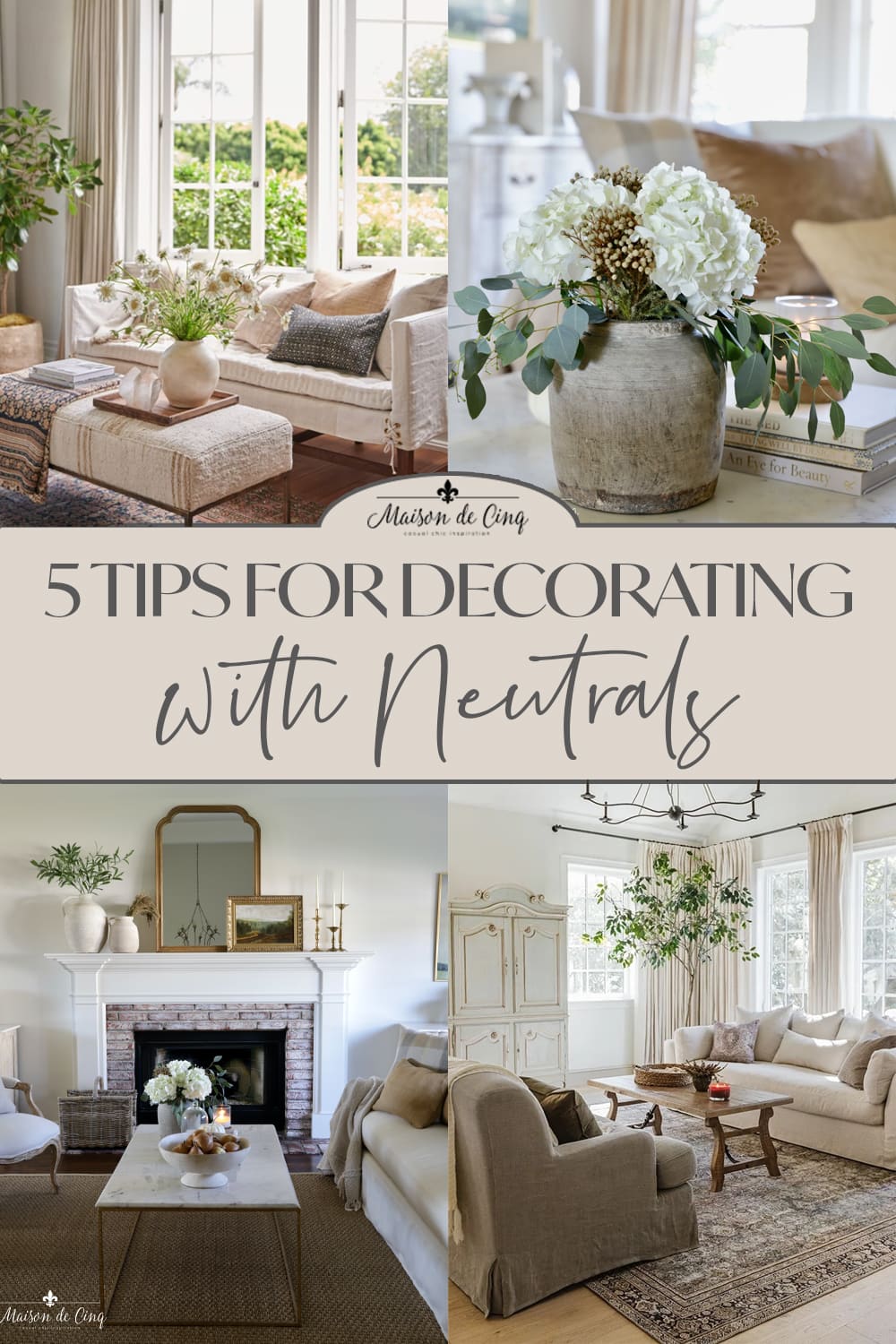 If you enjoyed this post, be sure to check out more decorating ideas and inspiration below: